This post may contain affiliate links. If you make a purchase through links on our site, we may earn a commission.
Pineapple spinach smoothie is so delicious and packs in a serving of veggies and fruit in one glass. Enjoy for breakfast, a snack or easy meal on the go.
What is a green smoothie?
My sister got me hooked on green smoothies. I mean like I'm hooked. I can't stop drinking them.
They are a delicious blend of fruits and veggies all packed into one convenient smoothie. It is a great way to get more nutrients in your day and perfect for the kiddos too. We all love it!
I'm so busy taking care of two websites and 8 kids I'm not going to lie – there are days where I realized I hadn't eaten since breakfast. This spinach pineapple green smoothie recipe is great because I am getting a serving of vegetables and a serving of fruit just in one glass.
Plus… this Spinach Pineapple smoothie recipe is perfect and doesn't taste like you are drinking salad. This is really helpful where the kids are involved.
I'm serious…. it is a beautiful green color but that is the only way you know there is spinach in this plant based green smoothie recipe.
Supplies for Pineapple Spinach green smoothie:
Now before we get started with all this talk about green smoothies, make sure you invest in a good blender.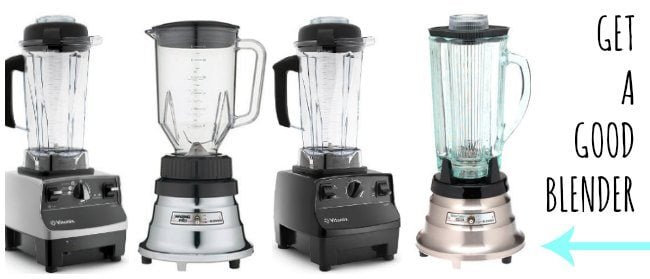 I have a Vitamix and I love it. It is old and is still going on strong. Now, it is quite the investment to get one, but it is one investment that won't disappoint.
It will be the last blender you ever had to buy. Amazon has several of them on sale right now for a great price.
Now if a Vitamix isn't in your budget, then I recommend a Waring professional blender. They are going to get the job done. Now they are not as great as a Vitamix, but they are the next best for a much more reasonable cost. Amazon has several Waring blenders on sale right now.
Either way, I know you will be able to enjoy a delicious and smooth green smoothie with one of these blenders.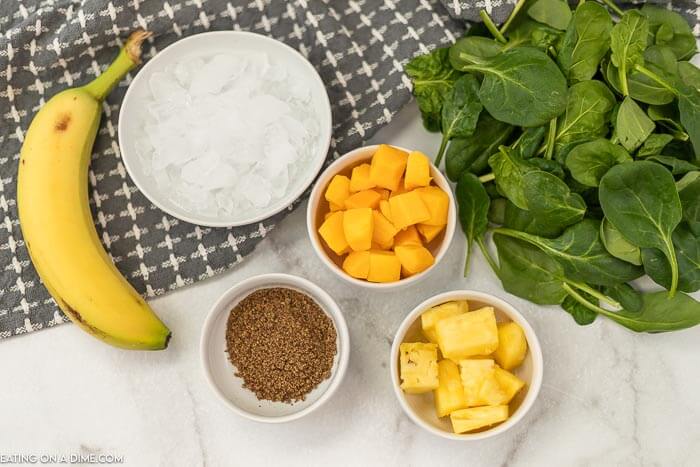 Ingredients:
spinach
water
pineapple (frozen)
mango (frozen)
banana (can be frozen)
ice (optional, but makes it colder)
flaxseed (optional)
How to make Pineapple Spinach smoothie:
First, you need to blend the spinach and water together. That will make sure your spinach is blended well.
According to my sister, this is a very important step. Like… very important. That last thing you want is stringy spinach in your drink. I haven't had this problem, but that is probably because I have always followed her advice.


3. Once you have it blended it, you can add the rest of your ingredients.
4. Finally, give it one last blend and your smoothie is ready to drink!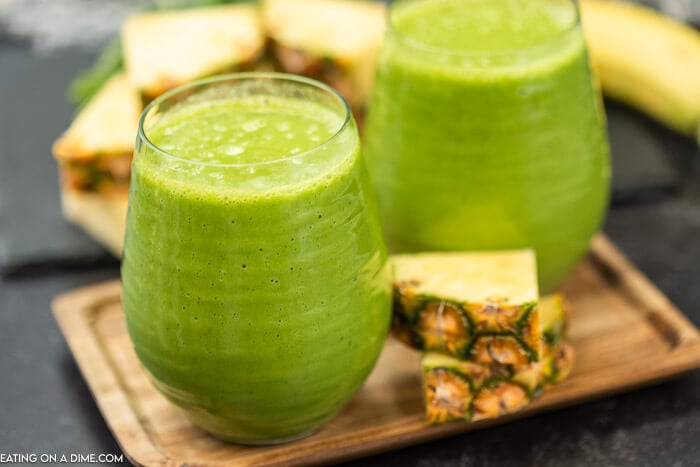 More Ideas to try:
Try almond milk or coconut milk instead of water in the smoothie. Both of these are yummy and make great non dairy milk options.
Add Greek yogurt for more protein.
Chia seeds can be added.
Protein Powder- another great option to get more protein.
It is really that simple to make an amazing Green smoothie.
Seriously… there is really no excuse not for your to make this. Even my children drank this and loved it!
This green smoothie recipe is ready in 5 minutes!
If you are new to green smoothies then I definitely want you to try this tasty green smoothie first before you make any others. It tastes delicious and is super easy to make. No crazy ingredients.
Enjoy this during busy weeks and feel good about what you are eating. I love knowing I am getting so many nutritious ingredients in such a convenient smoothie. It is great for busy mornings and you can take it on the go!
The kids even enjoy this delicious smoothie so they ask for it frequently. I don't mind making it because it is so easy and I love that they are getting something so healthy.
Print this pineapple spinach smoothie recipe below:
Spinach Pineapple Smoothie recipe
Try this delicious Spinach Pineapple Green Smoothie recipe. The best green smoothie recipes that I know you will love. It is easy to make and tastes great!
Ingredients
2

cups

spinach

1

cup

water

1/2

cup

pineapple

1/2

cup

mango

1

ripe banana

1/2

cup

ice

(optional, but makes it colder)

1

tablespoon

flaxseed

(optional)
Instructions
Place spinach and water in a blender. Blend until smooth

Add in the pineapple, mango, banana, ice and flaxseed.

Blend until smooth.

This serves 2.

Drink immediately and enjoy!
Recipe Notes
This spinach pineapple green smoothie recipe packs a  serving of vegetables and a serving of fruit just in one glass.
Nutrition Facts
Calories
131
kcal
,
Carbohydrates
27
g
,
Protein
2
g
,
Fat
2
g
,
Sodium
33
mg
,
Potassium
533
mg
,
Fiber
4
g
,
Sugar
17
g
,
Vitamin A
3295
IU
,
Vitamin C
48.3
mg
,
Calcium
48
mg
,
Iron
1.4
mg
More easy smoothie recipes: