This post may contain affiliate links. If you make a purchase through links on our site, we may earn a commission.
Try this refreshing Strawberry watermelon smoothie recipe. It is perfect to beat the heat and very easy to make! The best part is it only takes 3 ingredients to make this refreshing smoothie!
Most of you know that I love my smoothies! I have already shared my basic fruit smoothie recipe, but I thought I would share this new one that my family loved last summer. Our entire family loves smoothies. I'm always looking for new ways to make them.
This smoothie is full of fresh fruity flavor and naturally sweetened. This one is sure to be a hit with everyone. The watermelon is a nice twist on the classic smoothie. So refreshing!
Smoothies are so easy to make!
It only takes a few ingredients to make this watermelon smoothie. I love smoothies all year long, but during the summer they are especially yummy! I think it is because the fruit is perfect in the summer and makes the smoothie that more refreshing!
Strawberries are the perfect fruit for a watermelon smoothie. With only 3 ingredients blended together makes this smoothie perfect easy to make in the morning or for an afternoon treat!
Having a good blender is a must!
I have been thru some cheap ones and they barely last a week. You definitely want a good blender to use. They just can't handle the ice cubes and frozen fruit. Don't waste your time like I did with these cheaper models, and just get something nice from the get go.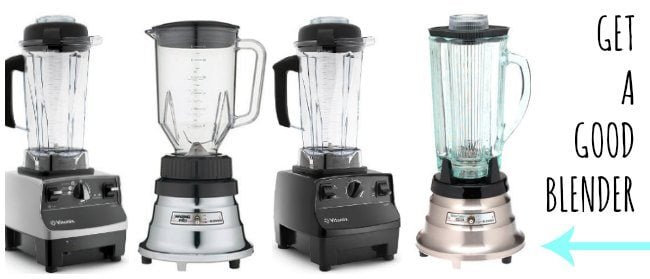 I have a Vitamix now and I love it. We have had it for many years and it's still working to make smoothies and more!It's paid for itself time and time again with all the money I have saved making smoothies and milkshakes at home. It is pricey but it's truly worth it.
You won't have to keep replacing it like with the cheaper blenders. Amazon has several of them on sale right now for a great price. If you just can't make it work in the budget, I recommend a Waring professional blender. It's the next best thing and it will get the job done.
It really does make a difference having a good blender! It will save you time and money!
This Strawberry Watermelon Smoothie will be a hit!
Ingredients:
Frozen strawberries
Watermelon (frozen -yes you can freeze fresh watermelon. Just dice it up and freeze)
Yogurt – (I usually use vanilla yogurt or strawberry)
½ cup water – Or you can use any type of juice! Orange juice or apple juice work great.
We have even used almond milk instead of juice.
How to make a Watermelon Smoothie:
Place the liquid in your blender FIRST! This is important!
Then toss other ingredients in the blender and blend.
Blend until smooth!
Enjoy!
Easy Strawberry Watermelon Smoothie recipe!
This smoothie recipe makes 2 large servings! If my kids are home, I will share with them if not, I will drink half and freeze the other half. That is why I love this recipe! Combining the watermelon and strawberry flavors makes this my favorite smoothie right now! My other favorite is the pineapple spinach green smoothie!
It is a healthy option that will leave you feeling full and ready to start the day!
Do I have to use frozen strawberries?
My family loves having ingredients on hand to make smoothies. Having key ingredients on hand at all times makes it nice to be able to make a smoothie to go with your breakfast or a healthy treat.
So I always try to have frozen strawberries since fresh strawberries are not always available or they are out of my budget. Having strawberry smoothies is an easy to get your daily fruit in!
You can use fresh fruit for your smoothies, but having frozen fruit makes your smoothies have that nice thick texture.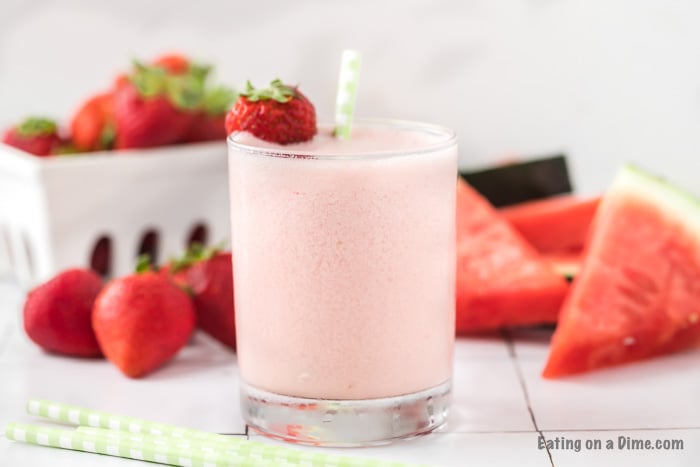 What other fruits can you use?
There are several different options that go well with watermelon when you are making a smoothie. Strawberry is our favorite fruit to mix with watermelon, but you can also mix bananas and tropical fruit such as mango or pineapple. You can also squeeze in some lime juice!
Whatever you use, you know it will be good! We often times will add some maple syrup to sweetened it a bit.
Can you freeze watermelon for smoothies?
Yes! Frozen Watermelon is great way to use your watermelon in different things such as smoothies. When we have watermelon that we are not going to eat, I like to cut it in big chunks and then freeze on a cookie sheet until solid. Once frozen, then you can store in airtight container for up to 6 months.
Now you can have watermelon smoothies anytime of the year!
See also Frozen Strawberry Recipes for more Summer ideas. This is one of my favorite snacks for Summer. Check out all our Summer Snacks for more delicious recipes.
Print this Strawberry Watermelon Smoothie Recipe below:
Strawberry Watermelon Smoothie
Strawberry watermelon smoothie recipe is delicious. This easy strawberry watermelon smoothie is refreshing. Try Strawberry Watermelon yogurt smoothie.
Ingredients
½

cup

frozen strawberries

½

cup

watermelon

1

cup

yogurt

(I usually use vanilla yogurt or strawberry)

½

cup

water
Instructions
Place the liquid in your blender FIRST! This is important!

Then toss other ingredients in the blender.

Blend until smooth!

Enjoy!
Nutrition Facts
Calories
97
kcal
,
Carbohydrates
11
g
,
Protein
4
g
,
Fat
4
g
,
Saturated Fat
2
g
,
Cholesterol
15
mg
,
Sodium
57
mg
,
Potassium
287
mg
,
Sugar
9
g
,
Vitamin A
340
IU
,
Vitamin C
24.8
mg
,
Calcium
154
mg
,
Iron
0.2
mg
More easy smoothie recipes: