This post may contain affiliate links. If you make a purchase through links on our site, we may earn a commission.
The kids will love this strawberry banana smoothie and you will love that it is healthy and easy. Serve this smoothie for breakfast or a quick snack that the entire family will enjoy.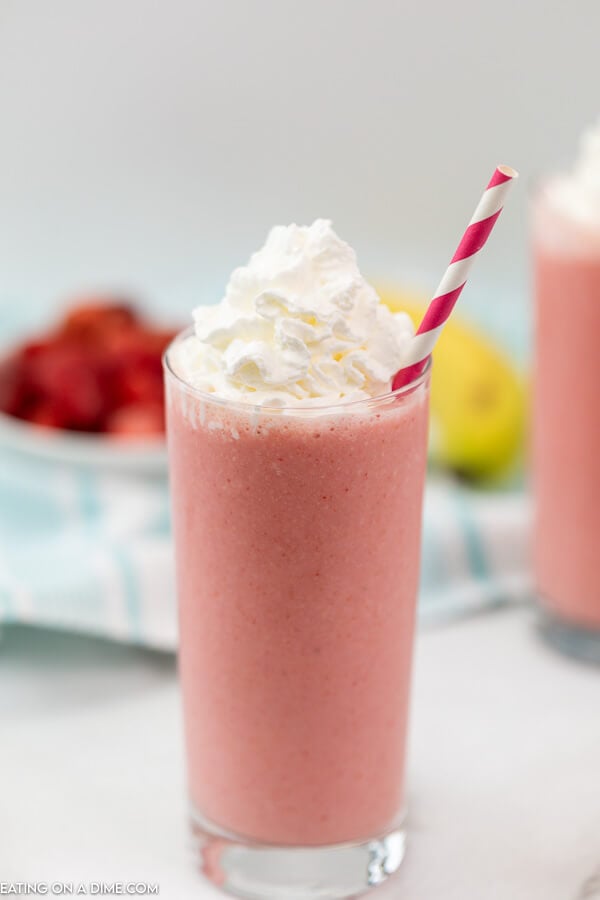 Strawberry banana smoothie
I'm excited to share with you this Yogurt Strawberry Banana Smoothie Recipe that we make all the time around here. Now, I know many of you love my spinach pineapple smoothie, but not all kids are excited to drink something green. However, you can still serve them a smoothie packed with fruits and nutrition with this delicious strawberry banana smoothie recipe with greek yogurt.
Now I made this strawberry smoothie recipe with greek yogurt to beef up a little protein for the little kids. I have used regular yogurt, but greek yogurt is great because the kids don't usually notice the different, and it is a great way to make it extra creamy and add in some protein. However… not all kids like the yogurt so you can certainly leave it out and use juice instead.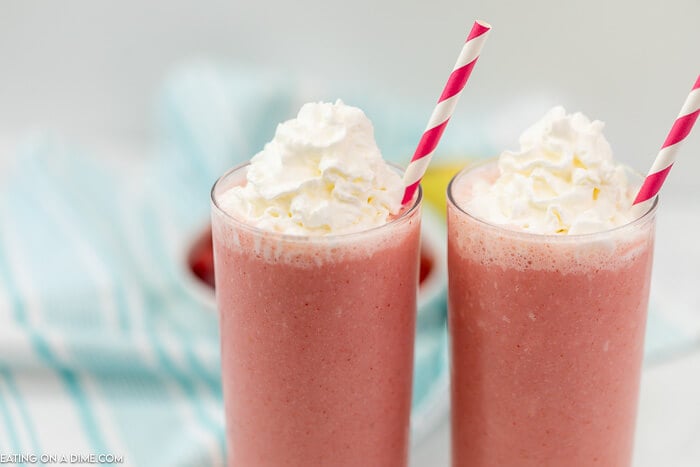 Ingredients:
Ripe Banana (the riper the better, because they are sweeter)
Strawberries
Greek Yogurt
Water
Ice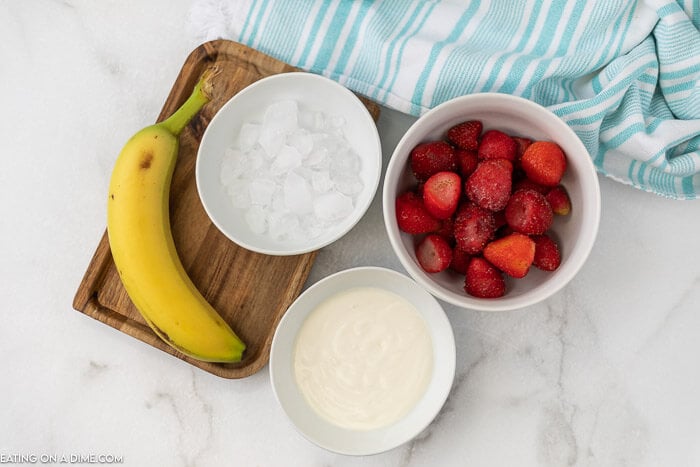 How to make strawberry banana smoothie
First, put the liquid and the yogurt in the blender. I always like to put the liquid in first because I feel like it blends together better.
Second, top it all off with the fruit.
Now, blend everything until smooth.
Finally, add ice if you need it to make it thicker or colder. Blend again until it is the desired consistency.
Tip- Sometimes you need to blend it once more to get any extra "chunks" out of it.
Tips for strawberry banana smoothie recipe:
You can still make an amazing strawberry smoothie without yogurt. Yogurt does help make it extra creamy, but bananas do that too. If you are going to make this recipe without yogurt, I would use less juice in the recipe. The banana and less juice (change it to a half a cup) will still make a delicious strawberry smoothie without yogurt. This works great if you have children that don't love yogurt or they can taste that distinct taste even hidden in a smoothie (I have one of those), you can still serve a delicious smoothie.
You can use almond milk or any dairy free milk instead of water.
If adding juice, apple and orange work great.
Protein Powder- add this to get more protein if your kids don't like yogurt.
Try fresh strawberries or frozen strawberries. Both are great!
Kids love this smoothie!
All 8 of my kids love this smoothie recipe. They really do. I have one that hates smoothies. Fruit scares him (I know… weird, right?) and he even admitted that he likes this yogurt strawberry banana smoothie.
It was so good, my Dakota had to finish the leftovers straight out of the blender. I would say this is definitely a winner!
You need a good blender.
Now that we have talked all about these strawberry smoothies, make sure you invest in a good blender.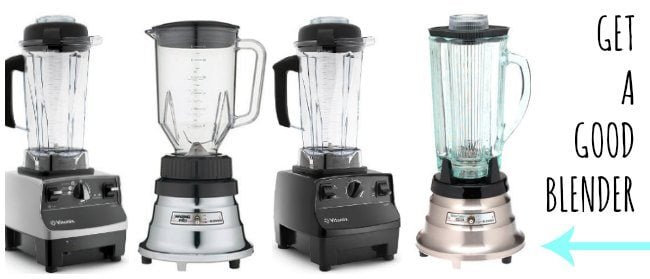 I have a Vitamix and I love it. It is old and is still going on strong. It is quite the investment to get one, but it is one investment that won't disappoint. It will be the last blender you ever had to buy. Amazon has several of them on sale right now for a great price.
Now if a Vitamix isn't in your budget, then I recommend a Waring professional blender. They are going to get the job done. Now they are not as great as a Vitamix, but they are the next best for a much more reasonable cost. Amazon has several Waring blenders on sale right now.
Either way, I know you will be able to enjoy a delicious and smooth fruit smoothie with one of these blenders.
Money saving tip:
Did you know that you can freeze fruit yourself? Instead of buying fruit frozen, stock up on it in the Summer when it is at its cheapest and freeze it.
When I find strawberries for super cheap, I stock up and freeze them. You can save over half off than if you bought frozen fruit at the store. Head on over to learn How to Freeze Fruit.
Print the recipe for strawberry banana smoothie with yogurt:
Yogurt Strawberry Banana Smoothie Recipe
Make this yogurt strawberry banana smoothie at home- our favorite kid friendly smoothies. Make this strawberry smoothie without yogurt or WITH greek yogurt.
Ingredients
1

cup

Water

1

Ripe Banana

1

cup

Frozen Strawberries

1/2

cup

Greek Yogurt

1/2

cup

Ice
Instructions
Place the liquid and the yogurt in the blender.

Then top with the fruit.

Blend until smooth.

Add ice if you need it to make it thicker or colder. Blend again

Add more ice if you want your smoothie thicker or add more water if you want your smoothie thiner.
Recipe Notes
This recipe is easy to interchange with your favorite fruit so use whatever you have on hand or whatever is in your freezer! 
Nutrition Facts
Calories
105
kcal
,
Carbohydrates
21
g
,
Protein
6
g
,
Fat
1
g
,
Saturated Fat
1
g
,
Trans Fat
1
g
,
Cholesterol
3
mg
,
Sodium
28
mg
,
Potassium
392
mg
,
Fiber
3
g
,
Sugar
12
g
,
Vitamin A
48
IU
,
Vitamin C
47
mg
,
Calcium
75
mg
,
Iron
1
mg
More easy smoothie recipes: