Starbucks Cotton Candy Frappuccino taste like cotton candy blended together for a delicious drink. You can easily make this copycat drink at home.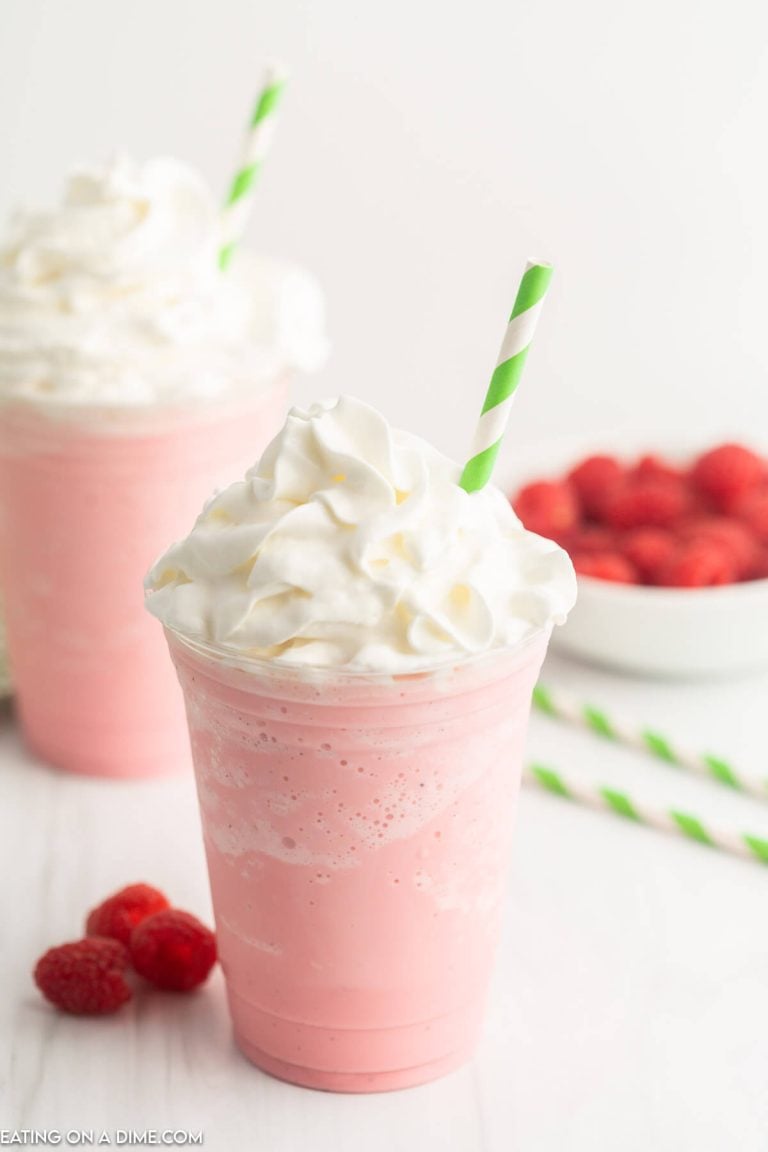 What is a Cotton Candy Frappuccino made of?
Cotton Candy Frappuccino Starbucks drink is on Starbucks secret menu. It starts with a Vanilla Bean Frappuccino base and blended with raspberry syrup. Combining these two flavors makes the best cotton candy drink at Starbucks.
This caffeine free drink is delicious and full of flavor. It taste just like cotton candy that you get at the fair.
Simple ingredients can easily make this delicious copycat drink at home which saves time and money.
Ingredients:
Vanilla Bean Ice Cream
Milk
Ice
Raspberry Simple Syrup
Pink Food Coloring (optional)
Whipped Cream (for serving)
How to Make Starbucks Cotton Candy Frappuccino at home:
Step 1 – Combine the ice cream, milk, ice and pumps of raspberry syrup in a blender. Blend until well combined. Add more pink food coloring if needed.
Step 2 – Pour the mixture evenly between 2 cups and top with the whip cream. Serve immediately while cold and enjoy!
Tips for Copycat Starbucks Cotton Candy Frappuccino Recipe:
Raspberry Syrup – You can make Homemade Raspberry Syrup or use pre-made syrup.
Whipped Cream – Top the Frappuccino with whipped topping or cool whip.
Add Sprinkles – We think this Frappuccino would be fun topped with sprinkles.
Pink Food Coloring – We like to add pink food coloring to add vibrant color to the Frappuccino.
Blend Ingredients – Blend the ingredients with a blender. We love our Vitamix blender or any brand of blender will work.
Does this Frappuccino have Coffee or Caffeine?
There are some Frappuccino's that have coffee in them but this Frappuccino is cream based. Therefore, this drink does not have coffee or caffeine in it.
How to Store Starbucks Frappuccino Cotton Candy:
This is best served immediately and the Frappuccino will become watery and thinned out as it sits.
You can freeze the leftovers but wait to top with whipped cream until you are serving the Frappuccino.
If you decide to freeze this drink, make sure you store in an air tight container. This makes it so that the Frappuccino does not get freezer burn.
Easy Starbucks Frappuccino Recipe:
This Starbucks Cotton Candy Frappuccino is a cream base Frappuccino as it's made with ice cream and not made with coffee so I don't feel guilty when I give these to my kids.
I was surprised by how simple this drink was to create. The ingredients are simple and you can easily get them at the grocery store.
I hope you try this easy and delicious recipe with your family soon. You can easily have the indulgence of a Starbucks treat without spending a ton of money.
Please try this easy copycat Frappuccino for a delicious treat at home.
Print Recipe here for Starbucks Cotton Candy Frappuccino:
More Copycat Starbucks Recipes: