Love Starbucks but not the price? Learn how to make Starbucks Hot Chocolate Recipe at home that tastes rich and decadent.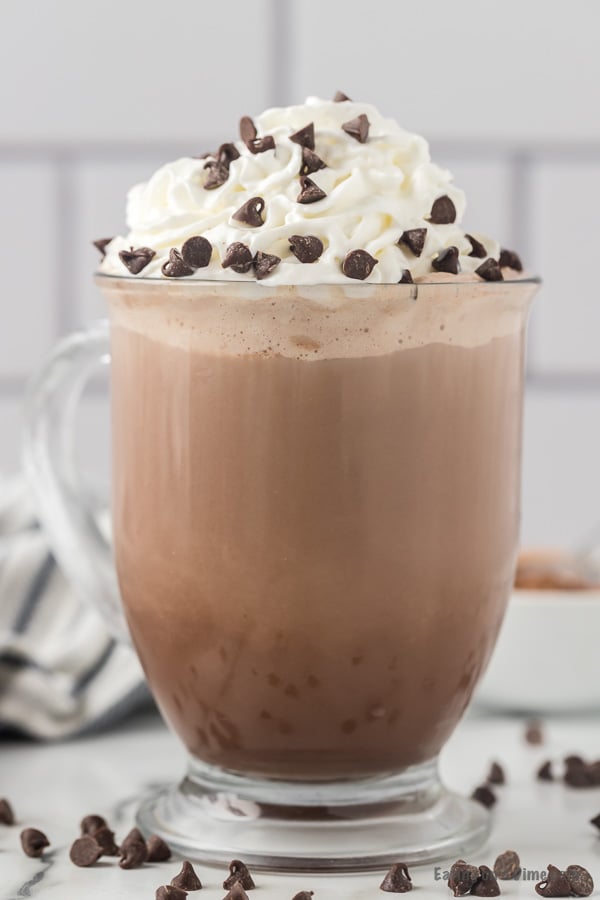 Starbucks hot chocolate recipe
Today I'm showing you how to make Hot Chocolate Starbucks Recipe. Yes, this easy copycat recipe tastes just like the one you can snag at Starbucks, but you can make it at home and save a ton of money.
You can make a ton of hot chocolate for the entire family and save a money over that expensive per cup price. Plus, I just love being able to enjoy it at home anytime I want.
It isn't always convenient to go to Starbucks and leave the house. This is a great recipe to enjoy that delicious hot chocolate anytime you want.
More Copycat Starbucks Drinks
Ingredients:
Unsweetened Cocoa Powder
Sugar
Water
Milk (any kind will do)
Vanilla extract or vanilla syrup
How to make Starbucks hot chocolate:
First, add the water, cocoa and sugar into a microwave safe container. Then you will take the microwave safe bowl and heat for approximately 40 seconds or until warm.
Next, mix mix well to create the chocolate syrup.
Then add the milk and vanilla and stir well.
Put this in the microwave for about 40 to 60 seconds or until hot.
Finally, serve and enjoy. It is delicious with whipped cream and chocolate chips or syrup on top.
More hot Chocolate topping ideas
candy canes or peppermint sticks. You can also crush candy canes to sprinkle on top.
marshmallows. Try mini or regular size. Another idea to try is different flavors of marshmallows. You can also find seasonal shapes such as hearts and Christmas trees.
Chocolate Chips. Try using an assortment. I like to use milk chocolate and white chocolate. Dark chocolate is also tasty.
What toppings do you like best?
This is the fun part. You can set up a hot chocolate bar and everyone can choose their favorite toppings. Hot cocoa topped with whipped cream is always a popular choice.
We have blast serving hot chocolate and you will too. This is a delicious copycat recipe and so easy to make. Give it a try and let us know how it turns out for you.
It is so creamy and delicious for a real treat any day of the week.
You will save money.
CopyCat recipes are a great way to enjoy your favorite restaurant beverages and foods at home. By avoiding eating out, you are saving your family a lot of money.
The savings will really add up by trying different CopyCat recipes. By adding in new and fun recipes to your weekly menu, your family will WANT to stay home and eat more often.
This Starbucks Vanilla Bean Frappuccino Recipe is easy to make and tastes just like the one from Starbucks.
Make this easy Starbucks copycat recipe.
YUM! This is one recipe that the entire family will enjoy. Even the kids can get involved. Get them in the kitchen to make this special treat with you.
Print this Starbucks Hot Chocolate recipe:
Try these other hot chocolate recipes:
More Copycat Recipes to Try: