This post may contain affiliate links. If you make a purchase through links on our site, we may earn a commission.
Enjoy Panera bread chicken noodle soup at home for a fraction of the price and save time too. We love it with grilled cheese for a super quick weeknight dinner that is the best comfort food.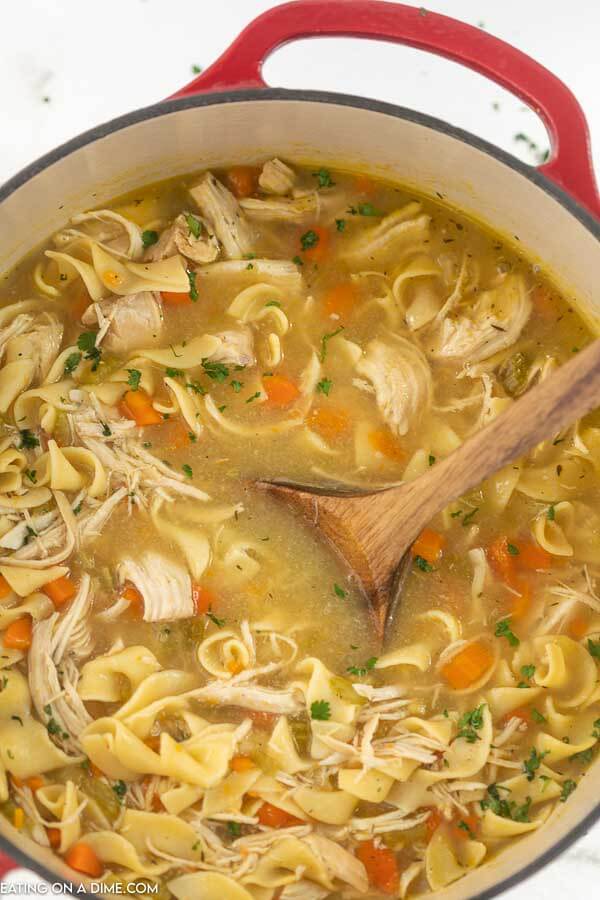 Copycat Panera Bread Chicken Noodle Soup:
Do you love Panera Bread? I'm so excited to share this delicious Copycat Panera Bread chicken Noodle soup recipe with you. My family loves to eat at Panera and their soup is always amazing.
As we ate it the other day, I realized that this recipe would be so easy to recreate. Chicken noodle soup is very easy to make and very frugal to make for a crowd.
I love that the ingredients are easy, and it is simple to make.
Is Panera chicken noodle soup healthy?
Yes, it is. The recipe only uses a cup of pasta and you could probably even reduce that and not notice. If you are worried about sodium, try using the reduced sodium chicken broth.
Try switching out the noodles to gluten-free noodles if you prefer. We love how versatile this recipe is. You can even add in more carrots and chicken to make it even more filling.
You can find more detailed nutrition information on the recipe card.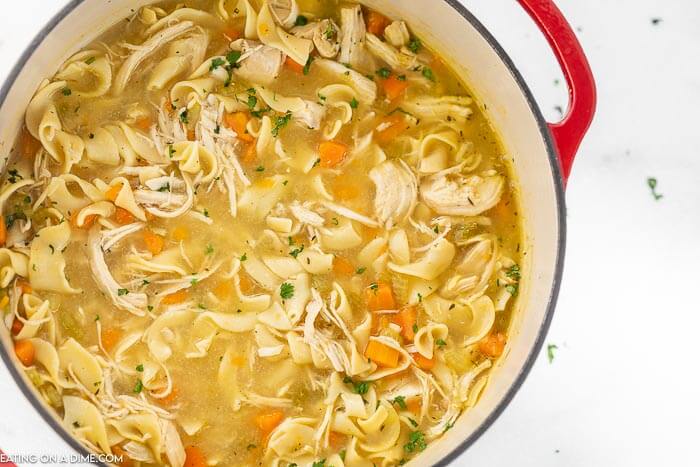 Ingredients:
Boneless Skinless Chicken Breast
Chicken Broth
Water
Carrots
Celery
Onion
Thyme
Bay Leaf
Garlic salt – minced garlic also is fine.
Salt and Black Pepper
Egg Noodles
Now the ingredients list seem long, but they really aren't. Some chicken, some broth, egg noodles, sliced carrots, celery, onions and some seasoning. It is really that easy!
How to make Panera Chicken Noodle Soup Recipe:
Now, you can make this delicious recipe 2 ways – either on the stove or in the crock pot. I prefer it in the crock pot because I can toss everything in, before I head off to work.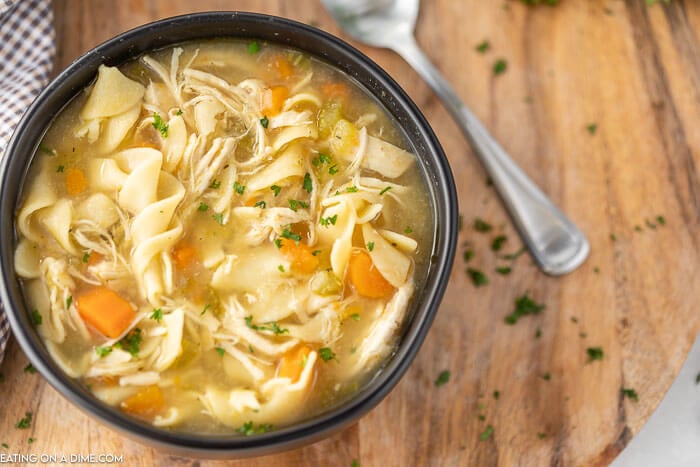 How to make on the stove top.
First, drizzle a pot with olive oil. Add the carrots, onion and celery and cook for a few minutes until they start to get soft.
Add the chopped perfectly seasoned homestyle chicken to the pot and pour chicken broth or water over. Chicken broth will give it more flavor. Let the chicken simmer with all the ingredients.
Next, add the seasonings.
Bring everything to a boil and cook until you see the chicken start to fall apart.
Take the chicken out and shred. Add back to the soup.
Finally, add the noodles (uncooked) to the ingredients and cook until noodles are ready.
How to make Chicken Noodle soup in the crock pot
First, place everything (except the noodles) in the crock pot. It is that easy.
Next, cook this on low for 6-8 hours or high for 3-4 hours.
About 45 minutes before serving, take the chicken out and shred.
Finally, add the chicken back to the pot and add the egg noodles. Set your crock pot to high at this point (if not already on it) so the noodles will cook faster. This should take about 30 minutes.
Either way you want to cook this delicious recipe I think you will find your family a new delicious dinner idea that costs WAY less than heading to the restaurant.
Can I make this ahead of time?
Yes, you can. If you are prepping meals for the week, you can definitely combine and cook everything ahead of time. Don't add the noodles until you are ready to serve as they will get mushy.
How to make Chicken noodle soup fast:
Use precooked chicken, rotisserie chicken or leftover chicken from the night before. Using chicken already cooked means this goes from stove to table in under 30 minutes!
We keep diced onion in the freezer and it makes it so quick and easy for recipes like this. Just grab what you need and go. This also works for the carrots and celery in the soup. Chop and freeze for later!
If you need to thicken your broth, add in about 1 teaspoon xanthan gum.
How to serve leftovers
If you are making enough soup for leftovers, it is recommended to keep the noodles separate. When making this soup, my family prefers to keep everything separate and they can dish out how much of each they want.
You can cook all together but only if you plan on it eating it the next day. This will prevent the noodles from absorbing all the liquid.
Can you freeze chicken noodle soup
Yes, we love freezing chicken noodle soup so we can have homemade soup anytime without all the extra work.
See Can you Freeze Chicken Noodle soup for more information.
How to reheat?
To reheat the leftover chicken noodle soup, place all ingredients in a sauce pan and reheat. If you did keep some uncooked noodles, cook them according to the package.
This soup is great leftover. I like to store in individual containers for my husband and I for lunch the next day.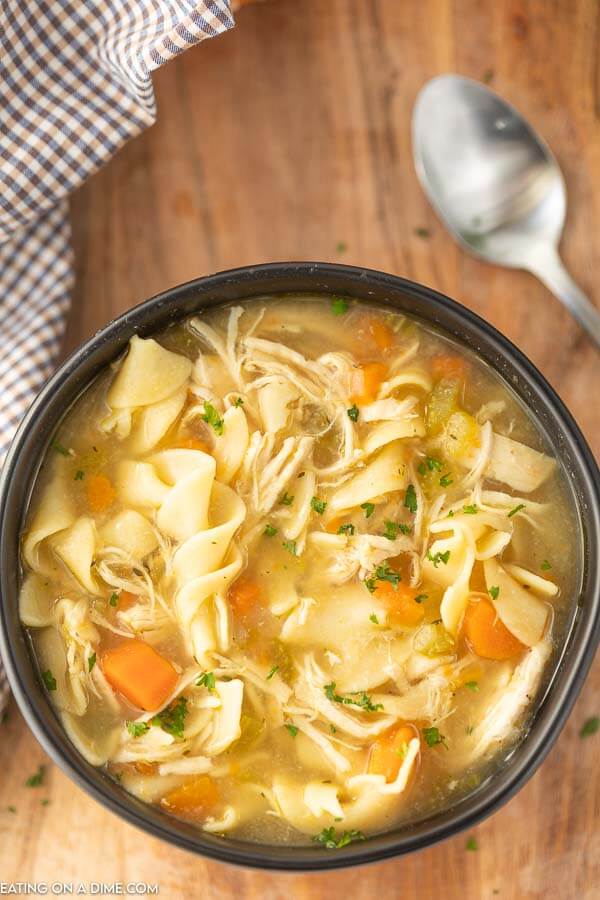 What to serve with Panera chicken noodle soup:
Print this Panera chicken noodle soup recipe:
CopyCat Panera Bread Chicken Noodle Soup Recipe
Try this delicious panera bread chicken noodle soup recipe – I think you will be surprised how easy it is to make and how frugal you can make it.
Instructions
Stove Top Cooking:
Add in the carrots, onion and celery.

Sauté for 3-5 minutes until the vegetables are soft.

Add the chicken and the chicken broth to the stock pot.

Stir in the seasonings (thyme, bay leaf, garlic salt, salt and pepper).

Bring the water to a boil. Cover and reduce the heat to medium low and cook until the chicken is cooked through (reaches an internal temperature of 165 degrees F). This cooking time will vary based on if you use frozen chicken or fresh chicken and based on the chicken size. This generally takes 15-20 minutes for the chicken to cook.

Remove chicken and shred.

Return to soup the chicken back to the stock pot.

Add in the uncooked egg noodles and water. Cook until they are cooked through.
Crock Pot cooking:
Place everything (except the noodles) in the crock pot.

Cook on low for 6-8 hours or high 3-4 hours.

Remove chicken and shred.

Return the chicken back to the crock pot. Turn crock pot on high and add egg noodles.

Cook for 30 minutes until the noodles will be done and dinner is served!
Recipe Notes
This is the perfect (and crazy easy) soup that you can enjoy on a nice chilly day.
Nutrition Facts
Calories
123
kcal
,
Carbohydrates
15
g
,
Protein
11
g
,
Fat
2
g
,
Saturated Fat
1
g
,
Trans Fat
1
g
,
Cholesterol
35
mg
,
Sodium
1438
mg
,
Potassium
480
mg
,
Fiber
2
g
,
Sugar
3
g
,
Vitamin A
6895
IU
,
Vitamin C
15
mg
,
Calcium
42
mg
,
Iron
1
mg
More copycat recipes to try: