My kids love hot chocolate. In the Fall and Winter time, I can barely keep enough in stock as they drink it constantly. In an effort to save money, I create this Easy Homemade Hot Chocolate Mix. Now I love it more than the store bought ones.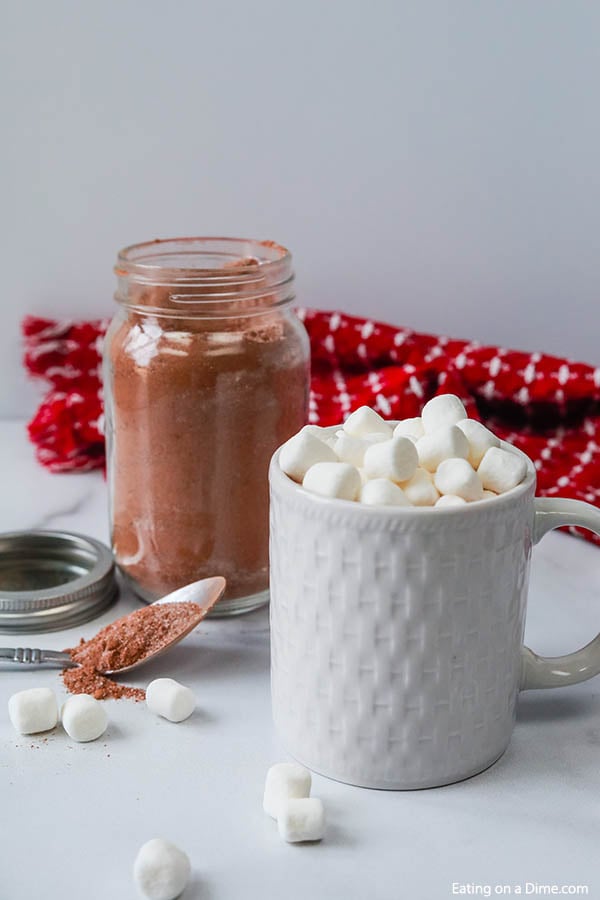 Homemade Hot Chocolate Mix recipe:
Do you remember the Homemade Nesquick recipe I shared with you recently? Well, it has been so cold here my kids have been hooked on hot chocolate.
It was so easy turning my Homemade Nesquick into Homemade cocoa mix. All you have to do is add powdered milk. Adding the powdered milk makes this hot chocolate nice and creamy and oh so yummy.

Have you ever made your own homemade mixes?
If you have been following me for awhile now, you know that I don't love using pre-packaged mixes. I like to create my own mixes so I know exactly what's in the food that I'm providing to my family and I think that homemade ones always taste better anyway.
My obsession first started when I made my own homemade taco seasoning. I was surprised by how simple it was to create and it tasted so much better than the packaged taco seasonings. That was the start of it all. I was hooked on creating my own homemade seasoning mixes.
Then I created my own homemade brownie mix. Wow! These were so amazing and I loved having the mixes on hand so I could make brownies in no time at all for my family. This continue to feed my obsession and my journey continued.
If you love all these recipes, I hope you try some of our other great seasoning and mixes recipes:
H

omem

ade Hot Cocoa mix is budget friendly:
This is WAY cheaper than the boxed variety (and tastes better). A typical 10-count box of cocoa will coast you about $1 (if you get it on sale).
You can make this homemade hot chocolate mix for under $1 and it will give you over 20 servings! Plus, there is something to be said about knowing ALL of the ingredients in your cocoa. 😉
Ingredients needed for Homemade

Hot Chocolate mix recipe

:
You are not going to believe how easy this recipe is to make. You only need 4 ingredients to create this easy homemade hot chocolate mix and I bet you already have most of these in your pantry.
Sugar
Unsweetened Cocoa Powder
Powdered Milk
Salt
That's all you need to create this easy recipe that is delicious and will save you money. There is no reason why you should make this recipe today!
How long will Homemade Hot Cocoa Mix last?
I like to store my hot cocoa mix in a cute designated container. This hot cocoa mix recipe will last up to 6 months. The first sign that it is getting colder, we start mixing up hot cocoa as I know the kids will be asking for it.
We also love giving this hot cocoa mix out as holiday gifts. Everyone loves getting it as I always include some cute holiday mugs and a Christmas movie. You can also include some baked goods. It is a cute but practical to give to give out to your neighbors and your kids teachers.
What is powdered milk?
You do need dry milk powdered for this recipe so that your hot chocolate is creamy. All it takes is ½ cup Powdered milk it is essentially an evaporated milk product that is used in cooking and baking recipes.
By using dry milk, you no longer have to worry about your milk in your refrigerator going bad. It's a great way to extend the self life of milk in your home.
I found this product in the baking aisle of my local grocery store for this best hot chocolate mix recipe.
Substitutions for Homemade Hot Cocoa:
This recipe is very versatile. You can definitely use different ingredients if you prefer.
I have used confectioners sugar instead of regular sugar when I was out. I did find that this made our hot cocoa a bit sweeter but we still enjoyed it.
Also, if you cannot find dry milk in your local grocery store, using instant coffee creamer will work as well. I don't think that it makes the hot chocolate as creamy but is a great option if you cannot locate powdered milk in your area.
In addition, the salt in this recipe is optional. I find that it brings out the flavor in the cocoa powdered but is not needed if you are watching your salt intake.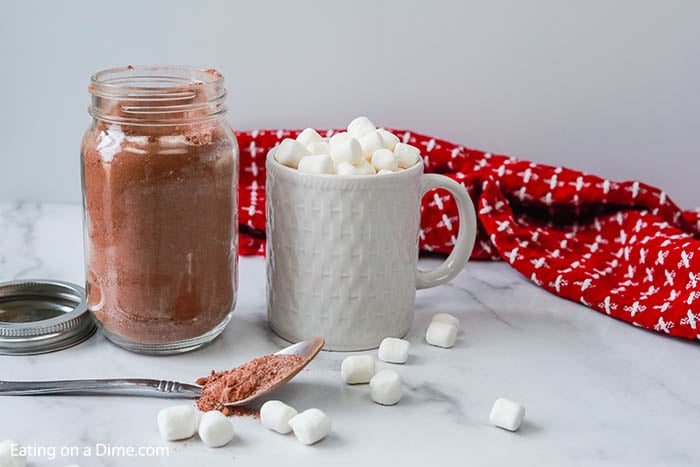 How is hot chocolate powder made?
Once you have all the ingredients that you need for this recipe. You can combine them 2 different ways. You can either mix the ingredients together in a large bowl until they are thoroughly combined. Then you put the ingredients in an air tight container for storage.
However, you can also put the ingredients directly in a mason jar. A pint size mason jar would be needed to hold all the ingredients. Then secure the lid tightly on the jar and shake the jar until all the ingredients are thoroughly combined.
Either of these ways would work great for this recipe. I usually just put them in the mason jar so I don't have any dishes to clean up after I'm done creating this chocolate flavor hot chocolate mix.
Then I store the mason jar in my pantry so it's ready anytime someone in my family wants to enjoy a delicious cup of hot chocolate. Now make sure you snag a super cute Mason jar to store your homemade mix inside. Amazon has several on sale here.
Homemade Hot Cocoa Drink:
After you have created your homemade hot cocoa mix, all you have to do is mix 1-2 Tablespoons of the mix with a cup hot water. I add the amount of mix needed based on how chocolatey you want your cocoa.
All you have to do is stir until the mix is thoroughly dissolved and then your hot chocolate is ready to be enjoyed.
You can also setup a Hot Cocoa bar for your kids and their friends. My kids love making their own creation and it is a great way to gather their friends around the table for non-stop laughing and fun!
Toppings for Hot Cocoa Mix:
Ok now that you have created a delicious and easy cup of hot cocoa, what would use to top it?
My kids love topping theirs with mini marshmallows. We also have a pack of those on hand!
Also, whipped cream is always a winner on hot cocoa!

Also, you can top it with your favorite type of chocolate chips. I love using a mixture of white and milk chocolate chips.

Some friends put red hot candies in their hot chocolate.

Be sure to have some peppermint sticks or candy canes for stirring.
However you decide to enjoy it, you'll love having this homemade chocolate mix in your pantry for your family to enjoy.
Print Easy Homemade Hot Chocolate Mix Recipe Here:
Easy Homemade Hot Chocolate Mix
This homemade hot chocolate mix is much easier to make than you might think. It is also much cheaper to make your own hot chocolate mix than to buy in the store.
Ingredients
1 1/3

cup

sugar

(granulated or powdered)

2/3

cup

baking cocoa

1/2

cups

powdered milk

1/8

teaspoon

salt

(optional)
Instructions
Combine ingredients in a mason jar. Shake until everything is well combined.

To make hot chocolate, add 1-2 tablespoons of homemade hot chocolate mix to hot water. Stir and enjoy!
Recipe Notes
Adding the powdered milk makes this hot chocolate nice and creamy and oh so yummy.
Nutrition Facts
Calories
74
kcal
,
Carbohydrates
16
g
,
Protein
1
g
,
Fat
1
g
,
Cholesterol
3
mg
,
Sodium
27
mg
,
Potassium
86
mg
,
Sugar
14
g
,
Vitamin A
30
IU
,
Vitamin C
0.2
mg
,
Calcium
33
mg
,
Iron
0.4
mg
Other drink recipes to try: