This post may contain affiliate links. If you make a purchase through links on our site, we may earn a commission.
Homemade hot chocolate recipes are easy to make and so decadent. Try over 20 of the best hot chocolate recipes.
Homemade hot chocolate recipes
There is just something about a cup of hot chocolate! We have so many different options to choose from. Try these amazing homemade hot chocolate recipes.
Everyone is going to love them! Plus, you will save SO much money by making these at home.
It really can add up ordering hot chocolate and especially for a family. Now, you can try tons of great recipes at home for a fraction of the cost.
Not to mention they are SO yummy and easy to make. If you love hot chocolate, you might also like our Hot Chocolate Lasagna Recipe.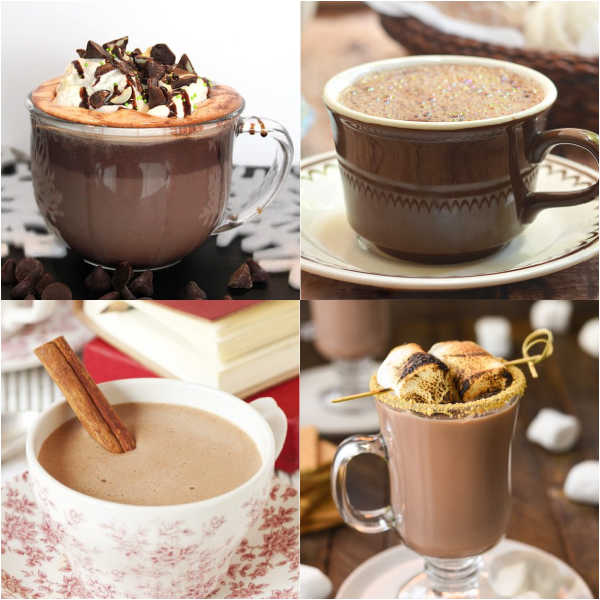 20 of the best hot chocolate recipes
When the weather gets colder, my mug is always filled with a hot drink. On cool fall nights, it's always hot chocolate.
I love trying new ways to drink this classic beverage, which is why I put together this list of 20 amazing homemade hot chocolate recipes that you must try!
Grab some marshmallows, a good book and curl up with one of these amazing cups of hot chocolate. Yum!
We love to try different hot chocolate recipes and it is so fun to make. Make some of these drinks today and let us know what you make.
Let's learn how to make homemade hot chocolate!
Iced hot chocolate recipe
The recipe here is so amazing. Enjoy it iced or frozen for a delicious treat any day of the week.
Crock pot hot chocolate recipe
This recipe is rich and creamy with just 5 ingredients. Serve this decadent drink here for parties, Christmas and more.
Crock pot white hot chocolate recipe
Keep your hot chocolate warm all night long for a creamy and delicious drink idea here. The slow cooker makes it so easy!
Easy Homemade Hot Chocolate Mix
Save money and make hot chocolate mix at home. It is better than the pre-packages ones and so easy to make here.
Healthy Cinnamon Hot Chocolate
Try a dash of cinnamon in your hot chocolate. It's amazing what it adds to the taste in the recipe here.
Vegan Chai Hot Chocolate
The combination of chai and hot chocolate is amazing in the recipe here. It's perfect if you want something a little different.
Hot Chocolate Starbucks CopyCat Recipe
Save yourself some money and make hot chocolate just like Starbucks. Get the recipe here.
French Hot Chocolate
The recipe here is thicker and much richer than traditional hot chocolate. It's very decadent and a great treat.
Icelandic Hot Chocolate
A dash of sea salt transforms the recipe here into something delicious. Once you try this twist on hot chocolate, you might not go back.
The World's Best Hot Chocolate
Chocolate, chocolate and more chocolate! The recipe here is so rich and decadent.
Hot Chocolate With Marshmallows
Try hot chocolate floats! The peppermint ice cream with hot chocolate is so good in the recipe here.
Crock pot White Hot Chocolate Recipe
This is perfect served at a party and so easy in the slow cooker. The white chocolate here is so creamy and delicious.
Pumpkin White Hot Chocolate
Pumpkin and white chocolate are an amazing combination that everyone will love. It's a great twist on plain hot chocolate here.
Frozen Salted Caramel Mocha Hot Chocolate
Who says hot chocolate has to be hot? Try this frozen version here with salted caramel and mocha!
Nutella Hot Chocolate
Nutella in hot chocolate? Yes please! Nutella fans will go crazy over this recipe here.
Easy Homemade Hot Chocolate Mix
Make a big batch of hot chocolate mix here to enjoy all season. It's so much better than store bought!
Chai Spiced White Hot Chocolate
White chocolate with just a touch of chai spice makes for the perfect cup of warm hot chocolate. See the recipe here.
Italian Hot Chocolate
This is so decadent its almost like drinking pudding. You really could serve this recipe here for dessert because it is so decadent.
The Best Mint Hot Chocolate Recipe Ever
A little mint makes this the best hot chocolate recipe here! If you like mint chocolate, you will love this recipe for a delicious treat.
Red Velvet Hot Chocolate
Red Velvet in a cup! This hot chocolate with a touch of red velvet is out of this world here.
Mexican Hot Chocolate

Try a spin on hot chocolate with this Mexican hot chocolate here. The ingredients might surprise you but it's so tasty and sure to be a hit!
S'mores hot chocolate
Chocolate and marshmallows combine to make the perfect treat here! Plus, it's just so pretty.
All of these homemade hot chocolate recipes sound amazing!
I can't wait to try several. Let us know which ones you try because they are really just so tasty.
Skip the store bought hot chocolate and choose one of these easy and delicious recipes. The chocolate flavor is richer and it's so easy to try different types.
Homemade hot chocolate is just so much fun to make and we love trying new recipes. From chopped chocolate and chocolate chips to cocoa powder and vanilla extract, the recipes are loaded with flavor.
Sometimes we use dark chocolate for a change. Yum!
You can use regular milk or almond milk if you need a dairy free option. The recipes are very easy to adapt to meet everyone's needs.
Once you try hot cocoa with heavy cream at home, store bought simply won't compare. Start making hot chocolate at home and taste the difference.
Try some of these other ideas for Fall:
Try our other beverage recipes: