This post may contain affiliate links. If you make a purchase through links on our site, we may earn a commission.
I love making a fun punch for the holidays or for parties for my kids to enjoy as well. My entire family loves this Kid Friendly Cotton Candy Drink Recipe and it only takes 2 ingredients to create!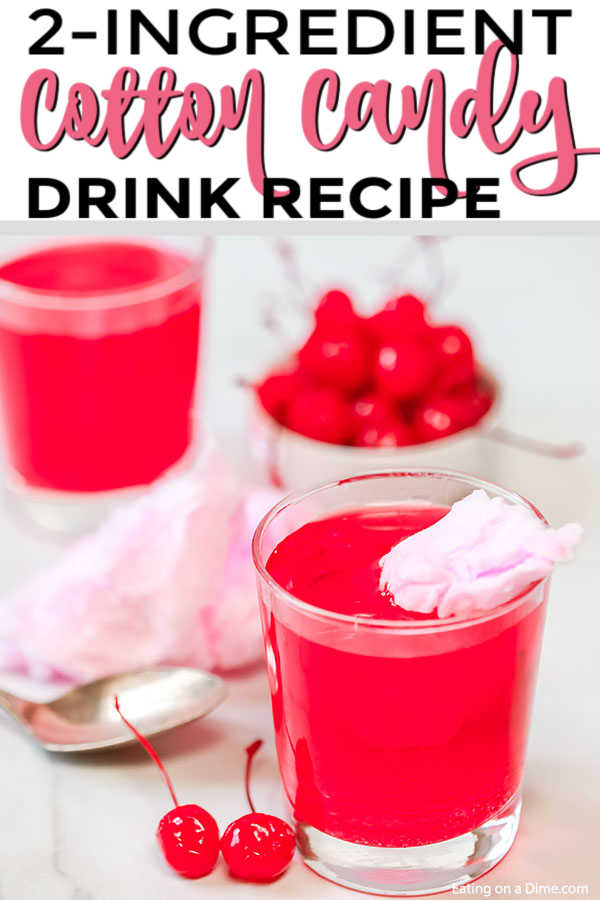 This cotton candy drink is fun and easy to make!
I have a super fun and affordable drink for you and your kids – you have to make this Kid Friendly Cotton Candy Drink recipe. Seriously… so easy! You only need two ingredients, but we like to toss in a cherry to make it extra special and fancy for the kids.
As many of you know I love to celebrate New Year's Eve with my kids. We love to talk about the past year and all the great things that have happened and talk about all that we plan for the next year.
Every New Year's Eve, we love getting into our pajamas early, enjoying our favorite finger foods and playing games together. To go along with these traditions, I also like to create a unique and fun drink for my kids to enjoy.
And what is more fun than cotton candy? One year, I tried this simple and easy cotton candy drink and now it's a tradition that we make it every year on New Year's Eve.
This is such a fun kid friendly drink recipe to help your kids ring in the new year. My kids love it but I find that adults enjoy it too. This cotton candy punch is a crowd pleaser for any party you throw this year.
What is needed to make this pink kids drink?
Ok back to the drink…. the sparkling party punch. As stated before you only need 2 ingredients to create this punch for your family.
Raspberry Gingerale
Cotton Candy
Cherry for garnish (Optional)
That's all you need to create this cotton candy mocktail recipe for your family. I promise, this is easy to create and everyone will be impressed with this festive and fun drinks for kids.

How do you make these drinks for kids party?
You are not going to believe how easy this recipe is to create for your family. It's only 2 ingredients and probably takes less than 2 minutes to prepare for your kids!
First, I place one piece of cotton candy in the drinking glass that I plan on serving this fun drink in. I have used regular glass but it's also fun to use champagne flutes for older kids when you don't have to worry about them accidentally breaking them.
After this pour the ginger ale over the cotton candy in the drink. It will dissolve the cotton candy immediately but it will dispense the cotton candy throughout the beverage.
Then I place a cherry in the glass or garnish the top with more cotton candy.
Serve immediately and watch all the kids be impressed at this delicious and festive drink that you just created for them.
Yes…it really is that easy! There are no excuses as to why you can't create this for your family as well!
How do you serve these fun drinks for your kids?
When I'm making these for my family only, I generally make them in individual glasses. It's quick and easy. Also, the kids can easily make their own which they love doing as well.
However, if you are throwing a large New Year's Eve party (and I hope you are!), you can create a larger batch in a punch bowl for everyone to enjoy.
I would put a large amount of cotton candy in the punch bowl and fill the rest of the bowl up with the ginger ale. I like to taste test it once it's done and add more cotton candy if it needs more sweetness.
What variations can be made with this punch recipe?
This recipe is easy to switch up to make it work for your family or a party. The easiest way to change it up is to use a different flavor of cotton candy.
Generally I use strawberry cotton candy to create this pinkish red color. However, you can use all different types of flavors like blueberry, green apple or banana.
When using the other flavors, I would use regular ginger ale instead of raspberry ginger ale to enhance these flavors of cotton candy.
Also, you can use Sprite or 7 Up instead of Ginger ale if you prefer. This would still taste delicious in the recipe and the carbonation will dissolve the cotton candy into the punch or drink.
In addition you can create fun candy drinks for your party by putting a jolly rancher at the bottom of the drinks as well. This adds an added bonus for the kids to enjoy once they are done with their punch.
It would also be fun to offer many different flavors with a cotton candy variety pack so that the kids can choose their favorite flavors.
My boys generally prefer the blueberry cotton candy and my girls love the strawberry one. You can always just provide these two options to make sure that all the kids at the party have one that they prefer.
What parties can you serve this cotton candy drink at?
As discussed before, I generally make this for our New Year's Eve parties. However, this drink recipe is perfect for birthday parties, Valentine's day parties or any other special occasion that your family is celebrating.
This punch recipe is versatile and can easily be altered to work for your family or your event.
I hope you enjoy this sweet treat soon and please leave us a comment to let us know what you think!
Cotton Candy Punch
Try this easy kid friendly cotton candy drink recipe. You only need 2 ingredients to make this yummy cotton candy drink punch for kids and adults.
Ingredients
3

oz

bag cotton candy

(1) 2

liter

strawberry ginger ale
Instructions
Divide the cotton candy evenly into the cups.

Pour over with the soda.

Serve immediately.
Nutrition Facts
Calories
226
kcal
,
Carbohydrates
58
g
,
Sodium
35
mg
,
Sugar
57
g
,
Calcium
15
mg
,
Iron
1
mg
2 ingredients is all you need for this easy sherbet punch recipe for another easy recipe to try.
Jolly rancher suckers are the best. They are so simple to make and my kids go crazy over these.
If you enjoy this kid friendly cotton candy drink recipe, I hope you try our other beverage recipes!