Starbucks Chai Tea Latte is creamy and delicious hot drink. This copycat recipe is so good that you will be able to skip the drive thru and make it at home.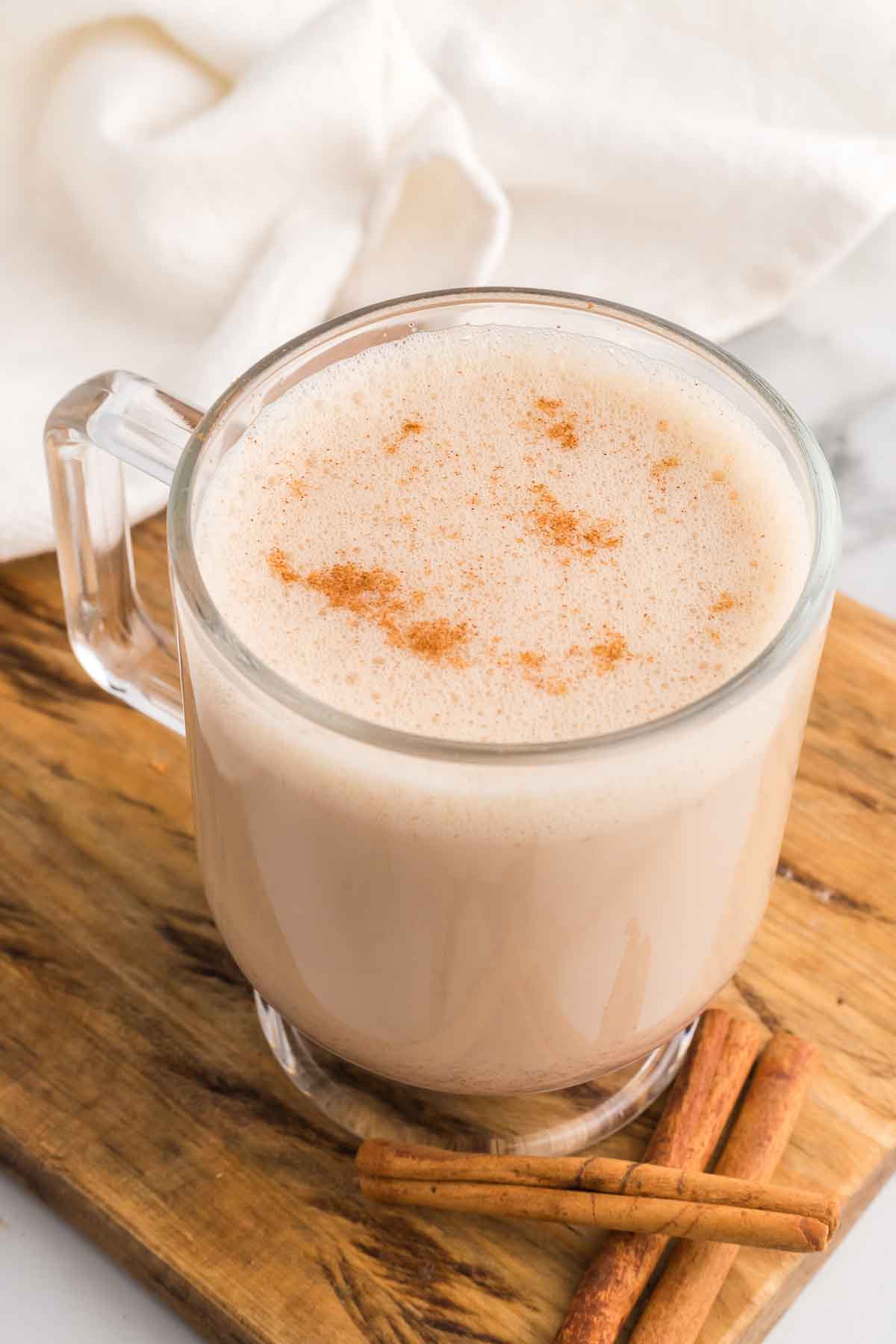 Starbucks Chai Tea Latte Recipe:
Copycat Starbucks Chai Tea Latte is the best combination of chai tea, creamy milk on top and delicious spices. It is very popular at Starbucks Coffee Shop but now you can make it at home at a fraction of the cost.
There is nothing better than a hot latte on a cold day. I love to enjoy Chai Tea at Starbucks so I decided to make this aromatic tea at home. It is simple to make and now I can enjoy it without leaving home.
My kids love going to Starbucks to get their Frappuccinos. Their favorites are Starbucks Vanilla Bean Frappuccino and Starbucks Caramel Frappuccino. Now I can make everyone's favorite drink at home and we save a ton of money.
What is Chai Tea Latte?
Chai Tea is a black tea that has been infused with cinnamon, clove, and other delicious warm spices. To balance out the sweet and spicy flavors, steamed milk is poured over the tea to make a latte.
What is in Chai Tea Latte at Starbucks?
Starbucks Chai Lattes takes black tea and combines the sweet and spicy flavors of warm chai spices. They consist of cinnamon, clove and other spices to give it that spicy flavor.
Steamed milk is poured over the top and a nice foam is created to give a warm and comforting drink. Starbucks Chai Tea Latte has 240 calories in it.
Ingredients:
Water
Tazo Chai Tea Concentrate Bags
Cinnamon
Honey
Whole Milk
How to Make Starbucks Chai Tea Latte:
Step 1 – Bring the water to a boil in a small saucepan.
Step 2 – Add the store bought chai tea bags and cinnamon. Cover and let the tea steep for 10 minutes. Stir in the honey.
Step 3 – Stir in the milk and reduce the heat to medium to warm the milk through.
Step 4 – Then use a frother or immersion blender and blend until frothy.
Step 5 – Pour into cups and serve topped with extra cinnamon sprinkled on top.
Step 6 – Serve warm and enjoy.
Chai Tea Latte Tips:
Milk – We used whole milk in this recipe, but you can use any type of milk that you prefer. You can even make it dairy free by using almond milk or oat milk.
Froth – When we make this Latte, we like to blend it with a milk frother to give the tea and foamy top. But you can also just mix with a spoon.
Sweet – In this recipe we sweetened the Latte with honey, but you can also use maple syrup.
Does Chai Lattes have Caffeine in them?
Since Chai Tea is made with Black Tea then yes there is caffeine in it.
Variations for Starbucks Chai Tea Latte:
Vanilla Syrup – If you prefer a vanilla flavored Chai Tea Latte, drizzle some vanilla syrup for amazing flavor.
Iced Chai Latte – If you prefer to have serve your Chai Tea Late cold, Ice Latte is always delicious.
Frappuccino – If you prefer more of a Frappuccino, you can serve the latte with whipped cream over the top.
Pumpkin Spice – When the fall weather hits, we love to add some pumpkin spice to the mix. We love to serve this hot.
How to Serve a Chai Tea Latte:
We love to serve Chai Tea Latte with a dusting of cinnamon on top or whipping cream. Chai Tea Latte can be served warm or ice chai tea latte depending on what you prefer.
This makes a sweet hot chai tea similar to Starbucks. If you want a less sweet tea, reduce the amount of sugar or honey to 1 tablespoon.
Print Recipe here for Starbucks Chai Tea Latte:
More Copycat Starbucks Recipe: