This post may contain affiliate links. If you make a purchase through links on our site, we may earn a commission.
You have to make this easy Red Lobster Tartar Sauce Recipe. It tastes just like the restaurant tartar sauce but you can make it at home. You'll be amazed at how easy it is to make your own tartar sauce!
I have a fun and super easy copycat recipe for you today – copycat Red Lobster tartar sauce. This recipe only takes 5 ingredients and it tastes just like the real deal that you would get at Red Lobster.
How to serve Copycat Red Lobster tartar sauce recipe?
Tartar sauce is great to eat with fish, like my Parmesan Crusted Tilapia, but it is delicious on other things as well. It is incredible spread on fish sandwiches or dipping fried fish into.
I have heard people dip everything from French fries to fried okra in tartar sauce. My kids even love to dip their shrimp poppers and fish sticks in this copycat Red Lobster tartar sauce. One bite of this amazing tartar sauce and you'll see why!
When I'm serving this tartar sauce up to my kids, I love using small ramekins. They make it so much easier for them to dip their food into instead of having it just slopped onto their plate.
If you have small children that you don't trust with breakable dishes, you can use silicone cupcake liners. I use mine for way more then just baking cupcakes.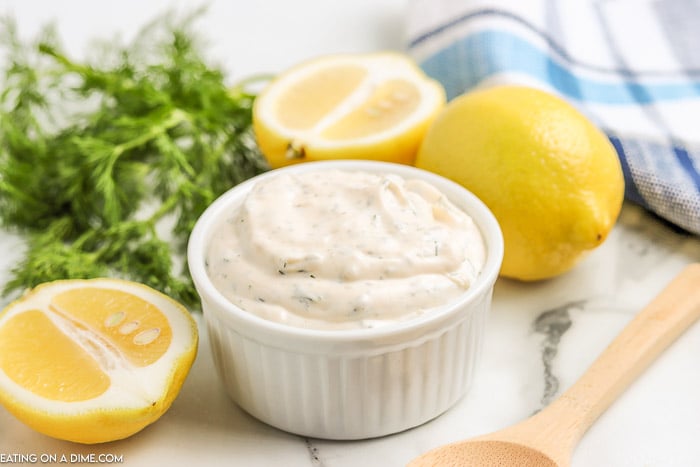 How do you make tartar sauce?
Eating out can get super expensive when you're feeding a family. Because of this, we rely heavily on copycat recipes so that we can enjoy the things we love without breaking the bank!
If I'm being honest here, sometimes its so that I don't even have to get out! I'm all for staying in and cutting costs!
Tarter sauce was always one of those condiments that I thought you could only buy from the store. Even then you were limited. It seemed like the restaurants always had the good stuff! I honestly had no idea that it was so simple to make your own Red Lobster tartar sauce at home, or I would have tried it a long time ago!
The flavor that homemade tartar sauce has is unmatched to store-bought! Once you see that all you have to do is measure ingredients and mix them together, you'll be hooked!
Give this copycat Red Lobster Tartar Sauce recipe a try. I can't wait to hear what you think about it. The next time I make this copycat recipe I'm going to use it on fish tacos!
Ingredients to make tartar sauce:
You only need 5 ingredients to make this easy sauce recipe.
Mayonnaise
Dill Pickles
Fresh Dill
Lemon Juice
Salt and Pepper
How to make tartar sauce:
Making tartar sauce is so easy!! Get ready!
1. First, measure out all of your ingredients. Add all of the ingredients into a small to medium sized bowl. Any bowl will do!
2. Second mix all of the ingredients together with a spoon until they're completely combined.
2. Lastly, refrigerate your tartar sauce for at least 2 hours or overnight if you don't need it right away. Refrigerating the tartar sauce will give all of the ingredients time to meld together and become more flavorful.
Then you can use the sauce immediately if needed, but it won't be near as flavorful as if you took the time to let it refrigerate. Trust me, it's worth waiting 2 hours to enjoy this homemade tartar sauce.
That is it! I told you this recipe was so easy. This really is our favorite tartar sauce recipe, not only because it uses common ingredients that I usually have on hand but because the flavor it just so good! If your family loves dips as much as ours, check out these other simple dip recipes.
This copycat Red Lobster tartar sauce is a good way to get kids to eat things they normally wouldn't! They just might find out that they love fish once they try it with this flavorful tartar sauce!
I'm always on the lookout for kid-friendly recipes and this one definitely fits the bill!
Print your Copycat Red Lobster tartar sauce recipe below:
Copycat Red Lobster Tartar Sauce
You have to make this easy Copycat Red Lobster Tartar Sauce. It tastes just like the restaurant tartar sauce but you can make it at home. Try this copycat..
Ingredients
1

cup

Mayonnaise

1/4

cup

Dill Pickles

(finely chopped)

1

Tbsp

Fresh Dill

(finely chopped)

1

tsp

Lemon Juice

Salt and Pepper

(to taste)
Instructions
In a medium size bowl, whisk together mayonnaise, pickles, dill and lemon juice.

Add salt and pepper to taste and stir to combine.

Store in airtight container in refrigerator.
Recipe Notes
Refrigerate in an air tight container for up to 1 week.  
Nutrition Facts
Calories
191
kcal
,
Carbohydrates
1
g
,
Protein
1
g
,
Fat
21
g
,
Saturated Fat
3
g
,
Trans Fat
1
g
,
Cholesterol
12
mg
,
Sodium
217
mg
,
Potassium
11
mg
,
Fiber
1
g
,
Sugar
1
g
,
Vitamin A
30
IU
,
Vitamin C
1
mg
,
Calcium
4
mg
,
Iron
1
mg
More copycat recipes to make: