This post may contain affiliate links. If you make a purchase through links on our site, we may earn a commission.
You are going to love this Little Debbie Cosmic Brownies Recipe. These brownies are the ultimate chocolate brownie.
Copycat Little Debbie Cosmic Brownies Recipe:
My kids love these Cosmic Brownies and would beg for me to buy the pre-packaged ones from the store. However, this recipe is simple to make at home. Once you try them, you will be making them at home instead of buying them.
These colorful treats are better than the store bought version. These Little Debbie brownies are loved by the entire family especially the kids. With simple ingredients, you can make the chocolate flavor brownies for any occasion.
This goes really well with Hot Chocolate Starbucks CopyCat Recipe. I love dunking the brownies into hot chocolate. These 2 recipes go great together. You can even enjoy with a big scoop of ice cream.
What is a Cosmic Brownie?
My kids love the Little Debbie Homemade Cosmic Brownies. My kids were not surprised when I made this copycat version of their favorite fudgy chewie brownie.
They are a rectangle of chocolate goodness! Then the brownie is topped with this creamy icing that just melts in your mouth. The colorful candy pieces just completes the brownie.
Cosmic Brownies Ingredients:
Fudge brownies
Semi-sweet chocolate chips
Heavy whipping cream
Mini M&M's or regular M&M's
How to Make Cosmic Brownies:
Step 1 – Heat Oven – Preheat oven to 350 degrees.
Step 2 – Combine Dry Ingredients – Combine the dry ingredients and make the brownies according to the box mix instructions.
Step 3 – Prepare the baking pan – Prepare baking pan by spraying it with cooking spray, melted butter, or parchment paper.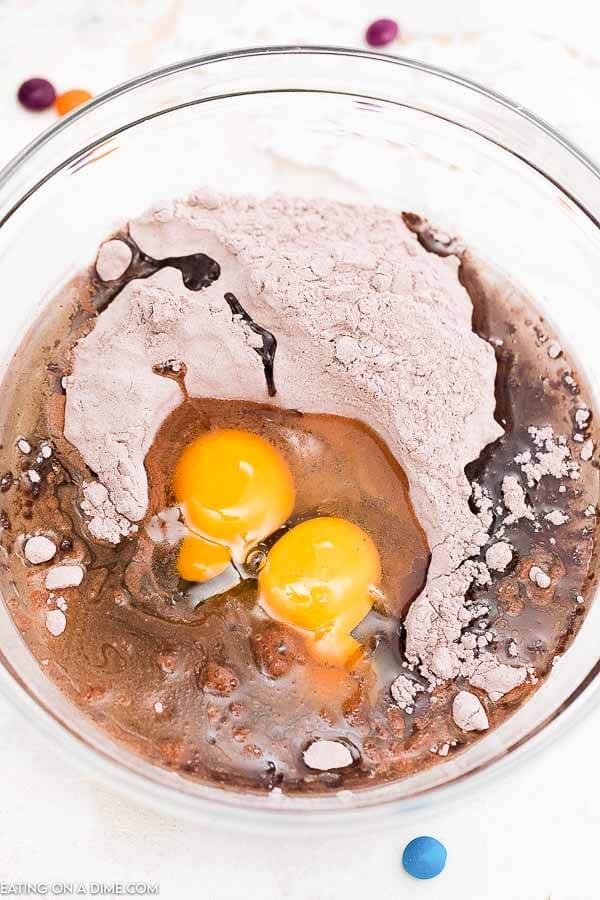 Step 4 – Pour into pan – Second, pour brownie mix in prepared pan and bake the brownies
Step 5 – Cook Brownies – Once toothpick is inserted and comes out claim. The brownie is done. Let the brownies cool completely.
How to Make Ganache Frosting:
Next, while the brownies are cooling to room temperature, make the fudge topping.
Step 1 – Heat Cream and Chocolate Chips – Heat up the heavy cream in a sauce pan. I like to do this over medium heat. Pour the chocolate chips into the the cream and stir until the melted chocolate and the mixture is smooth.
Step 2 – Pour melted chocolate over brownies – – Now it is time to pour that delicious chocolate mixture all over the top of the brownies. I use a spatula to get a smooth top. If you like chocolate ganache, you will love this.
Step 3 – Smooth Icing out – It is pretty simple to get the icing smooth. The spatula helps to smooth out any wrinkles or places that still need icing.
Step 4 – Top with M&M's – Finally, sprinkle the M&M's on the top of the icing! Make sure to do this right away so the chocolate will stick to the brownies.
Step 5 – Place brownies in Fridge – Put the brownies in the fridge so they can set. This takes about an hour and then you can serve the cooled brownies.
Recipe Variation Ideas:
M&M's Variation – You could even use seasonal M&M's for the rainbow chip to make these for different holidays. Pretty pastels for Easter, pinks for Valentine's Day, Red and Green for Christmas. There are so many options you can make.
Brownies – We used a brownie mix in this recipe, but you can make brownies from scratch. If making from scratch we recommend using high quality cocoa powder for best results.
Combining Ingredients – When combining ingredients, make sure not to over mix ingredients. Combine the ingredients until mix and then place in the baking pan and bake.
Ganache Frosting – The ganache frosting may take longer to set. Make sure the ganache frosting is set before adding in sprinkles or M&M's to the frosting.
Sprinkles – Use sprinkles instead of M&M's for an easy substitution.
Cosmic Brownie Tips:
Baking Pan – Prepare baking pan by lining with parchment paper or foil for easy clean up. This also allows you to easily remove the brownie from the pan.
Cutting Brownie – We recommend using a plastic knife to cut brownies.
Baking Brownies – Be careful to not over bake the brownies. This will make them lose their delicious fudgy consistency. Bake time will vary.
Cookie Tray – We love making these brownies for many occasions. They are perfect for the holidays, cookie exchange parties and even on your holiday dessert trays.
What to the Best Way to Cut Cosmic Brownies?
Cool Brownies Completely – The brownies need to cool completely before slicing them.
Knife – Begin cutting the brownie, cleaning the knife with each slice. We like to cut into medium size squares.
Spatula – Use a spatula to scoop out brownie and serve.
Parchment Paper – If you lined your baking pan with parchment paper, remove the entire pan of brownies. Then place on a cutting board then slice. We find that this is easier than cutting in the pan.
How long will Cosmic Brownies last:
If Cosmic Brownies are stored properly, they will last about a week.
How to Store:
Store the leftover cosmic brownies at room temperature for up to 3 days. If you store them in the fridge they will last up to a week.
Can Cosmic Brownies be Frozen?
Yes, you can freeze Copycat Cosmic Brownies if stored properly. The soft and fudgy texture taste amazing straight from the freezer. We recommend flash freezing the brownies so you can take out a few out a time.
Place the prepared brownies on a baking sheet and freeze for about an hour.
Then remove from the freezer and place in a freezer safe container or zip lock bag.
These cosmic brownies are best served within about 1 to 2 months from freezing them.
Why we Love Cosmic Brownies:
Simple Ingredients – We recommend starting this recipe with a brownie mix. We love simple recipes and this one is the best. Topping with the delicious, fudgy ganache frosting makes the best treat.
Easy to Prepare – This recipe is prepared with 4 simple ingredients and that includes the frosting ingredients. No need to spend all day in the kitchen for your kids favorite brownies, when you can prepare these brownies.
Kid Approved – There is no need to by the store bought cosmic brownies, when you can make them at home. My kids even prefer my recipe over the ones at the store.
Frosting – The fudgy, simple ingredient ganache frosting is what makes these brownies perfect.
Make Ahead – Since these brownies can be prepared ahead of time, they are perfect for any occasion.
Print Copycat Cosmic Brownies Recipe:
CopyCat Cosmic Brownies Recipe
Your kids will go crazy over this Copycat Cosmic Brownies recipe. They are just like the store bought version but better! The chocolate icing for brownies is amazing. Try this cosmic brownie recipe. Cosmic Brownies Copycat recipe is so yummy!
Ingredients
1

box

fudge brownies

2

cups

semi-sweet chocolate chips

1/2

cup

heavy whipping cream

Mini M&M's or M&M's
Instructions
Prepare brownies according to directions.

Bake for 20 minutes and then set on counter to cool.

Prepare the fudge topping by heating up the heavy whipping cream in a sauce pan on medium heat. Add the chocolate chips and keep stirring until completely melted and smooth.

Pour on top of brownies and smooth it out using a spatula.

Sprinkle M&M's on top! Set in the fridge for an hour before serving.
Recipe Notes
These "homemade" cosmic brownies are easy to make and kids will love helping you in the kitchen! Get the same look as the store bought version by using M&M's. 
Nutrition Facts
Calories
395
kcal
,
Carbohydrates
49
g
,
Protein
4
g
,
Fat
20
g
,
Saturated Fat
10
g
,
Cholesterol
15
mg
,
Sodium
130
mg
,
Potassium
177
mg
,
Fiber
2
g
,
Sugar
32
g
,
Vitamin A
160
IU
,
Calcium
25
mg
,
Iron
3.1
mg
More Easy Copycat Recipes: