This post may contain affiliate links. If you make a purchase through links on our site, we may earn a commission.
Foil pack grilled red potatoes help to make dinner a breeze without any cleanup. This is the perfect side dish to enjoy on the grill or the oven.
Foil pack grilled red potatoes
We love grilling… no doubt about it and one of our favorite side dish recipes are these foil pack grilled potatoes. They are so easy to make and the clean up is pretty much non-existent.
I mean… that is the best kind of recipe right? No one likes to clean up. No one.
Potatoes go with just about anything making this so versatile while also budget friendly. Yeah!
You can customize this dish to suit your entire family. Don't like onions?? No problem these foil pack grilled potatoes taste amazing either way.
In a matter of minutes you can have some seriously good potatoes…. seriously good.
These potatoes are fantastic with Balsamic Pork Tenderloin, Slow Cooker Whole Chicken, Easy Baked Tilapia and more!
Go ahead and make this Grilled Vegetables Foil Pack too for another easy side dish. Dinner does not have to be complicated to be delicious.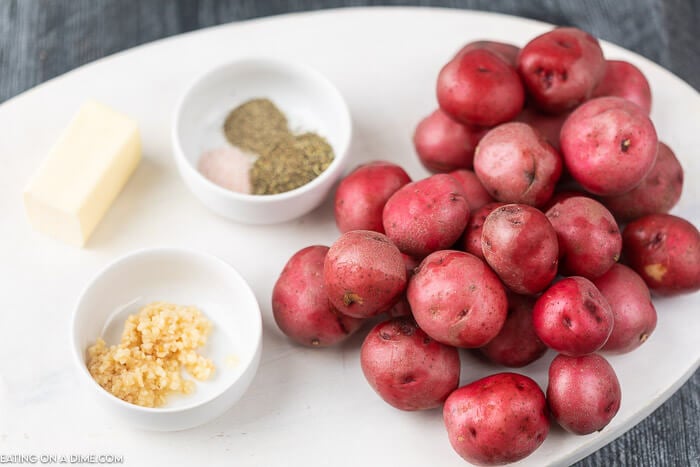 Ingredients:
red potatoes
minced garlic
butter
Italian seasoning
salt and pepper
How to make grilled red potatoes:
First, wash the potatoes really good. Once the potatoes are clean, quarter them into slices.
Second, get 3 pieces of foil out and lay flat. Divide the potatoes between each piece of foil.
You will want to use heavy duty foil for a foil pack so it won't break when you are grilling. You can use regular foil but I recommend you double wrap it to avoid it breaking in the oven.
When I first started making these, I thought I could use regular foil and ended up with a big mess. Learn from my mistake!
Next, add the butter and seasonings all over the potatoes. You want to make sure all of the potatoes are coated.
Sometimes, I use olive oil instead of butter.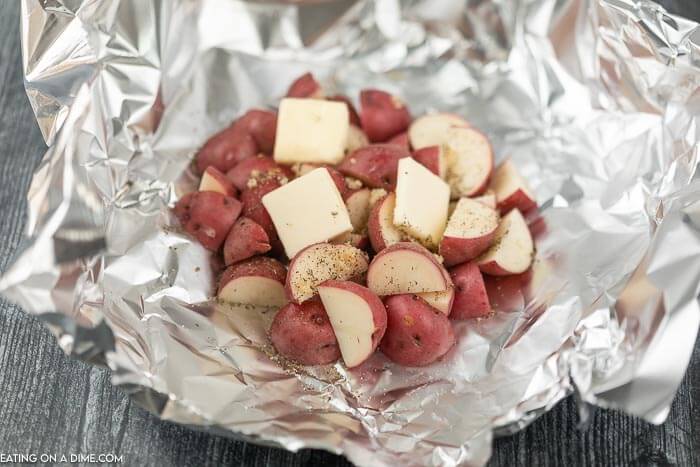 Finally, fold the foil on each side and put on the grill or oven.
Remember to be careful when you open the foil pack. The steam will be really hot.
Jump to recipe to get all the details on this yummy recipe. You will love how easy it is.
How to bake foil packs:
Just make each foil pack as normal. However, instead of putting them on the grill, place them on a baking sheet.
Put in the oven and bake! The baking sheet will make it much easier to remove from the oven.
Carefully open and enjoy!
Everyone will love grilled baby red potatoes.
The potatoes are delicious served as is. However, feel free to add any toppings you love.
I like sour cream on mine. The kids love Parmesan cheese sprinkled on the potatoes.
Shredded cheese and bacon bits on top make another great topping idea. The possibilities are endless!
Ranch dressing is also tasty drizzled on top. This recipe is so tasty.
Find more easy grilling recipes to try.
Try easy foil pack grilled red potatoes.
Skip the baking sheet and make a foil pack instead. You will love having such an easy side dish without any cleanup. These roasted potatoes are just the best!
We love red potatoes but you can use other types of potatoes if you prefer. Other options include Yukon gold, fingerling potatoes and baby potatoes.
Onions are really good in the foil pack with the potatoes. I love that you can easily make each foil pack to suit everyone's preference. It is so easy, frugal and tasty!
I often will use what I happen to have or can get on sale at the store. This is how I keep our grocery budget reasonable.
The recipe is easy to modify for what you have on hand and this really helps your budget. By cooking like this, it really helps me to save money on groceries. It is a huge help to our budget.
I cut our grocery bill by 50% off by following these 8 Tips for for Saving Money on Groceries by Menu Planning! Save that money for something else!
Try different seasonings or types of potatoes. You can't go wrong with this simple recipe. It is the best!
Print the recipe for grilled red potatoes:
Foil Pack Grilled Potatoes
These Foil Pack Grilled Potatoes are delicious and so easy to make! They are perfect for your next campout or your grilling dinner. Enjoy this easy side dish.
Instructions
Wash the red potatoes and quarter then.

Evenly place the potatoes into 3 large pieces of aluminum foil large enough to fold over and to be able to roll up edges.

Top evenly with the garlic, butter, Italian seasoning, salt and pepper.

Fold each foil packet close and seal tightly.

Grill over medium-high heat for 30-40 minutes until the potatoes are soft.

Remove the heat, be careful when opening the foil packet and enjoy!
Recipe Notes
*Note: You also also bake these in the oven at 350 degrees F for 50-60 minutes until the potatoes are tender.  
Nutrition Facts
Calories
176
kcal
,
Carbohydrates
25
g
,
Protein
3
g
,
Fat
8
g
,
Saturated Fat
5
g
,
Trans Fat
1
g
,
Cholesterol
20
mg
,
Sodium
288
mg
,
Potassium
702
mg
,
Fiber
3
g
,
Sugar
2
g
,
Vitamin A
251
IU
,
Vitamin C
13
mg
,
Calcium
26
mg
,
Iron
1
mg
Try these other grilled side dishes:
More foil pack recipes to make: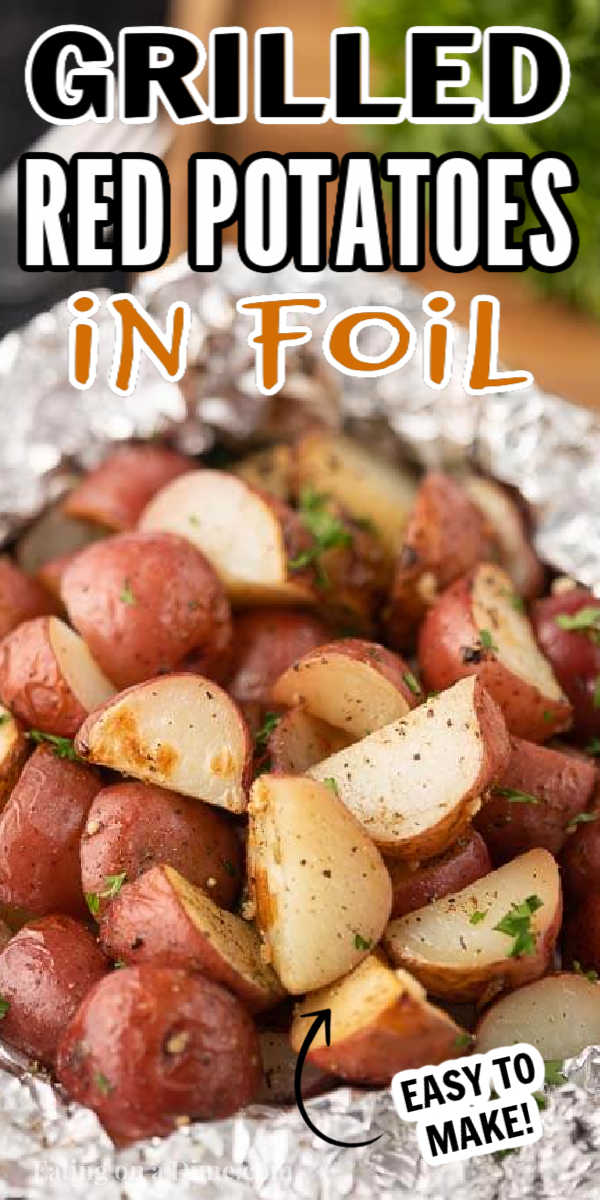 Try these other easy potato recipes: