This post may contain affiliate links. If you make a purchase through links on our site, we may earn a commission.
Make this easy baked tilapia in under 20 minutes! It is really a very quick dinner idea that is packed with flavor and budget friendly.
Easy baked tilapia Recipe
Tilapia is by far my favorite fish. It is light and flaky and doesn't have that "fishy" taste that others might have. Plus, I love how fast I can cook fish.
In less time than going to get takeout, I can have this from oven to table! It is that quick and easy.
It is easy enough to throw together at the last minute with hardly any work. Plus, it turns out so tender and flavorful.
How to make baked tilapia
Top the fish with your favorite seasoning and place on a lined baking sheet. In less than 15 minutes, dinner will be ready!
Ingredients:
Tilapia fillets
Lemon slices – Lemons are optional, but I think it adds even more flavor
How to bake tilapia:
First, you need a good baking sheet. I like to use pans that have sides like these, or you can use a 9×13 baking pan.
Brush with olive oil or non stick spray. If you want an easier clean up, line the pan with foil and spray it with cooking spray.
Next, season the fish with your favorite seasonings and place on the pan. I really like lemon pepper seasoning best. I also like lemon, garlic, and pepper. You could use the lemon pepper seasoning and then add in some garlic salt.
The last step is to bake the fish in a preheated oven at 425 degrees. It only takes about 15 minutes or until the fish turns white and isn't translucent anymore.
You will know it is finished cooking, because it turns white, and Fish flakes easily with a fork once cooked.
Salt and pepper to taste. It takes very little work to make this easy tilapia recipe. Plus, it's healthy too.
Tips:
This fish recipe is also really good with butter garlic. Just mix in a small bowl and coat the fish.

I also have used lemon juice and lime juice to season the tilapia. It's so good.

If you use lemon juice, you might want to use a baking dish because of the extra liquid.
How long to cook tilapia in oven
Now, I normally buy my Tilapia at Sam's because I love how they are individually frozen. I can thaw them in water in about 5 minutes.
So from freezer to plate is about 25 minutes. Baking tilapia is so quick and easy!
You really don't have excuses not to eat healthy now. Plus I find it more reasonably priced at Sam's.
How to cook frozen tilapia?
Just follow the same instructions but add 5 minutes to the cooking time. Keep a close eye on it to make sure it is done but not overcooked.
Even frozen tilapia recipes are fast and easy.
The Best Way to bake Tilapia
This easy tliapia is very good. My kids always get excited when I say we are having fish. In fact, I didn't make enough fish last time.
I think the kids were really surprised how much they liked tilapia.
How to Season Tilapia
We used lemon pepper seasoning, but you can season Tilapia a variety of ways. Here are a few ideas.
Top with garlic salt and parmesan cheese
Top with Blackened seasoning
Use a Steak seasoning. I'm sure you are used to using steak seasoning on steak, but it is also great on fish.
Season Tilapia with taco seasoning and fresh lime juice.
This Tilapia Oven Recipe is easy!
Baked Tilapia is probably one of the easiest ways to make tilapia. It's perfect for when you forget to take something out of the freezer for dinner. You can still have dinner ready in a flash.
I try to always keep a bag of tilapia in the freezer for this reason. I know I can grab it and get dinner ready in a pinch.
It's truly faster than take out or leaving the house to dine out.
What to serve with Oven baked tilapia?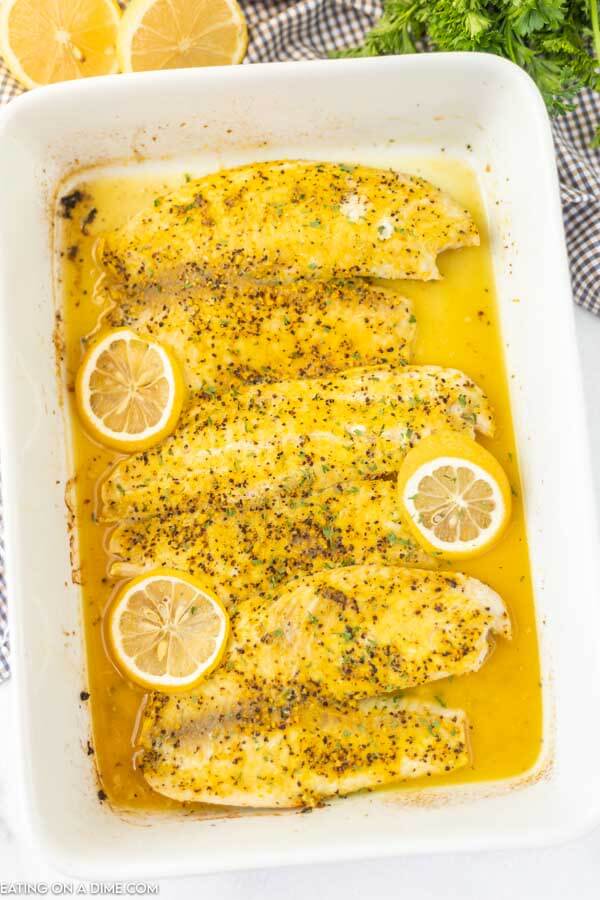 This is the best way to cook tilapia.
If you follow these easy directions you will have perfectly baked tilapia every time. The trick to perfect tilapia is to NOT over cook it.
Make sure you are watching the oven since all oven temps will vary.
I think you will love how quick and easy it is. Take the stress out of dinner with easy recipes like this.
You can spend more time gathered around the table with your family and less time in the kitchen. Plus, there is very little cleanup with this recipe.
This easy recipe is definitely a winner all around!
Print this Easy lemon pepper tilapia recipe:
Easy Baked Tilapia Recipe
Make this easy baked tilapia recipe. Cooking tilapia is so quick that dinner will be a breeze. This healthy tilapia recipe will be a hit with the family. Learn how to cook tilapia in oven. Once you know how to bake tilapia, it's so quick and easy. Find easy tilapia recipes.
Ingredients
6

tilapia filets

3

tsp

lemon pepper seasoning
Instructions
Preheat oven to 425 degrees.

Line baking sheet or casserole dish with foil.

Spray with non stick spray.

Add Tilapia and top with seasonings (approximately ½ tsp per tilapia filet).

Bake for 15 minutes or until the fish flakes with a fork.
Recipe Notes
Refrigerate the leftovers in an air tight container for up to 3-4 days.  
Nutrition Facts
Serving
6
g
,
Calories
165
kcal
,
Protein
34
g
,
Fat
2
g
,
Saturated Fat
1
g
,
Cholesterol
85
mg
,
Sodium
88
mg
,
Potassium
526
mg
,
Calcium
21
mg
,
Iron
1
mg
More Fish Recipes to Make: