You can now enjoy the tastiness of baked potatoes when your oven is full with Crock Pot Baked Potatoes. This is also perfect when you want to enjoy baked potatoes without heating up your kitchen in the summer time.
Crock Pot Baked Potatoes
This is the perfect recipe to make a delicious but simple side dish. Crock Pot Baked Potatoes are so tender and delicious. No need to heat your kitchen, just sit back and let the slow cooker do all the work.
I like making crock pot baked potatoes for a crowd as well. A large crockpot will hold a lot of potatoes. It's perfect for a dinner party or for the holidays.
I love making crockpot baked potatoes to make a baked potato bar. This is the perfect way to turn a baked potato into a main meal! Such a great idea.
We like to chop up steak or grilled chicken and top the potatoes with it. Add in cheese, chives, bacon bits, sour cream and more. Such a fantastic meal idea!
We have used this idea for birthday parties or celebrations for a crowd. It really stretches the meat and makes it so frugal.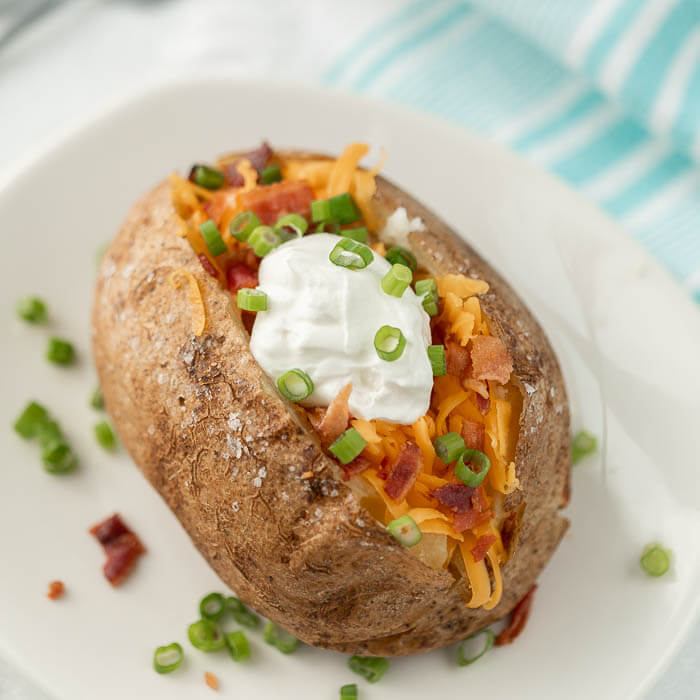 Can you bake potatoes in a crock pot?
Pierce potatoes with a fork before cooking in the slow cooker. This will allow steam to escape while cooking.
I really like the idea of doing baked potatoes in the crockpot and we make them frequently. Sometimes, I put several in the slow cooker on Sunday. I will have potatoes on hand for quick meals all week for lunch.
Can you bake potatoes without foil?
The first time I made crock pot potatoes, I tried them with foil. The second time, I tried them without the foil. I preferred the potatoes without the foil.
There truly wasn't much of a difference in taste. However, by eliminating the foil it makes it more frugal friendly!
How long does it take to cook potatoes in a slow cooker?
Typically it takes about 8-10 hours on low to cook the potatoes. This will vary based on the size of the potatoes and how many you put in the slow cooker. If you have large potatoes, it will vary.
You can also cook on high in half of the time if you need them done quicker.
Equipment Needed:
You will need a crock pot for this recipe. I really love this one. I use mine frequently and it's a good one! It has a lid that locks so it's great for other recipes that might spill.
Another favorite is this programmable crock pot for when I am am not at home all day. I love coming home to everything ready and waiting!
Ingredients for Crock Pot Potatoes:
Potatoes
Oil (I like to use olive oil)
Salt
Foil (optional)
How to bake potatoes in crock pot:
1. First wash the potatoes and then let them dry at room temperature.
2. Poke each potato with a fork a few times all around the potato. Rub the potatoes with olive oil, then top them with kosher salt. You can wrap in pieces of foil, but I actually prefer it when I do not wrap them in foil.
Pro Tip: I just put a little olive oil in my palm and go to town on each potato. It doesn't take much.
3. Place the oiled potatoes in the crockpot (do not add any liquids) and cook on low for about 8 to 10 hours until the potatoes are fork tender.
Cooking baked potatoes is easy!
Slice open and enjoy. Such an easy meal.
Since discovering how easy and delicious this is, we make baked potatoes all the time in the slow cooker. I only wish I had of started sooner!
The potatoes are so moist and tasty. I actually prefer the way they taste in the crockpot as opposed to oven baking them.
Baked Potato Topping Ideas:
Once the potatoes are done, then it's time to top them with your favorite toppings. Here are a few of our favorites.
Butter with Salt and Pepper (this is how my kids prefer them).
Cheese – I love topping them with shredded cheddar cheese.
Bacon Bits or Cooked Diced up Bacon
Sour Cream or Plain Greek Yogurt
Diced up Chives, Onions or Red Onions
Chili
Pulled Pork
Salsa and Avocados
What goes with Baked Potatoes?
If you make a baked potato bar, I love serving these with a large side salad or my favorite soup.
Baked potatoes also go great with baked or grilled chicken, steak, fish or pork recipes.
Variation Ideas:
For the potatoes – Generally, I use Russet potatoes when making these easy crock pot baked potatoes but this recipe works great with Idaho potatoes or sweet potatoes as well.
The size of the potatoes matter. When making baked potatoes in the crock pot, the size of the potatoes does matter. I find that the large potatoes take longer to cook so I generally pick out the smaller ones for this recipe.
For the Oil – You can easily use any type of oil to make these easy baked potatoes. I used olive oil for this recipe but you can also use vegetable oil, coconut oil or avocado oil as well.
For the Salt – Any type of salt would work in this recipe. You can use table salt, kosher salt or pink Himalayan salt as well.
How to Store Leftover Potatoes:
Generally, I make these crock pot baked potatoes right before serving. If you have any leftover store them in the refrigerator in a sealed container or bag for up to 4-5 days.
If you cooked the potatoes in foil, make sure to remove the foil right away to prevent any bacteria forming on the potatoes and make sure not to store the potatoes in the refrigerator with the foil on them.
Can you freeze cooked potatoes?
I have found that cooked potatoes freeze great. To freeze these leftover potatoes, make sure that they have cooled completely.
Then warp them in plastic wrap and store them in a freezer bag or freezer container for up to 3-6 months.
To defrost out, you can let them thaw at room temperature. Or you can place them in a baking dish (frozen), cover them with foil and bake at 400 degrees F for 30-40 minutes until the potatoes are thawed out and heated through.
What if the potatoes turn black in the crock pot?
They potatoes will turn black in the crock pot if they have been peeled or cut. When the inside of a potato touches the air, it will turn black over time.
I leave the peels on when making this easy crock pot baked potatoes recipe and only pierce the skin when poking them with a fork.
Print Slow Cooker Baked Potatoes recipe below:
Be sure to check out all of our delicious Crock Pot Recipes. There are so many quick and easy dinner ideas.
More Potato Recipes:
More Crock pot side dish recipes