This post may contain affiliate links. If you make a purchase through links on our site, we may earn a commission.
I'm very excited to share with you this easy Crockpot Glazed Carrots Recipe. It is so simple to make with just a few ingredients and the kids go crazy for these crock pot carrots.
Crockpot Carrots Recipe:
Sweet, buttery, and perfectly fork tender, these brown sugar glazed carrots keep your oven free and practically make themselves. This kid friendly crock pot glazed carrots recipe is now a family favorite.
Carrots are an easy side dish to make for any holiday dinners or busy weeknights. Check out these other carrot recipes – Easy Roasted Carrots, Air Fryer Carrots Recipe, Glazed Grilled Carrots. These recipes take about 15 minutes to prepare.
The natural sweetness of these carrots will make the whole family pleased. Serve with turkey, ham or an grilled meats for a favorite side dish. Save oven space this holiday and make in the slow cooker.
How long does it take for Carrots to Soften in Crock Pot?
Crock pot carrots are very easy to make. Add all the ingredients, cover the slow cooker and cook on low for 4-6 hours. Cook on high for 2-3 hours until tender. You only have to stir once halfway through.
Ingredients for Slow Cooker Glazed Carrots:
Carrots
Butter
Brown Sugar
Salt and Pepper
Cinnamon
Fresh Parsley, chopped
How to Make Glazed Carrots in Crock Pot:
Step 1 – Peel the carrots and slice the carrots into ½ inch pieces.
Step 2 – In a small bowl, whisk together the melted butter, brown sugar, salt and cinnamon.
Step 3 – Place the carrots in a crock pot.
Step 4 – Pour the mixture on top.
Step 5 – Cover and cook on high for 3 hours until the carrots are tender. Top with the fresh parsley, serve warm and enjoy. Cooking time may vary.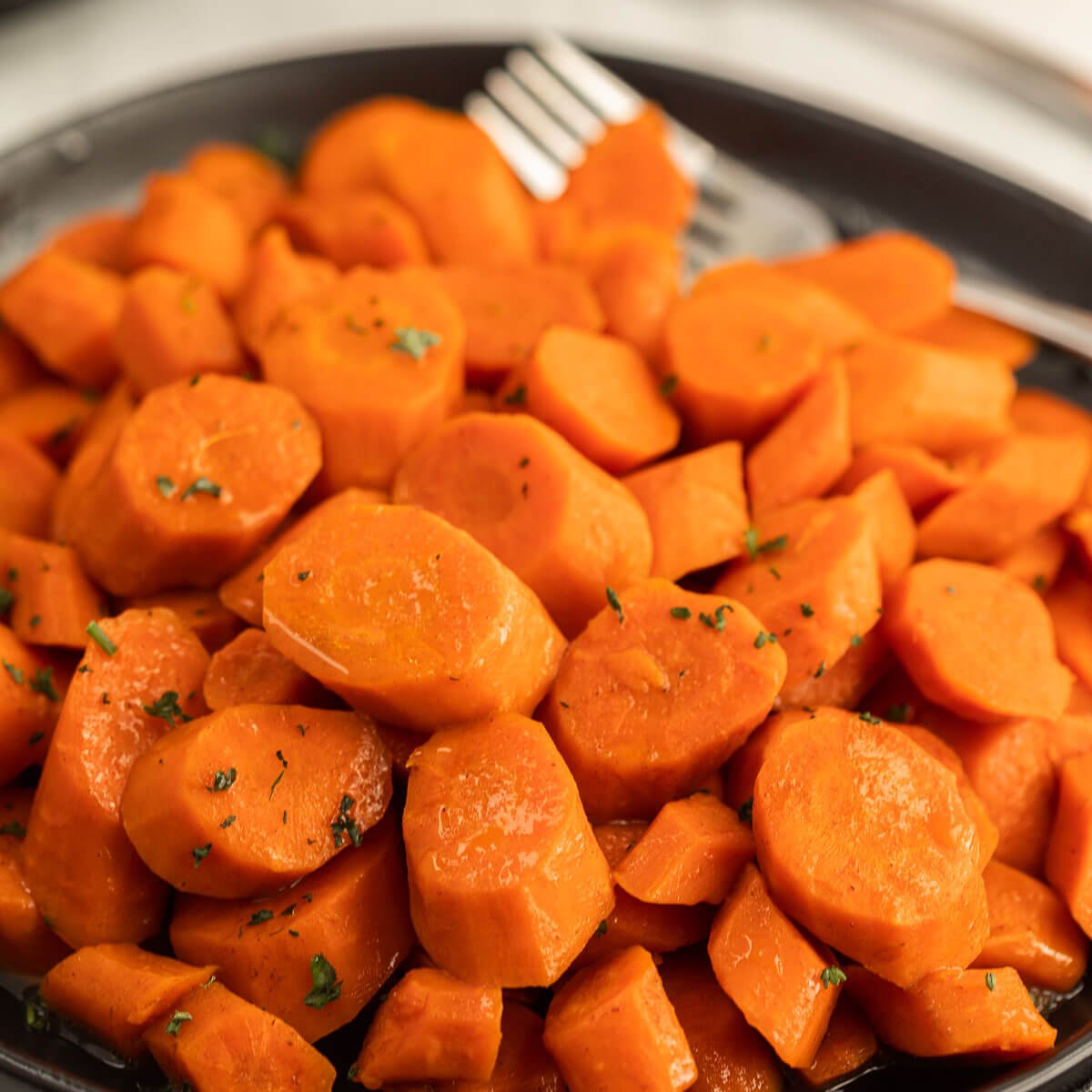 Crockpot Glazed Carrots Tips:
Baby Carrots – Use baby carrots, regular carrots are good. But you will save a lot of time by using a bag of baby carrots.
Add Water First – Put the water in the crock pot first. You want the brown sugar and the butter to melt over the carrots as the carrots cook.
Slice Carrots in Advance – Carrots can be peeled and sliced up to 2 days in advance. Simply keep them in the fridge. If you prefer whole carrots of baby carrots this can be a huge time saver. Especially if you make crockpot carrots for a holiday meal.
Thicker Glaze – For a thicker glaze, simply remove the lid. Leave the carrots to cook uncovered on High for another 15-20 minutes. That will help to evaporate the remaining liquid. Then they're ready to serve.
Brown Sugar – We used light brown sugar but you can use dark brown sugar if you prefer.
Butter – We recommend using real butter in this recipe instead of margarine. It melts better and gives the carrots better flavoring.
How to Store Leftovers:
Leftovers are easy to keep. You can store leftovers in an airtight container for up to 4 days in the refrigerator.
These reheat well and taste even better the next day. The butter will harden on the outside. But it will melt again and be delicious when the leftover carrots are reheated.
You can reheat them in the microwave, on the stove top, or in a slow cooker. Either way, they will taste great leftover.
Can Glazed Carrots be made the day before?
We recommend making them the day you are serving them. But if you need to prepare in advance, then store in the refrigerator in a container.
Then when ready to serve, pour back into the slow cooker and turn on warm. This will make it easy to serve and keep them warm.
What to Serve with Crock Pot Glazed Carrots:
How to Make Glazed Carrots on Stovetop:
Making Glazed Carrots on the Stovetop is just as easy. Clean and prepare you carrots as indicated in the recipe card and cook tender on the stovetop.
Brown Sugar Glazed Carrots is a quick and delicious way to make carrots.
Variation ideas:
Roasting carrots is another delicious option but the slow cooker really makes these perfect if you are going to be away. Give these delicious carrots a try and let us know how they turn out. I know you and your family will love them.
Carrots – We used baby sized carrots but you can easily use sliced carrots or whatever you prefer. You don't have to use bagged baby carrots.
Seasoning – You can season with black pepper for that spicy and sweet flavor.
Honey Butter Flavor – Skip the brown sugar, and use butter. The honey butter flavor would be amazing on carrots as well.
Cinnamon – Add a teaspoon of cinnamon to the mixture to add warm flavors to the carrots.
Maple Syrup – Maple syrup is also a good option for a thicker glaze on the carrots.
Nuts – For an added crunch to these carrots, add in some chopped pecans or walnuts right before serving. We love the texture it gives the carrots.
How to Bake Sweet Carrot Recipe in the Oven:
You can easily make this recipe in the oven.
Eliminate the water in the recipe, melt the butter, and toss with the brown sugar.
Spread out on a baking sheet and bake at 400 degrees for 15-20 minutes or until tender.
Serve them with your favorite dinner and your children will be begging for more vegetables.
Frequently Asked Questions:
Do Carrots get Soft in Slow Cooker?
Yes, it is a great way to cook carrots. With just a little water and seasoning the carrots cook perfectly.
How to Softened Carrots without Boiling Them:
Slow cooking your carrots is the perfect way to soften them. Just add water and seasoning for the perfectly softened carrots.
How Long does it Take to Cook Glazed Carrots:
Cooking on low, these glazed carrots in crockpot will softened in about 3 hours.
More Crock Pot Side Dish Recipes:
Print Crock Pot Glazed Carrots recipe:
Crockpot Glazed Carrots
Crockpot glazed carrots are the perfect side dish recipe. This easy sweet carrot recipe is delicious for any occasion
Instructions
Place all the carrots in the bottom of the crock pot.

In a small mixing bowl, whisk together the butter, brown sugar, salt and cinnamon.

Pour this mixture on top of the carrots in the crock pot. Stir to coat the carrots with the mixture.

Cover and cook on high for 3 hours until the carrots are tender.

Serve topped with the fresh parsley and enjoy!
Recipe Notes
If the glaze is too thin, remove the lid from the crock pot and cook it on high for 15-20 minutes for the sauce to thicken. 
Refrigerate the leftovers in an airtight container for up to 5 days.  
Nutrition Facts
Calories
150
kcal
,
Carbohydrates
24
g
,
Protein
1
g
,
Fat
6
g
,
Saturated Fat
4
g
,
Polyunsaturated Fat
0.3
g
,
Monounsaturated Fat
2
g
,
Trans Fat
0.2
g
,
Cholesterol
15
mg
,
Sodium
273
mg
,
Potassium
386
mg
,
Fiber
3
g
,
Sugar
19
g
,
Vitamin A
19164
IU
,
Vitamin C
7
mg
,
Calcium
52
mg
,
Iron
0.5
mg