This post may contain affiliate links. If you make a purchase through links on our site, we may earn a commission.
Enjoy traditional meatloaf even in the Summer months thanks to this Crockpot Meatloaf Recipe. No need to heat up your kitchen when you can make your favorite meatloaf recipe in the crock pot.
We love that this slow cooker meatloaf turns out flavorful and juicy. Classic Meatloaf Recipe isn't a meal that I always prepare. But after making this recipe, my family has requested it more and more every week.
Ground Beef Recipes make for an easy weeknight meal. You can turn ground beef into many different and delicious recipes. Check out – Air Fryer Meatloaf Recipe, Cracker Barrel Meatloaf Recipe and Lipton Onion Soup Meatloaf Recipe.
Why Cook Meatloaf in the Crockpot?
The reason why I love making our this classic comfort food is the slow cooker does all the work. You can easily start it in the morning before work and it is ready when you come home.
The slow cooker keeps the meatloaf moist and slow cook perfectly. Save oven space and let the slow cooker do all the work.
Ingredients:
Ground Beef
Eggs
Quick Cooking Oats
Dry Onion Soup Mix
Ketchup
Check out the full recipe and ingredients in the recipe card at the bottom of the post.
Variation Ideas:
Meat Mixture – We recommend using lean ground beef but you can also add in other meats. Mix in ground turkey, ground pork or Italian Sausage are always a good variation.
Breadcrumbs – We used oats in this recipe, but feel free to use other options. Bread crumbs work great but I have also diced up leftover bread and mixed in. This helps to hold the meatloaf together.
Glaze – Don't skip on adding a glaze on top of the meatloaf. Ketchup works great but you can also use a can of tomato sauce.
Milk – Milk provides a level of richness to the meatloaf mixture. Add in cup milk or beef broth of added flavor.
Seasoning – This recipe is delicious with added seasoning. Add in teaspoon salt, brown sugar, minced garlic powder, pepper, or Worcestershire sauce.
Cheese – If you prefer to have a cheesy meatloaf, add in shredded cheese for delicious flavor.
Step by Step Instructions: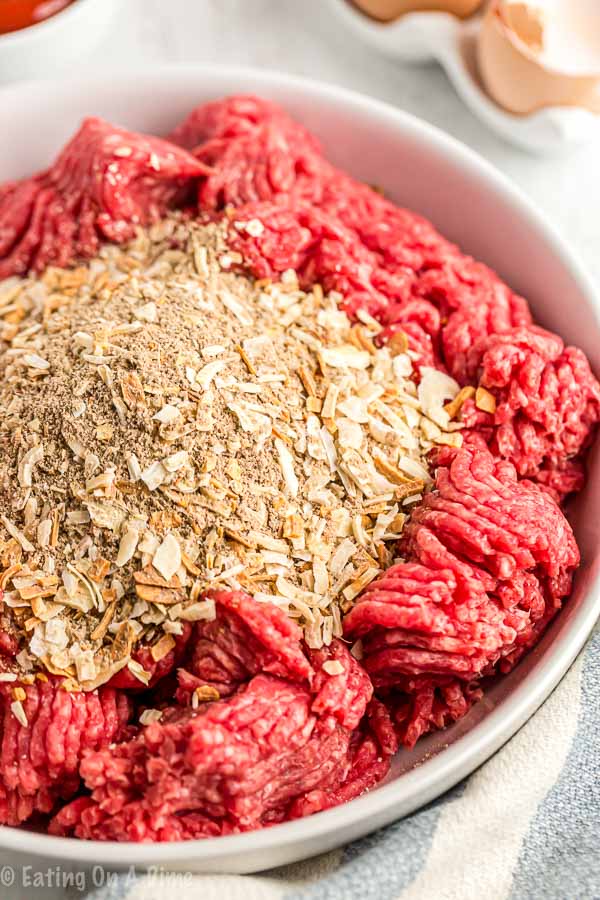 Step 1 – In large bowl, combine ground beef, eggs, oats, soup mix and remaining ketchup.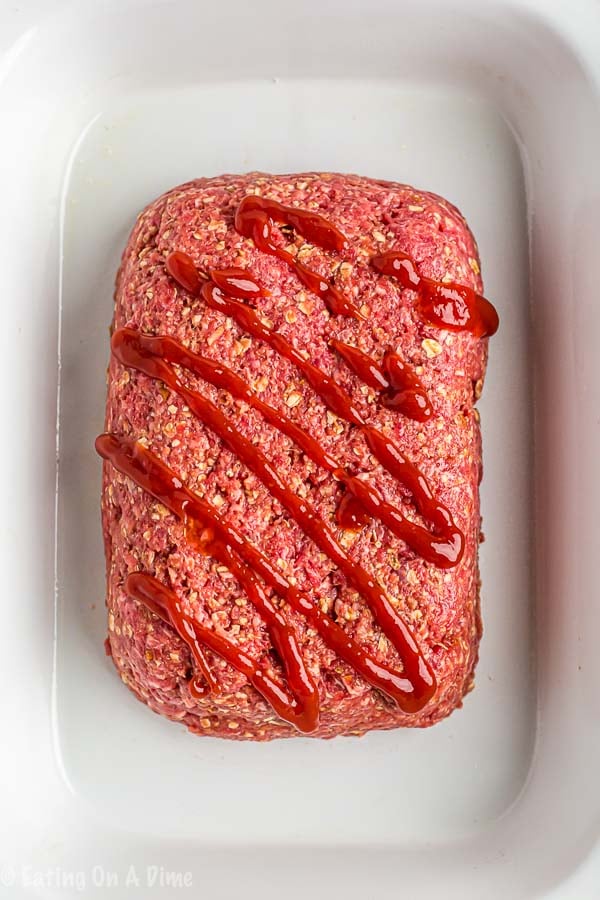 Step 2 – Shape into a loaf and put in crock pot sprayed with non stick cook spray. Top with remaining ketchup.
Step 3 – Cover and Cook – Cover; cook on low 6 to 8 hours or high for 3 to 4 hours. After adding on the topping, I like to season with salt and pepper.
Step 4 – Serve – Serve and Enjoy this meatloaf with your favorite sides. You can remove the meatloaf from the slow cooker and allow it to rest on a baking sheet before serving. Cover with aluminum foil while resting.
What to Serve with Crockpot Meatloaf?
Complete your meatloaf dinner with one of these easy side dishes. You can easily prepare these side dishes ahead of time and then reheat when ready to serve.
Instant Pot Mashed Potatoes – Instant Pot Mashed Potatoes are so creamy. The best part is that you can make them without any draining or boiling. Your family can enjoy real mashed potatoes in minutes.
Crock Pot Cheesy Potato Casserole – This cheesy potato casserole is one of our favorite side dishes. It is a delicious side that you can easily serve any time of the year. Perfect for the holidays or for the Sunday night meal.
roasted green beans – Roasted vegetables are always a family favorite. We love to roast these green beans but you can also roast broccoli or asparagus.
How Long does it Take to Cook in the Slow Cooker:
We love making meatloaf in the slow cooker. We like to cook on low so it slow cooks all day while I am working. If you cook on low it will cook for about 6 to 8 hours. If you cook on high it will cook in about 3 hours.
It will depend on the size of the meatloaf and your crock pot. Make sure to use a meat thermometer to make your sure your meat loaf is cooked.
The internal temperature should reach 160 degrees. This is when it is fully cooked.
Crock Pot Meatloaf Recipe Tips:
Combining Ingredients – When mixing the meatloaf ingredients together make sure to not overmix. This could cause the meatloaf to dry out. When mixing I like to use my hands or a wooden spoon.
Shape into Loaf – Meatloaf is baked in a loaf shape, so it is best to shape it in the slow cooker. This keeps the shape and makes it easy to serve.
Use a meat thermometer – This ensure that you meat is cooked to the correct temperature. If you cut your meatloaf to early it may release the juices.
Ground Beef – We recommend using a higher fat content ground beef when making a meat loaf. This gives it the best flavor and keeps it from drying out.
Can you Freeze Slow Cooker Meatloaf?
Meatloaf is a great recipe to freeze. You have some options on when to freeze:
You can freeze meatloaf after it has been baked and cooled.
Freeze meatloaf unbaked in a loaf pan. I like to buy those throw away containers and they are great to freezer this meatloaf.
As long as your meatloaf is tightly wrap with foil then your meatloaf will last about 3 months in the freezer. See Can You Freeze Meatloaf for more freezing tips.
Frequently Asked Questions:
How do I Make my Meatloaf Moist:
The secret is having the perfect blend of ingredients with your meat mixture. This ensure that your meat does not become dry.
The eggs and ketchup help to blend with the meat and oats to make sure everything stays nice and moist.
The dried onions in the soup mixture also help to keep the meat moist. Also making sure to not over cook it.
How to Store Leftovers:
Meatloaf is delicious leftover. You can easily store in individual airtight container or place on a plate covered with plastic wrap. I like to cut in individual slices for a meatloaf sandwich for a quick lunch.
If stored properly the meatloaf will last about 3 days.
More Easy Crock Pot Recipes:
Leave a comment if you make this Crockpot Meatloaf Recipe. We love hearing from you!
Crockpot Meatloaf Recipe
Easy Crockpot meatloaf recipe – Try this easy slow cooker traditional Meatloaf recipe. You are going to love this Quaker Oats meatloaf in the crock pot.
Ingredients
Instructions
Reserve 2 tablespoons ketchup.

In large bowl, combine ground beef, eggs, oats, soup mix and remaining ketchup. Shape into a loaf.

Put in crock pot sprayed with non stick cook spray. Top with remaining ketchup.

Cover; cook on low 6 to 8 hours or high for 3 to 4 hours.

Enjoy!
Recipe Notes
No need to heat up your oven for this traditional dish done in the Crockpot!
Nutrition Facts
Calories
488
kcal
,
Carbohydrates
17
g
,
Protein
29
g
,
Fat
32
g
,
Saturated Fat
12
g
,
Cholesterol
161
mg
,
Sodium
1066
mg
,
Potassium
591
mg
,
Fiber
1
g
,
Sugar
4
g
,
Vitamin A
180
IU
,
Vitamin C
1.2
mg
,
Calcium
56
mg
,
Iron
3.8
mg