Lipton Onion Soup Meatloaf takes a classic recipe to the next level. Meatloaf is easy to make thanks to an easy ingredients. Lipton Onion Mix gives the meatloaf the best flavor.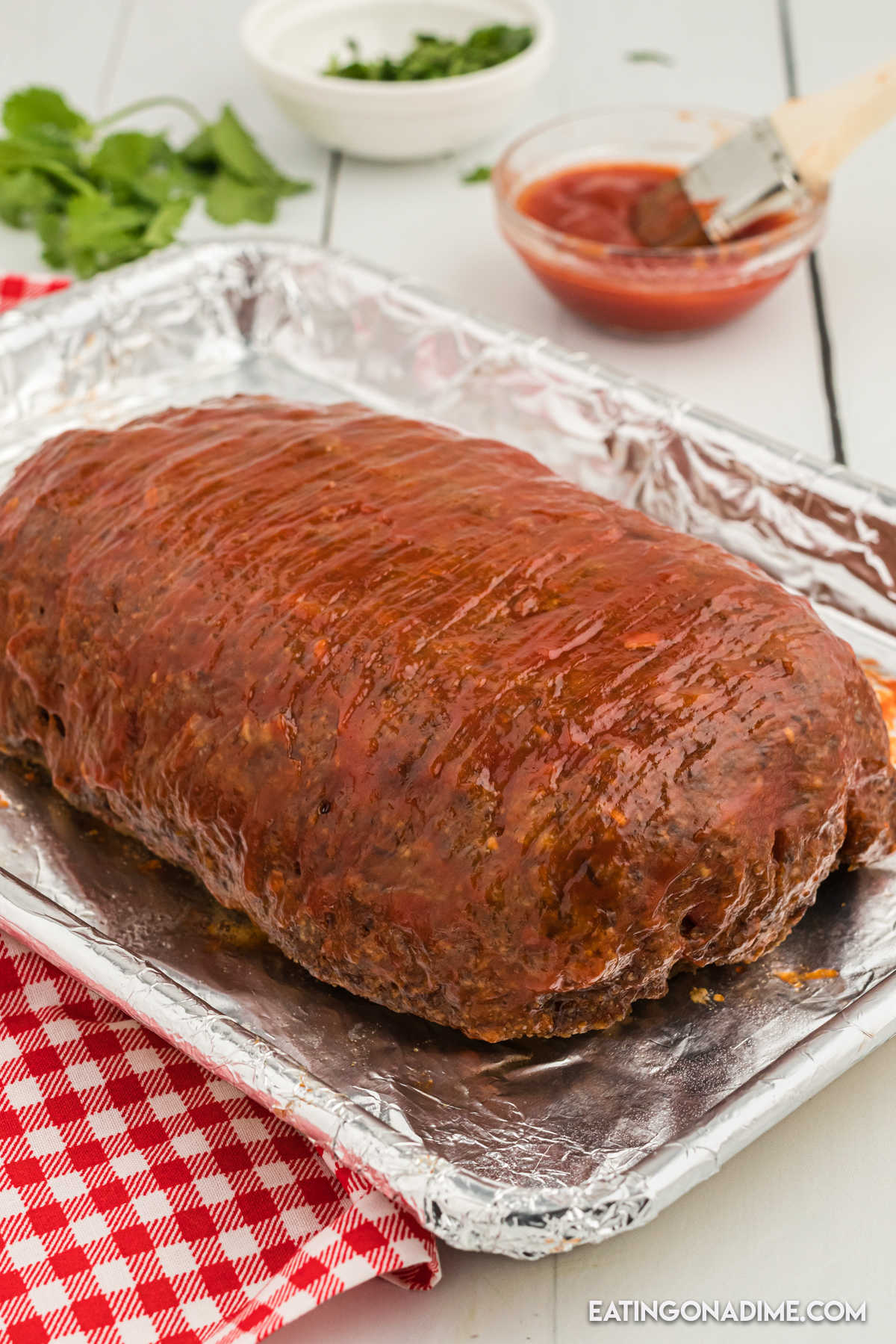 Lipton Onion Soup Meatloaf Recipe:
Growing up meatloaf was a staple, family favorite Sunday Night dinner. My mom always served with a side of mash potatoes and green beans. It was always so filling and hearty which started our week off right.
I have perfected this Meatloaf recipe and now we mix in Lipton Onion Soup Mix. It really does it give it flavor and it really simplifies the recipe. The seasoning blend that is in the Lipton mix is just the right amount of seasoning makes it taste amazing.
We like to top our meatloaf with ketchup which is an easy staple ingredient. Add a few sides and your meal is complete. Bring this classic recipe back to the table with this secret ingredient.
How do you keep Meatloaf from Falling apart:
To keep your Meatloaf from falling apart make sure you add the eggs and the breadcrumbs. These two ingredients help bind the meat to keep it from falling apart.
Make sure you don't overcook your meatloaf. This could be another reason the meatloaf is falling apart.
Ingredients
Lean Ground Beef
Dry Onion Soup Mix
Eggs (beaten)
Ketchup
Water
Breadcrumbs

How to Make Lipton Onion Soup Mix Meatloaf:
Prepare oven for baking – Preheat the oven to 350 degrees F.
Combine Ingredients – In a large mixing bowl, combine the eggs, ketchup, water, and soup mix. Stir until combined.
Mix in breadcrumbs with meat – Add the breadcrumbs and ground beef. Mix well.
Mold into a loaf – Form into a loaf and place meatloaf into the pan.
Bake Meatloaf – Bake for 1 hour and 15 minutes and check internal temperature.
Rest, Serve and Enjoy – Let stand for 10 minutes before slicing. Top with extra ketchup.
What to Serve with Onion Lipton Soup Meatloaf Recipe:
There are so many different sides to serve with meatloaf. Here are some of our favorites.
Tips & Tricks for Making the Best Meatloaf:
Breadcrumbs – Make sure not to skip the breadcrumb ingredients. It absorbs and retain the fat and juices to keep moist meatloaf. We used Panko Breadcrumbs, but you can use saltine crackers or stuffing mix.
Top with a Glaze – We usually top the meatloaf with a can of tomato sauce but you can use a mixture of ketchup and brown sugar. You can even top with bacon for a hearty meatloaf.
Baking Sheet – Use a baking sheet instead of baking dish.
Variations:
Add in Different Meat – If you prefer, you can add in pork or ground sausage or ground turkey with the ground beef.
Mix in Cheese – For a cheesy meatloaf mix in she shredded cheese. It gets really melty after cooking and gives it so much flavor.
Stir in additional sauce – This meatloaf can be changed by adding in worcestershire sauce, soy sauce or A1 sauce. It adds so much flavor and moisture to the meat mixture.
Add in vegetables – To sneak in vegetables, chop up carrots, celery mushrooms or zucchini.
How to Store:
Store leftovers in a air tight container in the refrigerator. If stored properly, the meatloaf will last about 3 to 4 days.
Can you Freeze Meatloaf?
Meatloaf is a great recipe to freeze. If stored properly, it will last about 3 months in the freezer. You have some options on when to freeze:
You can freeze meatloaf after it has been baked and cooled. Sometimes I double the recipe and place one of them in the freezer. It makes for an easy weeknight meal.
Freeze meatloaf unbaked in a loaf pan. I like to buy those throw away containers and they are great to freezer this meatloaf. See Can You Freeze Meatloaf for freezing tips.
How to Reheat Lipton Meatloaf Recipe:
Reheating after being baked – If you are reheating your meatloaf after it is baked and is frozen then unwrap the meatloaf and place in new foil. Then I put in the refrigerator overnight. Once thawed, place in the oven wrapped in aluminum foil for about 25 minutes at 350 degrees.
Reheating leftovers – If you have meatloaf slices leftovers, simply reheat in the microwave.
Print Recipe for Lipton Onion Soup Meatloaf:
More Meatloaf Recipes: