This post may contain affiliate links. If you make a purchase through links on our site, we may earn a commission.
Our family loves easy dinner ideas and this Santa Fe Chicken foil pack is exactly that. You basically have no clean up and dinner is done in 30 minutes. So easy!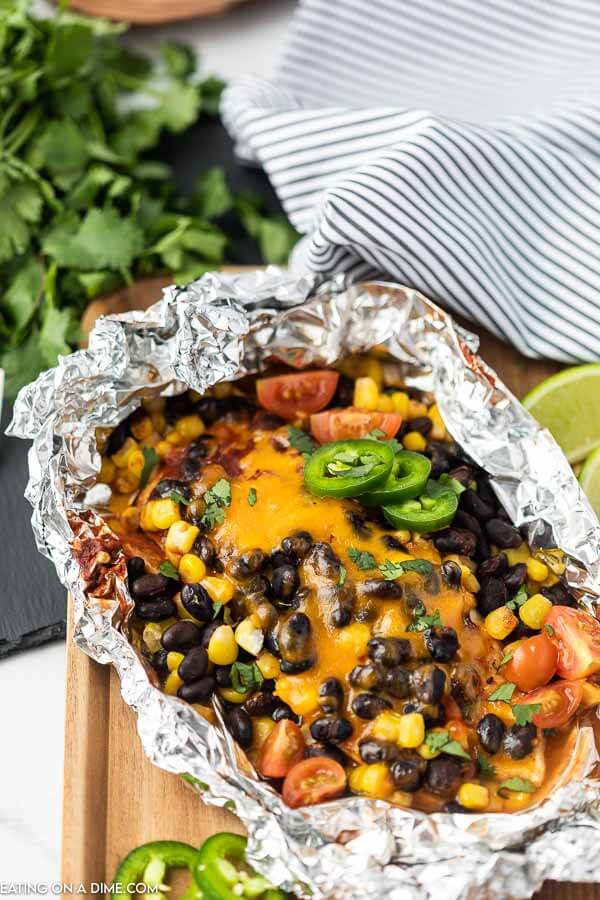 What is Santa Fe Chicken?
This easy foil packet dinner literally has everything you need for a great dinner. Cheesy chicken, black beans, corn and even rice combine for the best meal.
It is packed with flavor and you will be surprised how easy it is to throw together.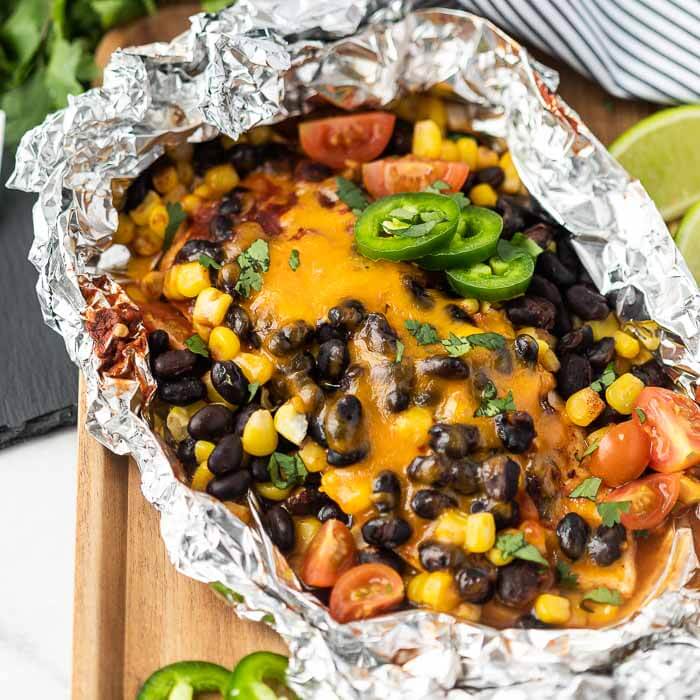 Even the kids love Santa fe Foil pack chicken.
Plus the kids will love it so that makes this even better. No fuss and no mess and no complaints from anyone. Yeah!
They will also love assembling their own foil packet dinners. I don't know about your family but our kids take pride in cooking and brag when they help cook dinner.
Now they can make their very own dinner with Mom or Dad's help.
The only extra step we take is to serve this with homemade salsa and homemade guacamole. Both of these are super easy and they really add to the flavor of this dish.
Sometimes, I also top with a dollop of sour cream.
Foil pack santa fe chicken dinner is easy.
Give it a try!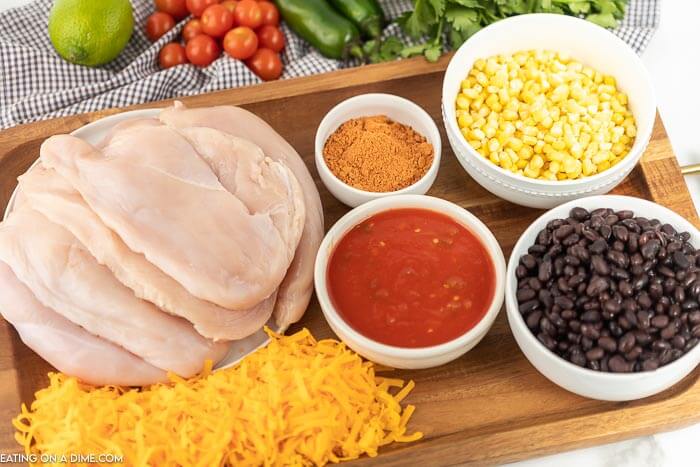 Ingredients:
large chicken boneless chicken breasts – filleted
frozen corn -You could also use 2 cans of corn.
black beans – drained
taco seasoning – We make homemade taco seasoning.
salsa- Try easy homemade salsa.
shredded cheese
Product you need:
heavy duty foil- this type is best to prevent spills and breakage on the grill or oven.

How to Make Chicken Foil Packets:
1. First, get the 8 slices of foil out. You will want to use heavy duty foil for a foil pack so it won't break when you are grilling. You can use regular foil but I recommend you double wrap it to avoid it breaking.
Spray each slice with non stick cooking spray.
2. Second, put rice on each section of foil.
3. Next, add black beans and corn to each pile of brown rice.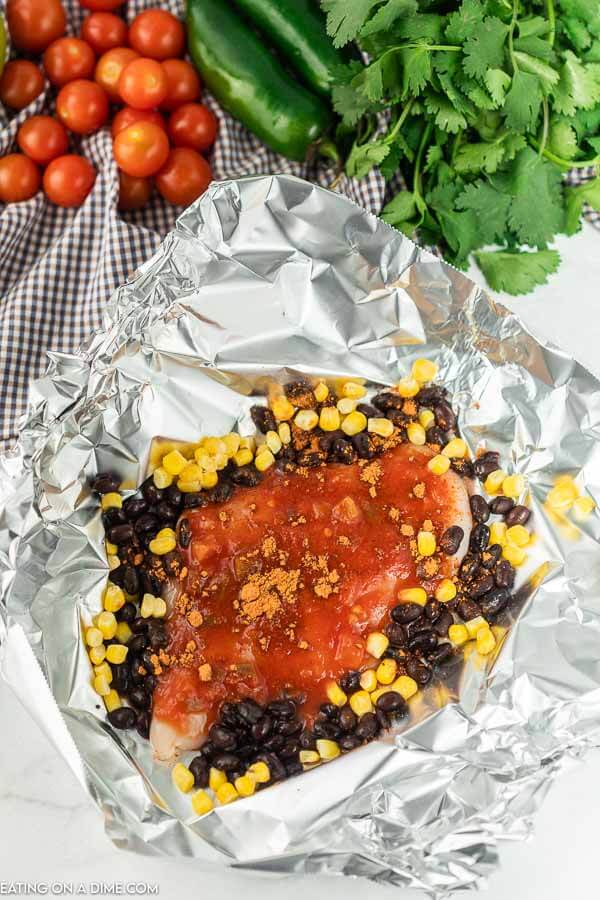 4. Finally, place a chicken breast on top of the veggies. Sprinkle with taco seasoning. Top with salsa and cheese. Yum!
Gently fold the foil on each side to make a packet.

How to Grill:
Simply place the foil packet on the grill for 30 minutes. Don't forget to be really careful when opening the Santa fe chicken foil packet.
How to Bake:
After making each folk pack as normal, place in the oven. I find it easier to place on a baking sheet first. It just makes it easier to remove from the oven.
Bake until the chicken is cooked and the veggies are tender.
Delicious dinner is done!
Foil packet dinner recipes make busy weeks so much better. Dinner is super easy.
We prefer grilled santa fe chicken but the oven is a nice option when the weather does not permit.
Print this Santa Fe Chicken foil pack recipe below:
Foil Pack Santa Fe Chicken Dinner
Looking for a quick and Easy Foil Packet recipe? You are going to love this Foil Pack Santa Fe Chicken Dinner. It will be your favorite grilling recipe!
Ingredients
4

large chicken boneless chicken breasts

(filleted)

2

cups

frozen corn

(or you could use 2 cans of corn)

2

cans

black beans

(rinsed and drained)

8

teaspoons

taco seasoning

2

cups

salsa

2

cups

shredded cheddar cheese
Instructions
Coat 8 large pieces of heavy duty foil with a non-stick cooking spray.

Place a filleted boneless chicken breast on each piece of foil.

Top with ¼ cup of black beans and ¼ cup of frozen corn.

Sprinkle 1 teaspoon of taco seasoning on each chicken.

Fold up the sides to make a foil packet.

Place on the grill or a campfire for 20-25 minutes.

Carefully open the packets and top each packet with approximately ¼ cup of the shredded cheddar cheese. Seal the packets back and place back on the grill or campfire for approximately 5 more minutes to melt the cheese.

Open the foil packets carefully and enjoy dinner!
Recipe Notes
You can also make these foil packets at 425 degrees F for approximately 30-40 minutes until the chicken has an internal temperature of at least 165 degrees F.
Nutrition Facts
Calories
385
kcal
,
Carbohydrates
29
g
,
Protein
39
g
,
Fat
13
g
,
Saturated Fat
7
g
,
Trans Fat
1
g
,
Cholesterol
102
mg
,
Sodium
776
mg
,
Potassium
974
mg
,
Fiber
8
g
,
Sugar
3
g
,
Vitamin A
644
IU
,
Vitamin C
6
mg
,
Calcium
247
mg
,
Iron
2
mg
More foil packet dinners: