This post may contain affiliate links. If you make a purchase through links on our site, we may earn a commission.
You are going to love the Best Blackened Chicken Recipe. Get dinner on the table in under 15 minutes from start to finish. This recipe is quick and easy.
How to make blackened chicken is very easy. You can cook it on a grill pan, or a cast iron skillet, or you can cook this on the grill. It is really easy to make work for any day of the week.
Plus dinner on the table in under 15 minutes is pretty awesome. That is why this chicken recipe is the perfect dinner idea.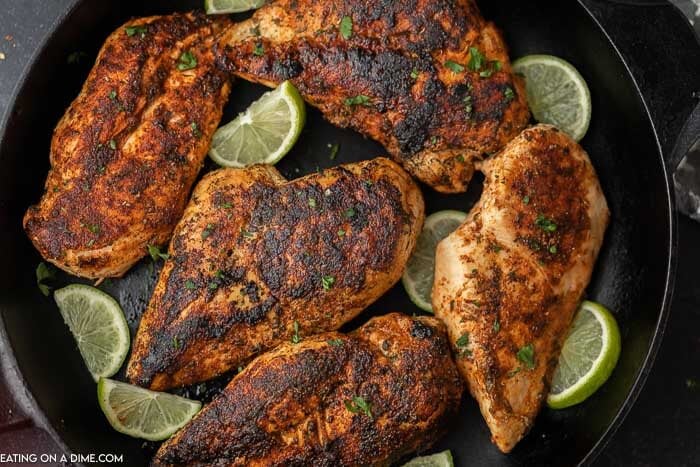 What is blackened chicken?
You probably hear this term a lot or see it on menu's when dining out. But what exactly does it mean? It's a technique to cook food that consists of lots of different blackening spices and then cooked on high heat.
Traditionally you cook the chicken in a cast iron, because traditional non stick pans cannot handle the high heat. This easy blackened chicken is the best!
Ingredients for blackened chicken breast
boneless skinless Chicken breasts
A Blackening spice
Non stick spray
How to make blackened chicken
First, take the chicken and filet it or pound it flat. This will help it cook evenly.
Second, put the chicken on a plate and rub the meat with vegetable oil on both sides of the chicken breasts.
Next, put the homemade blackened seasoning all over the chicken and make sure you spread it all over both sides. You can add as much blackening spices as you prefer.
Just keep in mind the more you use, the spicier it will be. If you prefer less heat, reduce the amount of seasoning on the chicken.
You will want to brush or rub the seasoning (instead of just sprinkle it one) to insure that the spices are going to stay when you cook it. This is important so you get that nice seasoning crust on your chicken.
Finally, get your grill ready or heat up a cast iron skillet so it is hot. Coat the pan with the remaining vegetable oil all over the bottom of the pan.
Add the chicken to the hot pan and cook on medium high heat. It does not take long per side so don't walk away. Now, it will vary based on the size of your chicken but typically the cooking time is about 5 minutes per side.
Dip the meat in the blackened seasoning and cook in a cast iron skillet. Typically chicken or fish is the meat of choice to blacken.
It is important that you do not move the chicken so the outside will get that gorgeous blackened crust. Flip and cook the chicken on both sides. Make sure the chicken reaches an internal temperature of at least 165 degrees F.
It is that easy and quick! Allow the chicken to rest a few minutes, and then serve with your favorite sides.
It is that simple to make a restaurant quality meal.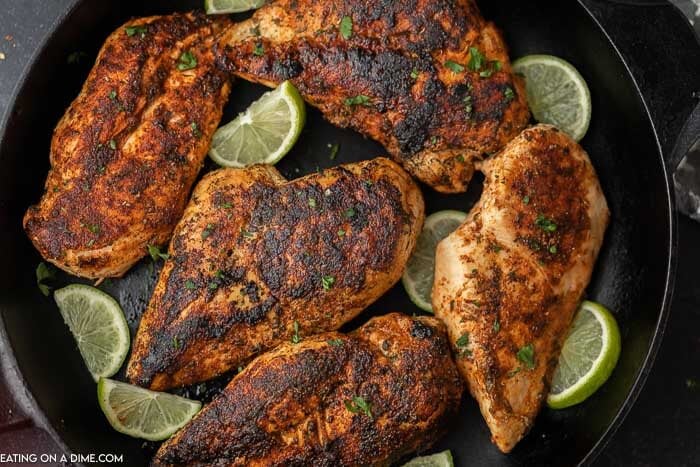 Homemade blackened chicken seasoning
We love to make Homemade Blackened Seasoning Recipe. It has lots of delicious seasonings that include: smoked paprika, garlic salt, parsley, black pepper, onion powder (or granules), cayenne pepper and oregano.
It is so easy to make Blackened seasoning. You only need a few minutes to put this together. I love knowing exactly what is in the seasoning blend and no extra or hidden ingredients.
However, it is very important that you use a good blackened chicken seasoning (also called cajun seasoning), because you will not get the look or the taste of blackened chicken without these specific spice blends.
Side ideas for Blackened chicken:
Turn this easy Blackened Chicken Recipe into a complete meal ready in under 15 minutes. Here are 5 recipes that you could serve with this Blackened Chicken Recipe to complete the meal.
How to Store Leftovers
Store leftover blackened chicken in an air tight container in the fridge for up to 5 days.
You can also freeze leftover blackened chicken. Put the leftovers in an airtight container and store it in the freezer for up to 6 months.
FAQs
Is "blackened" food burnt?

Food that is blackened isn't burnt. It is actually coated in a special seasoning that takes on a very dark, almost black color when cooked.

How do I make blackening seasoning stick?

Use melted butter or oil to coat your protein. Then add the blackening seasoning. The oil or butter allows the blackening seasoning to stick.

What is the origin of blackening spice?

Blackened seasoning is a special blend of spices, and herbs that resembles Cajun and Creole seasonings. It was created in the 1980s by Chef Paul Prudhomme in New Orleans.

Is "blackened" food healthy?

Yes! The seasoning blend itself is healthy, because it is nothing but dried herbs. As long as you are using healthy fats to cook, your blackened food will be healthy.
Grilled blackened chicken recipe is one of our favorite meals!
It's so easy and inexpensive to make easy blackened chicken rub. Give this a try and let us know how it turns out for you.
Now that I know how easy it is to make at home, I can't believe those restaurant prices. Save time and money by making this easy grilled blackened chicken at home.
We love it so much that we make extras to enjoy for lunch during the week.
Best Blackened Chicken Recipe
This is the best blackened chicken recipe.This quick and easy blackened chicken recipe is ready in 10 minutes making baked blackened chicken a quick dinner.
Ingredients
6

boneless skinless chicken breasts

3

Tbsp

blackening seasoning

2

Tbsp

vegetable oil

(divided)
Instructions
Filet the chicken or pound out flat so that it will cook more evenly.

Place the chicken on a plate. Rub 1 Tbsp of the vegetable oil onto both side of the chicken breasts.

Spoon the homemade blackened seasoning over the chicken and spread around onto the chicken (on both sides). I use ½ tablespoon per piece of chicken (adjust based on your preference). The more you use, the spicier it will be and the less you use the milder it will be.

Heat up a cast iron skillet so it is hot and spread the remaining vegetable oil onto the bottom of the pan.

Place the chicken on the hot cast iron pan and let it cook for 5-6 minutes. Time it and don't move the chicken, so it can get that beautiful blackened crust on it.

Flip and cook another 5-6 minutes until the chicken reaches an internal temperature of at least 165 degrees F.

Remove and allow it to cool for a few minutes. Serve immediately and enjoy!
Recipe Notes
Refrigerate the leftovers in an air tight container for up to 5 days.  
Nutrition Facts
Calories
169
kcal
,
Protein
24
g
,
Fat
8
g
,
Saturated Fat
4
g
,
Trans Fat
1
g
,
Cholesterol
72
mg
,
Sodium
664
mg
,
Potassium
418
mg
,
Vitamin A
34
IU
,
Vitamin C
1
mg
,
Calcium
6
mg
,
Iron
1
mg
More blackening recipes: