This post may contain affiliate links. If you make a purchase through links on our site, we may earn a commission.
I'm excited to share with you this Honey Cornbread Recipe that just tastes amazing with your favorite comfort food. Fall is here and that means we are going to be eating Cornbread a lot around here.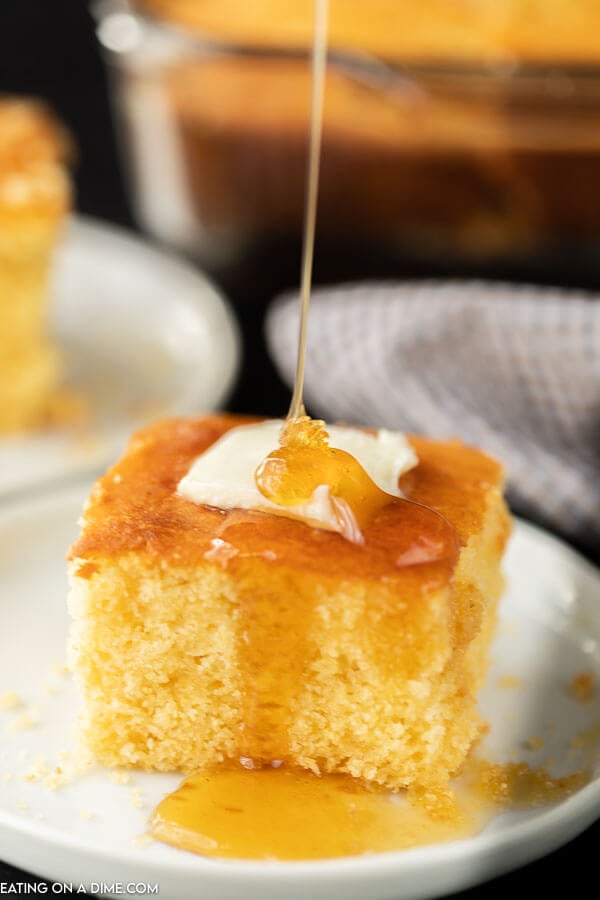 Honey Cornbread Recipe:
This sweet honey corn bread recipe is a fun twist on our traditional cornbread recipe and the kids practically fight over it at dinner time. This sweet honey cornbread is moist and tender and comes out perfectly with the golden brown crusty edges.
I love making cornbread during the fall time as it is the perfect side for all of my favorite crockpot and instant pot recipes! My favorite time is when it comes fresh out of the oven! I smother the top with melted butter and it just melts in your mouth.
The Best Sweet Cornbread:
I just love the smell of homemade Sweet Honey Cornbread! When my family smells the sweet aroma of the honey cornbread baking in the oven they come rushing to the table! Everyone has a bite before they even start on their soup!
This moist cornbread recipe is the best you will ever try! This is a great cornbread to serve to your family or if you are serving it to a crowd! Making this Honey Sweet Cornbread from scratch makes it a crowd pleaser!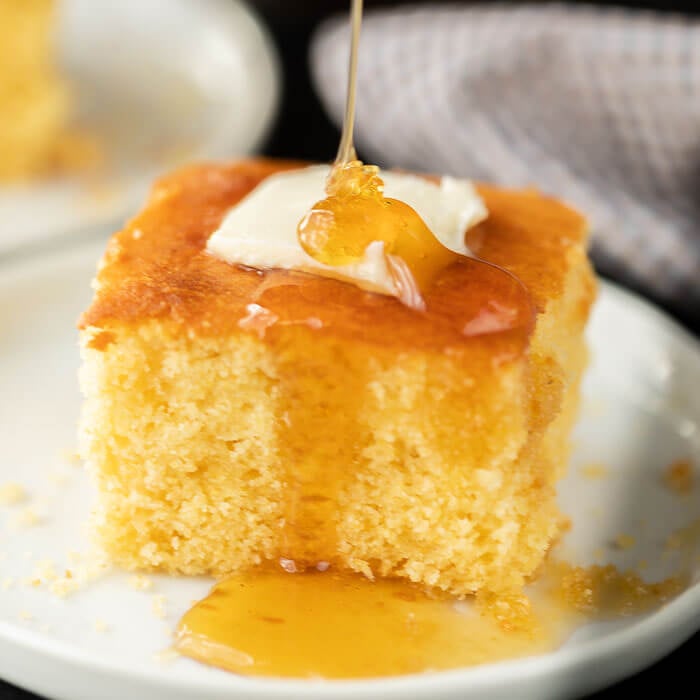 Tips for making Sweet Honey Cornbread:
Here are some tips and different ways of making this Sweet Honey Cornbread:
This recipe works great if you want to make cornbread muffins in a muffin tin. You can use the mini muffin pan or a regular size works great also! Making in the muffing pan, you will only bake for about 15 minutes.
Another way I like the honey cornbread is in my cast iron pan. Cooking it in the cast iron gives it a more rustic quality.
When mixing your cornbread, try to not over mix the batter. If it's over mixed, the batter could come out tough.
Don't overcook your cornbread. Cook until your toothpick inserted comes out clean and the center is done.
If you have any leftover cornbread, which is very rare in my big family, you can store in a sealed container at room temperature for up to 1 week.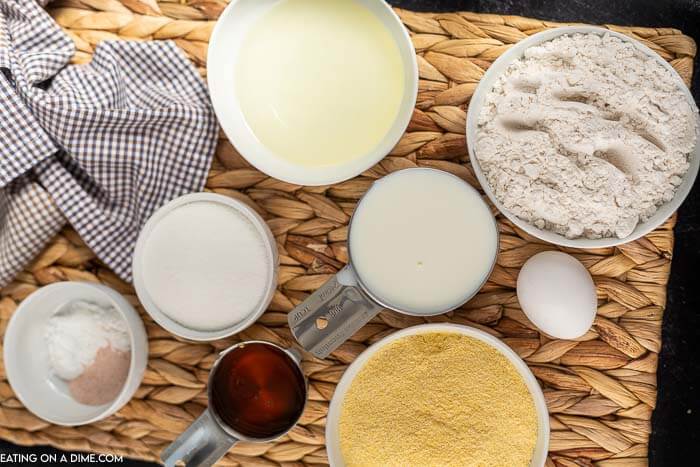 Ingredients:
Flour
Yellow Cornmeal
Sugar
Salt
Baking powder or Baking soda
Egg
Milk
Vegetable Oil
Honey
How to make Honey Cornbread from scratch:
Preheat oven to 400 degrees F.
Spray a square baking pan (9×9) (I love these on sale) with non stick spray.
In a large mixing bowl combine all the dry ingredients.
Then in a separate bowl whisk your egg, milk, oil, and honey. Stir well all ingredients.
Easy kitchen tip! Spray your measuring cup with nonstick spray before you try to measure out your honey. The honey will not stick to the measuring cup at all!
Pour the batter into your prepared pan and bake for 20 minutes in your preheated oven.
Make this honey corn bread recipe today!
Next time you are making your favorite comfort food recipe, go ahead and try this honey corn bread recipe. It is super simple to make and the entire family will love it. It is absolutely delicious!
You can definitely use this recipe for your Thanksgiving stuffing or serve as a side to some of your favorite fall recipes!
Cornbread Variations:
There are lots of different types of cornbread, they can be sweet almost cake like or you can add in jalapenos, cheese and other fun ingredients. The options are endless!
If you want to make your cornbread cheesy, try adding in some cheddar cheese! My cheese loving kids love when I make a batch with cheese in it!
Do you want a little kick to your cornbread, try adding some jalapeno's to the cornbread mix. My family loves it when I combine the cheese and jalapeno in the cornbread mix. It is the perfect combination!
The cornbread muffins is great to make too! They are easy to grab and they are the perfect size that you will be going back for more!
Homemade Cornbread Mix:
As most of you know I am all about planning ahead with my meals! When I am meal prepping, I like to go ahead and mix up some of my Homemade Cornbread mix.
It is so easy to mix together the dry ingredients and when you are ready to mix up some cornbread all you have to do is add in the egg, milk, and oil.
This makes it so easy to have homemade cornbread anytime I want! Skipping the box stuff and making cornbread from scratch, let's me know what I am feeding my family. Which is very important to me!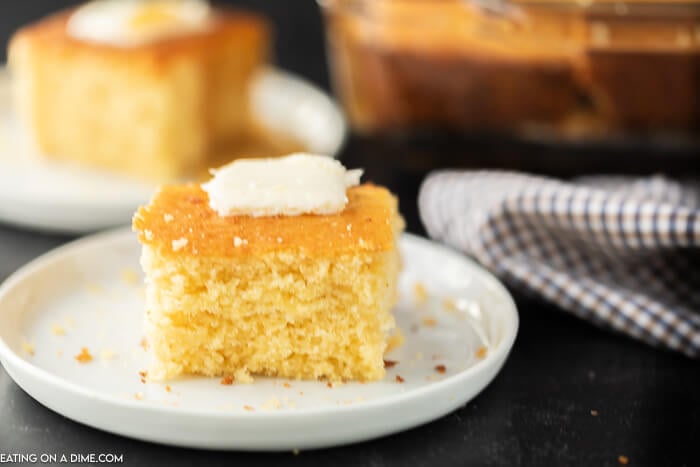 The best dinners to serve cornbread with!
Here are some of my favorite dinner recipes to serve this delicious honey cornbread recipe along with. Adding Sweet Honey Cornbread to chili or a big pot of beans is my absolute favorite!
Check out What Goes with Cornbread for more ideas.
Print this Honey Cornbread Recipe here:
Sweet Honey Corn Bread Recipe
Looking for cornbread dinner recipes? Try this delicious and sweet Honey Corn Bread Recipe that the entire will love. Best homemade corn bread recipe
Instructions
Preheat oven to 400 degrees F.

Spray 9×9 pan with non stick spray.

Combine all ingredients into a bowl. Stir well.

Pour into your prepared pan and baked for 20 to 25 minutes until the corn bread is a golden brown.

Allow to cool, and then cut. Serve with butter and enjoy!
Recipe Notes
I prefer to enjoy this cornbread fresh from the oven but you can store this cornbread in an air tight container for 2-3 days.  
Nutrition Facts
Calories
284
kcal
,
Carbohydrates
44
g
,
Protein
5
g
,
Fat
11
g
,
Saturated Fat
7
g
,
Trans Fat
1
g
,
Cholesterol
21
mg
,
Sodium
420
mg
,
Potassium
120
mg
,
Fiber
2
g
,
Sugar
21
g
,
Vitamin A
70
IU
,
Vitamin C
1
mg
,
Calcium
116
mg
,
Iron
1
mg
More easy Cornbread Recipes: