This post may contain affiliate links. If you make a purchase through links on our site, we may earn a commission.
Cornbread Muffins are just so easy to make and much better than store bought mixes. This cornbread muffin recipe is delicious and sure to be a family favorite.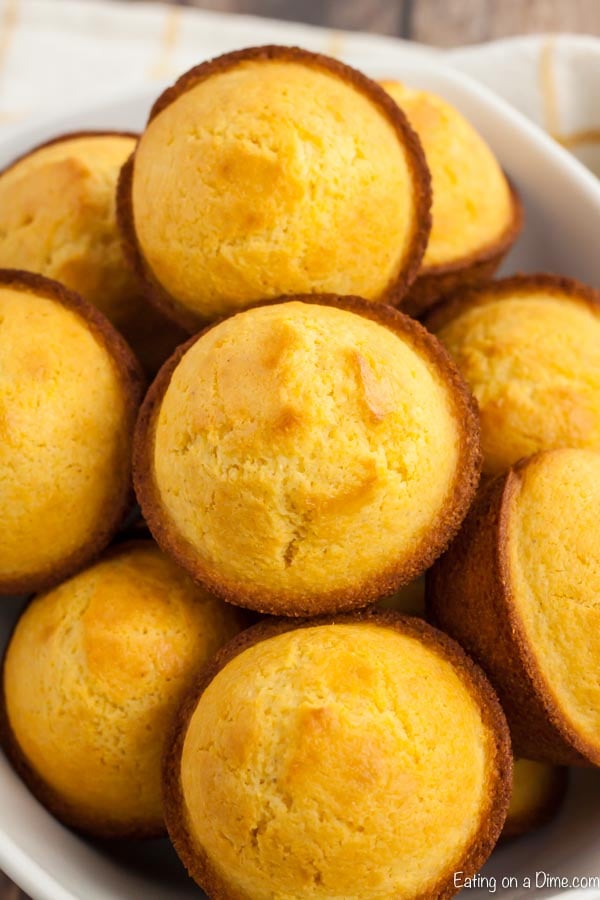 Cornbread Muffins
This sweet cornbread muffins recipe is a great recipe for a quick side dish.
We think it tastes so much better than the packs you buy at the store and it saves money too. Give this a try and you will see just how tasty and amazing it is.
Making cornbread muffins from scratch only takes a few minutes but the difference is amazing. Our family loved this cornbread recipe!
I think you will be surprised just how easy it really is to make this. You can whip this up in minutes and give your family the most amazing corn bread muffins ever!
You might also like to try this easy homemade cornbread recipe. It is just as easy and so delicious for another great cornbread recipe to try.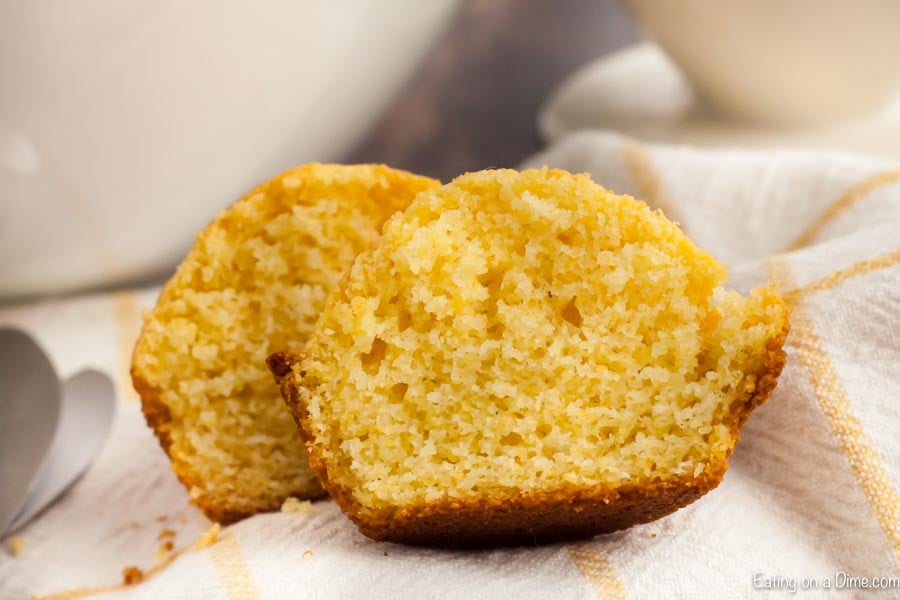 Ingredient for corn muffin recipe
all-purpose flour
yellow cornmeal
white sugar
salt
baking powder
egg
milk
vegetable oil
How to make cornbread muffins
First, preheat your oven.
Next, spray the muffins tins and set aside.
In a medium bowl, combine all of your dry ingredients (flour, cornmeal flour, sugar, baking powder and salt) into a bowl and stir well.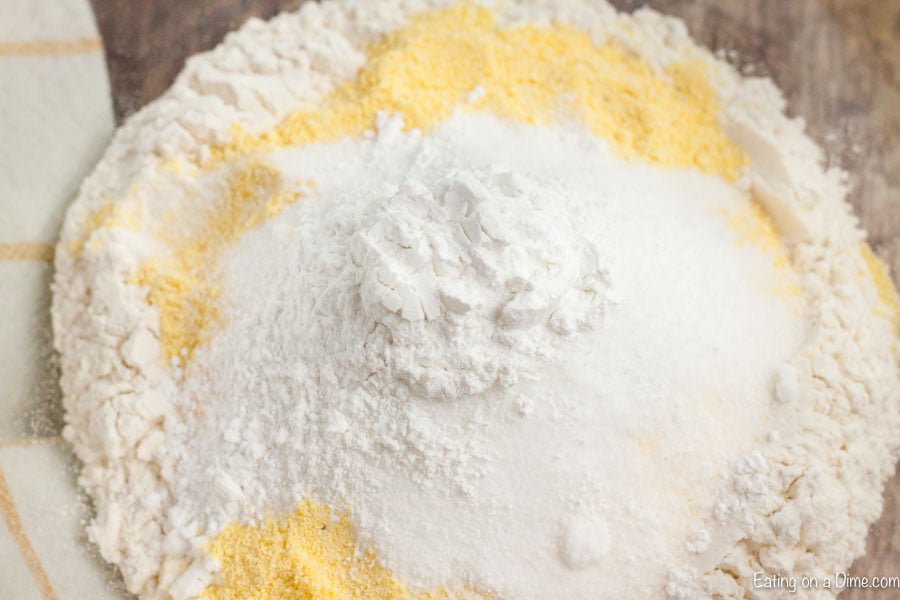 Then combine the wet ingredients in the same bowl.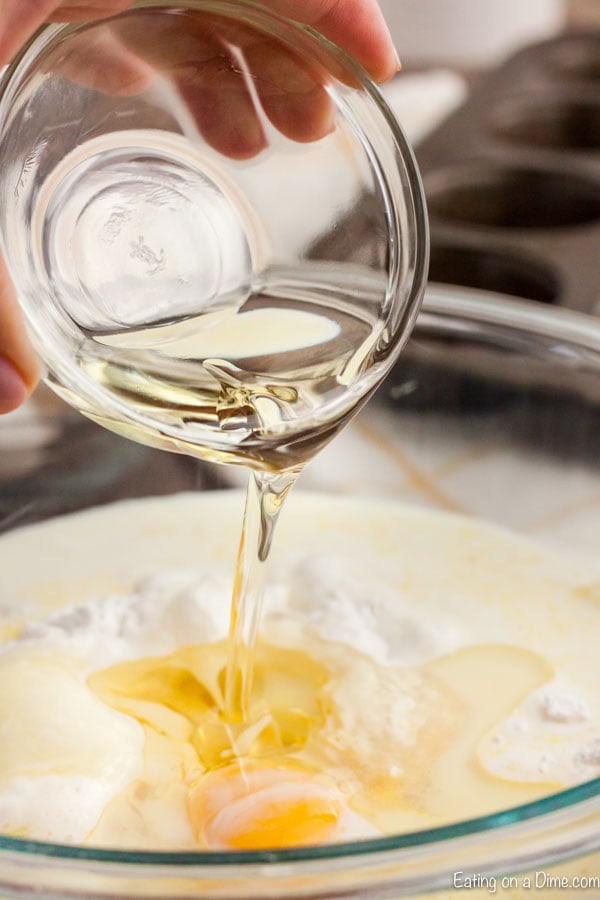 Finally, pour the mixture into the prepared muffin cups.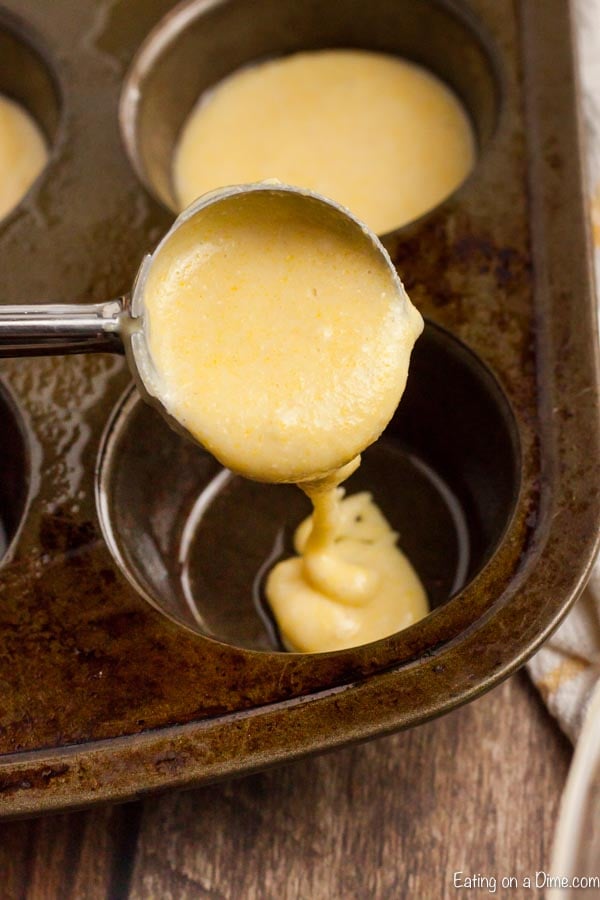 These do not take long at all to bake and you want the muffin tops just slightly golden brown. They will look amazing and smell even better!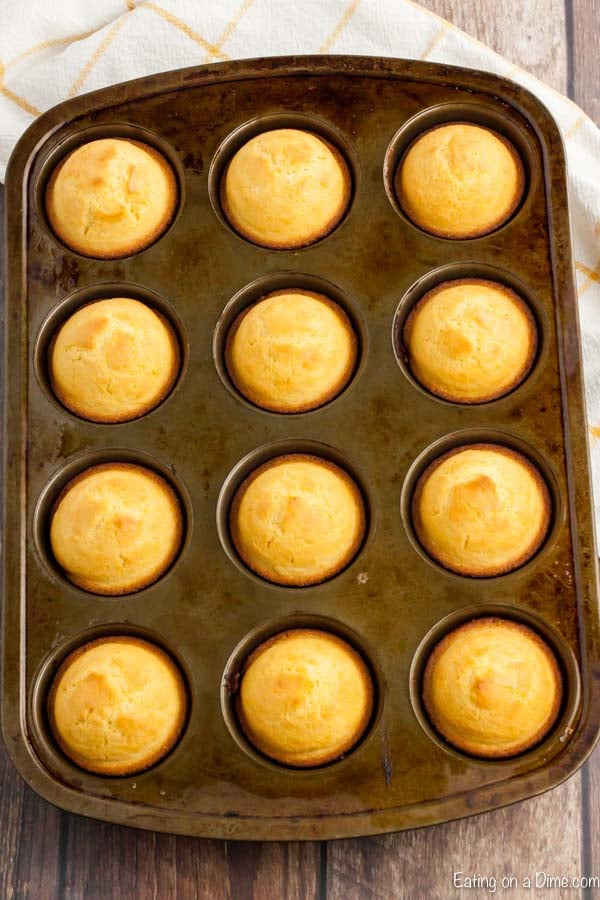 Allow to cool and serve with homemade butter and honey if you prefer. These are so amazing!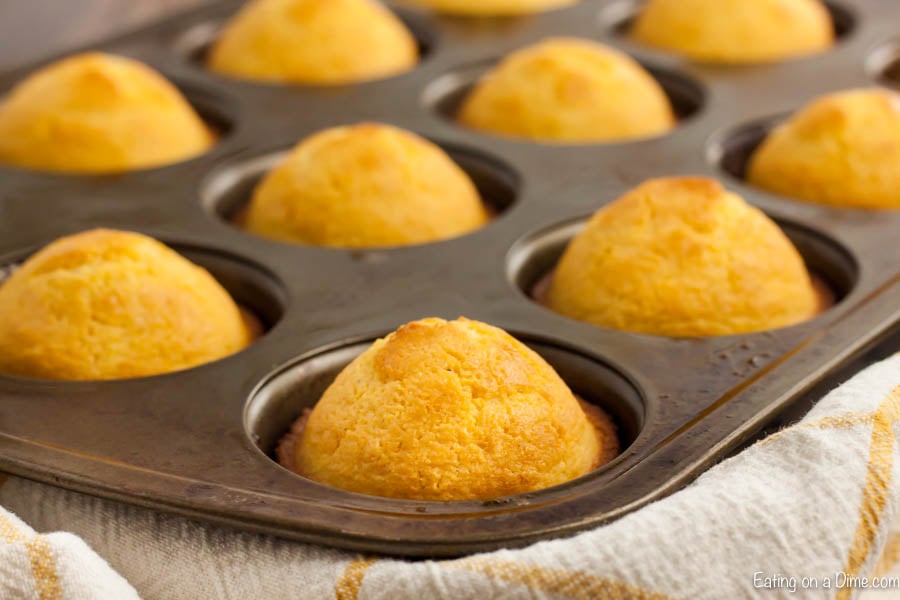 How to store cornbread muffins
Cornbread muffins can be stored at room temperature in an airtight container for 1-2 days. You may place them in the refrigerator and they will last up to 1 week.
Tips:
If you still like the idea of using cornbread mixes, take a look at my post on how I actually make my own homemade cornbread mixes to make my life a little easier in the kitchen.
You can easily assemble these cornbread mixes and you get the taste of homemade cornbread without the extra work.
I highly recommend using a cookie scoop. You

will

thank me later because it saves so much time on spooning out the muffins.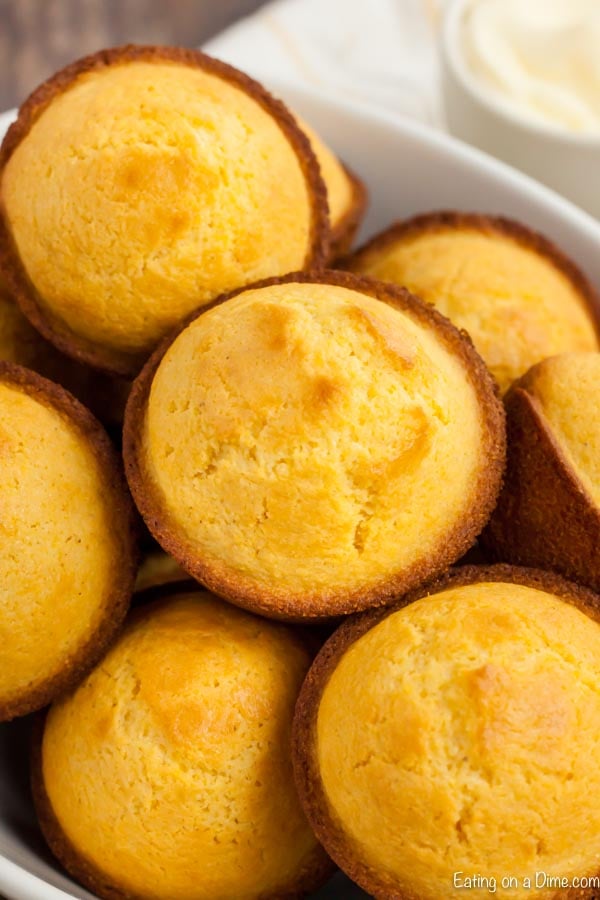 How do you get cornbread out of a muffin pan?
I just use a knife to go around the edges and mine pop out easily. You can also use a silicone muffin pan and they pop right out. Just make sure you spray the pans with cooking spray first.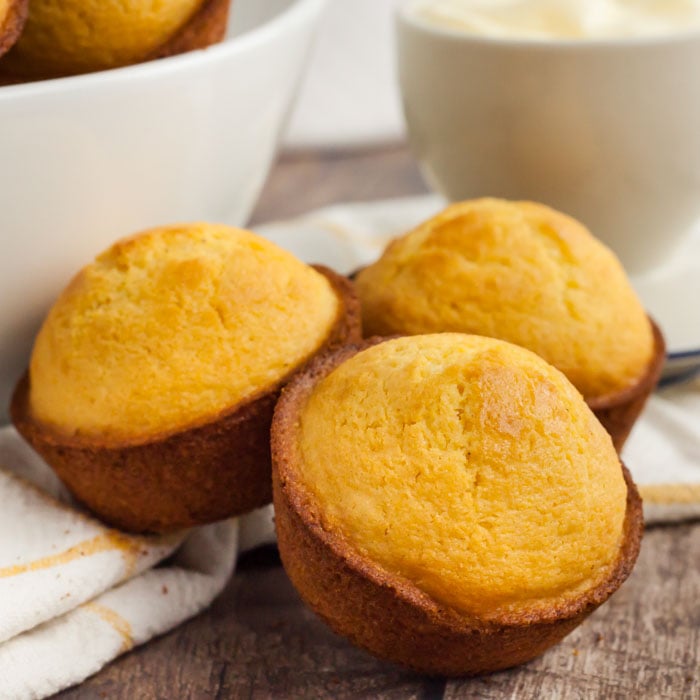 Variations for corn meal muffins:
Honey is a great addition to this recipe, if you like sweet cornbread. All you have to do is add ¼ cup of honey to the ingredients and mix it in before baking. Simple and delicious!
If you prefer spicy foods, I recommend that you add chopped jalapeños prior to baking. You can easily remove as much seeds to give this homemade corn bread recipe the prefect amount of spice.
Cheese is also a great add in for this recipe. I love making cheddar cornbread. Mix in approximately ½ cup of your favorite cheese to all the other ingredients.
You can also add brown sugar for a sweeter more dessert like corn muffin.
We have even added hot dogs to make mini corn dog muffins. The kids love this.
Sour cream is an optional add in for a smoother corn bread consistency.
Try making mini muffins with this cornbread muffin recipe. Make sure you have a mini muffin tin on hand to make these delicious little corn bread muffins. My pan is Wilton and works great but just use what you prefer or already have.
As you can see the ideas are endless for this delicious corn bread muffin recipe. It is a great base recipe that you can add to it to make your own depending on what you are in the mood for.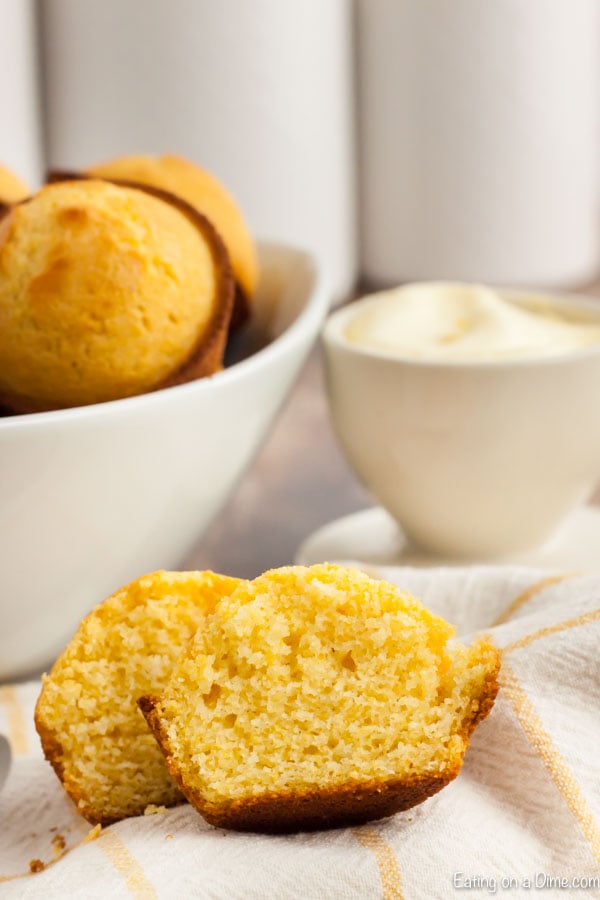 These are the best cornbread muffins!
Our family insists these are the best cornbread muffins and I have to agree! We have tried various recipes over the years and this one is definitely a winner.
The corn muffins are moist and delicious and perfectly golden on top. It is such a good recipe.
Add some melted butter and enjoy! You won't be able to eat just one. They are seriously that good.
The kids go crazy over these and we all just really love these cornbread muffins. Yum!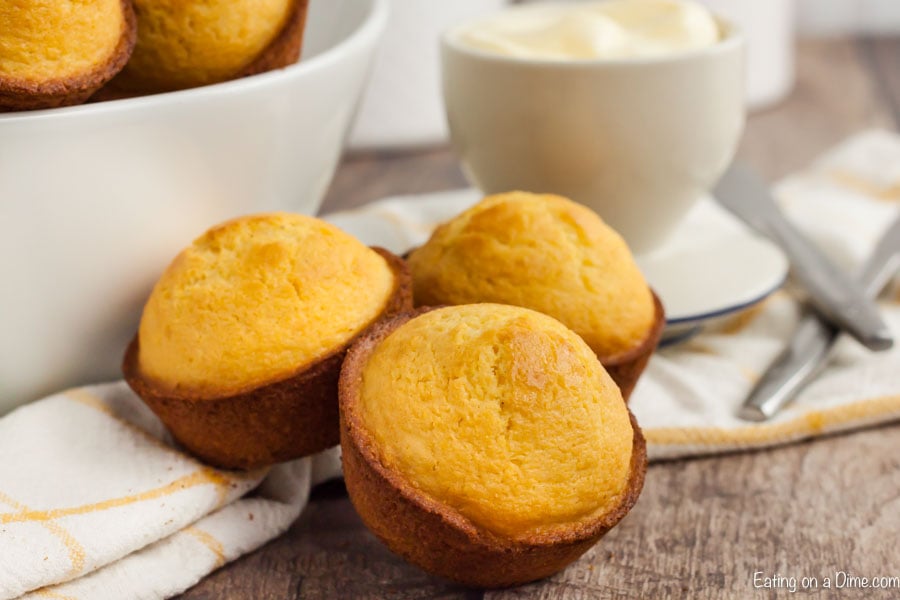 This will be a recipe to enjoy for years to come and pass down. Everyone will love it!
Keep reading for the full recipe. It really is so simple!
You won't believe how easy it is to make cornbread muffins from scratch!
You can make regular cornbread.
If you do not want to make muffins, this recipe can be made using a baking dish. I usually use a metal or glass 9X9 baking dish.
However, you can also use a cast iron skillet for this recipe.
When using a cast iron skillet, warm up the skillet by putting it into the oven while it is preheating. Then follow the rest of the original recipe and allow to cool for 10-15 minutes until cutting this cornbread recipe.
Can you freeze cornbread muffins?
Yes, you can. In fact, we often make a double batch to have some for the freezer.
You can use freezer bags or an air tight container. This is especially helpful if you just need one or two corn muffins to enjoy with a quick lunch or something similar.
It really is a time saver and so easy. I try to always keep some of these corn bread muffins in the freezer.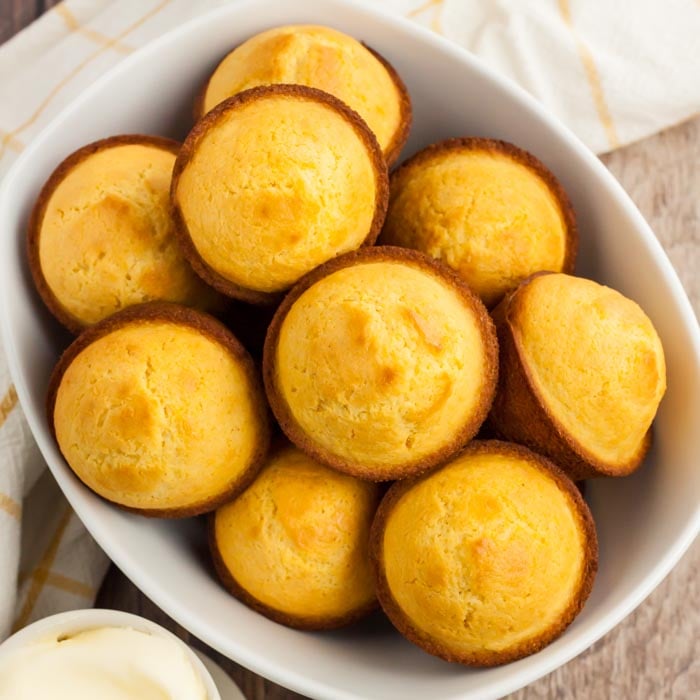 Why do my cornbread muffins fall apart?
This is typically a result of over mixing. Don't mix too much or the corn bread can fall apart and become very crumbly.
The mixture will be bumpy and not entirely smooth so don't be tempted to keep mixing. This is what causes the corn bread muffins to fall apart after baking.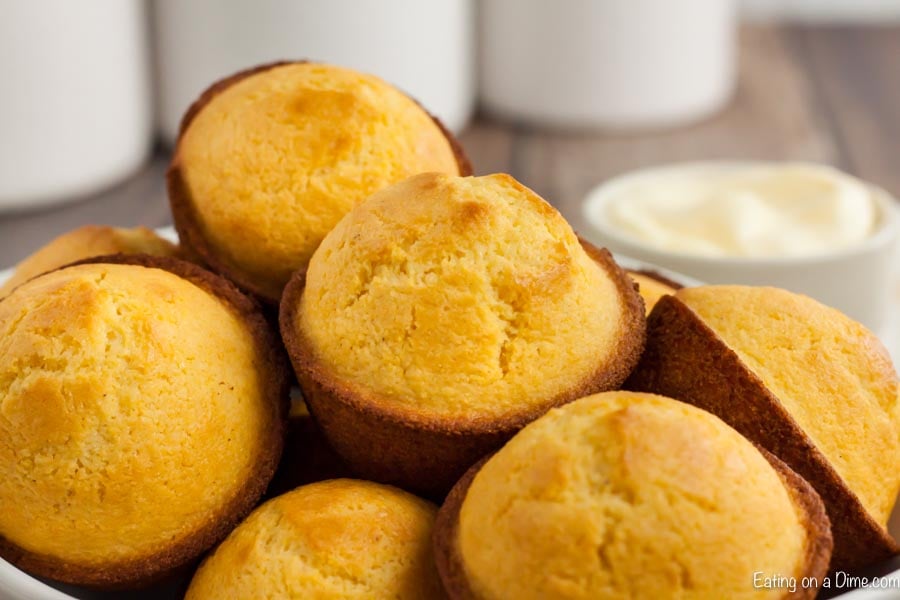 Give these easy cornbread muffins a try!
I love to use my muffin pan because corn bread muffins generally take less time than normal cornbread. Sometimes, I am just short on time and this is quick and easy.
Muffin tins make it so easy because the muffins are perfect for grab and go. You don't have to worry about cutting as they are already in individual muffin tins or paper liners.
Our family loved this recipe and I am certain yours will too. They are so yummy and just delicious.
Cornbread is a great side dish to chili:
Print this sweet Cornbread muffin recipe below:
Cornbread Muffins
Cornbread Muffins are just so easy to make and much better than those store bought mixes. This cornbread muffin recipe is delicious and a family favorite.
Instructions
Preheat oven to 400 degrees.

Spray muffin tins with non stick spray. This recipe will make 12 muffins

Combine all ingredients into a bowl. Stir well.

Pour into your prepared pan muffins tins.

Bake for about 10 minutes or until beginning to brown.

Allow to cool, and then cut. Serve with our Homemade butter recipe.
Recipe Notes
This is so easy to throw together and super inexpensive too! Enjoy!
Nutrition Facts
Calories
192
kcal
,
Carbohydrates
27
g
,
Protein
3
g
,
Fat
8
g
,
Saturated Fat
6
g
,
Cholesterol
16
mg
,
Sodium
209
mg
,
Potassium
187
mg
,
Fiber
2
g
,
Sugar
10
g
,
Vitamin A
53
IU
,
Calcium
70
mg
,
Iron
1
mg
More easy cornbread recipes