This post may contain affiliate links. If you make a purchase through links on our site, we may earn a commission.
Make Double Chocolate Chip Muffins for the perfect excuse to enjoy chocolate for breakfast. Each bite is so decadent and amazing while being so easy to make.
Today we are making double chocolate chip muffins!
I just love chocolate and these double chocolate chip muffins are a family favorite. Honestly? I love most sweets, but probably my all time most favorite baked good would be something with chocolate in it.
Feeling like I needed an extra dose of chocolate, I wanted to try my hand at making some chocolate muffins. Not just any muffins – DOUBLE Chocolate Muffins!
Check out Chocolate Chip Muffins for another tasty dessert.
I am so pleased with how these muffins turned out. They are delicious, with yummy chocolatey goodness in every bite – and they are easy to make!
You probably have all of the ingredients on hand to make these immediately, so why not make these double chocolate muffins today?
You might also like this Chocolate chip mini muffins recipe that is super easy and freezer friendly.
Make sure you have a good pan to make double chocolate muffins.
If you don't already have a set, we love this silicon muffin pan, I highly suggest them. I love baking in mine (and they are still holding up after years of use).
You can use what you prefer but just make sure you have a good pan. I have found a good pan is the start to a good recipe.
I have the Rachael Ray muffin pans here. There are several other options of muffin pans and many are on sale!
I used foil liners to bake these cupcakes in, but I really love my silicone baking cups. They are a great to bake in, easy to clean up AND reusable.
Another idea is to use a mini-muffin pan. Mini muffins are fun to eat and another tasty option for breakfast or brunch. Maybe even a snack.
Keep in mind the smaller size will take less time to cook and the total cooking time will need to be adjusted. They are faster to cook and easier to eat.
I love my Wilton mini muffin tins, but for just a few dollars more you can get a silicone pan. These are great because the mini muffins just pop out so much easier.
Anyway, on to the recipe. Let's satisfy that chocolate craving once and for all.
These double chocolate muffins are really that easy to make! I hope you and your family enjoy them as much as we did. I'd love to hear what you think.
They freeze great!
The nice thing about these muffins is that they freeze great. Just place them (after they have cooled) into a freezer bag and freeze.
When you are ready to eat, you can microwave for a few seconds for delicious warm muffins. I like to place my frozen muffins in the fridge the night before so they reheat much faster.
It is so handy having these in the freezer for a quick breakfast idea.
We have made these for vacation and traveling and it has helped us save a ton of money. I often make a double batch just to have some to freeze.
What ingredients do you need to make fudgy chocolate muffins?
flour
granulated sugar
cocoa powder
salt
baking powder
buttermilk
eggs
vanilla extract
oil
chocolate chips
How to make double chocolate chip muffin recipe?
First, preheat your oven to 375.
Mix all dry ingredients together.
Mix all wet ingredients together.
Now it is time to combine all wet and dry ingredients together. Add in chocolate chips.
I like to use a large baking scoop to fill the muffin cups nearly all the way to the top.
Bake until a toothpick inserted comes out clean.
These are so easy and delicious. Keep reading for the full recipe.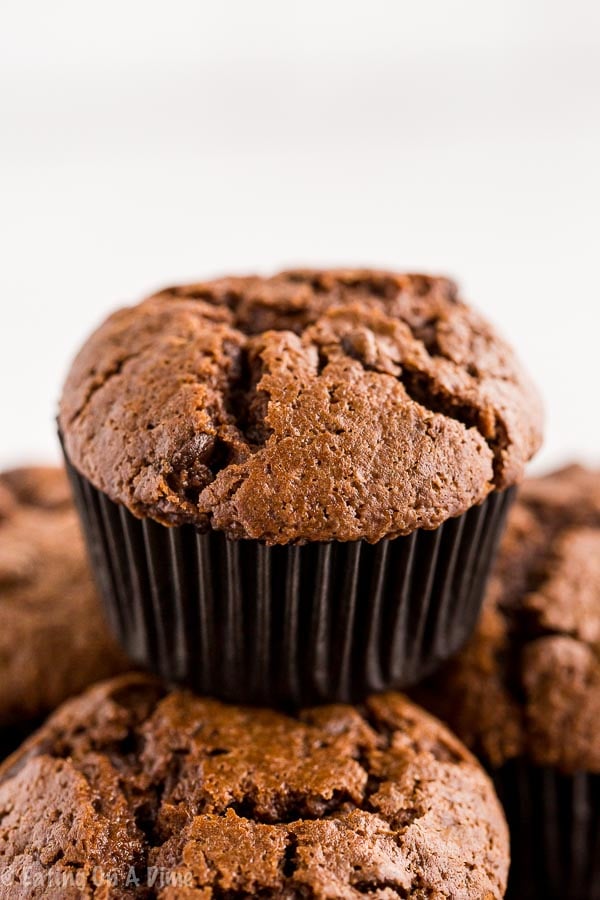 Use a cookie scoop to make double chocolate muffin recipe.
I highly recommend using a cookie scoop to fill the muffin tins. I have these at home and I use the biggest one to help make filling up the muffin cups easier. (The 3 pack is on sale!)
You will thank me later because it saves so much time with this recipe and many others on filling the muffin tins. Plus, they are not expensive. Amazon has some cookie scoops for very cheap.
I bought the three pack, so I can use the smaller two for cookies or meatballs and then the bigger one to fill up these muffins and cupcakes.

They will get lots of use and you will be glad you bought them.
We really use these frequently for so many recipes. You will be so glad you went ahead and ordered a set!
Why are my chocolate muffins dry?
Often the cause of dry muffins are the result of over mixing your batter. You want to just stir the wet and dry ingredients until they are just mixed together.
No need to keep stirring.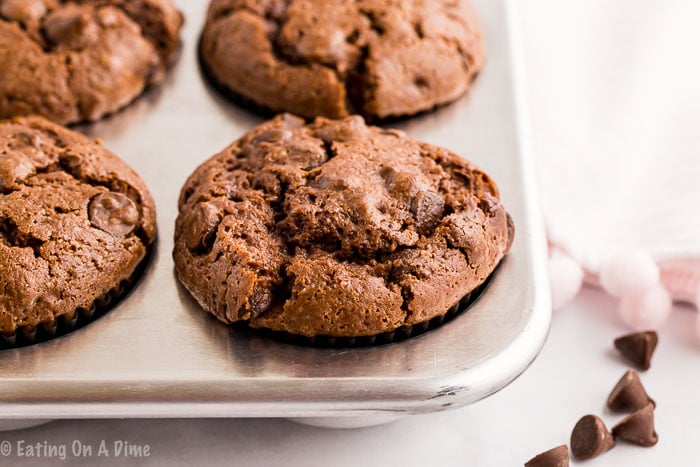 Try these delicious double chocolate chip muffins!
They are absolutely delicious and so amazing. Keep reading for the full recipe and the double chocolate chip muffins calories.
Trust me, these are worth every single calorie. They are that amazing. 🙂
Our entire family loves these and they are so simple to make. I usually make a double batch just so we can have some to freeze.
We all love these so they go quickly around here. Give them a try!

Print this double chocolate chip muffins recipe below:
Double Chocolate Muffins
You have to try this easy double chocolate muffins recipe. They are delicious and perfect for a quick morning.
Ingredients
2

cups

flour

1 1/2

cups

granulated sugar

3/4

cup

cocoa powder

1/2

teaspoon

salt

2

teaspoons

baking powder

1

cup

buttermilk

2

eggs

2

teaspoons

vanilla extract

1/2

cup

oil

(1) 12

ounce

package chocolate chips
Instructions
Preheat oven to 375.

Mix all dry ingredients: flour, sugar, cocoa powder, salt and baking powder.

Mix all wet ingredients: buttermilk, eggs, vanilla and oil. **Note – I never buy buttermilk. To make you own, combine one tablespoon lemon juice and enough milk to make 1 cup. Let sit for a few minutes.

Combine wet and dry ingredients until well blended. Add in chocolate chips.

Bake at 375 F for 15-20 minutes until toothpick inserted comes out clean (I baked mine for 18 minutes and they were perfect).
Recipe Notes
This muffin recipe is delicious, with yummy chocolatey goodness in every bite – and they are easy to make!
Nutrition Facts
Calories
192
kcal
,
Carbohydrates
30
g
,
Protein
3
g
,
Fat
7
g
,
Saturated Fat
5
g
,
Cholesterol
19
mg
,
Sodium
87
mg
,
Potassium
139
mg
,
Fiber
1
g
,
Sugar
17
g
,
Vitamin A
50
IU
,
Calcium
44
mg
,
Iron
1.3
mg
Enjoy this easy peanut butter banana smoothie for a tasty breakfast idea or delicious treat any time of the day.
Try these other easy muffin recipes: