This post may contain affiliate links. If you make a purchase through links on our site, we may earn a commission.
Learn how to make this Easy Pancake Muffins Recipe that your kids will love. Baking pancakes in muffin pans make it so easy and perfect for breakfast any day of the week.
Easy Pancake Muffins Recipe
Isn't this a great idea? The kids are going to love them!
If you love pancakes and muffins as much as my family does, then you will love this recipe! It is just to so easy and absolutely delicious!
Pancake muffins are yummy, and they freeze great! Make your pancakes this way and all the pancakes are ready at the same time and can all be the same temperature!
You can enjoy these even on busy week days. It is so simple and sure to be a hit!
The entire family will love these even the adults. I love these with a cup of coffee.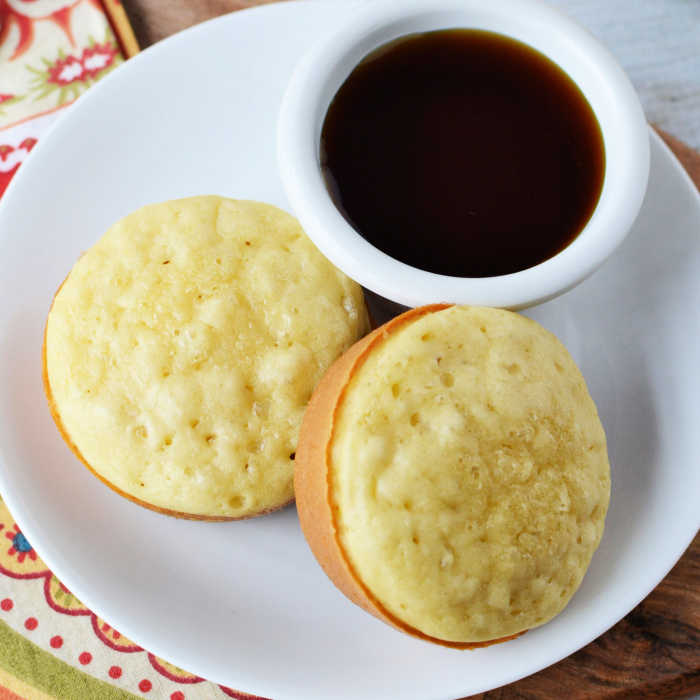 What all do you need for these Baked Pancake Muffins?
It is that simple to make these delicious pancake muffins. It is one of our favorite pancake recipes.
How to make pancake mix muffins from scratch?
You can use your own recipe of pancake mix (head on over here to see an easy homemade pancake recipe), or use the already mixed boxed kind. It is so easy to make your own.
You will be amazed how simple it is with the flour baking powder and salt and sugar. So easy!
With just a little bit of flour sugar, baking soda and more , these muffins really come together quickly and easily.
Give this recipe a try and find out just how easy it is to make it from homemade pancakes. Sometimes I use a buttermilk egg mixture and the buttermilk gives it the best flavor.
How to make pancake muffins from store mixes?
If you would rather buy already made pancake mix, that is totally fine. You make the muffins the same way and they will still be amazing.
Just do what works best for you! This recipe is a winner no matter what!
It is so simple to make Mini Pancake Muffins!
Simply line muffin pan with muffin cups or use cooking spray.
Mix together pancake mix in a a large bowl. ALso see Does Pancake Mix Go Bad.
Put a few tablespoons of pancake batter in each cup in the muffin pan.
Bake!
Serve with maple syrup for dipping and enjoy!
It is SO easy!
Easy Mix in ideas for delicious pancake muffins:
blueberries
strawberries
pumpkin
banana
We love these little pancake muffins plain but sometimes it's fun to mix it up. Try some of these delicious ideas next time you try this recipe.
The chocolate chips are a big hit around here with the kids! You can't go wrong with this easy breakfast recipe.
We also love Cinnamon Sugar Pancake Muffins!
You can do this a couple of different ways. Try adding cinnamon and sugar to the pancake mix.
Or you can top the muffins with a cinnamon sugar coating once finished baking. If you do this, it works best to dip them in a little melted butter before dipping in the coating.
The cinnamon and sugar will stick better and it won't be as messy.
Try Pumpkin Pancake mix muffins.
Add a little pumpkin puree to the pancake mix and you have mini pumpkin pancake muffins. Yum! These also go really well with chocolate chips. 🙂
Use ripe bananas to make Banana pancake muffins!
We use bananas that have become too ripe to make delicious banana pancake muffins. Throw in some nuts with the banana and it is so delicious.
How do I make Gluten free pancake muffins?
Use a gluten free mix for the pancakes. Easy!
We have a really delicious and Easy Gluten Free Pancakes Recipe.
You will need mini muffin pans to make this Easy Pancake Muffins Recipe.
Make sure you have a mini muffin tin on hand to make these delicious little pancake muffins. My pan is Wilton and works great but just use what you prefer or already have.
The mini size is perfect for little hands or eating on the go. It makes dipping in syrup so easy since they are mini muffins.
You could even make these for brunch or parties and they would be so fun! Everyone will love these bite size pancakes.
Another tip for Pancake mix muffins recipe is to use a cookie scoop.
This is totally optional but makes it so much easier. I highly recommend using a cookie scoop. You will thank me later because it saves so much time on spooning out the muffins.
They are very inexpensive and typically come in a set with different sizes. That is so handy for other recipes and we use ours frequently.
Amazon has some cookie scoops for very cheap. I have the three pack so that I can use these for cookies, cupcakes, muffins and even meatballs.
I promise you will get tons of use out of these. They are great for so many recipes we make around here.
Print this delicious Pancake Mix Muffins recipe below:
Pancake Muffins Recipe
Easy Pancake Muffins Recipe is simple and delicious. Enjoy Pancake mix muffins recipe for breakfast any day of the week. They are so easy to make.
Ingredients
Muffin cups or non stick spray

Pancake batter already premade
Instructions
Line a pan with muffin cups or spray pan

Just make the mix as you normally would, and spoon into muffin pan (about 3-4TBS for large muffin pan or 2 tbs for mini)

Bake at 350 for 8-10 minutes

Dip them in syrup and enjoy!
Nutrition Facts
Calories
86
kcal
,
Carbohydrates
9
g
,
Protein
3
g
,
Fat
3
g
,
Saturated Fat
1
g
,
Cholesterol
41
mg
,
Sodium
164
mg
,
Potassium
100
mg
,
Sugar
1
g
,
Vitamin A
145
IU
,
Vitamin C
0.2
mg
,
Calcium
95
mg
,
Iron
0.5
mg
Love muffins? You have to try these easy muffin recipes:
Try these other easy breakfast ideas: