This post may contain affiliate links. If you make a purchase through links on our site, we may earn a commission.
My family loves banana bread… there is no doubt about it, but we love Banana Bread Mini Muffins just as much. They are easier to eat (especially the little ones), they cook in minutes instead of an hour, and they freeze great!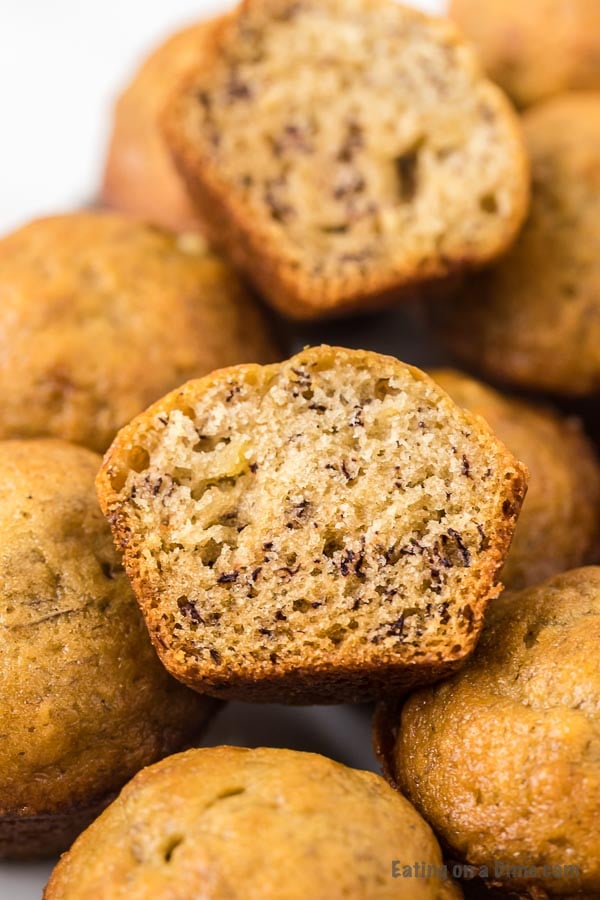 Mini Banana Muffins:
This mini banana muffin recipe is one of my favorite because they take no time at all to throw together.
Also, they cook quicker than a traditional banana bread. So we can enjoy them in less time and still get to enjoy the delicious banana flavor that we love in our banana bread recipe!
You may also love these Mini Pumpkin Pies Recipe.
When I make moist banana muffins, I make a ton of them because my family loves them!
Then I keep a batch or two in the freezer. Then for breakfast I just pop a few in the microwave. YUM!
You may also love our Chocolate Chip Muffins Recipe.
Equipment Needed:
If you don't have a mini-muffin pan, I highly suggest you get one. Mini muffins simply taste great. They are faster to cook and easier to eat.
I love my Wilton mini muffin tins, but for just a few dollars more you can get a silicone pan. These are great because the mini muffins just pop out so much easier.
Ingredients:
You only need 8 ingredients to make this delicious and easy moist mini banana bread muffin recipe. If you enjoy baking I bet you already have most of these ingredients in your pantry!
Ripe Bananas
Melted Butter
Egg
Sugar
Vanilla Extract
Baking Soda
All Purpose Flour

Salt
Generally, I have all these ingredients in my kitchen. When I notice that I have a few bananas that are about to go bad, I make these mini banana muffins. Plus my family still gets to enjoy a delicious breakfast recipe!
*Note: You can use brown sugar if you're out of regular sugar. I made this substitution once when I was out of sugar and the muffins turned out great!
Make homemade Vanilla Extract:
Vanilla extract is needed for this recipe and I just recently started to make my own. It's so easy to make and really does add more flavor to my baking recipes.
I wrote an entire post on how to make your own vanilla extract here. It only takes 2 ingredients to create and I was able to make it in under 5 minutes. Also, I save a lot of money by making my own vanilla extract instead of using the store bought kind.
I hope you try it out and don't forget to let me know what you think in the comments below.
What temperature do you bake muffins at?
For this recipe and most of my other muffin recipes, I bake them at 350 degrees Fahrenheit in the oven. This is the perfect temperature for this recipe to make easy and moist muffins for your family.
How do you make mini banana muffins?
I'm not a normal baker. I like to take short cuts to make things easier but still create delicious baked goods.
I don't keep dry ingredients and wet ingredients separated and then combine them at the end like some bakers do.
However, this recipe has been tested numerous times and have found that combining the flour mixture separately is not needed for this recipe.
After you have preheated your oven, mash the bananas in a large bowl. Then combine the bananas, sugar, melted butter, egg and vanilla extract in the bowl. I mix by hand. Stir well until all these ingredients are combined.
Then slowly mix in the flour, baking soda and salt to your bowl and that's it to prepare the batter!
Trust me, it doesn't make a different in this banana muffin recipe so just use one bowl.
Also, you can create mini banana muffins with chocolate chips. Mix in approximately 1 cup of mini chocolate chips into the batter. Or you can mix in any add ins that you would prefer.
After the batter is ready, put them into the mini size muffin pans. I find that these ingredients make approximately 24 mini muffins. Then you just bake them for approximately 10-15 minutes until they start to brown slightly.
Then let them cool on a rack before removing them from the pan.
How do you mash the bananas?
Generally, I mash mine with a spoon or a meat masher. This usually works fine as I usually wait until my bananas are very ripe to make this recipe.
If your bananas do not chop easily, you can use an electric hand mixer to mash them.
How do you get mini muffins out of the pan?
You can either use mini muffin pan liners or lightly spray the muffin tin with your favorite non-stick spray.
Once the muffins are cool, I place a towel over the top of the muffins. Then turn the pan over to allow them to slide out of the pan and the towel will catch all the muffins.
It's not as hard as it looks and it's worth it to enjoy this moist and delicious banana muffins.
How to Store:
Store any leftover muffins in an air tight container or storage bag at room temperature for up to 1 week.
I love these warm, so I usually heat the leftovers in the microwave for a few seconds before enjoying them.
How to Freeze:
The great thing about these mini muffins is how easy they are to freeze! Just place them on a cookie sheet and place the sheet in the freezer for at least 1 hour. Then place in a labeled freezer bag.
To reheat, just heat in the microwave for a few seconds and you have tasty mini muffins without all the work!

Print this
mini banana muffin recipe
below:
Banana bread mini muffins recipe
Try this easy Banana bread mini muffins recipe for a frugal and delicious breakfast idea. They also freeze great!
Ingredients
Instructions
Preheat oven to 350 degrees. Spray mini muffin pan.

Peel the bananas. (these can be from the freezer, just thaw first) Mash the bananas.

Stir in melted butter, egg, sugar, vanilla, baking soda, and salt. Stir well.

Add flour and stir well.

Pour into the mini muffin pans. It makes 24.

Cook for 10-15 minutes until they start to brown and set.

Let cool on a rack before removing them.

Optional:

Add a handful of chopped nuts or chocolate chips when you add in the flour. Those are some easy and YUMMY additions
Nutrition Facts
Calories
275
kcal
,
Carbohydrates
62
g
,
Protein
5
g
,
Fat
1
g
,
Saturated Fat
1
g
,
Cholesterol
27
mg
,
Sodium
291
mg
,
Potassium
255
mg
,
Fiber
2
g
,
Sugar
32
g
,
Vitamin A
77
IU
,
Vitamin C
5
mg
,
Calcium
12
mg
,
Iron
2
mg
Other Muffin Recipes:
More Banana Recipes: