If you need a quick breakfast option for busy mornings, try Applesauce Oatmeal Muffins. They are moist and delicious while being easy and budget friendly.
Applesauce Oatmeal Muffins
I have another delicious muffin recipe for you to try! If you loved our Double Chocolate muffins, then you will love this recipe.
These Oatmeal Applesauce Muffins are not too heavy for the morning, but they are full of flavor and have just the right amount of sweetness.
Our entire family loves them and the kids go crazy over them. You are going to love them too!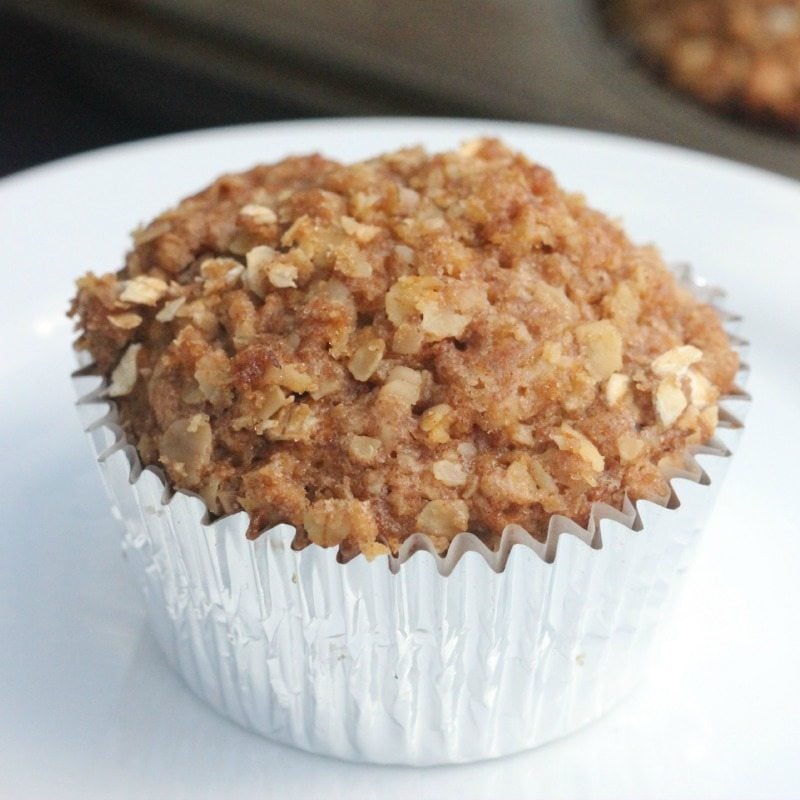 Cinnamon Applesauce Muffins are so easy to make!
Do you want to know what's even better? You probably have all of the ingredients you need sitting in your pantry (and fridge).
Try these Oatmeal Applesauce Muffins and I am confident you will love that. Take them to work or school and people may be impressed by your baking prowess! 😉
No one will guess how easy and simple they are to make. We won't tell. 🙂
Save money by freezing Quaker Oatmeal Applesauce Muffins!
I love making muffins at home, because they are a nice money saver. Muffins in the store are EXPENSIVE and they just don't taste as great as homemade.
If you want to really save on time, make a lot and then freeze them. That way you can just pull out the amount you need.
I thaw and heat them up in the microwave in just a minute. This is so convenient during busy mornings when everyone is trying to get out the door for school and work.
It really is not any extra work to make a double batch for the freezer. The time they will save you in the long run make it worth it.
You could even make these for brunch or parties and they would be so delicious and frugal. Everyone will love these muffins.
Let's get started making these easy applesauce muffins!
Muffins are a nice option for breakfast and so simple when you can just grab them from the freezer. Not only will you save time but a ton of money as well!
They are the perfect option for breakfast on the go. The kids can get a really great breakfast and still get out the door on time.
We just love these delicious muffins and they are so quick and easy.
What do you need to make healthy oatmeal muffins applesauce recipe?
Oats ( I used quick oats)
Flour
Brown Sugar
Baking powder and baking soda
cinnamon
salt
applesauce
milk
oil
vanilla extract
egg
Now for my favorite part…..the Streusal Topping:
butter or margarine
oats
brown sugar
cinnamon
By the way… are you following me on pinterest? Make sure you follow me so you don't miss another money saving recipe. 
How do you make applesauce oatmeal muffins recipe?
While these muffins look fancy and taste oh so amazing, they are very simple to make.
The streusal on top really makes these muffins special so don't skip that step. I always mix the streusal first and set aside.
The muffins are so easy to whip up. Once you are finished, each one gets a generous amount of streusel on top and into the oven they go!
Your house is going to smell amazing while these applesauce oatmeal muffins bake.
Applesauce oatmeal muffins turned out great!
I was pleasantly surprised at how well these Oatmeal Applesauce Muffins turned out. I am not much of a muffin person, but I really like these.
The rest of my family loved them, too! I am going to make a double batch next time so I can stock the freezer.
These will be perfect for a quick breakfast and everyone just loves these applesauce muffins. If you want to try a few new things, try adding flax seed or dried cranberries to the muffin mix.
Another option to try is wheat flour. I have even mixed half regular flour and half wheat flour and no one even noticed.
Everyone loves these and the applesauce makes the muffins so moist and flavorful. They are sure to be a hit with your family.
Save money and make Applesauce Oatmeal Muffins.
Stock up on these muffins and keep some in the freezer. You will save so much money by being able to grab a muffin from the freezer.
I try to always keep a few "convenience" items in the freezer for hectic weekdays. It saves so much time and stress not to mention money.
I get the quick and easy factor from convenience items without the price tag. Plus, they are so much better than store bought.
Try some of the variations and give these muffins a try. By cooking like this, it really helps me to save money on groceries. It is a huge help to our budget.
We have even enjoyed these muffins for brunch. Another idea is even for dinner! My kids love to have breakfast for dinner and I love it because it is easy and budget friendly.
If it is a breakfast for dinner night, grab these muffins from the freezer to keep things simple. Add some fresh fruit and make eggs or bacon and your kids will love it.
Think outside the box and save time and money! This is how I keep our grocery budget low and feed a big family.
Everyone is happy and I love knowing I'm not going crazy with the budget. It can be done!
If you need more muffin cups, why not invest in some silicone baking cups. I love mine and they really do save you money in the long run.
I love how easy they come off without breaking the muffins. These are great!
Another thing I love to use is these baking scoops. I love these and they are so handy!
I use the largest baking scoop for muffins and cupcakes. They come in a set so they are perfect for all sorts of recipes.
This is totally optional but makes it so much easier.  I highly recommend using a cookie scoop. You will thank me later because it saves so much time on spooning out the muffins.
They are very inexpensive and typically come in a set with different sizes. Amazon has some cookie scoops for very cheap. I have the three pack so that I can use these for cookies, cupcakes, muffins and even meatballs.
I promise you will get tons of use out of these. They are great for so many recipes we make around here.
You can also make mini muffins. These would be fun for a party or really any time! If you don't have a mini-muffin pan, I highly suggest you get one.
Mini muffins just simply taste great. They are faster to cook and easier to eat.
I love my Wilton mini muffin pan, but for just a few dollars more you can get a silicone pan. These are great because the mini muffins just pop out so much easier.
As you can see this recipe is so versatile and can be made several different ways. Your family will never get tired of this recipe with all of these delicious ideas!
You might also like this quick and easy blueberry muffins recipe for a simple breakfast idea.
Print this Applesauce Oatmeal Muffins Recipe below: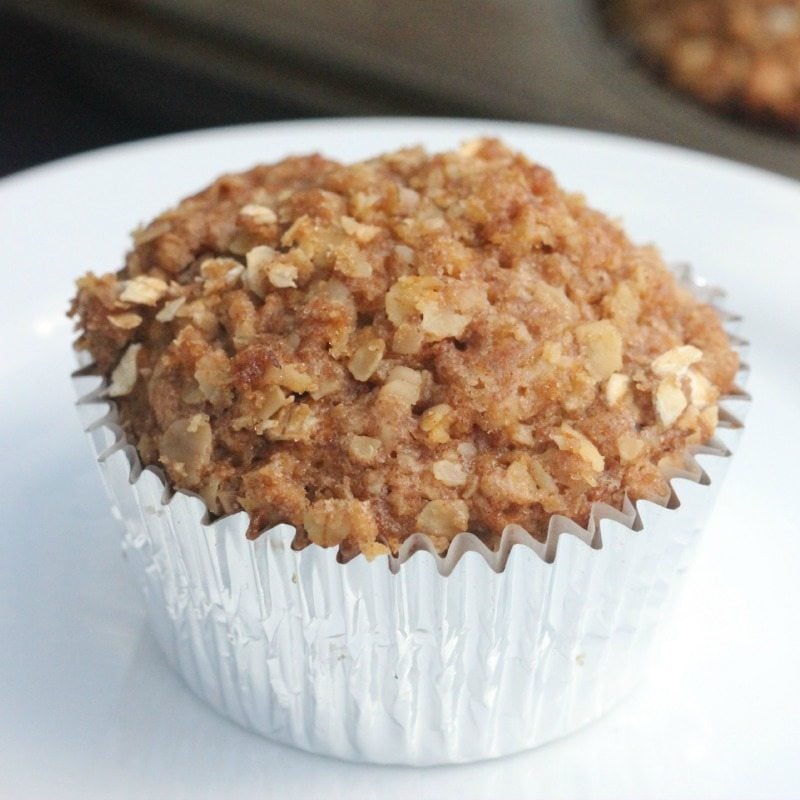 Oatmeal Applesauce Muffins
Try this easy Oatmeal Applesauce Muffins recipe. My family loves these muffins and they are perfect for the busy family on the go.
Keyword:
Oatmeal Applesauce Muffins
Ingredients
1 1/2

cup

oats

(I used quick oats)

1 1/4

cup

flour

1/2

cup

brown sugar

(firmly packed)

1

teaspoon

baking powder

3/4

teaspoon

baking soda

1

teaspoon

cinnamon

1/2

teaspoon

salt

1

cup

applesauce

1/2

cup

milk

3

tablespoons

oil

(I used canola)

1/2

teaspoon

vanilla extract

1

egg

Streusel Topping:

2

tablespoons

butter or margarine

(NOT softened)

1/2

cup

oats

2

tablespoons

brown sugar

1/2

teaspoon

cinnamon
Instructions
Preheat oven to 400F. Spray muffin liners with non-stick cooking spray.

Make streusel topping first: mix oats, brown sugar and cinnamon together. Once combined, cut in butter. I use 2 butter knives and literally "cut" the butter into the mixture. When you are done your streusel should resemble small crumbles.

For the muffins, mix together dry ingredients: oats through salt.

Slowly mix in applesauce, milk, oil, vanilla and egg. Stir until well combined.

Use a large baking scoop to fill prepared muffin cups 3/4 full.

Spring a generous amount of streusel on the top of each muffin.

Bake at 400F for 15 to 18 minutes or until cooked through.
Recipe Notes
This is another recipe that I'd recommend freezing. That way you can just pull out the amount you need. I thaw and heat them up in the microwave in just a minute.
Nutrition Facts
Oatmeal Applesauce Muffins
Amount Per Serving
Calories 139
Calories from Fat 36
% Daily Value*
Fat 4g6%
Cholesterol 13mg4%
Sodium 130mg6%
Potassium 94mg3%
Carbohydrates 22g7%
Protein 2g4%
Vitamin A 65IU1%
Vitamin C 0.2mg0%
Calcium 32mg3%
Iron 0.9mg5%
* Percent Daily Values are based on a 2000 calorie diet.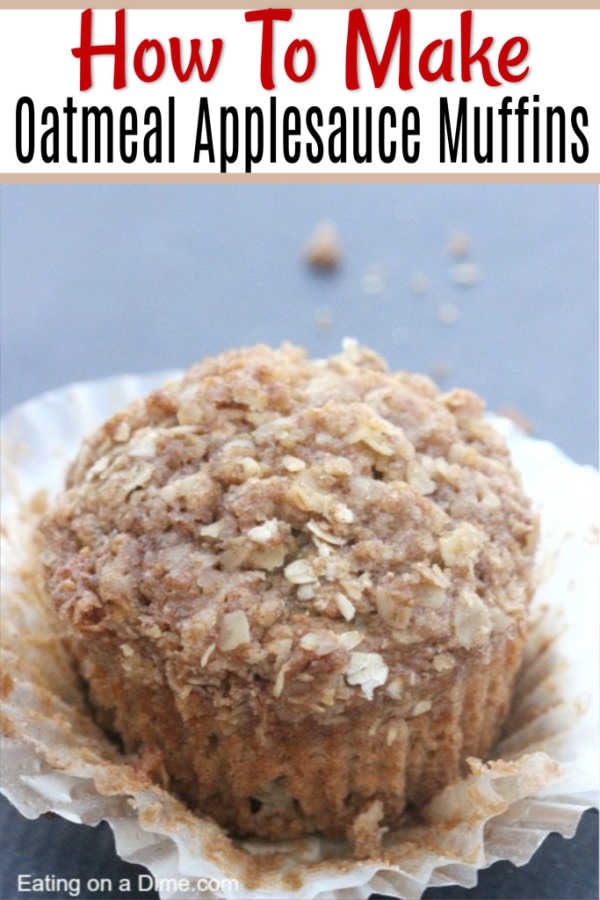 Try this Freezer Breakfast Burritos Recipe for an easy meal on busy mornings that everyone will enjoy.
You might also like to try this mini banana muffin recipe that our family loves because it is so easy and delicious.  
Love muffins? You have to try these easy muffin recipes:
Try these other easy breakfast ideas: