This post may contain affiliate links. If you make a purchase through links on our site, we may earn a commission.
Homemade Lemon blueberry muffins are soft and delicious. These bakery style muffins have the perfect blend of tartness and sweetness in each bite. The fresh lemon zest enhances the blueberry flavor for a great treat.
I have always loved blueberry muffins but I just might have a new favorite. This recipe with lemon is so tasty.
The entire recipe is so simple and everyone will think you have been to the bakery. They are seriously that good. It is definitely a favorite recipe around here.
We also love Chocolate Chip Muffins.
What Are Lemon Blueberry Muffins?
These muffins have the perfect combination of fresh lemon zest and blueberries. It comes together for the perfect muffin.
The flavors really go together well and make a delightful muffin that is perfect for something different.
If you have never tried these muffins, do yourself a favor and make them. You will not be disappointed.
Ingredients
all-purpose flour
granulated sugar
salt
baking powder
lemon zest (See How to Zest a Lemon)
vegetable oil
large egg (room temperature)
milk
vanilla extract
fresh blueberries or frozen blueberries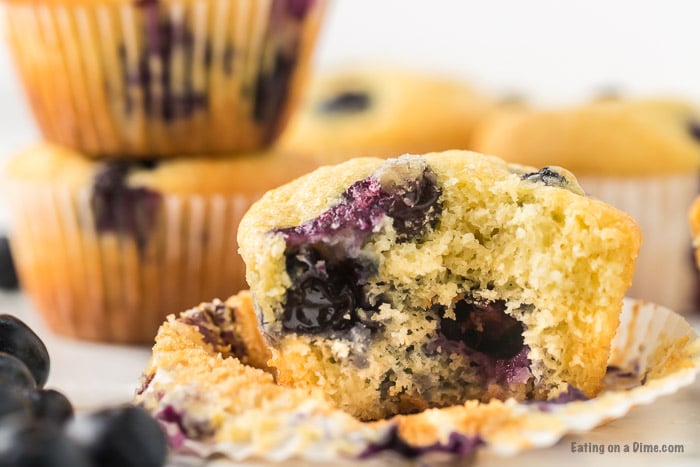 How to make Lemon blueberry muffins
First, preheat the oven to 400 degrees.
While the oven is warming up, get out a large mixing bowl. Whisk the flour, sugar, baking powder and salt,
Then you will a measuring cup that holds at least 1 cup. Add the vegetable oil, egg and then fill the cup to the 1-cup line with milk. This will be about ⅓ to a ½ cup of milk.
Next, add the vanilla and lemon zest. Whisk everything until well combined.
Pour the milk mixture to the bowl with the flour and sugar. Use a fork to combine the wet ingredients and dry ingredients. Be careful not to over mix.

The batter will be thick but that is normal. You can add a ½ cup sour cream to give the muffins a slightly different flavor if you prefer.
Carefully fold in the blueberries into the batter. Use a spatula or spoon to gently fold them into the mixture.
Put the muffin batter into the muffin tins filling them about ½ full.
Right before baking, sprinkle a little bit of sugar on top of each of the muffin cups.
Put in the oven and bake for 15 to 20 minutes or until a toothpick inserted is clean.
Allow the muffins to cool on a wire rack.
Can I use frozen blueberries?
Yes, you can. If using frozen berries, I would use about 1 cup in this recipe.
Can I use dried blueberries?
Dried berries can be substituted in this recipe for fresh. I would suggest soaking the dried blueberries in hot water for 5 to 10 minutes firsst.
This will help the berries rehydrate. Just make sure to drain them well before putting into the muffin mixture.
Why are my muffins dense?
Too much liquid can result in muffins that are dense. This can be due to the excess liquid of the blueberries.
You want to drain them before using so they do not create too much extra liquid in the muffins.
This is especially important if using frozen blueberries. They can provide a lot of moisture so it is important to drain any juice.
How to store lemon blueberry muffins
Place muffins inside an airtight container lined with parchment paper. I would also place the parchment paper between each layer.
If you find the muffins are getting soggy, add a paper towel to the container.
The muffins will last up to 4 days in the fridge.
Can you freeze muffins?
If you need them to last longer, the muffins freeze well. Just make sure the muffins are completely cool before freezing.
Place inside a freezer bag or container. Use parchment paper in between the layers. They will keep up to 2 months in the freezer. See more of how to freeze blueberry muffins.
To reheat, thaw in the fridge overnight or heat in the microwave. This is a great way to make muffins ahead of time and enjoy them on busy mornings.
You can do this to use for parties, holidays, snacks or just during the week. The muffins freeze easily and taste delicious.
It is an easy way to enjoy homemade muffins on busy occasion.
Mini Muffins.
Turn these muffins into mini muffins. Just use a mini-muffin pan and you are set.
Keep in mind the mini size bakes in less time so you will to reduce the cooking time.
Tips for making muffins:
Don't overmix the muffins. The key to this is mixing the dry ingredients separately from the wet ingredients.
Use cupcake liners. Don't forget to use liners in your muffin tin. If you don't have any, spray with nonstick cooking spray.
Only fill each muffin tin about ½ full. You don't want to add too much or they will overflow.
Use a cookie scoop. Quickly fill each muffin tin with batter using a cookie scoop. This helps to ensure each muffin is the same size and they all can cook evenly.
Muffin tin. Make sure you have good sturdy muffin pans. We recently had to replace some of ours.
The best lemon blueberry muffins recipe
In less than 30 minutes from preparation to baking, these muffins can be ready to enjoy. Our family loves this recipe.
Make this today and see why it is our favorite recipe. Each bite is so light and fluffy.
The extra touch of adding sugar on top really makes these muffins taste bakery quality. You will love enjoying these at home and how much money you save.
I love the smell of muffins baking and the entire house will smell amazing. My kids love these so much and often ask to have one for a snack.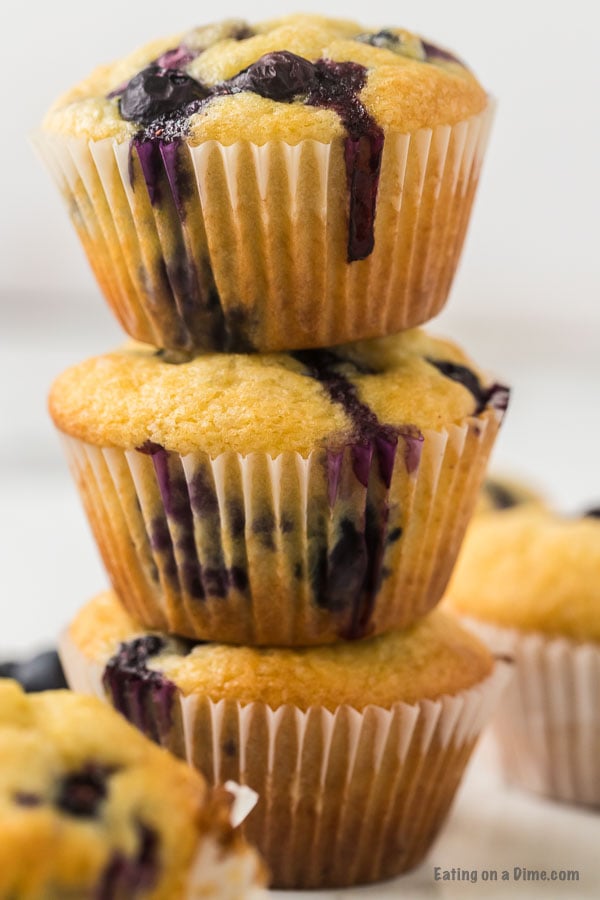 Print this lemon blueberry muffin recipe:
Homemade Lemon blueberry muffins
Homemade Lemon blueberry muffins are soft and delicious. The fresh lemon zest enhances the blueberry flavor for a great treat.
Ingredients
1 ½

cups

all-purpose flour

¾

cup

granulated sugar plus 1 tablespoon for muffin tops

½

teaspoon

salt

2

teaspoons

baking powder

1

tablespoon

lemon zest

1/3

cup

vegetable oil

1

large egg

1/3

cup

milk

1 ½

teaspoons

vanilla extract

6

ounces

fresh or frozen blueberries

about 1 cup frozen blueberries
Instructions
Preheat oven to 400º F

In a large bowl whisk flour, sugar, baking powder and salt,

Use a measuring cup that holds at least 1 cup and add vegetable oil, egg and then fill the cup to the 1-cup line with milk (about ⅓ to a ½ cup of milk).

Add vanilla and lemon zest and whisk until combined.

Add milk mixture to the bowl with flour and sugar then use a fork to combine. Do not over mix. (The muffin batter will be pretty thick).

Add blueberries and use a spatula or spoon to gently fold the blueberries into the muffin batter.

Divide the batter between the muffin cups filling about ½ full.

Sprinkle a little sugar on top of each muffin.

Bake for 15-20 minutes
Nutrition Facts
Calories
178
kcal
,
Carbohydrates
27
g
,
Protein
2
g
,
Fat
7
g
,
Saturated Fat
1
g
,
Polyunsaturated Fat
4
g
,
Monounsaturated Fat
2
g
,
Trans Fat
1
g
,
Cholesterol
14
mg
,
Sodium
176
mg
,
Potassium
44
mg
,
Fiber
1
g
,
Sugar
14
g
,
Vitamin A
39
IU
,
Vitamin C
2
mg
,
Calcium
53
mg
,
Iron
1
mg
More muffin recipes to try:
More blueberry recipes: