Enjoy these easy Corn Dog Muffins for lunches, dinner, meals on the go and more. They are the perfect size for little hands but hearty enough for everyone to enjoy.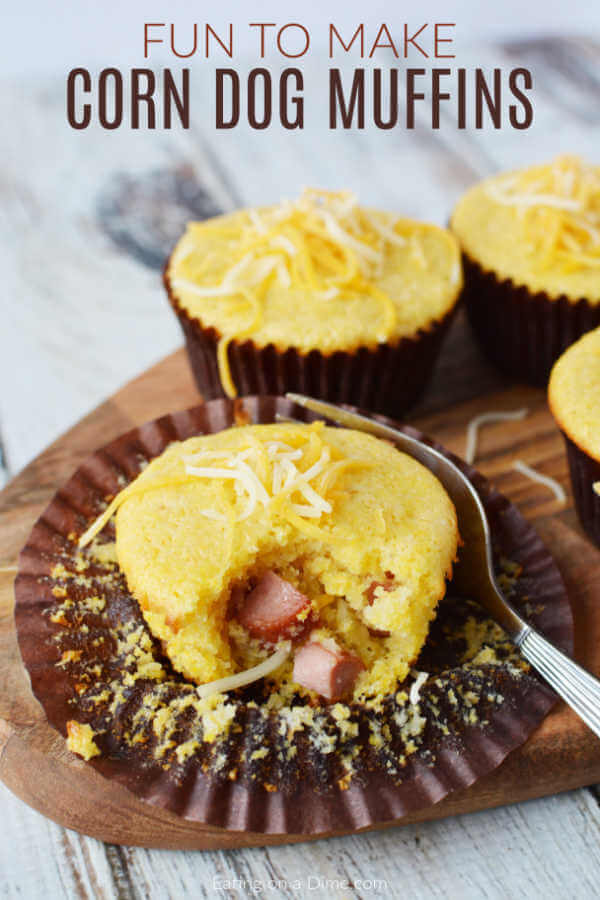 Corn Dog Muffins
We really love corn dogs and I wanted to try something different using ingredients I already had at home. With just a few simple ingredients, you can easily and quickly make Corn Dog Muffins.
The entire family loved these and I must say they were a hit all around. In fact, next time I will double the recipe to have enough for school lunches the next day.
Everyone thought they were just as delicious as traditional corn dogs and I saved a ton of money!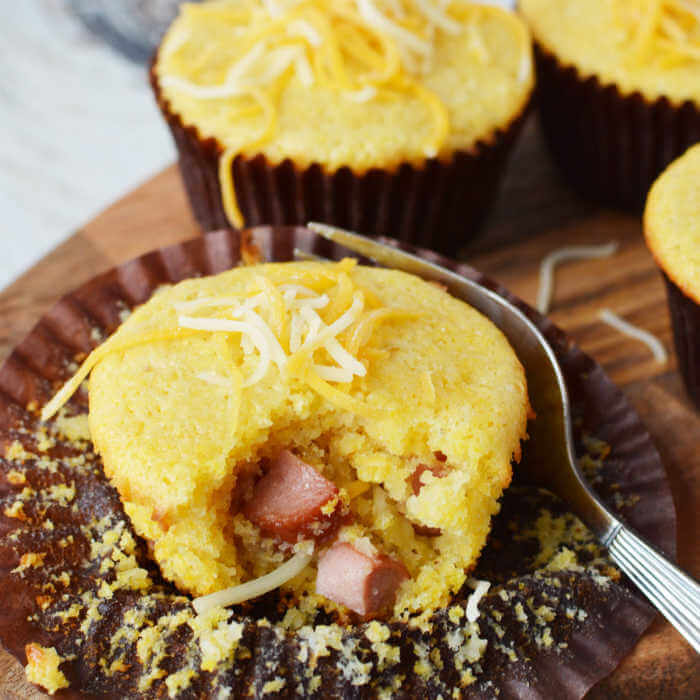 I have seen the recipes before where it calls for a whole hot dog in the middle of the muffin, but I decided that I wanted the corn dog flavor in all of my bites.
I chopped up my hot dog, and it was a hit.
The muffins turned out great and our family really enjoyed this new recipe. Since the hot dogs are chopped up, you really get to enjoy each delicious bite of the muffins.
If you can make muffins, you can make these super easy corn dog muffins. They are kid friendly but the entire family will enjoy them!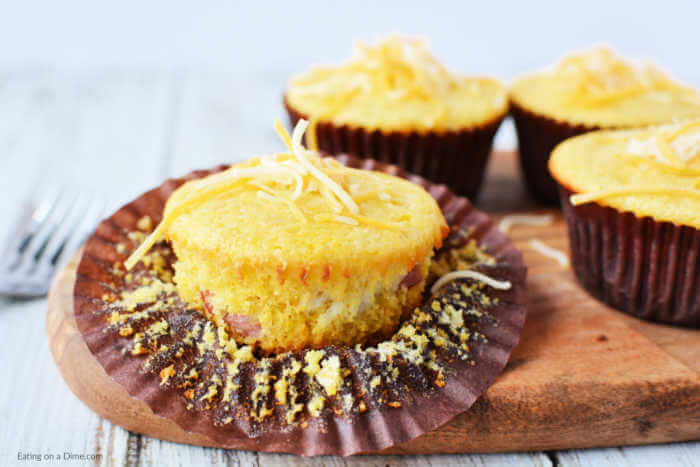 Let's make corn dog muffin recipe!
Ingredients:
cornbread mix (I used jiffy or use our Homemade Cornbread Mix Recipe)
brown sugar
eggs
milk (We used slightly more than what the box will tell you)
cheese (because… everything taste better with cheese)
hot dogs (slice them and then chop into bite size pieces)
How to make corn dog muffins
First, preheat the oven. While the oven is warming, go ahead and line the muffin tins with muffin liners. You can also use cooking spray if you prefer.
Second, get out a large mixing bowl and combine all of the ingredients together.
To make sure all the ingredients combine perfectly. In a large bowl combine dry ingredients. Then in another bowl mix the wet ingredients.
Next, pour the wet ingredients into the dry ingredients and stir until well bomcined.
Now, it's time to start filling the muffins. Use a spoon to get about 2 tablespoons of batter into muffin cups and then add the hot dogs.
Use about another 2 tablespoon scoop and add more of the diced hot dogs. This will ensure you get hot dogs in every bite!
Note: You can cut the cornbog into thirds and then place one piece it into the center of each corn muffin batter.
The last step is to just bake! They don't take long and in about 12 to 15 minutes and corn muffins are ready is ready! Enjoy!
Mini Corn Dog Muffins tips:
Your family will love having these for dinner and you will love how easy they are. Just make sure you have a good muffin pan.
My favorite ones are the silicone muffin pans but you can use what you prefer. I also like my Wilton Muffin pans too.
You can also try using mini muffin tins to make the corn dog muffins. These are perfect for parties or Game Day and the mini muffin pan makes it even easier.
Consider brushing melted butter on top of the corn muffins after they are finished cooking for maximum flavor.
How to make Ahead:
Make the muffins as directed.
Allow to cool completely.
They will keep in the fridge 2 to 3 days if stored inside an airtight container.
You can also freeze them up to 2 months. Just place in a freezer bag or container.
These can easily be reheated individually for a quick snack or meal. They are also great to put in school lunches.
Our family gobbled these corn dog muffins up so leftovers were not around. But you could easily make these ahead for quick meals on the go during the week.
They are great for lunches and even parties. I will definitely double or even triple this recipe next time to have options during the week.
I think this will really help on those nights when we are running from activity to activity. Plus, the kids will enjoy a change for school lunches and be pleasantly surprised to find these inside!
Serving ideas
The kids enjoy these muffins with just simple things like fresh fruit and cucumbers and baby carrots.
The rest of us love to eat corn dog muffins with this easy Crockpot Chili Recipe. If you enjoy corn bread with chili, you should try these mini corn dog muffins with it. Yum!
They are also good served with Slow Cooker Lentil Soup. I love to put something in the crockpot and then it only takes a few minutes to put these easy corn dog muffins together when I get home.
Can I make gluten free corn dog muffins?
Yes! Just use our Gluten Free Cornbread Recipe.
Now this gluten free recipe does call for Jalapeno peppers but you can omit them if you prefer. However, it is a nice twist on the recipe and I have even added them to the jiffy mix.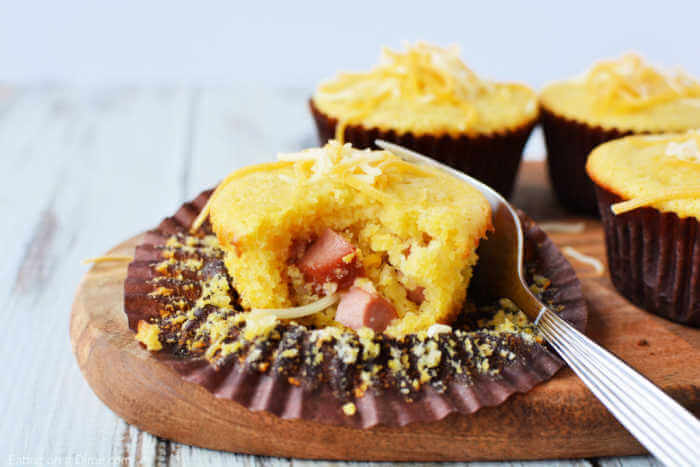 Jiffy corn Dog Muffins are so simple!
The result: The kids love corn dog muffins.
They tried one (not knowing what they were) and said "Hmmm… these taste like corn dogs. "
I call that a success. I ate one and thought I needed ketchup and mustard like I would my corn dog.
These are surprisingly delicious.
How frugal is this recipe?
I don't know if it would be cheaper if you made it from scratch, but I figured it up and it would cost me less than a $1 to make all 18.
That is including the sales and coupon to buy the items. I would say that is frugal!
Everyone loves corn dogs and I love that it is so budget friendly. If you prefer, feel free to make your own cornbread with cornmeal flour and baking soda.
Give it a try!
I am thinking these will make a cute addition to a birthday party, a football gathering, or a potluck. Regardless, my kids loved them and get excited whenever I make them.
I hope your family loves them too! We enjoy these frequently.
This recipe is so kid friendly really has become something we all look forward to around here.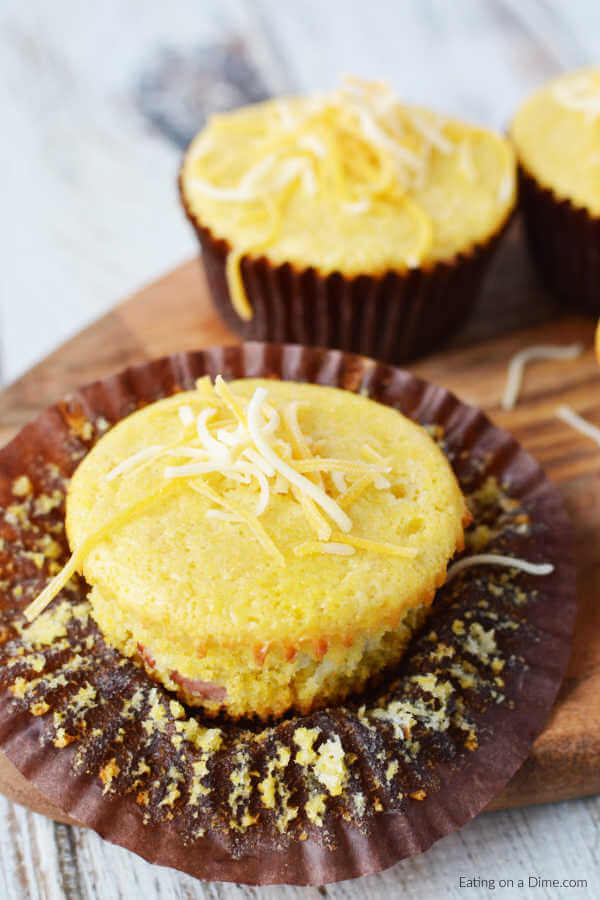 Print this corn dog muffin recipe:
Corndog Muffins
Make these frugal Corn Dog Muffins for dinner, game day and more. They are kid friendly but everyone will enjoy them. Try Mini Corn Dog muffins recipe.
Ingredients
2

boxes of cornbread mix

I used jiffy

1

tablespoons

of brown sugar

2

eggs

1½

cups

milk

this is slightly more than what the box will tell you

¼

cup

cheese

because… everything taste better with cheese

1

package of hot dogs

slice them and then chop into bite size pieces
Instructions
Preheat oven to 400. Line 18 muffin tins with paper (or you can use cooking spray).

Mix all the ingredients together in a large bowl, whisk the wet ingredients and dry ingredients.

Spoon about 2 tablespoon cornbread mix into each muffin tin and then add hot dog. Then another 2 tablespoon scoop and added more hot dogs.

Bake for about 12 minutes to 15 minutes until nice and brown. Then enjoy!
Recipe Notes
Sometimes, I like to add a little sour cream to the eggs and milk mixture. It makes these muffins super moist and yummy!
Nutrition Facts
Calories
182
kcal
,
Carbohydrates
22
g
,
Protein
5
g
,
Fat
7
g
,
Saturated Fat
2
g
,
Cholesterol
31
mg
,
Sodium
368
mg
,
Potassium
91
mg
,
Fiber
1
g
,
Sugar
6
g
,
Vitamin A
105
IU
,
Calcium
56
mg
,
Iron
1.2
mg
Try these other quick meal ideas:
Try more snacks: