This post may contain affiliate links. If you make a purchase through links on our site, we may earn a commission.
Try this Slow Cooker Lentil Soup Recipe for a warm and comforting meal sure to be a hit. This soup is packed with flavor and so easy to make that you will want to make this often.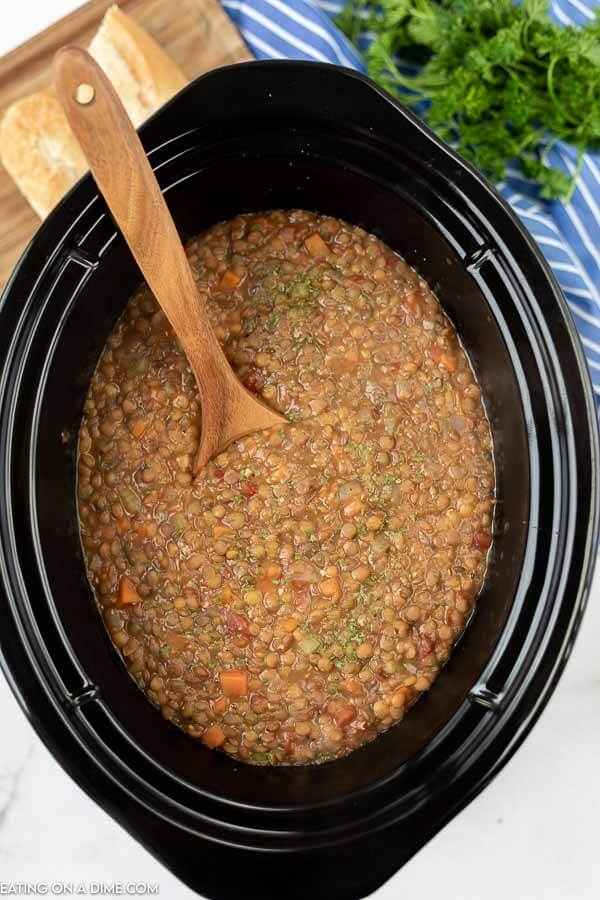 Slow Cooker Lentil Soup Recipe:
We have the perfect recipe to try for Meatless Monday or any day of the week. Slow Cooker Lentil Soup Recipe is so hearty and delicious that no one will ever miss the meat.
The tomatoes give it the best flavor and the lentils are so tender. Even better, the crockpot does all the work making dinner time a breeze. Lentil Crockpot Soup is packed with health benefits which makes me want to serve it again and again.
This meal is budget friendly and easy to feed a crowd. Serve this amazing soup with warm bread like Easy Homemade Dinner Rolls Recipe and you can't go wrong. This lentil soup has become a family favorite.
Can you Make Lentil Soup in a Slow Cooker?
Yes, you can make lentil soup in the crock pot. It is my favorite way to make lentils because the slow cooker does all the work. Lentil soup recipe slow cooker allows you to place all the ingredients in the slow cooker to an easy weeknight meal.
You will come home to dinner waiting. I like to start the soup in the morning and then after a long day of work and activities, dinner is ready for us.
Do you have to Soak Lentils before Slow Cooking?
No, you do not need to soak the lentils before cooking. Just toss the lentils and all of the other ingredients into the crockpot.
This recipe is so easy. You literally just add everything to the slow cooker and turn it on.
Ingredients for Crock Pot Lentil Soup:
Brown Lentils
Small onion – finely chopped
Carrots – peeled finely chopped
Stalks Celery – diced
Diced Roasted Tomatoes (15 oz)
Chicken Broth
Minced Garlic
Salt
Pepper
Fresh Parsley
How to Make Easy Slow Cooker Lentil Soup:
Add Ingredients to Slow Cooker – Add all ingredients to the crock pot except for the parsley.
Cover and Cook – Cover and cook on low 6-8 hours, or cook on high for 3-4 hours until the lentils are cooked through.
Stir in Parsley – 15 to 30 minute before serving stir in the parsley.
Serve and Enjoy – Serve warm and enjoy.
Can I Make this Soup on the Stove Top?
Yes, if you prefer to make this soup on the stove top, the process will still remain the same. Place all the ingredients in your dutch oven or in a large pot and cook the ingredients.
The soup will take about 30 minutes. Make sure to check if the lentils are done before serving. If they are hard, then the soup will need to cook a little longer.
If you are adding in spinach or kale, make sure to add it in the last 5 to 10 minutes so that it doesn't overcook.
Recipe Variations:
Bay Leaf – We like adding in bay leaves to this soup. Just make sure to remove them after the cooking time.
Add Green Vegetables – Feel free to toss in a handful of spinach after the quick release. It is a great way to get kids to eat it. Kale is also delicious. You can use the one you prefer.
Top the Soup – Try grated Parmesan, bacon or a dash of lemon for added flavor to this soup.
Add meat – This soup is tasty with ground sausage. Just brown the sausage first and then add the other ingredients. Another option is cooked diced ham. Add this after the soup has cooked for a great way to use leftovers.
Lentils – You can substitute red lentils or green lentils in this soup.
Red Pepper Flakes – If you like soup with a little heat, sprinkle red pepper flakes into the soup.
Ham Bone – When I am making a soup with beans and I have a ham bone, I like to add it to the soup for added flavor.
Broth – If you want to make this a vegetarian dish, use vegetable broth instead of chicken broth.
Red Wine Vinegar – For an extra boost of flavor, add in some red wine vinegar or lemon juice. You can also add in balsamic vinegar or white vinegar.
Tomatoes – We used diced roasted tomatoes, but you can also use diced tomatoes or crushed tomatoes.
Dairy Free – This is soup is also dairy free. But I like adding cheese to the top, so omit that if you prefer it to be dairy free.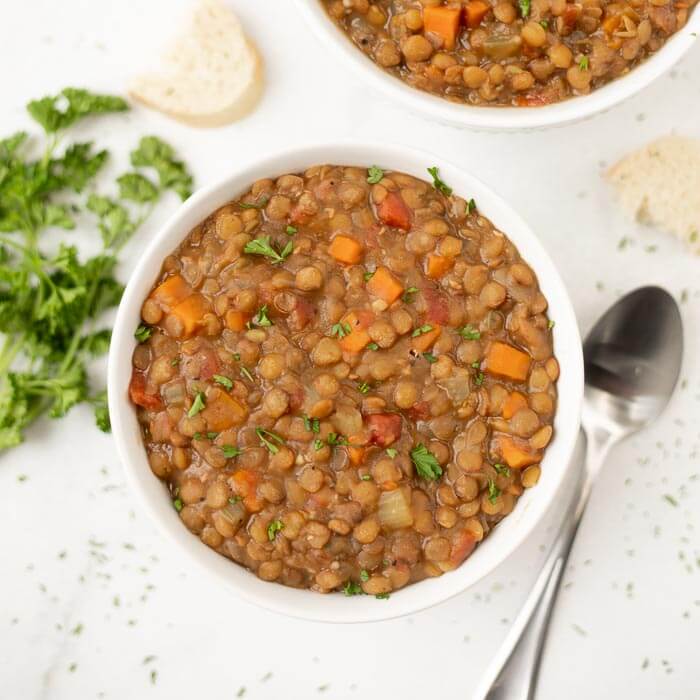 Tips for Lentil Soup:
Crock Pot: I love the programmable slow cooker for this soup that you can set for certain times. It makes busy days less hectic. I like to cook my soups on low so it cooks all day.
Crock Pot Liners: I recommend using liners for the slow cooker to make clean up super easy. You can just toss and go. I also like to oil the slow cooker with olive oil.
Food processor: Use a small food chopper or food processor to quickly and easily chop the onions and celery. Another time saving tip is to learn how to freeze onions.
Adding in Spinach – If you add in Kale or spinach make sure you add it close to the end of cooking time. This ensures that you do not over cook the spinach or kale.
Thickness – If the soup is too thick for your preference, add more broth to thin it out. You can also do this when reheating leftovers.
Lentils are Hard – If you lentils are hard after cooking, that usually means that they haven't cook long enough.
Gluten Free – This soup is naturally gluten free.
Mashed Lentils – If you would like a thicker soup, you can mash some of the lentils with immersion blender. Then add them back into the soup.
What to Serve with Lentil Soup Crock Pot Recipe:
Homemade Bread – We love to serve this soup with homemade bread. It is great for dipping or to get the last drop of the soup.
Roasted Vegetables – You can also serve this roasted broccoli or roasted brussell sprouts for an easy side.
Salad – This soup is served perfectly with a kale salad or a broccoli salad.
Can Lentil Soup be made in the Instant Pot?
Yes, lentil soup is delicious in the instant pot. We have an Instant Pot Lentil Soup Recipe that is easy to make.
How to Store and Freeze:
This Lentil soup is easy to store the leftovers. Place the leftover soup in an air tight container. If stored properly the soup will last up to 5 days in the refrigerator.
You can easily freeze the lentil soup and put in the freezer for a quick meal later. I like to freeze it flat in freezer bags but you could also use freezer containers if you prefer.
If you are short on space, bags take up the least amount of room. They freeze flat and you can stack them. This is perfect to enjoy for lunches during the week.
It will keep in the freezer up to 3 months if you use freezer bags or containers. Get more tips and tricks on how to freeze soup.
How to Reheat:
Thaw overnight in the fridge. Heat on the stove using low to medium heat until heated through. The microwave can also be used if you prefer.
Easy and Healthy Lentil Soup Recipe:
We love this Slow Cooker Lentil Soup recipe. This meal is hearty and sure to please even the biggest eaters. We all really enjoyed this soup because of the flavors and how simple it is to make.
It is light enough to enjoy year round but so filling and delicious. It is the best soup recipe. It is the perfect soup as you serve as it is or mix in other ingredients to change the flavor.
This recipe is so easy, budget friendly and filling. It is a perfect weeknight meal that requires very little time to make.
Print this Healthy lentil soup slow cooker recipe below:
Crock Pot Lentil Soup Recipe
Try Slow Cooker Lentil Soup Recipe for a warm and comforting meal sure to be a hit. This soup is packed with flavor and so easy to make.
Instructions
Add all ingredients to the crock pot except for the parsley.

Cover and cook on low 6-8 hours, or cook on high for 3-4 hours until the lentils are cooked through.

15 to 30 minute before serving stir in the parsley.
Recipe Notes
*Refrigerate the leftovers in an air tight container for up to 3-4 days.  
Nutrition Facts
Calories
314
kcal
,
Carbohydrates
54
g
,
Protein
22
g
,
Fat
1
g
,
Saturated Fat
1
g
,
Polyunsaturated Fat
1
g
,
Monounsaturated Fat
1
g
,
Sodium
1384
mg
,
Potassium
1047
mg
,
Fiber
25
g
,
Sugar
5
g
,
Vitamin A
3823
IU
,
Vitamin C
25
mg
,
Calcium
97
mg
,
Iron
7
mg
More Crockpot Soup Recipes: