This post may contain affiliate links. If you make a purchase through links on our site, we may earn a commission.
If you are looking for a simple meal that is bursting with flavor in each bite, try Instant Pot Lentil Soup Recipe. Get dinner on the table fast with this easy pressure cooker recipe that is delicious and budget friendly.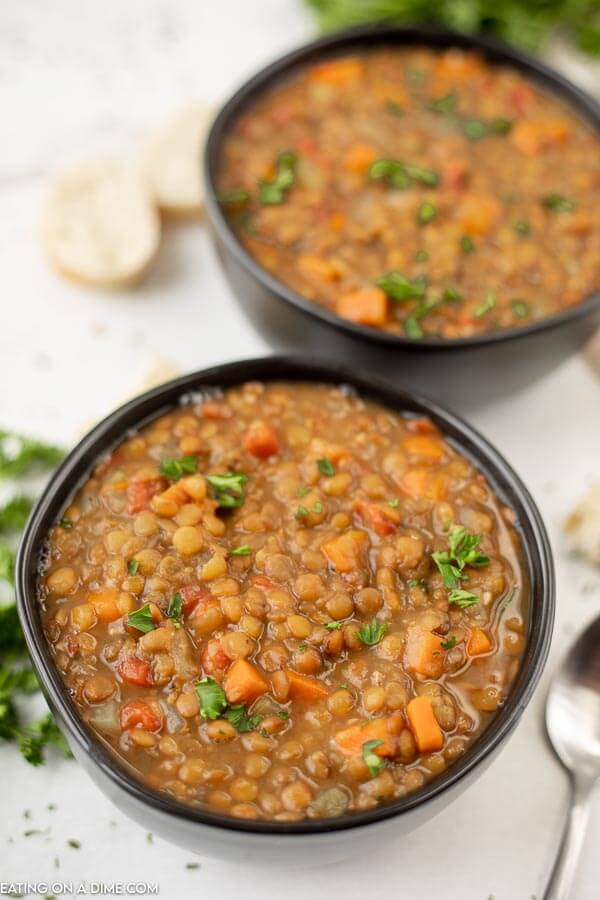 Instant Pot Lentil Soup Recipe
There is something so comforting and delicious about a warm bowl of soup. Whether you are looking for a new recipe to try for Meatless Monday or want to cut back on your meat budget, this is a tasty recipe to try.
Our family consists of a bunch of meat loving people and even they loved this soup. The soup has such a good flavor from the vegetables and seasoning simmered with the lentils that you really don't miss the meat.
The soup tastes like it was slow cooked to perfection when really it was cooked in just minutes in the pressure cooker. If you do not have a pressure cooker, make Crock Pot Lentil Soup.
This meal is hearty and sure to please even the biggest eaters. We all really enjoyed this soup.
It is light enough to enjoy year round but so filling and delicious. It is the best soup recipe.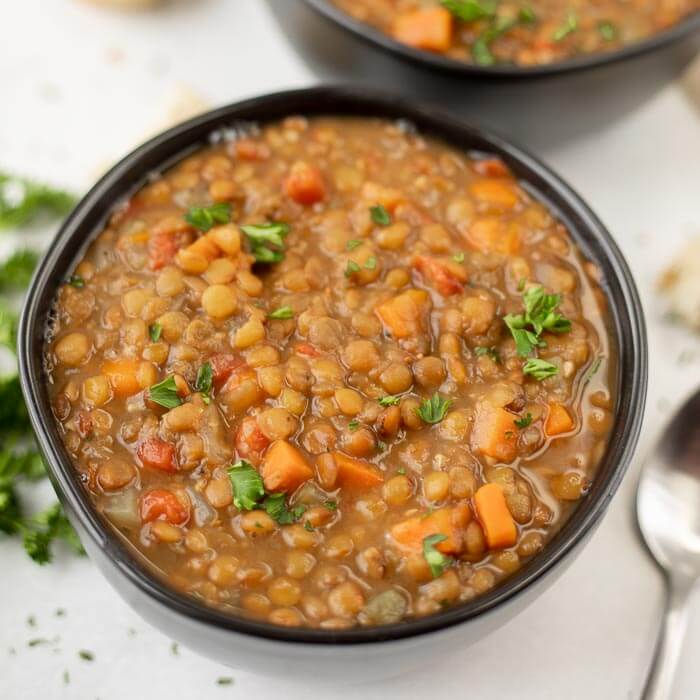 We love cooking recipes with lentils because they are so easy to cook and hearty while being budget friendly. Just put the lentils in the electric pressure cooker and literally in just minutes they will be ready to enjoy.
Do you have to soak lentils before cooking them?
No you don't have to. Everything gets tossed into the instant pot for a really easy meal.
Just throw it all in and have dinner ready in minutes.
What is the difference between red and green lentils?
Green lentils tend to have a stronger flavor and they taste slightly peppery. Red lentils are sweeter and take less time to cook.
Let's make Pressure Cooker lentil soup.
It is so easy and your family will enjoy this hearty soup.
Ingredients:
Brown Lentils
Onion
Carrots
Celery
Diced Roasted Tomatoes
Chicken Broth
Minced Garlic
Salt and Pepper
Fresh Parsley
How to make instant pot lentil soup:
First, put all of the ingredients into the instant pot except the parsley.
Second, put the lid on. Then set the valve to the sealing position and set the pressure for 10 minutes on high pressure.
Then, after it has finished cooking allow it to naturally release for 10 minutes with a quick release.
Finally, remove the lid. Add the parsley and stir. Serve and enjoy.
Salt and pepper to taste. This recipe is just that simple.
Variations:
You can also use bay leaves in the soup. Just make sure to remove them after the cooking time.
Baby spinach is also great in this soup. Feel free to toss in a handful after the quick release. It is a great way to get kids to eat it.

Kale is also delicious. You can use the one you prefer.
Carrots and celery make a good combination. I often add diced celery with the carrots and it tastes delicious in the soup.
Toppings are delicious on this soup. Try grated Parmesan, bacon or a dash of lemon.
Add meat. This soup is tasty with ground sausage. Just brown the sausage first and then add the other ingredients.

Another option is cooked diced ham. Add this after the soup has cooked for a great way to use leftovers.
Lentils. You can substitute red or green lentils in this soup.
Red Pepper Flakes. If you like soup with a little heat, sprinkle red pepper flakes into the soup.
What to serve with lentil soup
Bread is delicious to dip into the soup. It is so flavorful that you will want to get every bit of the soup in the bowl. Make this Easy Homemade Dinner Rolls Recipe or pick up a loaf of bread at the bakery.
You might also want to try grating parmesan cheese on top. The kids also like to crumble bacon on their soup.
It is simple and a great idea for dinner any night of the week. Enjoy a fabulous meal in less than 30 minutes thanks to pressure cooking.
How to store:
Keep in the fridge inside in airtight container. It will keep up to 5 days.
How to freeze soup
You can easily freeze the lentil soup and put in the freezer for a quick meal later.
I like to freeze it flat in freezer bags but you could also use freezer containers if you prefer. If you are short on space, bags take up the least amount of room. They freeze flat and you can stack them.
This is perfect to enjoy for lunches during the week.
It will keep in the freezer up to 3 months if you use freezer bags or containers.
Get more tips and tricks on how to freeze soup.
How to reheat:
Thaw overnight in the fridge. Heat on the stove using low to medium heat until heated through. The microwave can also be used if you prefer.
How to make vegetarian lentil soup:
Substitute vegetable broth for the chicken broth in the recipe. This is a simple recipe to make vegetarian if needed.
I recommend using a low sodium vegetable broth.
It is such a versatile recipe to make work for everyone in your family.
Try this frugal soup.
This recipe is so easy, budget friendly and filling. It is a perfect weeknight meal that requires very little time to make.
I hope you try this. Let us know after you make it by leaving a comment.
You will not be disappointed.
Print Easy Instant pot lentil soup recipe below:
Instant Pot Lentil Soup
If you need an easy meal that is the best comfort food, try Instant Pot Lentil Soup Recipe. Dinner time is a breeze with Pressure Cooker lentil soup.
Instructions
Place everything in the Instant pot except the parsley. Stir to combine all the ingredients.

Add the lid and set the valve to the sealing position on the lid.

Cook on high pressure for 10 minutes.

When it is finished allow it to naturally release for 10 minutes. Then move the valve on the lid from the sealing position to the venting position to finish releasing all the pressure from the Instant Pot.

Remove the lid, stir in the parsley and serve.

Serve warm and then enjoy!
Recipe Notes
*Refrigerate the leftovers in an air tight container for up to 3-4 days. 
*I used brown lentils in this recipe but green lentils would work as well.  
Nutrition Facts
Calories
312
kcal
,
Carbohydrates
54
g
,
Protein
22
g
,
Fat
1
g
,
Saturated Fat
1
g
,
Polyunsaturated Fat
1
g
,
Monounsaturated Fat
1
g
,
Sodium
1373
mg
,
Potassium
1012
mg
,
Fiber
25
g
,
Sugar
5
g
,
Vitamin A
3763
IU
,
Vitamin C
25
mg
,
Calcium
91
mg
,
Iron
7
mg
Try these other Instant pot soup recipes: