This post may contain affiliate links. If you make a purchase through links on our site, we may earn a commission.
Curry lentil soup is bursting with flavor and the best comfort food. Each bite of this soup is hearty and delicious and easy to prepare.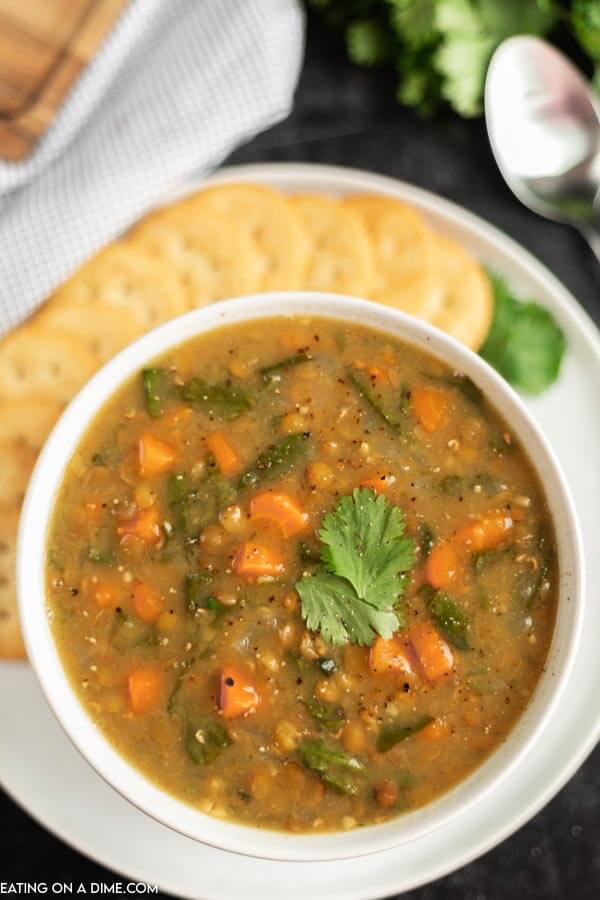 Curry lentil soup
Soup is such a warm and comforting meal once the weather gets cooler. This slow cooker lentil curry soup is light enough to enjoy year round but filling enough for everyone to enjoy.
Whether you are looking for a new recipe for Meatless Monday or any day of the week. this soup is one you have to try. It is so delicious and frugal.
The curry and fresh squeezed lemon juice taste incredible with the spinach and lentils in the soup. Each bite is so amazing.
The broth has the perfect blend of ingredients to make it so tasty. Plus, this soup is very easy to make thanks to the crock pot.
Not to mention budget friendly and perfect to feed a large family or group. It is a win all around.
Let's make crock pot curry lentil soup!
Ingredients:
How to make curry lentil soup in the crock pot:
This soup is so simple to make.
First, just put everything in the slow cooker except for the spinach, lemon, and cilantro. It is that easy and stirring occasionally is all you need to do.
Then cover and cook on low until the lentils are soft. The flavors will blend together for a great meal.
Right before serving or about 25 minutes, add the baby spinach and the lemon juice. Place the lid back on and let it cook for another few minutes.
Salt and pepper to taste.
Jump to recipe below.
What to serve with lentil soup:
We love to serve this soup with crackers such as saltines or ritz.
Warm crusty bread is also delicious and perfect for dipping. This Easy Homemade Dinner Rolls Recipe is amazing. The broth is so delicious that perfect to dip into the soup and get every last drop.
Salad is also a great idea for a side dish. We love soup and salad for lunch or dinner.
Variations:
Lentils. We normally use red or green lentils but you can try red lentils for a change.
Broth. Chicken or vegetable broth can be used interchangeably depending on preference.
Coconut milk. You can add coconut milk right before serving into the crock pot. Just make sure you do this at the end of cooking or it will curdle. Coconut milk adds a new layer of flavor and makes it creamy.
Kale. You can substitute kale for the spinach. I would cut the ribs off the kale first though.
Sausage. If you are not trying to make a vegetarian soup, add some cooked ground sausage to the soup. The combination is very hearty and delicious.
Tips for curry lentil soup recipe:
Programmable crock pot: I love the programmable slow cooker for this soup that you can set for certain times. It makes busy days less hectic.
Crock Pot Liners: I recommend using liners for the slow cooker to make clean up super easy. You can just toss and go.
Don't overcook the spinach. It is important that you do not add this until right before serving.
Lemon juice adds so much flavor to this soup. Don't even think about skipping this step. The lemon really enhances the flavor and fresh lemon is best.
If the soup is too thick for your preference, add more broth to thin it out. You can also do this when reheating leftovers.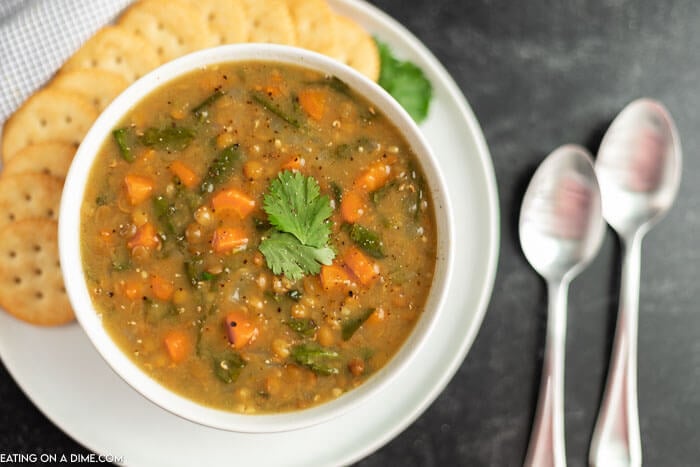 Can you make this ahead of time?
Yes, you certainly can. I like to do all of the prep work such as chopping the vegetables the day before.
This will make it so easy to cook on the day you are ready to enjoy. The cook time is minimum and this helps reduce the prep time.
Just make sure to keep the cut veggies in the fridge well covered.
How to store leftovers:
Put the soup inside an airtight container in the fridge. This will be good up to 4 days.
If you need it to last longer, the soup freezes well. You can use freezer bags or containers. I prefer bags because they freeze flat and take up very little room in the freezer.
The soup can be frozen up to 3 months. To reheat, allow it to thaw overnight in the fridge. Then heat on the stove or microwave until heated through.
I like to freeze this in individual portions for a quick lunch or dinner when it is only a few of us. It is so convenient.
This is the best slow cooker curry lentil soup.
Once you try this soup, you will see why everyone is raving about it. Not only is it one of the easiest dinner recipes but it is so delicious.
Your entire family will enjoy slow cooker curried lentil soup recipe. Whether you use red lentils or yellow lentils, it will taste amazing.
Try adding sweet potatoes with the lentils for another great idea.
I love that you can eat gluten free and still keep the family happy. Try making this on the stove top if you forget to start the slow cooker early enough in the day.
This soup is amazing either way. I think your family will really enjoy it and might even be surprised.
My family loved it and everyone was pleasantly surprised how good it was. Let us know what your family thinks.
Print Slow Cooker Curry Lentil Soup Recipe:
Slow Cooker Curried Lentil Soup
Try Slow cooker curry lentil soup recipe for a budget friendly meal that is bursting with flavor and the best comfort food. Each bite of this soup is tasty.
Ingredients
1

tablespoon

minced garlic

2

large carrots

peeled and diced

½

onion

peeled and diced

6

cups

chicken or vegetable stock

1.5

cups

uncooked green or brown lentils

rinsed and picked over

1

tablespoon

curry powder

1

teaspoon

ground cumin

1

bay leaf

2

cups

chopped baby spinach

1

lemon

freshly squeezed

chopped fresh cilantro leaves

for topping
Instructions
Add everything (but the spinach, lemon, and cilantro) to the crock pot. Cover and cook on low for 6-8 hours or high for 4 hours, until the lentils are soft.

Cover and cook on low for 6-8 hours or high for 4 hours, until the lentils are soft.

Stir in the baby spinach and the lemon juice.

Cover and cook for 10 minutes.

Serve with fresh cliantro on top.
Nutrition Facts
Calories
207
kcal
,
Carbohydrates
37
g
,
Protein
13
g
,
Fat
1
g
,
Saturated Fat
1
g
,
Sodium
967
mg
,
Potassium
639
mg
,
Fiber
16
g
,
Sugar
5
g
,
Vitamin A
4864
IU
,
Vitamin C
16
mg
,
Calcium
58
mg
,
Iron
5
mg
More easy crock pot soup recipes:
More Curry Recipes: