This post may contain affiliate links. If you make a purchase through links on our site, we may earn a commission.
Slow Cooker Chicken Curry Recipe is a delicious and flavor packed recipe but simple enough to enjoy during the week. The Crock Pot does all the work in this tasty Slow Cooker Coconut Curry Chicken.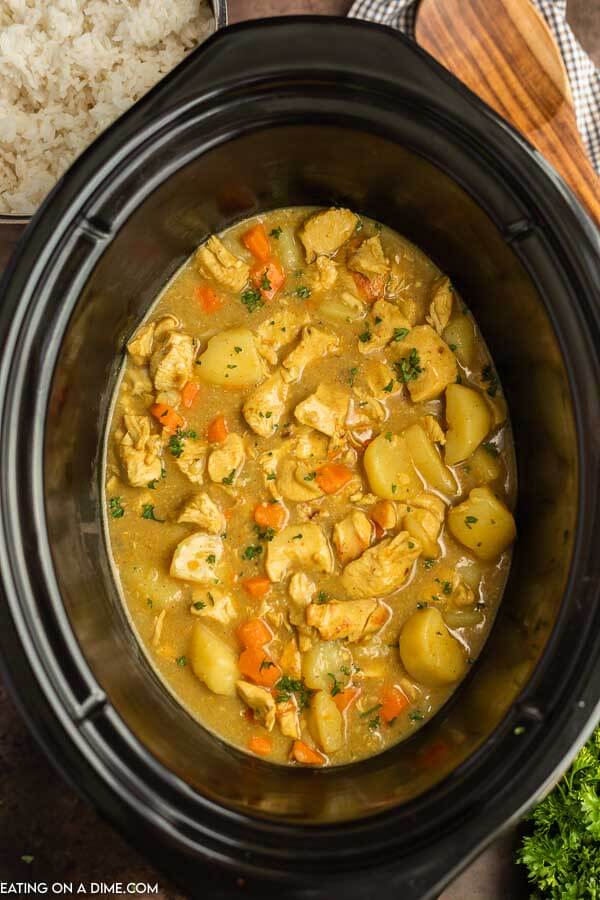 Slow Cooker Chicken Curry Recipe:
Enjoy all the flavors of Chicken Curry in the crock pot without any of the work. Make this Easy Chicken Curry Recipe for an amazing Indian Recipe. This is the best recipe with so much amazing flavor.
The coconut milk combines with the brown sugar, ginger and other spices to make a dish sure to impress. Serve this for your family or for guests and be prepared for them to love this dish.
If you need a simple meal for busy weeks or something really delicious, this is my go-to recipe. It is perfect to serve for special occasions, this Slow Cooked Chicken Curry will be a hit. You can also try Instant Pot Chicken Curry Recipe.
You may also love this Crock Pot No Peek Chicken Recipe.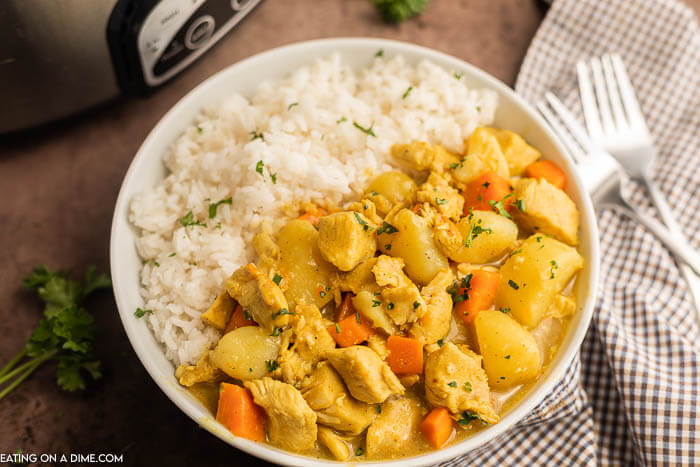 Easy to Find Chicken Curry Ingredients:
Slow Cooker Chicken Curry's ingredients are easy to find out at the grocery store.
Coconut Milk – Coconut milk is added to this slow cooker Indian recipe. It give it rich and creamy flavor and really balances out all the spices. You can use low fat or regular coconut milk. When adding coconut milk, we recommend adding towards the end of cooking time so it doesn't curdle.
Chicken – We recommend using chicken breast diced into 1 inch pieces. But you can also use chicken thighs if your prefer.
Vegetables – We love to add in vegetable to this slow cooker recipes. It makes this recipe a one pot meal so everything cooks in the crock pot. We added russet potatoes and fresh carrots. Feel free to add in sweet potatoes and red bell pepper.
Curry Powder – Curry Powder is a blend of spices and really brings out the flavors in this chicken curry recipe.
Fresh Lime Juice – We prefer to use fresh lime juice for flavor, brightness and balance.
Broth, Ginger and brown sugar – The remaining ingredients are added to pull out all the flavors. All these ingredients make the perfect combination. You can also add in soy sauce to add to the flavor.
Crockpot Chicken Curry ingredients
Boneless Chicken Breasts – diced into 1 inch pieces
Russet Potatoes – peeled and dice into 1 inch pieces
Carrots – peeled and diced
Yellow Curry Powder
Full Fat Coconut Milk (14 oz)
Fresh Lime (juiced)
Minced Garlic
Chicken Broth
Ground Ginger
Brown Sugar
Salt
Cornstarch
How to Make Slow Cooker Chicken Curry:
Combine Ingredients – Add all the ingredients to a crock pot.
Mix Ingredients – Stir to thoroughly combine all the ingredients.
Cover and Cook – Cook on low for 4 -5 hours.
Serve and Enjoy – Serve as is or over rice and enjoy.
When do you add Coconut Milk to Crock Pot?
We recommend towards the end of the cooking time, before adding in the coconut milk. This keeps the coconut milk from curdling and separating from the other ingredients. Coconut Milk really helps for the chicken curry to be creamy.
Secrets to Good Chicken Curry:
This recipe is easy to make. We really enjoy this curry chicken because it is a different way to enjoy chicken but having a lot of flavor.
Coconut Milk – Make sure to get the Full-Fat Thai Style Coconut Milk.
Chicken Stock – Use Chicken Stock instead of Chicken Broth.
Fresh Spices – When preparing this recipe, make sure that you are using fresh spices. If the spices are a few years old, make sure to replace with fresh spices.
Curry Powder – Use good quality curry powder.
How to know if your Crock Pot Chicken is Cooked:
When preparing your chicken in the crock pot, we recommend cooking chicken on low. To ensure you chicken is done, you can use a meat thermometer. Insert the meat thermometer into the thickest part of the chicken. The temperature should read 165 degrees.
Cook chicken breast on low for about 2 hours.
If you cook on high, the chicken could turn dry.
It could take less time to cook the chicken if they are different sizes. When I am preparing this recipe, I try to use the same size of chicken breast.
Cooking times could vary, always use a meat thermometer to check if chicken is done.
Crockpot Curry Chicken Tips:
Potato – You can use sweet potato or red potato instead of russet potato if you prefer.
Stove Top Option – If you prefer, you can make this dish on the stove top. This would be a great option if you had cooked chicken that you needed to use.
Spicy Chicken Curry – You can add spice to this recipe. Mix in jalapeno, hot sauce, red pepper flakes and cayenne pepper.
Instant Pot – This recipe can be cooked in the Instant Pot for a quick weeknight dinner idea.
Should you Brown Chicken before putting in Slow Cooker?
There is no need to brown the chicken. Just toss everything in the slow cooker. Now, if you prefer the chicken browned that is fine to do so.
There are some recipes say that browning the chicken before brings out the flavor. But we like to keep things easy so we prefer the crock pot to do the cooking.
What to Serve with Slow Cooker Chicken Curry
Microwave Brown Rice – We love serving this meal with brown rice. It adds to the flavor and the whole grain ingredients soaks up the yummy sauce.
Quinoa – Is also a good healthy option to serve the chicken curry over. This keeps the recipe gluten free and it is loaded with healthy benefits.
Cauliflower Rice – For another low carb option, make Cauliflower Rice.
This meal is also good with asparagus. This oven roasted asparagus is a family favorite and it is very simple and quick to make.
You can also serve with naan bread.
White Rice – This Chicken Curry is also great to serve with white rice. I usually use what I have on hand.
Stove Top Chicken Curry:
If you prefer to make this chicken curry on the stove you can. It still turns out delicious and full of flavor.
Combine spices together.
Saute ginger and garlic over medium heat in a skillet
Add broth and combine with the other ingredients.
Season and add chicken to the skillet.
Simmer chicken until cooked.
Stir in Coconut milk and heat for 30 minutes until all ingredients are combined.
How to Store Leftovers:
Refrigerate – After Crock Pot Chicken Curry has cooled to room temperature, place in an air tight container. Then refrigerator for up to 4 days.
Reheat – Place chicken curry and rice in a microwave safe bowl and reheat. You can also reheat on the stove. This recipe is perfect for meal prep and for lunch the next day.
Freezing – We do not recommend freezing this chicken curry. The coconut milk ingredient tends to separate and it will become grainy.
What does Chicken Curry taste like?
Curry Spice has a unique and floral taste to it. It has the combination of sweet and savory flavors that compliments this recipe. Other spices that are added to curry such as cinnamon and clove provide brightness to the recipe.
But if you add cumin, turmeric, and bay leaf it gives the recipe a deep, earthy taste.
Chicken Curry is a Easy Weeknight Meal:
Curry chicken is always a hit around here and the entire family loves this recipe. Try Indian chicken curry recipe this week for a great meal idea. This is a unique recipe that is easy to make.
We love cooking chicken in the crock pot, but I like to change up the recipe. This chicken curry is great leftovers as all the ingredients marinate together overnight. This sauce is thick and creamy and perfect anytime of the week.
This authentic flavor recipe is sure to please your family.
Print this Crock Pot Chicken Curry recipe below:
Slow Cooker Chicken Curry Recipe
Slow Cooker Chicken Curry Recipe is a tasty and flavor packed recipe but easy enough to enjoy during the week. Try Slow Cooker Coconut Curry Chicken today!
Ingredients
1 1/2

pound

chicken breasts

(diced into 1 inch pieces)

1

pound

Russet Potatoes

(peeled and dice into 1 inch pieces)

2

carrots

(peeled and diced)

2

tablespoons

yellow curry powder

1

can

full fat coconut milk

(14 oz)

1

fresh lime

(juiced)

1

tablespoon

minced garlic

1/2

cup

chicken broth

1/2

teaspoon

ground ginger

2

tablespoon

brown sugar

1

teaspoon

salt

2

tablespoons

cornstarch
Instructions
Add all the ingredients to a crock pot. Stir to thoroughly combine all the ingredeitns.

Cook on low for 4 -5 hours.

Serve as is or over rice and enjoy!
Recipe Notes
*Refrigerate the leftovers in an airtight container for up to 5 days.  
Nutrition Facts
Calories
376
kcal
,
Carbohydrates
27
g
,
Protein
28
g
,
Fat
19
g
,
Saturated Fat
14
g
,
Polyunsaturated Fat
1
g
,
Monounsaturated Fat
2
g
,
Trans Fat
1
g
,
Cholesterol
73
mg
,
Sodium
622
mg
,
Potassium
1015
mg
,
Fiber
3
g
,
Sugar
6
g
,
Vitamin A
3458
IU
,
Vitamin C
11
mg
,
Calcium
55
mg
,
Iron
4
mg
More Slow Cooker Chicken Recipes:
Make sure to check out all our favorite easy crock pot recipes.