Once I learned how to make naan bread, I haven't turned back! This naan bread recipe is so simple and easy to make! You'll never buy naan bread from the store again with this great recipe!
I'm going to show you how to make Naan bread two different ways, in a bread machine and also how you can make it by hand. No matter which way you choose, you'll be amazed at just how easy it is to make delicious Naan bread at home. This recipe is very frugal because you can make it for about half of what you would pay in the store.
What is naan?
If you've never heard of naan bread before, you are really missing out! Naan is a flatbread from India. But don't let the term flatbread scare you away! It is actually filled with bubbles which makes it quite soft and pillowy. You will love naan as soon as you try it!
Traditionally naan is eaten dipped in hummus or served alongside other Indian dishes like curry, butter chicken or Tikka Masala. The pillowy texture is perfect for soaking up the sauces that are Indian food is most known for.
What are the Naan Bread Ingredients?
A traditional naan recipe usually has flour, yeast, salt, yeast, oil, yogurt and egg, which is how it differs from pita bread. I've tweaked the original recipe to make it easier to make at home with ingredients that are readily found in your kitchen. If you want something closer to a traditional naan bread, add ½ cups plain yogurt or sour cream to the recipe.
How do you make naan from scratch?
Making naan from scratch is actually quite simple! It is as easy as dissolving yeast and sugar in water and combining it with milk, egg, water, salt and flour then kneading it and letting it rise. Once the dough has doubled in size, you break off small pieces of dough that will become your naan. After it rises again, you just need to cook it!
How is naan bread traditionally cooked?
Naan is traditionally cooked in a tandoor oven. Tandoor ovens are basically a smoker, convection oven and barbecue grill all in one! They're a cylindrical clay pot that is fueled by wood or charcoal. To cook naan inside a tandoor oven, the bread dough is actually slapped against the inside walls and grilled!

Considering that most kitchens do not have their very own tandoor oven, I've come up with a way to cook naan bread that is pretty close to the original. Grilling it! If you don't want to grill your naan bread, you can cook it in a hot cast-iron skillet!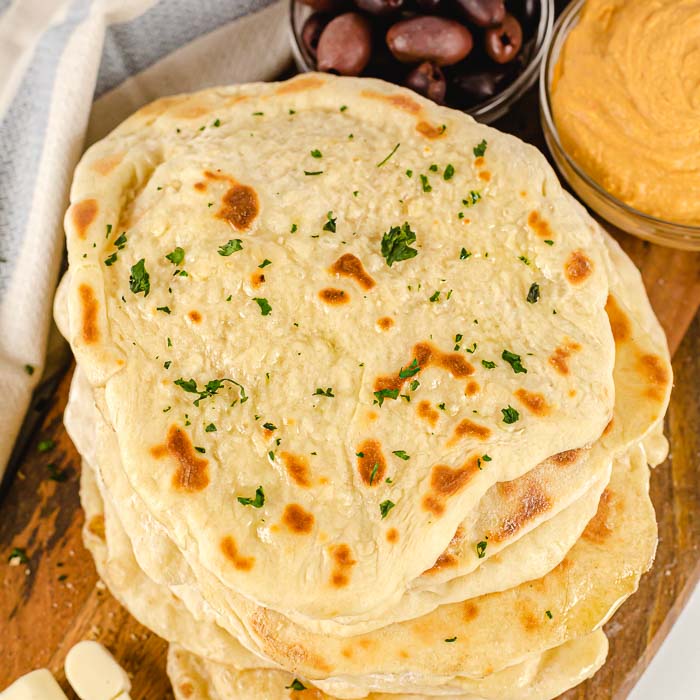 I'm pretty confident that after you taste this homemade naan that you will love this recipe! You will be amazed at how easy it is to make but that it tastes just as good, if not better than the Indian Restaurant! Nothing beats fresh naan bread!
Variations for homemade naan:
Gluten-free naan: use an all-purpose gluten-free flour blend in place of the all-purpose flour.
How to make garlic naan bread recipe: brush your naan with garlic butter.
Whole wheat naan: use up to 2 cups whole wheat flour. For 100% whole wheat naan substitute whole wheat flour and add 1 ½ tsp baking powder.
Ingredients for Homemade Naan:
2 ¼ teaspoons yeast (1 packet)
1 cup warm water, 110 degrees F
¼ cup sugar
¼ cup milk
1 egg
2 teaspoons salt
2 tablespoons of olive oil
4 ¼ cups all-purpose flour
2 teaspoons garlic, minced
Additional butter for oiling the pan/griddle.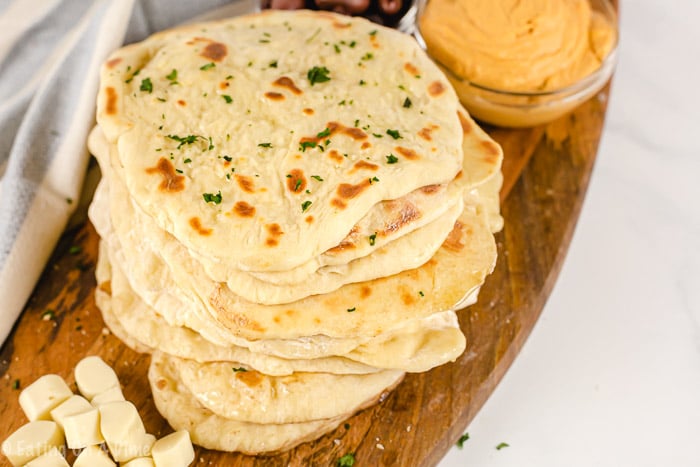 How to make Naan with a Bread Machine:
Now if you need a bread machine, I highly recommend this one here. It works great and it is reasonably priced.
Combine all ingredients EXCEPT garlic in bread machine. You'll want to place the wet ingredients in the bottom followed by the dry ingredients. Do not include the garlic in this step.
Set for dough setting.
When dough has completed first rise in the bread machine, remove and integrate garlic by kneading it in on floured surface.
Pull off pieces of dough about the size of a golf ball. Roll into balls and place on a cookie sheet. Cover with a damp towel and allow to rise until doubled in volume, about 30 minutes.
Preheat grill to high heat (around 375 degrees).
Once the second rise is complete, brush the grill with melted butter.
Roll one ball of dough out into a thin circle. Place dough on grill and cook for 2 to 3 minutes until fluffy and showing brown bubbled areas.
Brush the top side with butter and flip. Brush browned side with butter and cook until browned another 2 to 4 minutes.
Remove from heat and continue until all the naan has been cooked.
How to make Homemade Naan by hand:
My entire family loves banana bread and this healthy banana bread recipe is a hit around here.
Save yourself some money and make Kings Hawaiian Rolls at home!
You are going to love this Simple Chocolate chip banana bread Recipe. Lots of chocolate chips and moist banana bread make this easy bread amazing.
Try these other easy bread recipes: