This post may contain affiliate links. If you make a purchase through links on our site, we may earn a commission.
Indian Fry Bread Recipe only requires a few ingredients making it super easy to make. This fry bread recipe is fried to a golden crisp and delicious with your favorite toppings.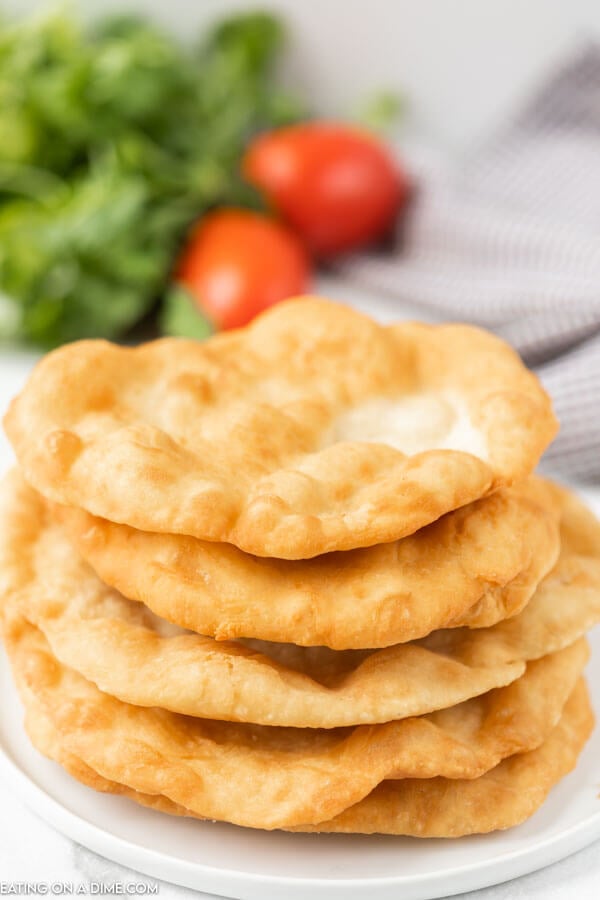 What is Fry bread?
Navajo Fry bread is a type of flat bread fried in oil until it is crispy on the outside. The dough gets puffy from frying and tastes delicious.
You can make this native American fry bread in just minutes.
Ingredients
How to Make Fried Bread:
Step 1 – First, you need a large bowl. Add the flour baking powder and salt to the bowl and combine together. We recommend mixing with a wooden spoon.
Step 2 – Then slowly stir in the warm water until the dough starts to form. Make sure to gradually add in the water because you may not need all of it. You don't want to use hot water but warm water instead.
Step 3 – Next, let the dough sit for 5 minutes.
Step 4 – Then roll the dough on a lightly floured surface and cut it into 6 pieces.
Step 5 – Next, roll out each piece into circles that are ½ inches in diameter. Make sure they are each about ½ inch thick so it cooks evenly.
Step 6 – Get out a large pot or cast iron skillet and add 3 inches of oil to it. Start to fry the pieces of dough in the oil until the dough is golden brown and starts to poofs up slightly. Then flip the dough to fry the other side.
Step 7 – Line a plate with a paper towel and put the fried dough on it. This will help to drain any excess grease.
Step 8 – Enjoy plain or add your favorite toppings. It is delicious either way.
Step 9 – You can keep them warm if you wrap the bread in foil and bake.
Are elephant ears the same as fry bread?
They are both very similar and consist of fried dough. The main difference is toppings.
Elephant Ears are normally sweet and topped with cinnamon and sugar. Navajo Fry bread is traditionally savory and can even be turned into a taco shell.
Toppings for fry bread recipe:
Savory: Add ground beef such as taco meat to this bread. You can also add all of your favorite topping such as lettuce, sour cream and more. This bread makes delicious tacos.
Sweet: Powdered sugar and honey or cinnamon sugar taste amazing. My kids also like when I drizzle chocolate syrup on top.

You can also serve with cups of sauce for dipping. Some ideas include: honey, chocolate, caramel or nutella.
What toppings for Navajo tacos:
Use Indian fry bread to make delicious Navajo tacos. Some ideas for meat include ground beef with taco seasoning, shredded chicken, shredded beef or shredded pork.
Top with beans, shredded lettuce, diced tomatoes, onions, cheese, guacamole or salsa. Basically anything you like.
Check out our Indian Fry Bread Tacos Recipe.
More serving ideas:
Slice the bread into wedges and serve with salsa or your favorite dip.
This bread makes a great snack. It is so easy that you can make this any day of the week for quick snacks and more.
Tips:
When you are making the dough, do not knead it too much. This will result in the bread being tough.
You can make the thickness of the bread to suit your needs. If you are using this for tacos, I would roll the dough thinner.
Keep the fry bread warm by putting it on a baking sheet in the oven. This is so handy if you are cooking for a crowd and need to keep it warm while frying.

Make sure the oil is 350 degrees before frying the bread.
Can fry bread be made ahead of time?
It is best served fresh as soon as you fry the dough. If you need to make it in advance, I would suggest making the dough the day before.
Just put in a bowl and cover overnight in the fridge. Take out the next day and allow to come to room temperature.
Roll, cut and fry as normal.
I know life gets busy so if you must fry them in advance, here is a trick to reheat them. Wrap in foil to prevent them from drying out and bake at 350 degrees for 10 minutes.
How to store:
Put leftovers in the refrigerator in an air tight container for up to 2 to 3 days.
How to freeze fry bread:
Make sure there isn't any excess oil or moisture. You may need to pat the bread with a paper towel.
Wrap each piece in plastic wrap and put in an airtight container in the freezer. It will last up to 3 to 4 months.
To reheat, place in the oven at 350 degrees for about 15 minutes. I like to wrap each piece of bread in foil.
What oil is best:
Peanut Oil, Vegetable Oil or Canola Oil would be great for frying. It is best to use a neutral oil so the flavor of the bread is not altered.
You also need to use an hot oil with a high smoke point for frying. For example, don't use olive oil. It does not have a high smoke point and your bread will easily burn and your house will be smoky.
As you can see, it is very important to use the correct oil when frying.
This fry bread recipe is so easy.
Give this traditional fry bread recipe a try. It is very simple to make and so delicious.
Deep Fry bread is delicious alone or served with toppings. The recipe is versatile and so amazing.
You only need a few ingredients to make this tasty bread recipe. As you can see, it is very versatile to make different ways.
You can enjoy it alone, as a dessert with honey or to make Navajo tacos. It is so delicious and does not take long at all to make and fry.
Frequently Asked Questions:
Is Indian fry bread the same as fried dough?
Yes, it is the same thing. It may be called something different depending on what you are making.
Why is my Indian fry bread tough?
If you knead or mix the dough to much it could cause the fry bread to be to tough.
Is Indian fry bread the same as funnel cake?
Fry bread is bubbly and chewy but funnel cake is has a layered shape.
Print this Easy Indian Fry Bread recipe:
Indian fry bread
Indian fry bread recipe only requires a few ingredients making it so easy. This fry bread recipe is fried to a golden crisp and so delicious.
Ingredients
For the Fry Bread:

2

cups

Flour

½

tsp

Salt

½

tsp

Baking Powder

1

cup

warm water

Oil for Frying

For the Toppings:

1

lb

Hamburger Meat

2

Tbsp

Taco Seasoning

or a packet

8

oz

Taco Sauce

1

can Ranch Style Beans

15 oz.

½

Head of Lettuce

2

Roma Tomatoes

diced

½

Red Onion

Diced

½

cup

Sour Cream

1 ½

cup

Shredded Cheddar Cheese

1

Bunch of Cilantro

chopped
Instructions
To Make the Fry Bread:

In a medium size mixing bowl, combine the flour, salt and baking soda. Slowly stir in the warm water into a dough forms. Gradually add in the water until the dough is form (you may not need all the water).

Let the dough sit for 5 minutes.

Then roll the dough out slightly and cut it into 6 pieces.

Then roll out each piece into a ½ inch thick circles.

Heat 3 inches of the oil in a deep pot. Fry the dough circles in the oil until the dough is golden brown and poofs up slight. Then flip the dough to fry the other side.

Set the fried dough on a plate lined with paper towels.

To Make the Toppings:

Brown the hamburger meat in a large skillet over medium high heat. Then stir in the taco seasoning and ¼ cup of water. Simmer uncovered for 4-6 minutes until the seasoning is thoroughly combined.

Heat up the ranch style beans in the microwave until heated through.

Then it's time to assemble the tacos!

Top each fry bread with the taco sauce, then the meat mixture and beans. Then top with your favorite toppings: lettuce, tomatoes, onions, cheese, cilantro and sour cream!

Serve immediately and enjoy!
Nutrition Facts
Calories
683
kcal
,
Carbohydrates
52
g
,
Protein
32
g
,
Fat
38
g
,
Saturated Fat
15
g
,
Polyunsaturated Fat
4
g
,
Monounsaturated Fat
16
g
,
Trans Fat
1
g
,
Cholesterol
93
mg
,
Sodium
546
mg
,
Potassium
717
mg
,
Fiber
7
g
,
Sugar
3
g
,
Vitamin A
901
IU
,
Vitamin C
6
mg
,
Calcium
297
mg
,
Iron
6
mg
More Easy Bread Recipes: