This post may contain affiliate links. If you make a purchase through links on our site, we may earn a commission.
You are going to love this Instant Pot Chicken Vegetable Soup Recipe. It is warm and comforting the whole family will enjoy on a cold winter's day. We shared with you earlier how to make Instant Pot Beef Vegetable Soup Recipe. Now it's time for this delicious chicken veggie soup.
Instant Pot Chicken Vegetable Soup Recipe
I have really enjoyed my instant pot. It cuts my cooking time in half but tastes like you have slow cooked it for hours! It's the perfect thing for busy families.
This recipe is healthy and comforting and loved by everyone. It is even dairy free and gluten free! Cooking in the Instant Pot makes this recipe quick to get on the table.
All ingredients are packed with flavor and taste like you have slow cooked this soup all day!
How to freeze Instant Pot Chicken Vegetable Soup?
This soup is perfect to freeze before you cook it. Simply place all ingredients in a freezer bag and freeze until your ready to eat. Then the day that you are ready to eat it, you can place the frozen ingredients in the instant pot for a quick dinner.
Another idea is to freeze after you cook it. Then you can reheat it for a quick dinner! We love easy meals like this so we can get healthy dinner on the table so we can enjoy family time.
It is also great to put the cooked soup in individual containers for a quick lunch! Learn how to freeze soup has been a game changer in my house. Now I usually make a double batch on purpose to have to extra to freeze.
You will need a pressure cooker for this recipe.
If you don't have an electric pressure cooker yet, I have an Instant Pot and and love it. You can find the Instant pot on sale here. You will love how easy it is to do pressure cooking!
I am not kidding that purchasing a pressure cooker has changed my life and meal time!
Here are some more recipes that you can cook in your Instant Pot!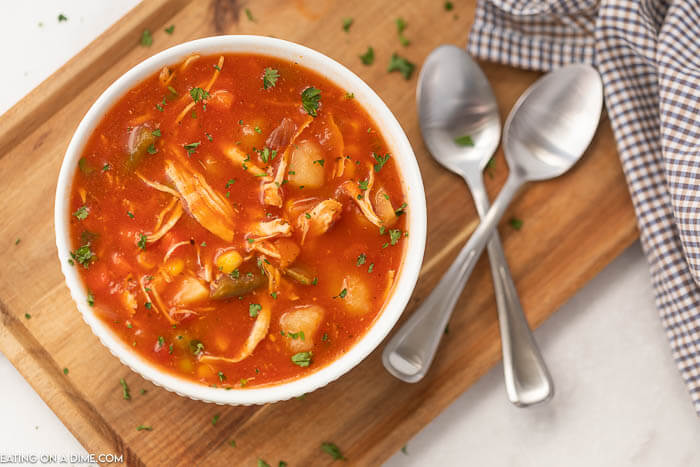 Can I make this recipe in a slow cooker?
Yes! This recipe is great in your slow cooker too. However, you choose to make it, I know that you will love the flavor packed soup!
Here is our crock pot version of the chicken vegetable soup. It is has all the yummy flavors as if you cooked it in the Instant Pot.
Does this recipe require a lot of prep work?
The reason I love this recipe is how quickly I can get dinner on the table! Very little prep work and chopping is needed.
Most of the ingredients are either frozen or canned so you can toss and go! It is so simple!
Pressure Cooker Chicken Vegetable Soup side ideas:
It is comfort food in a bowl. The perfect meal to serve a crowd on a cold day! Serve it with some warm French bread or soup crackers.
This is also great served with our corn bread or our homemade rolls or garlic bread.
Our favorite is serving it with grilled cheese so you can dip your sandwich in the yummy broth!
Ingredients:
Chicken breasts
Onions and Garlic
Potatoes
Mixed Vegetables
crushed tomatoes or diced tomatoes – whatever you have!
tomato sauce
chicken broth – chicken stock works too!
Italian Seasoning
salt and pepper
Can you use frozen chicken breasts?
This recipe is written for fresh (thawed) chicken breast; however, what I love about the instant pot is that you can easily cook food from frozen in it as well.
Frozen chicken breasts can be used in this recipe. If you are using frozen chicken, I recommend added an additional 5 minutes to the cook time to make sure that it's cooked through and easily shreddable.
How to make Instant pot chicken vegetable soup:
First, add chicken at the bottom of the Instant pot.
Second, Combine all of the ingredients in the pot.
Next, Stir to combine.
After all the ingredients have been added, place the lid on top and set it to the sealing position. Set the pressure to high and cook for 25 minutes.
Do a quick release to release the pressure from the instant pot by moving the valve on the lid from the seal to the vent position. Remove the lid.
After the pressure has been quick released, remove and shred the chicken. Then add chicken back to the instant pot. Stir to combine.
Finally, Serve with freshly grated parmesan cheese and your favorite rolls.
This soup is so filling and super easy to make! My kind of meal 🙂
Doesn't this Chicken Veggie soup sound amazing?
Curl up with a big bowl on a cold day with this warm soup. It's sure to be a hit with everyone! You will love how easy it is and such a time saver in the instant pot.
You can easily omit or add veggies based on your families tastes. It's such a crowd pleaser and perfect when you have a big group to feed. So good!
Instant Pot Chicken Vegetable Soup Recipe
Instant pot Chicken Vegetable soup recipe is the best soup for a cold day.Pressure cooker recipes make dinner time so quick! Chicken Veggie soup is hearty!
Instructions
Place all the ingredients in an electric pressure cooker.

Stir to combine all the ingredients.

Seal and cook on high pressure for 25 minutes with a quick release.

Remove the chicken, shred and return it back to the instant pot.
Recipe Notes
You can also make this with frozen chicken breast.  If you use frozen chicken, cook on high pressure for 25 minutes with a quick release.  
Nutrition Facts
Calories
186
kcal
,
Carbohydrates
34
g
,
Protein
13
g
,
Fat
2
g
,
Saturated Fat
1
g
,
Trans Fat
1
g
,
Cholesterol
18
mg
,
Sodium
1185
mg
,
Potassium
1132
mg
,
Fiber
6
g
,
Sugar
7
g
,
Vitamin A
3338
IU
,
Vitamin C
32
mg
,
Calcium
86
mg
,
Iron
4
mg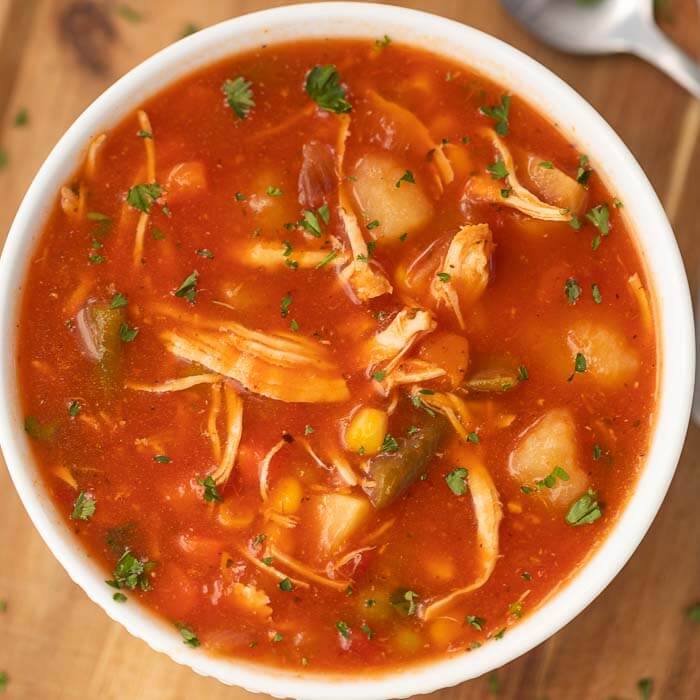 More Instant Pot Soup recipes: