I'm so excited to share with you this delicious Crock Pot Spaghetti Sauce recipe. You can make a HUGE batch that tastes way better than the jar version when you buy everything at rock bottom prices.

Crockpot Spaghetti Sauce Recipe
This spaghetti sauce is absolutely amazing. Plus, the slow cooker makes it just so very simple. It's very frugal!
I like to grab canned tomatoes when I see them on sale and save them to make this delicious sauce. If you coupon, you can often combine a sale and coupon for an even better deal.
If you don't coupon, make sure you read my Couponing 101 series on my other blog to help you get started.
I love it because it is a HUGE money saver.
Can you freeze this slow cooker spaghetti sauce recipe?
Yes! Just place it in a freezer bag and freeze before cooking and freeze.
You can also cook it and then freeze it. You can heat it up in the crock pot or over the stove top.
Stock up on tomatoes when they are on sale and make a big pot of this spaghetti sauce. In fact, this is how I cut my grocery bill in half!
Check out 8 Tips for saving money on groceries by menu planing.
Menu planning and having meals I can quickly grab from the freezer save a bunch of time and money. Learn how to make 10 Crockpot Freezer Meals in Under an Hour.
Crock pot spaghetti sauce recipe is very budget friendly!
It also is a meal that can easily feed a crowd. We like to serve it with a simple side salad or Easy Grilled Broccoli.
Also, we love Garlic Bread Cheese Sticks Recipe. These are perfect to dip in the yummy spaghetti sauce!
You can get every last drop of that delicious sauce!
Let's get back to this amazing slow cooker spaghetti sauce!
Ok…. back to this yummy recipe. If you can brown meat, chop peppers, and toss everything in the crock pot then you can make this recipe.
Make a double or triple batch and freeze the left overs. Now, you can have dinner on the table in under 20 minutes just like you could with the jarred sauce.
However, your dinner will be healthier, cheaper, and taste much better!

Tip for freezing this easy spaghetti sauce:
It's totally optional but I like to use these hands free bag holders during my freezer sessions. They are seriously a life saver.
They keep your bags open so you can just dump your ingredients inside. You can snag them very inexpensively on Amazon.
If you freeze this spaghetti sauce, it works best to freeze them with each bag being flat. This makes it really convenient to stack them in the freezer.
I love that you can make a huge batch of this spaghetti sauce to freeze or later!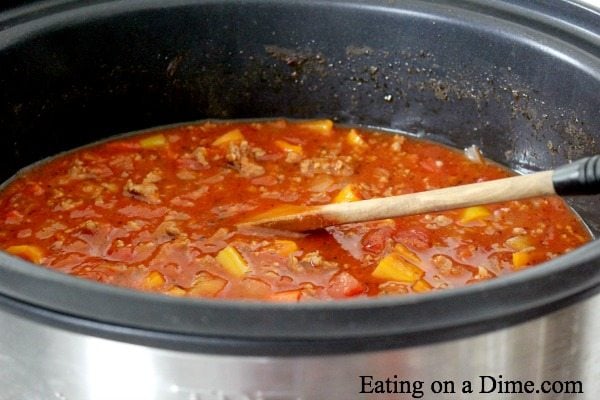 Crockpot Spaghetti sauce from scratch has lots of yummy green peppers and onions.
If your kids will be freaked out by them, then use a mini food chopper to chop them up into tiny pieces. I know this might seems silly but the peppers and onions add a TON of flavor so you don't want to miss out on that.
Here is the mini chopper that I use for my family.
This quick crock pot spaghetti sauce will be a hit with everyone!
This Crock Pot Spaghetti Sauce recipe includes ground beef and ground sausage. If you want to lighten things up a bit, you can easily substitute one for ground turkey.
I like to use turkey sausage and my family never knows the different. It makes it a tad healthier. You could even use half and half.
Sometimes I just use what is on sale!
Ingredients for easy spaghetti sauce recipe:
Ground Beef
Italian Ground Sausage
Onion
Minced Garlic
Crushed Tomatoes
Tomato Sauce
Tomato Paste
Italian Seasoning
Bay Leaves
Sugar
Salt and Pepper

How to make spaghetti sauce in a crock pot:
Crumble and brown ground beef and sausage, along with onion and garlic on medium heat in a large skillet.
Drain excess fat.
Place meat mixture into slow cooker.
Add remaining ingredients.
Cover and cook the sauce on low for 8 hours or on high for 4 hours.
Serve meat sauce over your favorite pasta before serving, or allow to cool completely and then freeze until ready to use.
This spaghetti sauce from scratch will be a hit!

Do you have to brown ground beef for slow cooker?
No! You do not have to brown the ground beef first. Just throw it all in the crockpot.
Just make sure to break it up during the cooking process. You will also want to use a very low fat meat.

Can you cook spaghetti in a slow cooker?
Sure! You can throw in spaghetti or any kind of pasta. Just add in spaghetti during the last hour of cooking.
Break it apart and stir it in. Easy! I love one pot meals!
If you are trying to cut down on carbs, try spaghetti squash instead of pasta. This Quick and Easy Instant Pot Spaghetti Squash Recipe is delicious.
This is the best spaghetti sauce!

This crockpot spaghetti sauce with vegetables is really healthy!

It's so handy having this crockpot Spaghetti Recipe to make for your family and friends. Crockpot spaghetti sauce from scratch is so simple.
You will not buy store bought spaghetti sauce again!
If you need a dessert that you can make in the slow cooker, try this Crockpot Lava Cake Recipe! The chocolate is so decadent.
Print Crockpot spaghetti sauce recipe below:
Best Crockpot Spaghetti Sauce Recipe
Ingredients
1

lb

Ground Beef

1

lb

Italian Ground Sausage

1/2

Onion

1

tbsp

minced Garlic

4

cans

Crushed Tomatoes

(15 oz each)

2

cans

Tomato Sauce

(15 oz each)

1

can

Tomato Paste

(6 oz)

2

Bay Leaves

1

Tbsp

Italian Seasoning

1

Tbsp

sugar

1/2

tsp

Salt

1/2

tsp

pepper

1/2

cup

beef broth
Instructions
Brown the ground beef and sausage, along with onion and garlic.

Drain off any excess fat.

Place meat mixture into slow cooker.

Add remaining ingredients.

Cover and cook on low for 6-8 hours or high for 3-4 hours.

Serve over your favorite pasta and enjoy!
Recipe Notes
*Refrigerate the leftovers in an air tight container for up to 5-7 days. 
*You can also freezer the leftovers in a freezer safe bag for up to 2-3 months.  
Nutrition Facts
Calories
477
kcal
,
Carbohydrates
32
g
,
Protein
25
g
,
Fat
30
g
,
Saturated Fat
11
g
,
Polyunsaturated Fat
3
g
,
Monounsaturated Fat
13
g
,
Trans Fat
1
g
,
Cholesterol
83
mg
,
Sodium
1984
mg
,
Potassium
1709
mg
,
Fiber
8
g
,
Sugar
21
g
,
Vitamin A
1515
IU
,
Vitamin C
37
mg
,
Calcium
135
mg
,
Iron
7
mg
Now that you know how to make Slow cooker spaghetti sauce from scratch, you can use it to make a few of our favorite dishes:
If you love one pot meals as much as we do, you must try One Pot Spaghetti Recipe. This recipe is the perfect Lazy Day meal!
It combines all the tastiness of spaghetti but into one dish! The cheese makes it even better! It's so delicious!
Try Easy Baked Spaghetti Pie Recipe for a meal that can feed a crowd while being tasty and delicious. This meal is freezer friendly and the perfect dinner for busy weeknights.
If you need an easy dinner idea, try Crock Pot Baked Pasta with Meatballs. It only has 4 ingredients and the crock pot does all the work for an amazing meal your family will love.

This simple spaghetti sauce recipe is amazing!
For a change, try Crock pot spaghetti sauce with sausage. Yum!
Italian sausage is really good too!
Try these easy Italian meal ideas: