This post may contain affiliate links. If you make a purchase through links on our site, we may earn a commission.
I'm so excited to share with you this delicious Crock Pot Spaghetti Sauce Recipe. This spaghetti sauce is the perfect blend of tomatoes and ground beef that makes the perfect spaghetti sauce.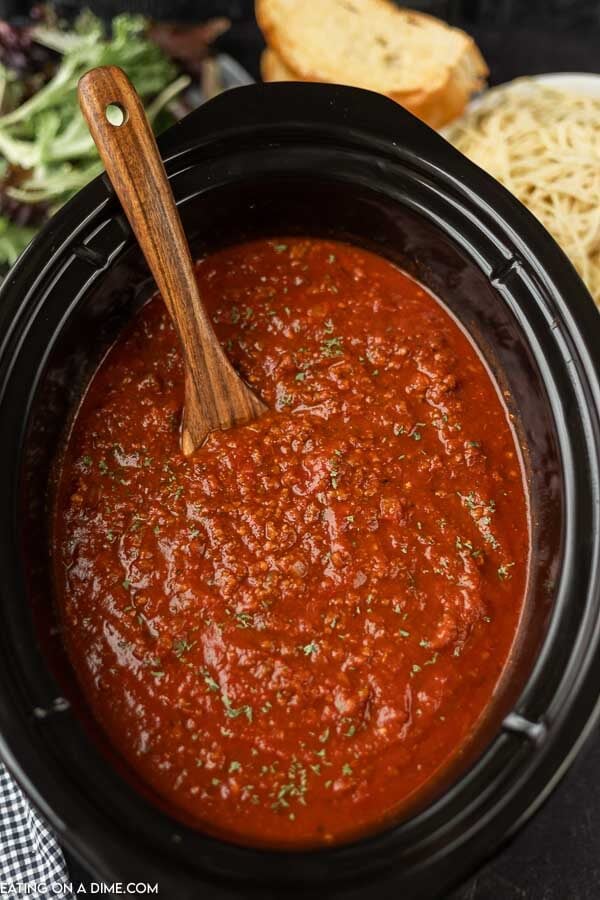 Easy Slow Cooker Spaghetti Sauce:
This spaghetti sauce with ground beef is absolutely amazing. Plus, the slow cooker makes it just so very simple and does all the work for you. You are going to love how hearty and flavorful this spaghetti sauce is after cooking all day in the crock pot.
Cooking the spaghetti sauce in the crockpot makes for an easy weeknight meal. Sure you can use the jar sauce, but this homemade spaghetti sauce is so much better.
Making this spaghetti sauce recipe for crock pot is easy and delicious. The perfect weeknight meal or to feed a crowd.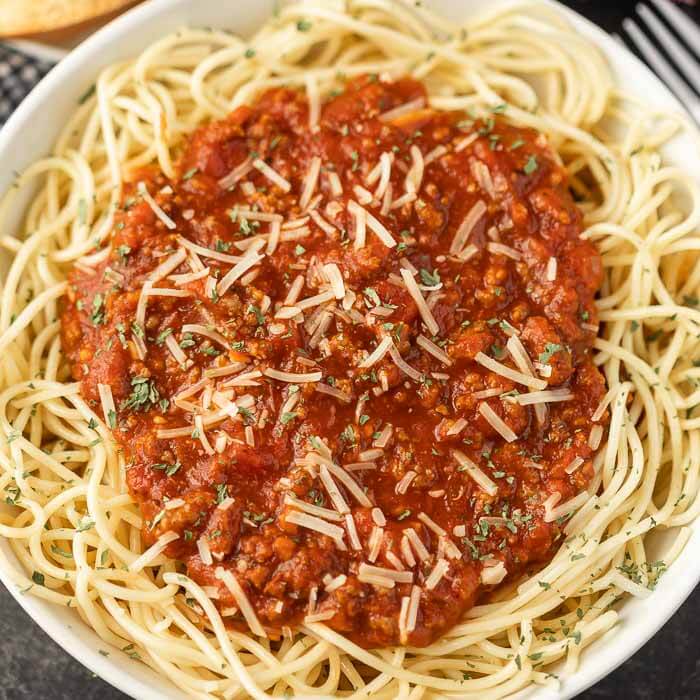 The Best Spaghetti Sauce:
This budget friendly spaghetti sauce has become a regular dinner on the menu each week. My favorite part is that it cooks in the slow cooker all day.
Combining all the flavors of the ground beef, italian sauce and tomatoes really makes this spaghetti sauce the best I have ever made.
I love that this spaghetti sauce is healthier, cheaper and taste better than the jar stuff.
Spaghetti Sauce Tips:
Cooking Ground Beef – Place the ground beef in a large skillet and cook with the garlic and onion. While cooking break up in small pieces and drain the grease.
Combining Ingredients – Combine the ingredients in the slow cooker and allow it to slow cook on low.
Olive Oil – We like tossing our noodles with olive oil to prevent them from sticking.
Substitutions and Additions:
Change the Meat – This Crock Pot Spaghetti Sauce recipe includes ground beef and ground sausage. If you want to lighten things up a bit, you can easily substitute one for ground turkey. You could even use half and half.
Red Wine – If you would like to add in some red wine. I usually add it in right when I begin cooking the sauce.
Spicy Flavor – You can add in some red pepper flakes to the sauce if you would like it a bit spicier.
Use Fresh Tomatoes – If you prefer and have them available, fresh tomatoes would be great in this recipe.
Beef Broth – Add in beef broth of added flavor.
Can I Add Frozen Meatballs instead of Ground Beef?
Yes, I think that is a great idea. Instead of using ground beef substitute with a 2lb bag of frozen meatballs.
We love the texture and flavor it adds to the sauce.
Ingredients for Crockpot Spaghetti Sauce:
Ground Beef
Italian Ground Sausage
Onion
Minced Garlic
Crushed Tomatoes – Diced Tomatoes will work also.
Tomato Sauce
Tomato Paste
Italian Seasoning
Bay Leaves
Sugar
Salt and Pepper
How to Make Spaghetti Sauce in Slow Cooker:
Step 1 – Crumble and brown ground beef and sausage, along with onion and garlic on medium heat in a large skillet.
Step 2 – Drain excess fat.
Step 3 – Place meat mixture into slow cooker.
Step 4 – Add remaining ingredients.
Step 5 – Cover and cook the sauce on low for 8 hours or on high for 4 hours.
Step 6 – Serve meat sauce over your favorite pasta before serving, or allow to cool completely and then freeze until ready to use.
How long to Cook Spaghetti Sauce in the Crock Pot?
After cooking the ground beef and italian sausage in a skillet, I combine in the crockpot with the other ingredients. I normally will put everything in the crock pot in the morning and let it cook all day while I am gone.
I set it on low and cook for about 8 hours or on high for about 4 hours.
Can you Overcook Spaghetti Sauce in Slow Cooker?
It is possible to overcook the sauce in the slow cooker. We recommend not cooking the sauce longer than 10 hours.
How to Make Spaghetti Sauce taste like Restaurant?
To make your homemade spaghetti sauce taste like your favorite Italian Restaurant we recommend using fresh ingredients. Add in dried herbs and spices elevates the flavor and can complete transfer your sauce.
We like to add in extra spice with a teaspoon or two of red pepper flakes.
Can you Freeze Spaghetti Sauce with Meat?
This spaghetti sauce freezes great. We like to make a double or triple batch and freeze the leftovers. This allows us to have dinner on the table in under 20 minutes just like you could with the jarred sauce.
Be sure to allow the sauce to cool completely before you freeze it. It will stay fresh in the freezer for 3-4 months. You can heat it up in the crock pot or over the stove top.
Just put it in a ziplock freezer bag or an freezer safe airtight container.
How to Freeze Spaghetti Sauce:
Once you ready to freeze your spaghetti sauce, here are some helpful tips:
If you freeze this pasta sauce, it works best to freeze them with each bag being flat. This makes it really convenient to stack them in the freezer.
I love that you can make a huge batch of this spaghetti sauce to freeze or later! Freezing spaghetti sauce is very easy to do. Check out Can you Freeze Spaghetti Sauce for more tips.
Do you have to Brown Ground Beef for Slow Cooker Spaghetti Sauce?
No! You do not have to brown the ground beef first. You can put it in the crock pot and let it do all the cooking.
Just make sure to break it up during the cooking process. You will also want to use a very low fat meat so that there is not excess grease in your spaghetti sauce.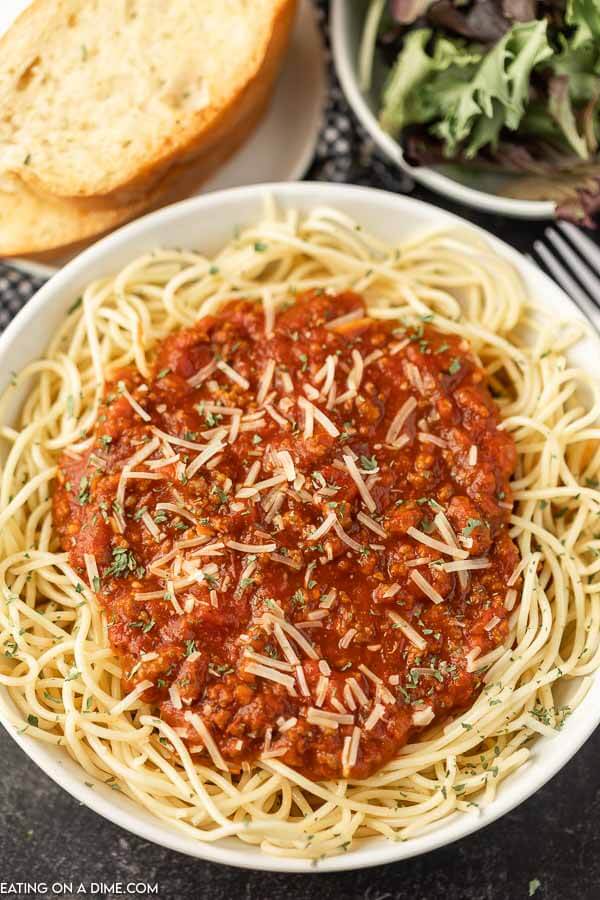 Can I add Uncooked Noodles to the Slow Cooker?
Sure! You can throw in spaghetti or any kind of pasta. Just add in spaghetti during the last hour of cooking.
Break it apart and stir it in. Make sure that the noodles are completely covered in the sauce and add more broth if needed to cover the noodles. This becomes the best one pot meal.
What to Serve with Spaghetti?
Spaghetti is filling on its own, but I always like to make sure I serve with a vegetable.
A simple salad always is a big hit at my house.
How to Thicken Spaghetti Sauce:
If you find your spaghetti sauce is runny, you can easily thicken you spaghetti sauce with a cornstarch rue. Check out How to Thicken Spaghetti Sauce for all the tips to learn.
Print Crockpot Spaghetti Sauce Recipe: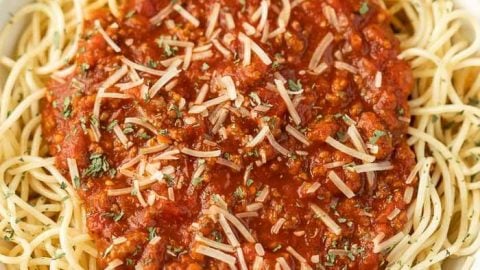 Best Crockpot Spaghetti Sauce Recipe
Try this delicious crock pot spaghetti sauce recipe that you can make just by tossing everything in your crockpot. Crockpot spaghetti sauce is so easy!
Instructions
Brown the ground beef and sausage, along with onion and garlic.

Drain off any excess fat.

Place meat mixture into slow cooker.

Add remaining ingredients.

Cover and cook on low for 6-8 hours or high for 3-4 hours.

Serve over your favorite pasta and enjoy!
Recipe Notes
*Refrigerate the leftovers in an air tight container for up to 5-7 days. 
*You can also freezer the leftovers in a freezer safe bag for up to 2-3 months.  
Nutrition Facts
Calories
477
kcal
,
Carbohydrates
32
g
,
Protein
25
g
,
Fat
30
g
,
Saturated Fat
11
g
,
Polyunsaturated Fat
3
g
,
Monounsaturated Fat
13
g
,
Trans Fat
1
g
,
Cholesterol
83
mg
,
Sodium
1984
mg
,
Potassium
1709
mg
,
Fiber
8
g
,
Sugar
21
g
,
Vitamin A
1515
IU
,
Vitamin C
37
mg
,
Calcium
135
mg
,
Iron
7
mg
More Spaghetti Recipes: