This post may contain affiliate links. If you make a purchase through links on our site, we may earn a commission.
Spaghetti just got even easier thanks to this amazing Crockpot Spaghetti and Meatballs recipe. This is the perfect toss and go meal. It takes very little work to feed your family and hardly any clean up.
Crockpot Spaghetti and Meatballs Recipe:
Spend less time cooking and cleaning up when you make this delicious meal. Slow Cooker meatball Recipes is perfect for those days you are running from work to school and endless activities.
If you love meatballs also try Crockpot Mozzarella Stuffed Meatballs, Crock Pot Honey Buffalo Chicken Meatballs, or Crockpot BBQ Meatballs.
Spaghetti is one thing we all love and never seem to get tired of. I love that the crock pot makes it even easier. Crock Pot Spaghetti and Meatballs is cooked all in the slow cooker. Simple ingredients makes this a delicious weeknight meal.
Everything literally goes in the slow cooker making this one of the easiest one pot meals ever. You can even cook the pasta in the slow cooker.
Easy Spaghetti and Meatballs in Crock Pot:
Pasta and Meatballs is a classic recipe that is a prefect weeknight meal or to feed a crowd. This recipe starts with frozen meatballs, tomatoes, beef stock and simple seasoning.
The spaghetti noodles even cook directly in the slow cooker. This saves me so much time and makes clean up a breeze. This budget friendly meal, is always a crowd favorite.
Ingredients
Frozen Meatballs
Crushed tomatoes, 15 oz each
Diced Tomatoes
Tomato Sauce
Beef Stock
Onion, diced
Minced Garlic
Salt
Pepper
Italian seasoning
Spaghetti, broken in half
Grated Parmesan
How to Make Spaghetti and Meatballs in a Crockpot:
Step 1 – Place all of your ingredients into the crock pot except for the spaghetti noodles and Parmesan cheese.
Step 2 – Cook on low for about 6 – 8 hours. Your house will smell amazing from this sauce slow cooking all day.
Step 3 – About 30 minutes before serving, stir in the uncooked spaghetti.
Step 4 – Cover and cook on high for 30 minutes or until spaghetti is soft.
Step 5 – Serve with fresh parmesan on top. It is that easy and you will love only having one pan to clean.
Can I use Homemade Meatballs?
Yes, you can make Homemade Meatballs. They are easy to make with simple ingredients. We used frozen meatballs just because it was easier, but we like making homemade so we can adjust the ingredients.
Simply brown the meatballs before adding to the slow cooker. Once they have browned, add to slow cooker and then add in other ingredients.
Can you Cook Noodles in a Crockpot?
Yes, you can and it really cuts down on having to use multiple pots and pans. The tomato sauce and broth provide the liquid needed to cook the dry pasta.
If you prefer you can cook the noodles separately in olive oil. But we find that they cook perfectly with the broth and sauce.
Tips for Making Crock Spaghetti:
Meatballs – There is no need to thaw the frozen meatballs, just place in the slow cooker from the freezer.
Combine Ingredients – We recommend mixing the ingredients in a separate bowl before adding to the slow cooker.
Adding Noodles – Add the noodles to the slow cooker when you have about 30 minutes remaining on cook time. Place lid back on slow cooker. Continue to cook for about 30 minutes or until noodles are tender and al dente.
What to Serve with Crockpot Spaghetti and Meatballs:
This spaghetti and meatball recipe is a hearty meal. So we like to make easy sides to pair with it. These are some of our favorites.
Side Salad – Make a salad full of vegetables for a perfect side for this spaghetti recipe.
Roasted Vegetables – Easy Grilled Broccoli is one of my favorite vegetables to roast. It pairs perfectly with these spaghetti and meatball recipe.
Bread – Also, we love Garlic Bread Cheese Sticks Recipe is a must when we serve this spaghetti recipe. It is great to make sure you get every last drop of the sauce.
Recipe Variations and Additions:
Meatballs – Use different flavors of meatballs. The frozen meatballs come in a variety of flavors, use what your family likes. You can also make homemade meatballs.
Add Vegetables – Mix in some chopped zucchini, broccoli, or green beans to the mixture. Add flavor and texture to this spaghetti recipe. We recommend adding when you have about an hour remaining.
Change the Pasta – We used spaghetti noodles, but you can use rigatoni, penne or angel hair pasta.
Change the Seasoning – Feel free to add in different seasoning to what you have on hand.
Ground Beef – If you prefer you can just use ground beef instead of meatballs.
Beef Broth – Beef broth or beef stock works with this recipe.
How to Store:
Store leftover spaghetti and meatballs in an air tight container. If store properly, this recipe will last about 3 to 4 days in the refrigerator.
We like to store in individual containers so it makes for an easy lunch the next day. This recipe is the perfect comfort food.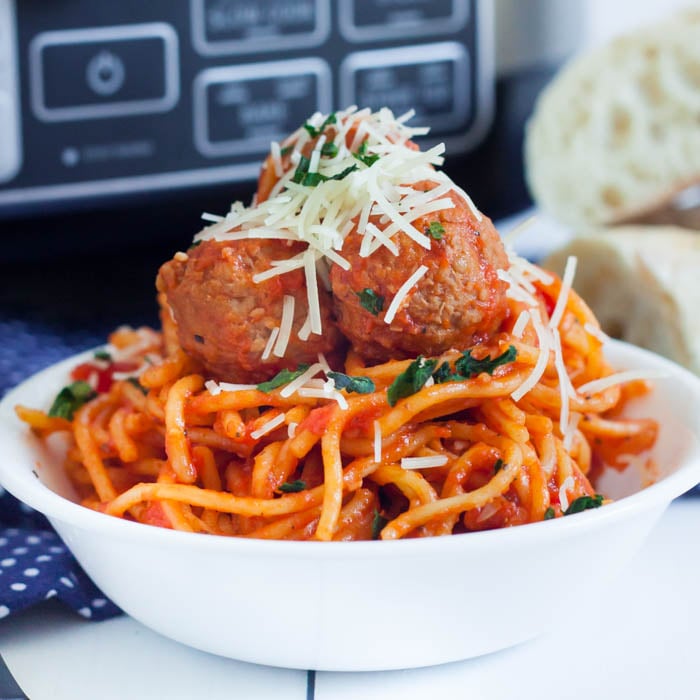 How to Reheat:
We recommend to reheat your leftover in a sauce pan to prevent hot spots. You can also place in the slow cooker to reheat.
If you prefer, you can also reheat in a microwave safe dish for an easy lunch.
Print this Crockpot Spaghetti Casserole Recipe below:
Crockpot spaghetti and meatballs recipe
Spaghetti is even easier thanks to Crockpot spaghetti and meatballs recipe. This is the perfect meal that takes little effort to get dinner on the table.
Ingredients
3

lbs

frozen meatballs

2

cans crushed tomatoes

15 oz each

1

(15-ounce) can diced tomatoes

1

(15-ounce) can tomato sauce

1

cup

beef stock

1/2

medium onion

diced

2

teaspoon

minced garlic

1

teaspoon

salt

1

teaspoon

pepper

1

tablespoon

Italian seasoning

12

ounces

spaghetti

broken in half

1

cup

grated parmesan
Instructions
Place everything but the spaghetti and parmesan in the crock pot.

Cook on low for 6-8 hours.

Stir in the uncooked spaghetti. Cover and cook on high for 3o minutes or until spaghetti is soft.

Serve with fresh parmesan on top.
Nutrition Facts
Calories
921
kcal
,
Carbohydrates
52
g
,
Protein
55
g
,
Fat
54
g
,
Saturated Fat
21
g
,
Cholesterol
178
mg
,
Sodium
1232
mg
,
Potassium
1264
mg
,
Fiber
4
g
,
Sugar
7
g
,
Vitamin A
564
IU
,
Vitamin C
14
mg
,
Calcium
278
mg
,
Iron
5
mg
More Spaghetti Recipes