This post may contain affiliate links. If you make a purchase through links on our site, we may earn a commission.
Easy Spaghetti Pie Recipe is loaded with cheesy layers and hearty meat sauce. It is easy to make, freezer friendly and perfect to feed a crowd.
Spaghetti Pie Recipe
Our entire family loves spaghetti and we love Easy Spaghetti Pie Recipe even more. Layers of meat and cheese blended with melted cheese turn plain spaghetti into something amazing.
The entire dish is creamy and the best comfort food. It is simple enough to make on busy weeknights but so tasty you will want to serve it to company.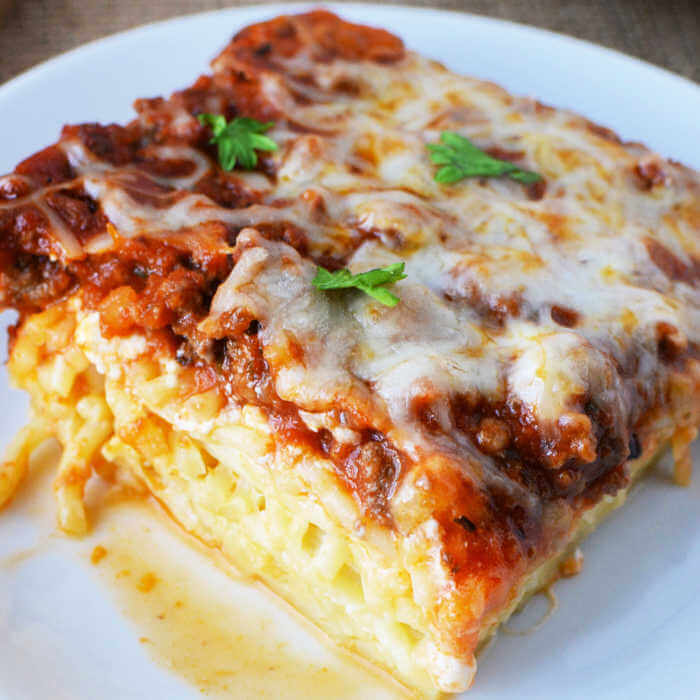 How do you make a spaghetti pie?
I prefer to cook my spaghetti pie in a 9 x 13 baking dish instead of pie pans or a pie plate. However, use what you prefer the most.
The ones with the lid are really handy if you are taking this dish somewhere.
Ingredients:
Spaghetti – While this recipe gets its name from using spaghetti noodles, other types of past can be used. Penne, bowtie and elbow are just a few substitution ideas.
Butter – Real butter is best.
Eggs – The eggs should lightly beaten. Don't overmix.
Ground beef or turkey – Both of these are fine to use in this recipe.
Jar Pasta Sauce. Store bought or homemade is delicious in this recipe. We use Crock Pot Spaghetti Sauce Recipe). Another option is to use 1 can tomato sauce and add Italian Seasoning.
Chopped onion. Any type of onion is good to use. I have used white onion or red onion. Once I used Vidalia but that does give it a sweeter taste.
Chopped green pepper. This is optional but it really adds to the flavor. Feel free to use green, red or yellow bell peppers.
Garlic salt – Garlic powder can be substituted.
Cottage cheese or ricotta cheese. Either of these add a creamy layer to the spaghetti pie. You can use the one you like the best.
Mozzarella Cheese or Italian Blend – I normally use the one that is on sale.
How to make spaghetti pie casserole
First, brown the ground the beef or ground turkey. Once browned, add the onions and green peppers. The vegetables should be soft.
Second, stir in the pasta sauce. Add the garlic salt.
Then add the cooked spaghetti. You want the pasta al dente because it will be going back in the oven to bake.
Next, add the butter, parmesan cheese and eggs. Make sure to do this while the spaghetti is still warm. I suggest using a large bowl so you will have plenty of room to stir it all together.
Put the spaghetti mixture into the bottom of a 9×13 pan sprayed with cooking spray. This will act as the "crust" of the spaghetti pie.
Finally, spread the Ricotta cheese or cottage cheese over the "crust". Then spread the beef mixture over the cheese layer making sure to cover the entire dish.

How long do you bake spaghetti pie?

The spaghetti pie bakes for just 30 minutes. It is that simple to put together for an easy weeknight meal.
Do I have to cook the pasta?
Yes, cook the pasta before making the spaghetti pie. I prefer to make the pasta al dente so it is not mushy after baking.
Can you freeze spaghetti pie?
Yes, you can and it is so easy. We often make 2. One for the freezer and one for that night. It really isn't anymore work.
Cover the unbaked spaghetti pie with foil and put in the freezer. It is optional but I like to use the disposable pans for the one I am freezing. It helps so much on those busy nights and will last in the freezer up to 1 month.
When you are ready to serve, allow to thaw overnight. Bake at 350 degrees for 40 to 50 minutes the next day.
Recipe Variations
Pasta – Of course this dish is named spaghetti pie but any type of pasta will work. Try using elbow, shells, penne or bowtie.
Veggies – I like to use a blend of red, yellow and green bell peppers with the onion. Spinach is also delicious cooked with the onion and bell pepper mixture.
Ricotta – You can omit the ricotta and cottage cheese layer if you do not like this. Cream cheese is a creamy substitute.
Cheese – While it calls for Mozzarella or Italian blend, anything will work. I have used Colby and cheddar on top because that is what I had. Sometimes I add an extra ½ cup of cheese because we love cheese.
Italian sausage – This is a tasty substitution for ground turkey or ground beef.
Can you use spaghetti squash?

If you are looking for a low carb option, skip the pasta and use spaghetti squash instead.
It is very simple. Just cook the spaghetti squash first. Cut it in half lengthwise and scoop out the seeds.
Drizzle with olive oil and pierce the skin with a fork. Bake at 400 degrees for 30 to 40 minutes. Cooking time will vary based on the oven and size of the squash.
Once finished cooking, scrape the sides with a fork and they will look like spaghetti strands.
I suggest using paper towels to press the squash with to remove any excess moisture. This extra step will help to prevent the casserole from being water.
At this point, use the spaghetti squash in the recipe just as you would the pasta and continue putting it together.
What to Serve with Spaghetti Pie
Salad – A simple salad is our favorite side dish with this recipe.
Baked spaghetti pie is easy and delicious.
Print this spaghetti pie casserole:
Spaghetti Pie
Easy Baked Spaghetti Pie Recipe is simple to prepare and delicious. Baked spaghetti pie is freezer friendly. Easy Spaghetti Pie Casserole can feed a crowd!
Ingredients
6-8

ounces

spaghetti

about a half a package -just eye ball it

2

tablespoons

butter

1/3

cup

Parmesan cheese

2

eggs

lightly beaten

1

pound

ground beef or ground turkey

1

jar

pasta sauce

or you could use tomato sauce -1 can -just add Italian

1/2

cup

chopped onion

1/4

cup

chopped green pepper

optional

1

cup

cottage cheese or riccota cheese

either one is great -we just use what is cheaper at the time -normally it is cottage cheese

1/2

cup

mozzarella cheese

or Italian blend
Instructions
Preheat oven to 350 degrees.

Brown ground beef. Add onions and green peppers. Cook until onions are soft.

Stir in pasta sauce, and season with garlic salt.

Cook and drain spaghetti. Allow to cool slightly.

Stir in margarine, parmesan cheese and eggs, while spaghetti is warm. Form spaghetti mixture into a crust at the bottom of a (sprayed) 9×13 pan.

Spread Ricotta cheese over the "crust".

Pour beef mixture over the crust and ricotta cheese.

Top with mozzarella cheese. Bake for 30 minutes.

That is it! Delicious!
Recipe Notes
Freezer friendly: This is a recipe that I like to double or triple. It doesn't take much more work to double it. You can easily make one for now and then one to go into the freezer. If you are making this for the freezer, do not bake in the oven. Prepare the casserole. Then allow to cool. Cover and freeze. To reheat: allow to thaw overnight in fridge. Then bake at 350 for 40-50 minutes, covered.
Nutrition Facts
Calories
352
kcal
,
Carbohydrates
22
g
,
Protein
21
g
,
Fat
19
g
,
Saturated Fat
8
g
,
Cholesterol
101
mg
,
Sodium
732
mg
,
Potassium
552
mg
,
Fiber
2
g
,
Sugar
5
g
,
Vitamin A
650
IU
,
Vitamin C
10.4
mg
,
Calcium
141
mg
,
Iron
2.5
mg
Try these easy Italian meal ideas: