Save money and make homemade pizza sauce. This recipe is so easy and beats anything store bought! Try it on easy biscuit pizza, French bread pizza and more.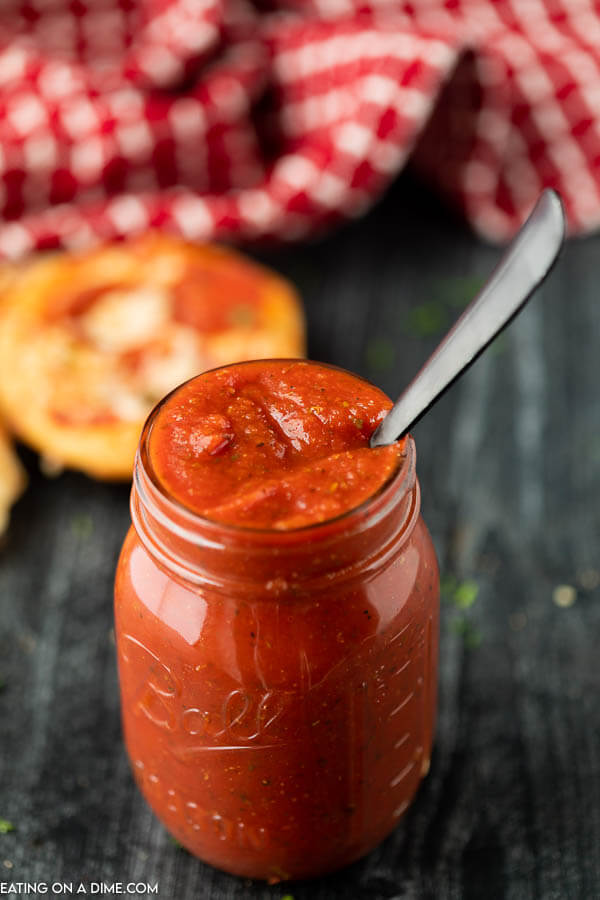 Homemade pizza sauce
My kids and I have been making this homemade pizza sauce recipe for years now. In fact, I cannot remember the last time I bought store bought pizza sauce. It has been THAT long.
My family and I love to make pizza, and I finally "figured" out an actually recipe that we love. It is so simple and I think you will love it too.
The best tomato sauce for pizza.
By the way… are you following me on pinterest? Make sure you follow me so you don't miss another money saving recipe.
I had to admit – it is GREAT! You don't have to chop anything or even cook it. In my mind, simple is always better.
I always make a double or triple batch and save some to freeze for the freezer. That way it is ready to go when we want to make a quick pizza, flat bread pizza or our favorite bubble up pizza. It is seriously the best tomato sauce for pizza.
How do you make pizza sauce from scratch?
You can easily make pizza sauce by combining crushed tomatoes, Italian seasonings and more into one yummy sauce. No cooking required. Just mix and go!
It will be ready and waiting when you are ready to make pizza for dinner.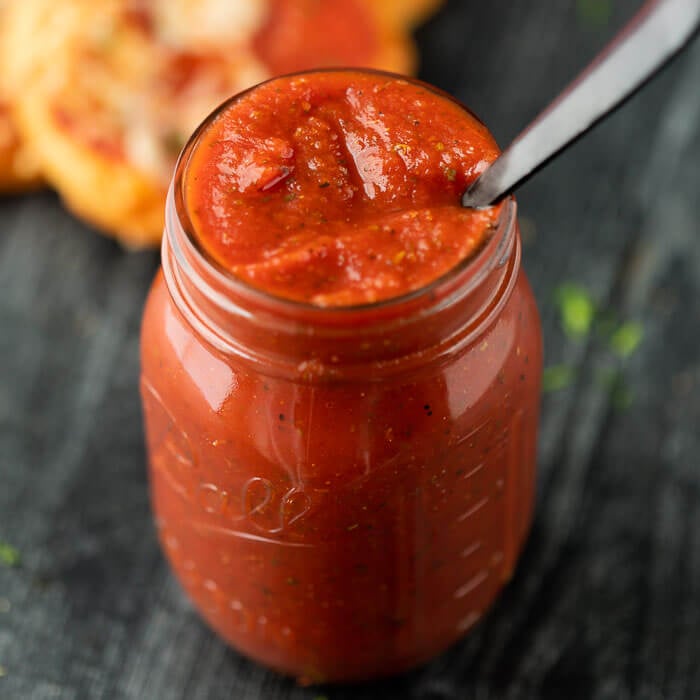 This is the best homemade pizza sauce!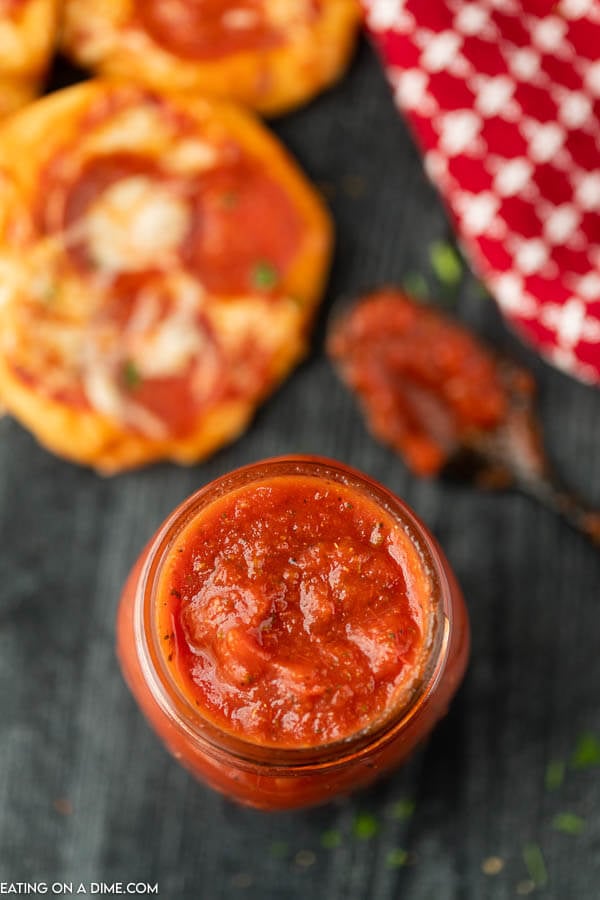 Ingredients:
Crushed tomatoes
dried basil
sugar
onion powder
oregano
paprika
garlic salt
pepper
How to make homemade pizza sauce:
First, get a large bowl and pour the crushed tomatoes in.
Second, add all of the seasonings.
Finally, stir until everything is blended together.
That is it! I told you it was SO easy. This recipe makes the equivalent of 28 oz pizza sauce jars at the store.
Is this frugal?
Yes! I was out of my cheap canned crushed tomatoes that I bought with coupons, so I had to pay full price for 28 ounce can of crushed tomatoes at Aldi. It cost me $.89.
That means, I made 2 jars of Pizza Sauce for $1! One jar of pizza sauce costs normally over $2, so I think I will take the $.50 jar -that is a 75% savings without every clipping a coupon.
Talk about frugal!
How to store it?
Now that we have been using it so much, I have been keeping mason jar full in the fridge. It is great when we want marinara sauce for dipping. Our family loves it!
You can get some super cute Mason jars here on Amazon. I really love the ones that come with chalkboard labels. So fun!
They are so cute to labels all your sauces in the fridge. Plus you will have the best sauce for pizza.
The pizza sauce can be stored in the fridge up to 5 days.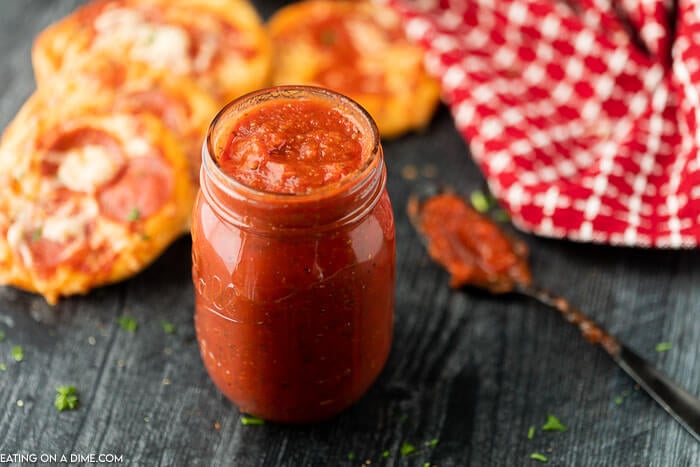 Freezer Friendly!
Remember to make a double or triple batch and freeze these. I like to freeze it in freezer bags.
You can freeze the sauce for 3-6 months. I also like to lay the bags flat for easy storage and to save room.
Print this homemade pizza sauce recipe below:
Homemade Pizza Sauce
Homemade pizza sauce recipe is so easy to make. It is the best tomato sauce for pizza that you can fast. Try this easy pizza sauce recipe homemade today!
Instructions
Pour the crushed tomatoes in a bowl.

Add in the seasonings and stir to combine.

It is officially ready to spoon onto your homemade pizza!

This makes the equivalent to 28 oz. of pizza sauce.
Recipe Notes
Store the leftovers in an air tight container in the refrigerator for up to 5 days or freeze in a freezer bag for up to 3-6 months. 
Nutrition Facts
Calories
13
kcal
,
Carbohydrates
3
g
,
Protein
1
g
,
Fat
1
g
,
Saturated Fat
1
g
,
Sodium
433
mg
,
Potassium
113
mg
,
Fiber
1
g
,
Sugar
2
g
,
Vitamin A
160
IU
,
Vitamin C
3
mg
,
Calcium
19
mg
,
Iron
1
mg
Recipes to use pizza sauce: