This post may contain affiliate links. If you make a purchase through links on our site, we may earn a commission.
This homemade flatbread pizza recipe will be fun for the whole family! They are perfect for busy nights and ready in just 15 minutes. This recipe for flatbread pizza will be an instant hit and everyone can add their favorite toppings.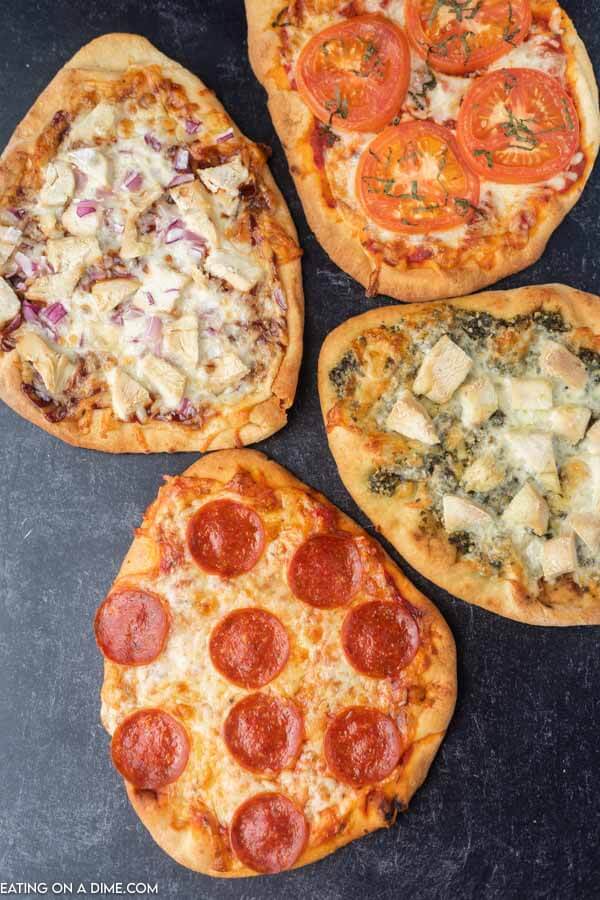 If your family is anything like ours, we have seasons that are absolutely craziness! This homemade flatbread pizza recipe is perfect for a weeknight dinner idea.
You will have dinner on the table in under 30 minutes! Actually, it is usually more like under 15 minutes. That is quicker than running to the drive-thru for takeout! We have found that it is cheaper to eat at home, than to get take-out.
Ingredients:
Pre-made flatbreads (one per person)
Homemade Pizza Sauce
Shredded Mozzarella Cheese
Favorite Pizza Toppings – pepperoni, ground sausage, red onion. cherry tomatoes, sliced tomatoes, olives, mushrooms, banana peppers, bell peppers, fresh basil and anything you like!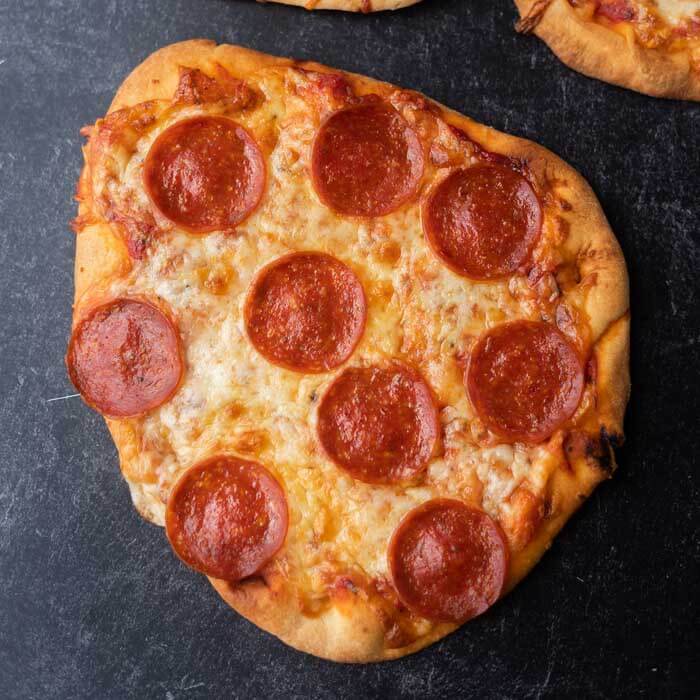 How to make flatbread pizza
First, preheat the oven to 375 degrees.
Second, lightly flour baking sheets or a pizza stone and place your flatbreads on top.
Spread pizza sauce on each flatbread crust.
Add the cheese and any toppings you want to use.
Bake and enjoy your flatbread pizza! It is that easy and takes just minutes to prepare. We love cutting the pizza in thin slices.
Pick your favorite topping:
Our entire family loves Homemade Pizza night because they get to make their very own homemade pizza. Mom and dad love homemade pizza dough with flatbread because we usually make it with a whole wheat flat bread.
The kids don't realize they are actually eating something kind of healthy. I also try and sneak in some additional vegetables under the cheese. They are softly cooked so they never know they are eating them.
I like to sit bowls out with all the different topping so they can put what they want them. They get excited as they are actually making their dinner and the don't even realize it.
Great for kids lunches:
Did you know that you can have these flatbread pizza for lunch? This recipe for flatbread pizza are perfect for lunches.
We often make extras or save the leftovers and put them in the kids' school lunches. They just love them so much better than having sandwiches every day.
These are special treat that the kids get about once a week. They look forward to it!
This easy flatbread pizza recipe is budget friendly!
This recipe is also one of our favorites because it is so inexpensive. You will save a ton from ordering pizza out. We make our homemade pizza sauce, and we use store bought flatbreads from our local grocery store for about $3.
That means we can make our entire family pizza for under $6! That is just $1 per person for a family of 6. It really surprised me how cheaper it is to make pizza at home. Serve it with a salad for a complete dinner.
We found the flatbread in our bakery section near the fresh-cut deli. They are prepacked and are easy to use. Plus, if you buy the whole wheat ones, this dinner is even healthier.
If you want to cut your costs even more, you can make your own homemade flatbread. One of our favorite flatbread recipes is this homemade naan recipe. It is simple to make and so good!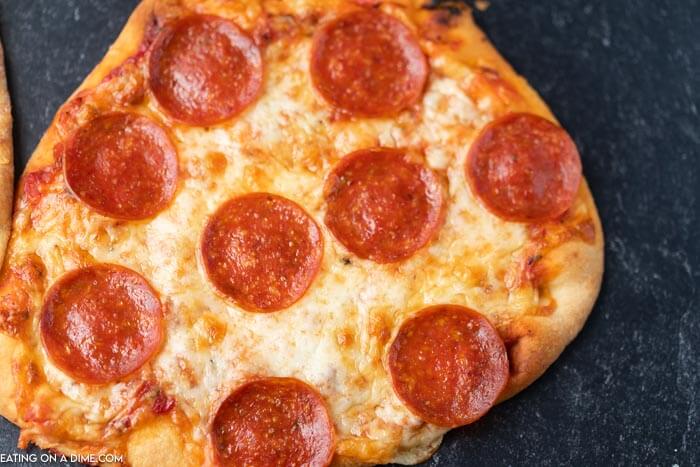 What to use instead of flatbread?
If you are having a hard time finding flatbread at your local grocery store, try using Naan bread instead. You can even make your own Naan Bread. It is simple to make and taste great too!
This is a great alternative to the flatbread. It has the same texture and taste as the flatbread.
What is the difference between pizza and flatbread?
Pizza and flatbreads are fundamentally the same, but they do have some differences. Flatbreads typically have lighter toppings and less sauce. Additionally, flatbreads usually do not have yeast in them which is why they're flatter than a typical pizza crust.
Because the flatbread doesn't need to rise, it makes for a quicker dinner than using homemade pizza crust.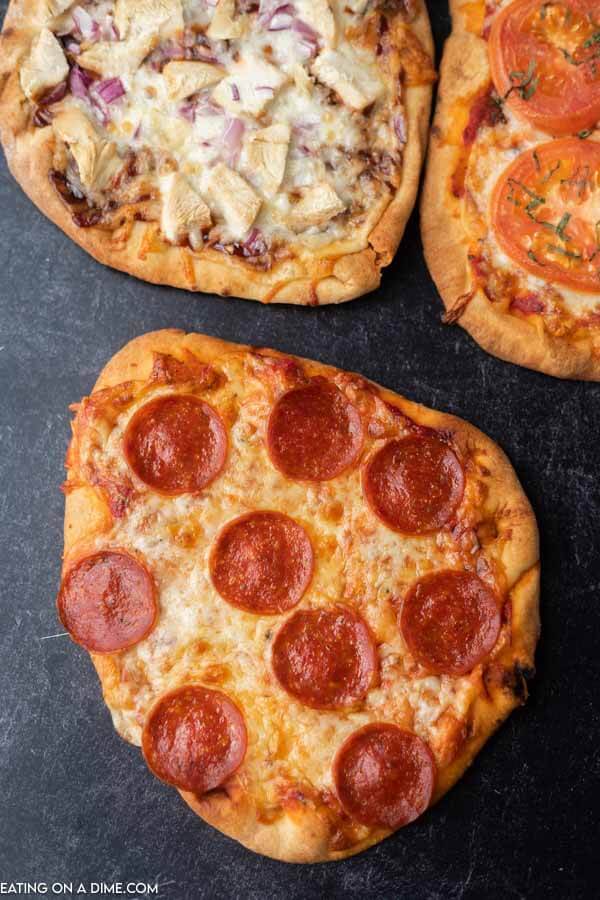 Ideas for different types of Flatbread Pizzas:
The possibilities are endless with flatbread pizza. Try some of these ideas:
How to make margherita flatbread pizza
Brush your flatbread with olive oil and sprinkle with garlic powder or freshly minced garlic. Top with fresh mozzarella cheese, sliced tomatoes and fresh basil. Drizzle lightly with balsamic vinegar. Bake as normal.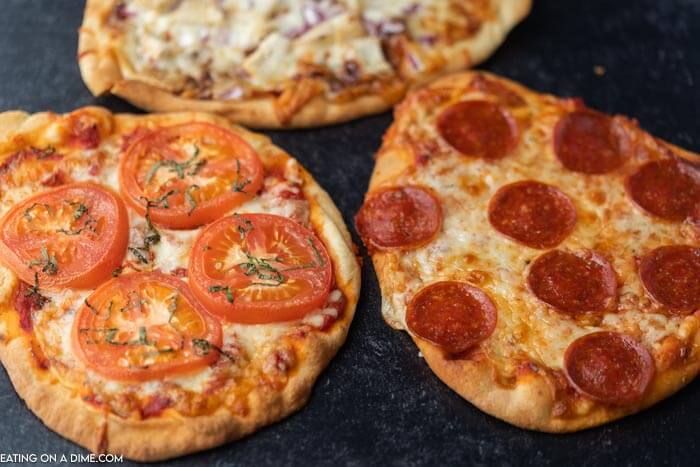 Chicken Pesto Pizza:
Top the flatbread with pesto sauce and mozzarella cheese. Then top with cooked chicken. Bake as directed and enjoy!
Easy bbq chicken pizza recipe
Top the flatbread with barbecue sauce and then shredded mozzarella cheese. Then top with cooked chicken and diced red onions. Bake as directed per the recipe.
How to freeze flatbread pizza
Yes you can freeze this easy flatbread pizza recipe. They make the best mini-frozen pizzas! Make this flatbread pizza as directed. However, only cook for about 5 minutes, just enough to melt the cheese some.
Then allow to cool completely. Freeze and wrap in plastic wrap then a layer of aluminum foil.
Then you have your own mini frozen pizzas for much less. When you want to cook your pizza, cook as directed straight from the freezer. You will probably need to add about 5-10 minutes to the cook time when you are ready to cook them. Just be sure to watch them to ensure they do not burn.
What to serve with Pizza
Print the easy flatbread pizza Recipe below:
Easy Homemade Flatbread Pizza
Try this easy homemade flatbread pizza recipe that your family will love. Flat bread pizza is ready in 15 minutes making it a fun family dinner.
Ingredients
6

Premade flatbreads

1

cup

Pizza Sauce

1 1/2

cup

Shredded Mozzarella cheese

2

oz

sliced pepperoni
Instructions
Preheat oven to 375 degrees F.

Place Flatbreads on a cookie sheet or pizza stone.

Place two tablespoons of pizza sauce on each pizza.

Top with Mozzarella cheese.

Top with the pepperoni slices.

Bake in the oven for 15-20 minutes until cheese melts and flatbread starts to brown.

Allow to cool before serving.
Recipe Notes
Each person can create their own personal pizza based on their preferences! 
Nutrition Facts
Calories
250
kcal
,
Carbohydrates
25
g
,
Protein
13
g
,
Fat
11
g
,
Saturated Fat
5
g
,
Trans Fat
1
g
,
Cholesterol
32
mg
,
Sodium
770
mg
,
Potassium
231
mg
,
Fiber
1
g
,
Sugar
2
g
,
Vitamin A
366
IU
,
Vitamin C
3
mg
,
Calcium
183
mg
,
Iron
1
mg
Try these other easy Pizza Recipes: