You are going to love this frugal recipe – Bubble Up Pizza! This quick and easy pizza recipe is so easy to make and the kids will have a BLAST helping you make it.
This B
ubble Pizza Recipe is easy to make with a secret ingredient!
The secret ingredient for the crust is….canned refrigerated biscuits! You cut the canned biscuits and it actually "bubbles up" when it cooks. The biscuit dough is thick and reminds of a deep dish pizza crust in this bubble pizza.
This video shows you how easy this bubble up pizza is to make!

Ingredients for Bubble Up Pizza:
You only need a few ingredients to create this easy yet still tasty bubble up pizza.
Canned Biscuits
Pizza Sauce
Shredded Mozzarella Cheese
Pepperoni (or your favorite pizza toppings)
That's all that is needed to create this bubble up pizza bake. I usually stock up on these ingredients when they are on sale because I know that I can throw together this recipe in not time at all.
Ok, now that you are prepared with all the needed ingredients, let's continue to learn how to make this pizza.
How to make bubble pizza:
First preheat oven to 350 degrees.
Then you cut each biscuit into quarters and place the biscuit pieces into a 9×13 baking dish that has been sprayed lightly with a non-stick cooking spray to make serving easy.
We highly recommend using a pizza cutter to cut your biscuits. It makes it faster and easy to cut! Get the kids involved – they love doing this!
Now it is time to add your sauce! Try making your own pizza sauce. It is easy to do and it will save you 50% or more! I promise it is easy to make, but you can definitely use whichever sauce you have on hand or your favorite type.
It isn't even cooked yet and it already looks delicious!
For the next step, sprinkle with the mozzarella cheese over the top of the pizza sauce. 
Now it's time for the fun part. It's time to add your favorite toppings!
In this picture we did a basic cheese and pepperoni pizza but we have made a supreme Bubble Up pizza too. YUM!
Also, you could do different toppings on each half of the pizza. I have put Italian sausage and green peppers (my favorite!) just on one side before because my kids don't love those toppings and pepperonis on the other side.
This is a great time to make this pizza recipe work for your family!
Now all you have to do is bake uncovered for 25-35 minutes until the biscuits bubble up and the cheese is melted. Then you will have a delicious "homemade" pizza ready to enjoy!

The Kids just love this bubble up pizza recipe, but to be honest… the adults love it too! I'm thinking of doing a taco bubble up pizza next. Doesn't that sound good!
Print this P
izza Bubble Up Bake R
ecipe below:
Bubble Up Pizza Recipe
This Bubble up pizza recipe is so easy to make. This pizza is fun and tastes great!
Ingredients
2

cans

Buttermilk Biscuits

(10 count each) Do not use Grand Biscuits

1

jar

pizza sauce

 (15 oz jar) 

2

cups

Mozzarella cheese

(shredded)

20

slices

pepperoni
Instructions
Preheat the oven to 350 degrees F.

Spray a 9×13 pan with non-stick spray.

Open the biscuits. Cut each biscuit into fourths (a pizza cutter makes this quick and easy). 

Place them all in the bottom of the 9X13 pan.

Pour pizza sauce over the biscuits.

Sprinkle Mozzarella Cheese on top and top with the pepperoni.  

Bake for 25 to 35 minutes (uncover until all the biscuits have bubbled up).

Let sit for 5 minutes before cutting and serving.
Recipe Notes
Refrigerate the leftovers in an airtight container for up to 5-7 days.  
Nutrition Facts
Calories
735
kcal
,
Carbohydrates
82
g
,
Protein
20
g
,
Fat
37
g
,
Saturated Fat
10
g
,
Polyunsaturated Fat
10
g
,
Monounsaturated Fat
15
g
,
Trans Fat
0.1
g
,
Cholesterol
38
mg
,
Sodium
2327
mg
,
Potassium
728
mg
,
Fiber
4
g
,
Sugar
10
g
,
Vitamin A
746
IU
,
Vitamin C
8
mg
,
Calcium
281
mg
,
Iron
6
mg
Is this recipe frugal?
YES!! You know that I love good and frugal recipes.
I was able to purchase 2 cans of biscuits (the cheap plain kinds) for less than $1. Remember, you do not need a specific brand for this recipe, use the cheapest that you can find!
Also, I made pizza sauce for less than $1. Add cheese and pepperoni and your looking at a pizza for less then $4! This is my kind of meal and it's definitely cheaper than order pizza from a restaurant.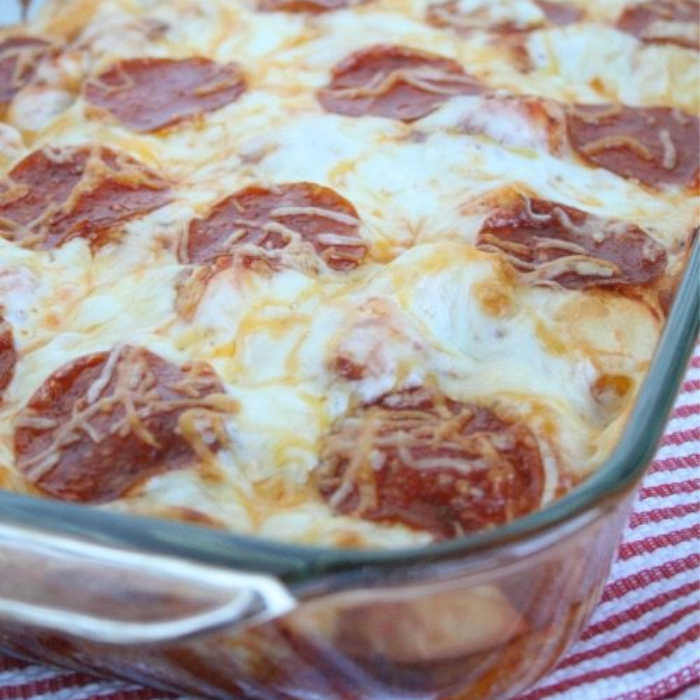 Can you freeze this Bubble Up Pizza Recipe?
Yes, this Bubble up pizza is very freezer friendly.
Bake as the recipe outlines. Then allow the pizza to cool completely. I like to slice it up into the perfect lunch portions.
Then I freeze these portions in freezer safe bags. This way this pizza is ready to heat up in minutes for a quick and easy lunch. My kids love enjoying this bubble up pizza in their lunchboxes. 🙂
If you enjoyed this bubble pizza, try these other easy pizza recipes: