This post may contain affiliate links. If you make a purchase through links on our site, we may earn a commission.
We love to show you How to Thicken Spaghetti Sauce. We all love sauce that is thick, flavorful, and hearty. These steps give you different ways to serve the best thicken spaghetti sauce that your family has ever had.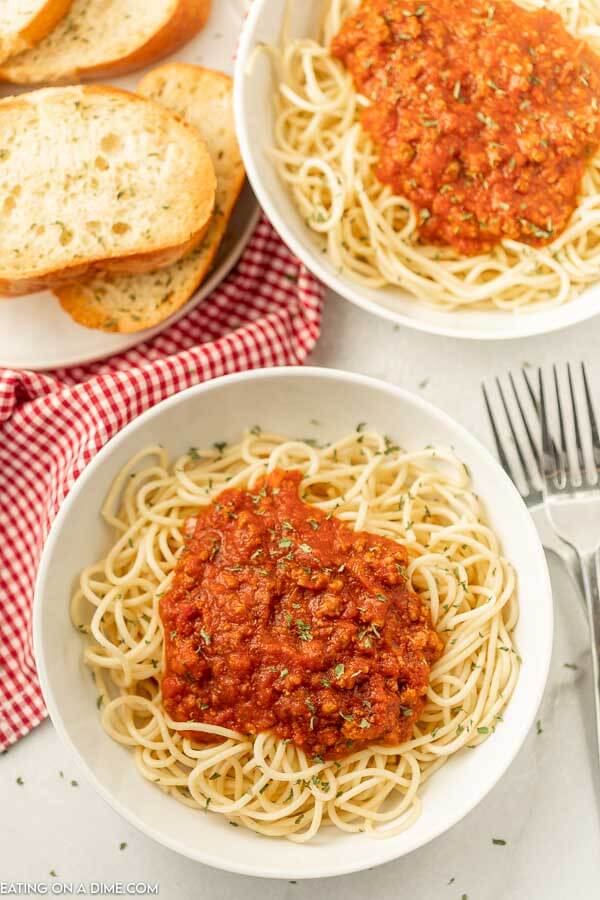 How to thicken Spaghetti Sauce:
There have been many times that I have made a big pot of spaghetti and my sauce ends up watery and very thin. It is so discouraging knowing that I have a family to feed and I have taken the time to make homemade spaghetti sauce.
Listed below are the best ways to thicken your spaghetti sauce and I have tried them all. It is important to have different options. Lucky for you these are my preferred methods.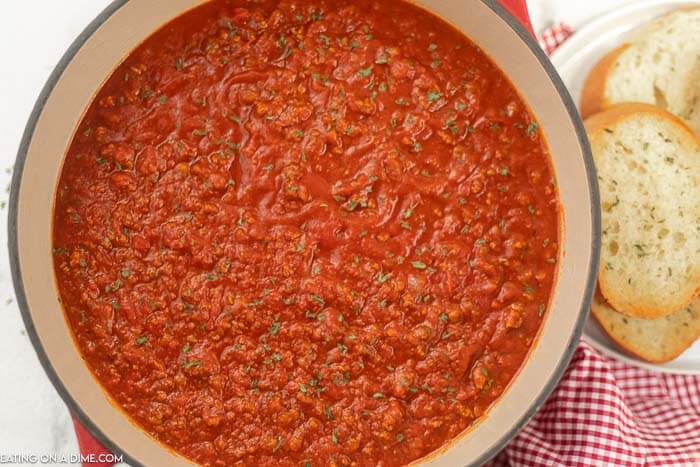 Best ways to Thickened Spaghetti Sauce:
If you find yourself needing to thickening tomato sauce, don't throw out your sauce and start over. Try one of these preferred thickening agents so you don't ruin your dinner.
Sometimes it is just letting it simmer for a little longer, adding in some tomato paste or adding in lots of starches. Trying to thickened spaghetti sauce isn't much difference then trying to thicken other sauces.
These are some quick and simple ways to save your homemade dinner and reduce the liquid in your sauce.
Reduce the Sauce by simmering:
The easiest way and the first one I try to thicken the sauce is to let the sauce simmer without the lid until thickens. I like to let is simmer on low for about 10 minutes while stirring frequently. It could take as long as 20 minutes.
I like this method because you don't need any additional ingredients therefore it doesn't change the taste of the sauce. If I have the time, this is the method that I start with.
Add in Tomato Paste:
When I plan on making homemade spaghetti sauce, I always make sure to buy a can of tomato paste. Tomato Paste will add flavor and thicken when mixed in within the tomato sauce. An added bonus is that tomato paste is great way to stretch your spaghetti sauce.
Add Cornstarch Slurry:
Cornstarch Slurry is another simple method to add to thicken your sauce. This method doesn't change the taste. You will mix equal parts of cornstarch with equal part of water in a separate bowl.
Once mixed, slowly add to your spaghetti sauce. I like to add a little bit at a time and then mix. This way I can get my desired spaghetti sauce thickness.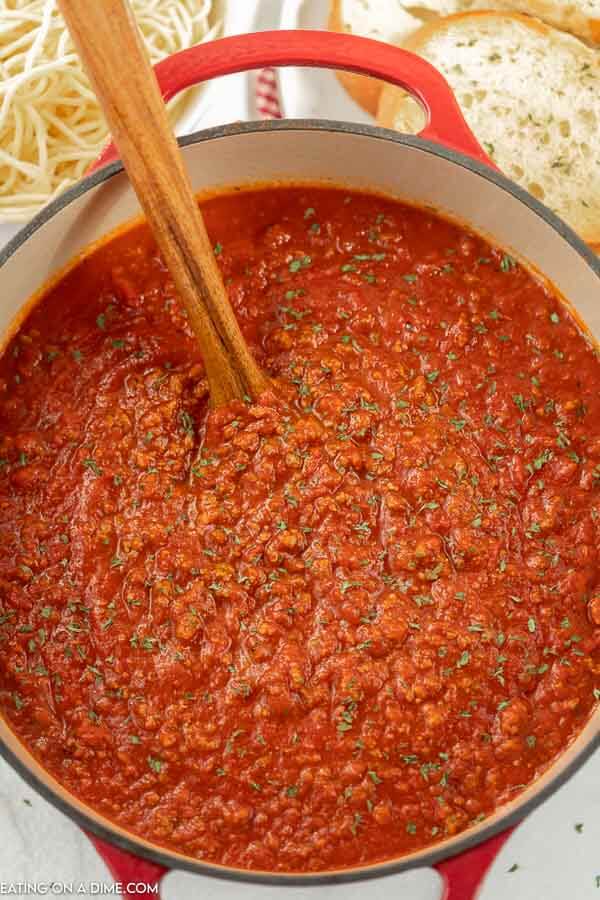 Stir in Roux:
A Roux is a great way to start when making a gravy but it can also be done by thickening spaghetti sauce. A roux is equal parts of butter and flour. This cooks in a separate skillet to be added to your spaghetti sauce.
Adding roux to your spaghetti sauce not only thickens it but gives it a creamy texture.
How to Make a Roux is a great place to start if you are new at making a Roux.
Use Arrowroot to thicken:
If you have arrowroot you can also use it to thicken your spaghetti sauce. Mix equal parts of arrowroot and water together in a saucepan. I start off with 1 tablespoon of arrowroot and 1 tablespoon of cold water.
Heat mixture in a saucepan on low heat to warm just a bit. Then you will mix into your spaghetti sauce. Repeat the steps if you would prefer a thicker sauce.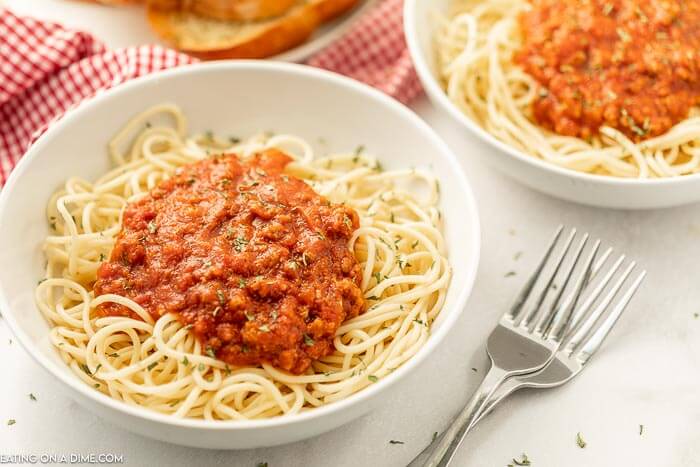 Use Instant Potatoes:
Instant mashed potatoes is another option that can be used to thicken the sauce. After cooking your spaghetti sauce, you will start by adding in 1 – 2 tablespoons of mashed potato and stir. If after about 3 -5 minutes your sauce isn't thicker, then you can add in more.
Using instant mashed potatoes may change the texture and taste of the sauce.
How to make Spaghetti Sauce not watery:
One of the best way to ensure that your spaghetti sauce isn't watery is bring it to a rapid boil first then simmer. If you are using fresh tomatoes this is a very important step. But if you are using canned tomatoes just make sure that you drain them before adding to the sauce.
How to thicken Spaghetti Sauce in a Crock Pot?
If you cook your spaghetti sauce in the crock pot and it isn't very thick, the best option is to use the Cornstarch Slurry option.
You will whisk together equal parts of cornstarch with equal amount of liquid (water) and add it to the sauce. Then you will continue cooking while your sauce thickens.
Drain Pasta Sauce Completely:
Some may say to leave a little pasta water after you have cooked pasta. Adding to much salty, starchy pasta water will in fact give you spaghetti sauce a watery texture.
If you spaghetti sauce is as thick as you want, make sure to drain your noodles completely before adding to your spaghetti sauce.
Is adding Flour a good method?
Flour is often used to thicken sauce. It is a staple pantry ingredient so most of the time, it is our preferred method. You can definitely use it to thicken your spaghetti sauce.
But I have found that it changes the taste of the spaghetti sauce.
We love Spaghetti!
Spaghetti is the type of food that is both comforting and welcoming to your family when they come home after a long day. Spaghetti is also great to serve to a big get-together served with with favorite French Bread and a Salad.
We hope these different ways of thickening your spaghetti sauce helps getting dinner on the table faster and stays within your budget. These methods are tried and preferred so you end up with an amazing meal.
Try one of homemade spaghetti sauce recipes.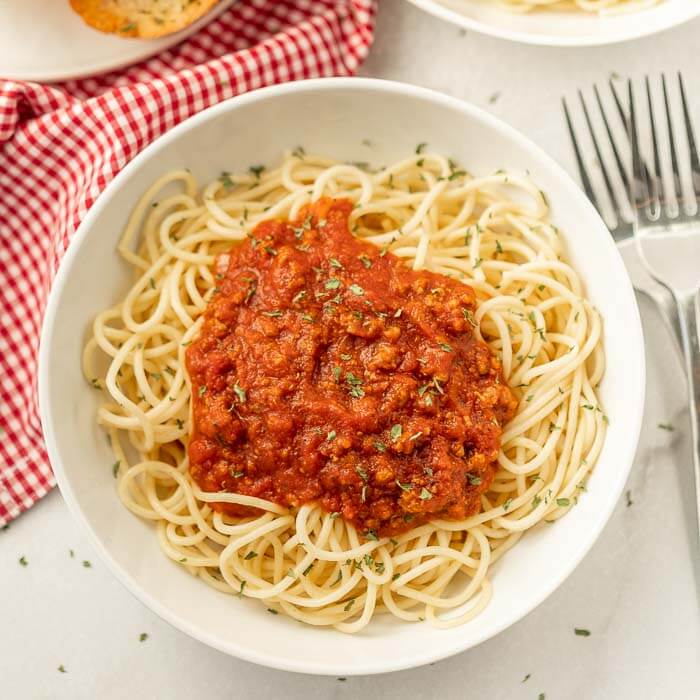 Homemade Spaghetti Sauce
This Easy Homemade Spaghetti Sauce Recipe from scratch can be made on a stove top in under an hour. It is so easy to make and loved by all.
See the Recipe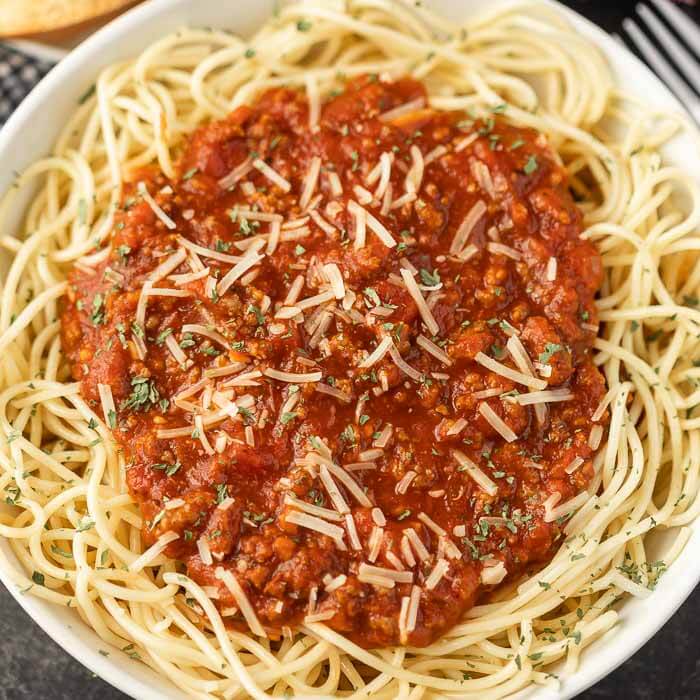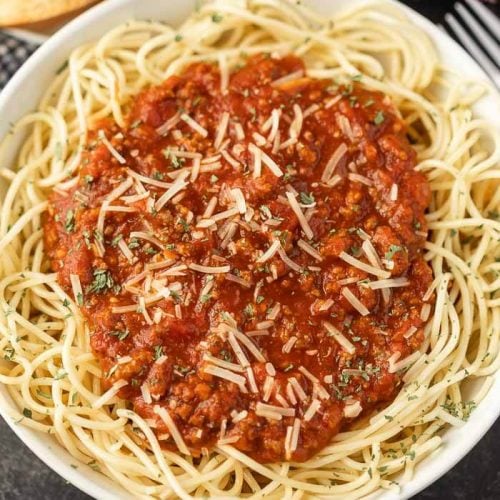 Best Crockpot Spaghetti Sauce Recipe
Try this delicious crock pot spaghetti sauce recipe that you can make just by tossing everything in your crockpot. Crockpot spaghetti sauce is so easy!
See the Recipe
Crockpot spaghetti and meatballs recipe
Spaghetti is even easier thanks to Crockpot spaghetti and meatballs recipe. This is the perfect meal that takes little effort to get dinner on the table.
See the Recipe
Instant pot spaghetti sauce recipe
Instant Pot Spaghetti Sauce Recipe is simple and delicious. Skip the store bought jar sauce and make spaghetti sauce at home.
See the Recipe
Instant Pot Spaghetti and Meatballs Recipe
Instant Pot Spaghetti and Meatballs Recipe is a one pot meal thanks to the pressure cooker. Spend less time cooking and cleaning when you try this.
See the Recipe