This post may contain affiliate links. If you make a purchase through links on our site, we may earn a commission.
Learning How to Make a Roux will be a helpful kitchen tip to know. Roux is the base for making gravies, sauces and to thicken soups. This may sound fancy but don't be intimidated because it is so easy.
What is a Roux?
A roux is basically equal parts flour and a fat. The most common fat used is butter but it can also be meat drippings such as bacon fat. Learning how to make a roux sauce (pronounce it -roo) will open the door to creating so many sauce and gravy recipes for your meals.
It can be used to thicken sauces for any number of things like soups, stews, gravies, and sauces. If it seemed overwhelming to you in that past maybe this post can help set your mind at ease that while it may sound "fancy" it is really just a simple recipe.
Give one of the recipes at the end a try and let me know how it worked for you! It was a game changer for me once I found out how simple it was to make a roux.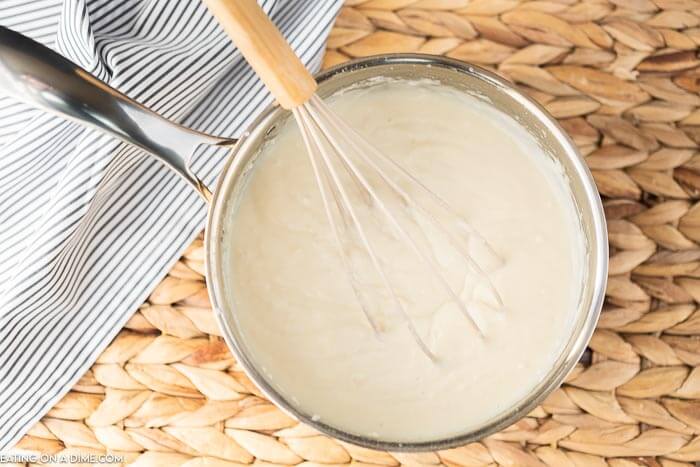 Roux Ingredients:
How to make a roux:
1. First, melt butter over medium high heat. Use a wooden spoon or whisk to mix in the flour. I prefer to use a whisk because it seems to help get any lumps out of the flour. Just use what works best for you!
2. Keep stirring until the mixture is smooth and a light golden color. This will take about 5 minutes. See below for additional roux cooking times.
How long does it take to make a Roux?
Roux doesn't take that long to make. White Roux takes about 2-5 minutes to prepare. You are cooking it down to get rid of the flour taste and then you add your fat of choice.
Home cooked roux is easy to make and with simple ingredients.
Types of Roux:
You can cook your roux to 4 main stages (indicated by color) for various recipes
White Roux – Should be cooked for about 5 minutes and is used mainly for milk based sauces and soups. This white sauces is great for sausage gravy.

Blonde Roux– This is the most commonly used color- it has a nutty flavorful smell when done, also similar to a toasted bread, and cooks about 15 minutes-great for macaroni and cheese sauce, soups, stews, and other cheese sauces.

Brown Roux- 30 minute cooking time. Peanut butter in color, used mainly in gumbos . Usually requires using a different fat like an oil instead of butter due to prolonged heat.

Dark Roux – Cooking time- 40 minutes, resembles melted milk chocolate. This is primarily used to flavor gumbos and other Cajun dishes instead of as a thickening agent. Also requires a fat other than butter.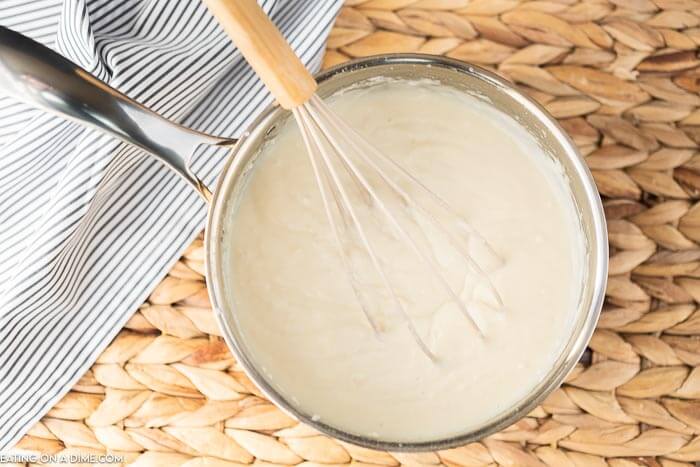 How to make a roux for gravy:
To make this pepper gravy for biscuits and gravy I simply started with the roux base, then whisked in 2 cups of whole milk.

Let this simmer for 5 minutes to thicken on medium heat. Continue cooking until desire thickness.


Just add your salt and of course pepper to taste. Gravy is really that easy.

I used to be nervous about making it until I discovered how simple it was to make.
Go ahead and make some homemade biscuits too. The gravy will be amazing poured all over them.
This gravy is a must every time I make fried chicken and mash potatoes. It is so good to pour the gravy over the potatoes or dip your chicken in it. It is a must side anytime I make this meal.
How to make a roux for mac and cheese:
For a delicious macaroni and cheese sauce- begin with your roux, whisk in 2 cups of milk, 1 cup of chicken stock, and 2 cups of shredded cheese.

Add salt and pepper to taste.

Simmer for 10-15 minutes to thicken, and melt cheese thoroughly, stir often.
How to make a roux for cheese sauce:
Start with a basic roux above but use 1 tablespoon butter and 1 tablespoon flour to make the roux.

Once you have that ready, add a cup of milk gradually to the roux and whisk until well combined.

Next, remove the pan from heat and add a cup of shredded cheddar cheese. Keep whisking until smooth and creamy.
We love to make this to use on nachos and steamed broccoli.
See… it is actually very easy and can be used for a variety of things. What are you going to try today now that you know easy it is?
My kids love when I make homemade mac and cheese. Yum!
Recipe Tips & Notes:
Lumps in Gravy? – To prevent lumps, whisk cold milk into the hot roux. Just be sure to add in slowly and stir often.
Other good choices for oil canola, vegetable oil and avocado oil. You can also use shortening, but the best option is Bacon Grease. We save ours in a separate container after fixing bacon.
You can also store leftover roux in the refrigerator. It will last about 6 months in an airtight container.
If you want to add some additional spice to the roux, you can add in cajun or creole.
Print how to make a roux recipe below:
How to make Roux
Learn how to make a roux in a few easy steps. This may sound fancy but don't be intimidated because it is so easy. 
Ingredients
¼

cup

Butter

salted

¼

cup

Flour
Instructions
Over medium high heat melt butter, use a wooden spoon or whisk to mix in flour, stirring constantly until smooth and lightly golden in color- at least 5 minutes of cooking time.
Recipe Notes
This basic roux recipe will mix well with 2-3 cups of liquid.  When adding liquid always make sure to add it in slowly (stirring frequently) until the sauce or gravy is the consistency that you prefer.  
Nutrition Facts
Calories
521
kcal
,
Carbohydrates
24
g
,
Protein
4
g
,
Fat
46
g
,
Saturated Fat
29
g
,
Trans Fat
2
g
,
Cholesterol
122
mg
,
Sodium
406
mg
,
Potassium
47
mg
,
Fiber
1
g
,
Sugar
1
g
,
Vitamin A
1418
IU
,
Calcium
18
mg
,
Iron
1
mg
More Cooking Tips: