Don't you just hate cutting onions or am I the only one? I use a lot of onions in my recipes but I hate that they always make me cry! Though my years of cooking, here are my favorite tips on how to cut onions without crying.


How to Cut Onions without Crying
I personally like to buy onions when they are at their cheapest and then chop them all up at once. Then I freeze them. This is a great way to save money and then I always have chopped onions on hand to make some of my favorite crock pot recipes.
Through my years of cooking and doing live videos, I have heard all of the tips and tricks to cut onions without crying including red onions. These are the one that I have tried and have worked for me. If you have tips that work, please let me know about them in the comment on this post.
Why do cutting onions make you cry?
The first step to chopping onions without shedding a tear is to first understand why chopping onions make us cry in the first place.
When you cut an onion, it damages the cell walls of the onion and then the onion releases sulfuric compounds as a defense mechanism. Many of compare these sulfuric compounds to tear gas and if you had cut lots of onions before you know this is definitely true.
However, onions make our meals delicious, so we must push through these compound and chop these onions to provide delicious flavor to our meals. Here are a few of my favorite tips to chopping onions without crying and I hope they help you cut onions and not shed a tear!
Cut Under Cold Running Water
This is pretty self explanatory, just chop your onions under some cold running water. The running water redirects the onion vapors away from your eyes, leaving you tear-free.
When doing this I usually place a cutting board in the bottom of my sink and run cold water while cutting the onion.
Try Breathing through your Mouth
If you breathe through your mouth while chopping or making sliced onions, the compounds will be absorbed through your mouth prior to them making it to your eyes.
Sometimes this can be hard to do, so I recommend chewing gum and some say to place a piece of bread in your mouth to absorb the compounds (but I haven't tried this one yet).
Sharpen your Knife
A sharp knife will make a cleaner cut in the onion and causes it to release less compounds when being sliced or diced.
Also, some say that placing fresh lemon juice your knife before cutting will help prevent crying while cutting the onions.
Soak Them
Although this method makes your onions slightly milder, it works well in many foods. Just soak your onion in a bowl of water for about 15 minutes and then chop it.
The water absorbs the onion's sulfuric compounds, making their taste more mild and taking away the chemical release that causes your eyes to sting.
Freeze Them
For this method, just pop your onion in the freezer for 15 minutes before you cut it. Chilling the onions keep them from releasing their eye irritating chemicals.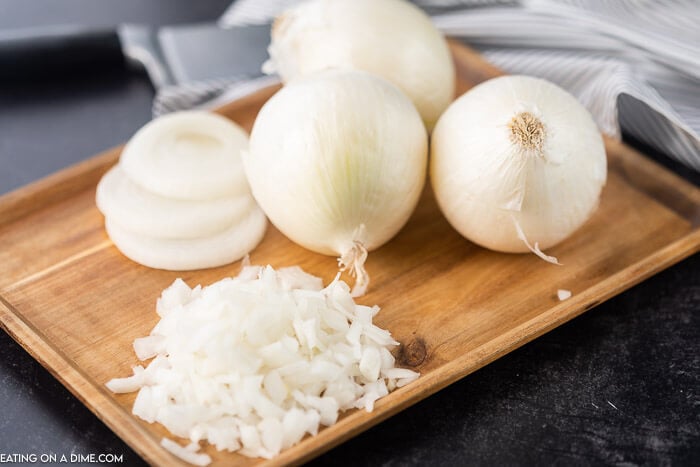 Cut Under a fan
If your kitchen has a good overhead fan, you can easily keep tears away. Just turn it on and chop your onions underneath it. The fan redirects the fumes to it and away from your eyes.
Cut the root off last
Cut the root edge off last after you have cut the rest of the onion. Some say that the most tear inducing fumes are held in the root, so save that for last to save some tears.
Wear Goggles
If none of the above methods work out for you or you just have no tolerance for the onion's stinging effects, try a pair of onion goggles.
While there are goggles made specifically for cutting onions, a pair of cheap swim goggles work just as well. This method keeps the fumes out of your eyes completely which means no tears.
Print our Cutting Onion Tips Here:
How to cut Onions without Crying
Instructions
Cut onions under cold running water to help redirect the vapors away from your eyes.

Breath through my mouth so that the vapors are absorbed through your mouth before they reach your eyes.

Sharpen your knife as a sharp knife will cause less fumes to be released from the onion.

Place the onions in the freezer for 15 minutes or soak them in water for 15 minutes before cutting them as chilled onions release less compounds and the water will absorb the compounds that cause the eye irritation

Cut the onions around a fan or a vent hood so that the irrants are pulled away from your eyes.

Make sure you cut the root edge off last as many of the fumes are held in the root.

If all else fails, wear googles while you cut onions to help protect your eyes from the fumes.
Ok, I know some of these might seem silly, but I hope that you give them a try and come back and let us which one works the best for you!