It is really important to wash fruits and vegetables thoroughly. We have the best fruit and vegetable wash ideas to ensure you are feeding your family clean produce.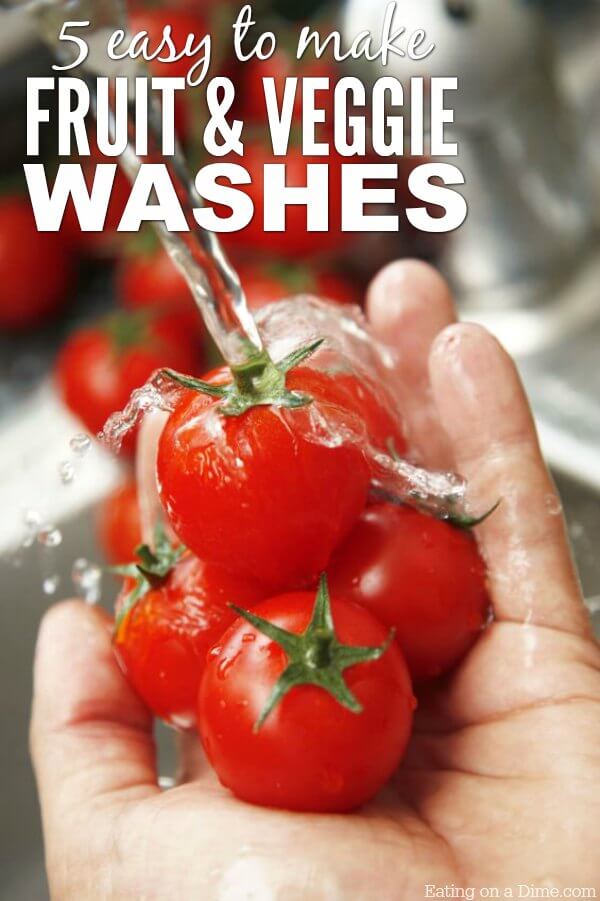 Fruit and Vegetable Wash
We all know the importance of giving our family at least 3-4 servings of fruits and vegetables each day. However, in order to make the most of the health benefits, it is important to make sure each of those servings are also properly cleaned.
Buying organic is a good option because you can at least be confident that pesticides and chemical fertilizers have not been used. Keep reading to see the best tips.
If it isn't possible for you to buy all organic, consult the EWG (Environmental Working Group). Each year, they create a list for the Dirty Dozen and Clean Fifteen. They are excellent guides for where it makes the most health sense to buy organic. Here are the 2021 lists:
Dirty Dozen
1. Strawberries
2. Spinach
3. Kale, Collard and Mustard Greens
4. Nectarines
5. Apples
6. Grapes
7. Cherries
8. Peaches
9. Pears
10. Bell and hot peppers
11. Celery
12. Tomatoes
Clean Fifteen
1. Avocados
2. Sweet corn
3. Pineapples
4. Onions
5. Papayas
6. Frozen sweet peas
7. Eggplant
8. Asparagus
9. Broccoli
10. Cabbage
11. Kiwi
12. Cauliflower
13.mushrooms
14. honeydew
15. cantaloupe
Fruit and Veggie Wash
Whether organic or not, all produce should be cleaned before it is eaten. You can find a number of natural, homemade fruit and vegetable washes online to remove pesticide residue.
Like with most natural cleaners, key ingredients to have on hand are vinegar (both white and apple cider), lemon, baking soda, and distilled or filtered water (you can make your own by boiling your tap water and letting it cool). The water you use is important; most tap water contains chemicals and other undesirable additions.
It is best to clean your produce when you come home from the grocery store, as it may also help increase the fridge-life. Plus, your fruits and veggies will be ready to eat and you will not have to worry about your spouse or kid grabbing an unwashed apple and biting into it.
After washing, make sure each item has been thoroughly dried before putting it in the fridge.
Tip to use fruit and vegetable cleaner:
Some of these recipes require a spray bottle. Sometimes it can be hard to find glass spray bottles so I order mine on Amazon. It saves me from running around town with the kids going from store to store.
How to wash fruits and vegetables:
Give these recipes a try. You may even use more than one if you find that you prefer one method for one type of produce and another for something else.
1. ACV and distilled water.
Combine equal parts apple cider vinegar and distilled or filtered water. Put in a spray bottle, and spritz on your fruits and vegetables. Scrub with a natural bristle brush reserved only for cleaning your produce. Rinse with distilled/filtered water.
2. White vinegar and distilled water.
Combine 1 part vinegar to 3 parts water, and either put in a spray bottle for smaller jobs or a large bowl if you have a lot to wash at once. Let soakmfor at least 5-10 minutes (limit to no more than an hour), scrub with a natural bristle brush. Rinse with distilled/filtered water.
3. White vinegar, lemon, and filtered water.
There are a couple variations on this one. If you want to use the spray bottle method, squeeze the juice of half a lemon and put it into a spray bottle. Add 2 Tbsp white vinegar and a cup or so of water. Spray on your fruits and veggies, then rinse with distilled water.
The other option is to dissolve salt into distilled water, add lemon juice, then spray onto your produce. Put it into a bowl of diluted vinegar water, and soak for 15 minutes. Rinse, then let dry. This recipe is a good one for leafy greens.
4. Lemon juice and filtered water.
This method is great for berries and other more delicate fruits. If you have tried the vinegar recipes and noticed an aftertaste, you might want togive this recipe a try. Squeeze about half a cup of lemon juice, then mix with 2 cups of distilled water. Thoroughly spray on the fruit, let it sit for a few minutes, then submerge in fresh distilled water. Let it soak for 10-15 minutes and allow to dry before putting in the fridge.
5. Lemon juice, baking soda, and water
Combine the juice of half a lemon, 1 Tbsp baking soda, and 1 cup water; put in a spray bottle. Spray on your fruits and vegetables, and let the mixture sit for 5 minutes. Rinse with more distilled water, and let dry.
Easy fruit and vegetable wash ideas.
Taking a few minutes to make sure your produce is clean will help you feel even better about those 3-4 daily servings. These recipes are quick, easy and very budget friendly.
More easy kitchen hacks: