If you have an overabundance of tomatoes coming from your garden, you may have more than you know what to do with. Chances are your tomatoes are ripening and even getting over ripe faster than you can make use of them. Don't despair! There are several ways you can use those over ripe tomatoes.


Here are a few easy ways to use tomatoes that may be over ripe:
1. Make Spaghetti Sauce
Spaghetti sauce is a perfect choice for tomatoes that are just a little too soft for regular eating. We have a delicious crock pot spaghetti sauce with meat recipe that you can try. Either way
2. Tomato Soup
Do you love tomato soup? If so, then you're in luck. Those over ripe tomatoes can make some great soup for you. Search for some great recipes online or check out this fresh tomato soup recipe. Check a few out then get to work making your own soup to enjoy with some grilled cheese sandwiches on a chilly fall evening.
3. Dried or Dehydrated Tomatoes
Put your food dehydrator to good use by drying those tomatoes. They are great in salads and on homemade pizzas. If you don't have a dehydrator, Amazon has some on sale right now with great reviews. Check the instructions that came with your dehydrator, or check out this post from Pick your own on how to dry tomatoes. If you don't have a food dehydrator, use your oven to dry those babies! They will be great come winter.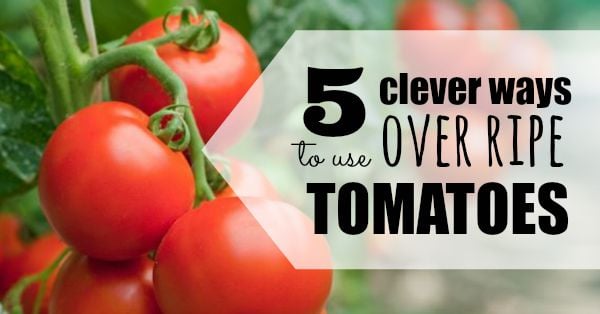 4. Slow-Roasted Tomatoes
Slow roast those tomatoes to save for later and add to other dishes, or even for snacking. Halve tomatoes then place along with garlic cloves on a baking sheet that has been lined with parchment paper. Drizzle a little olive oil on the tomatoes and add herbs and seasonings if you'd like. Bake for about three hours in a 225 degree oven. Allow them to cool then put into a jar, cover with olive oil. Store in the fridge then use them as you need them. Oh how I love slow roasted tomatoes. YUM!
5. Chili Sauce
Sauce is always a good idea for over ripe tomatoes, so how about some chili sauce? Use your favorite recipe or find one that you really like on the Internet. Be sure to check your canning and preserving books for pointers about canning the sauce and perhaps even a great recipe.
It's easy to let those tomatoes sit out and get over ripe. When you have too many, you just can't seem to use them up before they start to get a little soft. Use some of these ideas to turn your abundant harvest into useful food items.

If you don't have a garden, you can also stock up on tomatoes when they are rock bottom price. Then you can use these 5 tips to help you use them to save you money.

See more frugal kitchen tips: