If you are going to fire up the grill, go ahead and cook extra chicken. I love leftover grilled chicken because there are many ways to use them in different meals for my family. Here are 10 of my favorite Leftover Grilled Chicken Recipes!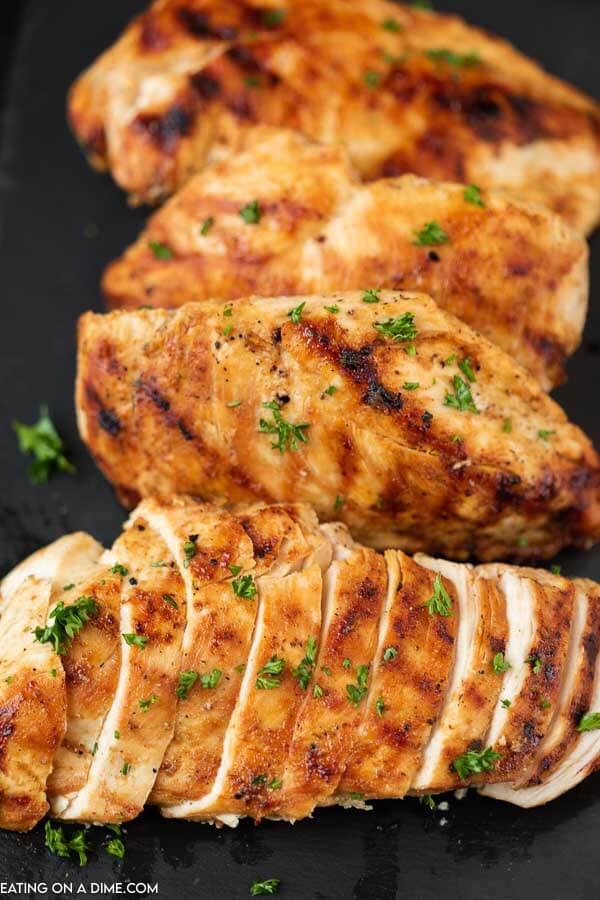 Do you love to grill chicken? My family does!
With the proper planning you can have dinner ready in only a few minutes and your family will never know you are eating leftovers!
These recipes are great to use with leftover grilled chicken but you can also make most of these with a store bought rotisserie chicken too. So if you currently don't have any leftover chicken, don't worry you can still make these easy leftover chicken recipes in no time at all!


My Favorite Ways to Use Leftover Grilled Chicken:
Chicken Tacos:
Chop up the left over grilled chicken, add some taco seasoning and you have yourself chicken tacos!! You can also stir in some of your favorite salsa to give the tacos a slight kick. Everyone loves taco night in my house so this one is always an easy win.
Or you can make these easy Baked Chicken Tacos. They are simple to make and even easier with leftover grilled chicken.
Chicken Salad with leftover grilled chicken:
Slice it up and add it to a salad – quick lunch or an easy dinner! It would be delicious on this Asian Sesame Chicken Salad, this copycat Panera Strawberry Poppyseed Salad with Chicken or over an easy Caesar salad to make a Chicken Caesar salad.
Or place the leftover grilled chicken on a classic salad and top it with our homemade balsamic vinaigrette dressing. This dressing is easy to make and tastes amazing on any salad recipe!
Make Chicken Pasta!
Add the sliced or chop chicken to any pasta for a quick dinner. Make an easy chicken Alfredo but adding this chicken to pasta topped with homemade Alfredo sauce!
Or make an easy skillet creamy chicken pasta recipe in even less time with the already cooked chicken breasts.
Leftover grilled Chicken for Chicken Wraps:
Slice it and use it in some of your favorite wrap recipes. I love easy buffalo chicken wraps, chicken bacon ranch wraps and chicken caesar wraps.
Wraps are great for lunch or for a quick and easy weekend night dinner for the entire family.
Chicken Stir Fried Rice
Chop it up, and sauté it with your favorite veggies and rice to make easy chicken fried rice! I love using leftovers to make easy fried rice as it's a great way to use up leftover vegetables as well.
No need to get take out when you can make this fried rice recipe instead! In less than 15 minutes, your family can enjoy authentic chicken fried rice that is packed with flavor!
Make Quesadillas with leftover grilled chicken:
Chop it up and use it in quesadillas. All you need is cheese, tortillas and some salsa. Quesadillas are a great way to use leftover chicken as you can use whatever you have in your pantry or refrigerate to make them.
Here are a few of my favorite easy quesadilla recipes that can easily be made with leftover grilled chicken:
Chicken Sandwiches:
You can use leftover grilled chicken to make easy chicken sandwiches. You can stir the diced leftover chicken with your favorite barbecue sauce and top it on your favorite sliders or buns for an easy lunch idea. I love making these and serving them with this easy coleslaw recipe.
Also, you can dice up the leftover chicken and use it to make easy chicken salad sandwiches. This chicken salad is my favorite and I could eat it for lunch every week.
I also love this cucumber chicken salad sandwich as well that can be made in under 10 minutes!
Leftover Grilled Chicken is great for Enchiladas!
Shred the leftover chicken and use the shredded chicken in your favorite enchilada recipe. I love enchiladas and leftover chicken can easily be used in most chicken enchilada recipes.
Theses are my favorite easy Chicken Enchilada Recipes that can all be easily made with leftover grilled chicken:
Make a Chicken Pot Pie:
Chicken Pot Pie Casserole Recipe is one of those meals the kids will go crazy over and everyone will love. It is super easy to make especially with leftover chicken and each bite is amazing with the flaky crescents and delicious chicken and veggies.
Plus you can make this easy and delicious Double Crust Chicken Pot Pie. It is simply amazing and the entire family will love this recipe.. It's a fun variation from a traditional chicken pot pie recipe.
Create a Chicken Pizza with Leftover Grilled Chicken:
My entire family loves pizzas so I love making chicken pita pizzas with leftover grilled chicken. The best part about making pita pizzas is that everyone gets to make their own.
I love to top mine with barbecue sauce and red onions and my husband loves making his with cream cheese and buffalo sauce. Everyone is always happy when we make pita pizzas because they get exactly what they want!
Grill Additional Chicken!
So… the next time you are grilling, make extra – plan ahead for a second easy weeknight meal. Remember, convenience doesn't always have to be expensive.
With these amazing leftover grilled chicken recipes, you'll want to make sure you always have leftover grilled chicken in your refrigerator so you can make a quick and easy lunch or dinner in even less time!
If you enjoy this tip, make sure to check out all of our Kitchen Hacks.
More leftover ideas: