This post may contain affiliate links. If you make a purchase through links on our site, we may earn a commission.
Try these delicious and easy ways to reuse leftover baked potatoes. Never waste another potato with these tasty ideas.

Wasted leftover baked potatoes can almost bring a tear to the eye of a cook who loves them and wants to save money. Throwing out a potato is horrible considering all the wonderful things you can do with them. There are countless ideas you can run with to turn that leftover supper into a special treat the following day.
Remember, left over doesn't have to be a bad thing. When you reuse your food in a new way… no on will ever know they were leftovers. Using your leftover baked potatoes is an easy way to save money and time in the kitchen.
Here are 10 of the best Leftover Baked Potato Recipes
1. Make Twice Baked Potatoes
This can be done in a myriad of ways and everyone has a different recipe for them, but we love to make these twice baked potatoes. Mix the potato with chives, onions, cheese, sour cream and whatever else you might like in your twice baked and replace them into their "bowls" of skin.
When you are ready to eat them, run them through and bake them again. They are even better the second time around.
2. Make Potato Salad
Warm or cold, that potato will taste awesome in a nice potato salad at your next picnic. Take the time to salvage your baked potato and whip up your favorite potato salad recipe instead of tossing them out!
3. Make Home Fries
There are few things better on the planet than home fries that were salvaged from leftover baked potatoes. They are so easy to make! All you have to do is trim them into wedges, mix them with some onions and peppers and bake them or fry them until crisp.
Your family will be begging for these even when you don't have baked potatoes left over.
4. Make Potato Soup
This is my personal favorite and it is so easy to make when you have left over baked potatoes. Simply chop up the potatoes, add in onions, chives and whatever cheeses you might like and whip it up into a nice soup.
Potato soup is one of life's special pleasures and is remarkably easy to make from leftover baked potatoes. Don't waste those precious spuds and make Crock pot Chicken Potato soup, Crock pot Potato Soup, or Slow Cooker Sausage Potato Soup.
5. Make Hash-browns!
When you have leftover baked potatoes, place them in the fridge. The next day use a potato shredder and you can fry up some delicious hash-browns. YUM!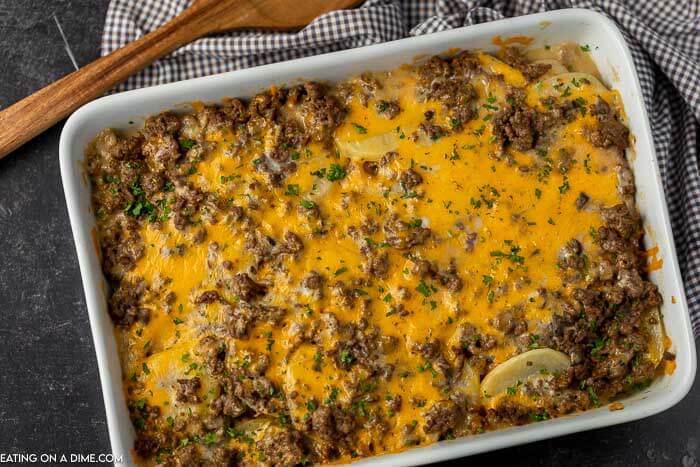 6. Add Them To A Casserole
Every busy mom will appreciate the quick meal that can be started off the basis of leftover baked potatoes. Simply chop up the potato, mix it into your favorite casserole dish with chicken or turkey, and put it in the fridge for a quick meal the next day. Some ideas include Chicken Hashbrown Casserole and easy Hamburger casserole or Crock Pot Hamburger Potato Casserole.
Why toss out something that will be so delicious and easy? Some people love potato casserole all by itself without even adding in a meat. We love Cheesy Potato Casserole.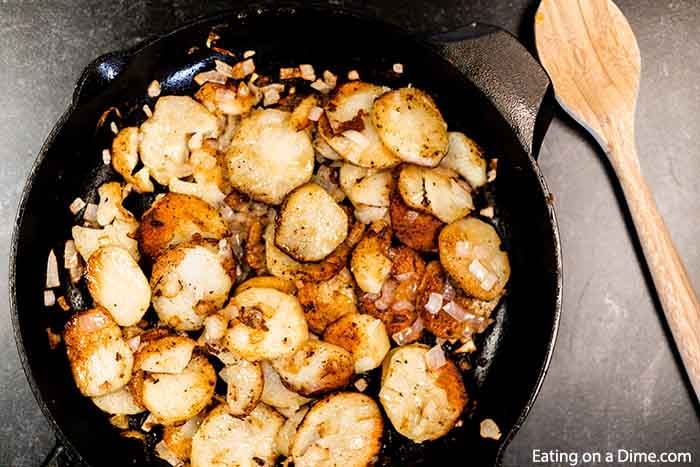 7. Pan fry them!
Oh there isn't anything more delicious than pan fried potatoes. Slice your baked potato in thick slices (leave the skin on). Then fry them in a skillet with a little oil until they are crisp on each side.
When you use left over baked potatoes these are made in a matter of minutes, so they make the perfect side dish!
8. Make Potato Skins
You can't really make it any easier when your potatoes are already cooked. Just scoop out the insides and add your favorite toppings.
Place in the oven for a few minutes and your potato skins are ready to eat!
9. Make mashed potatoes
You can easily chop up the potatoes, add butter, milk, and salt and make mashed potatoes. My advice though – make sure you heat up the potatoes slightly before trying to mash them. Cold potatoes are harder to mash.
10. Top them with your favorite meat
Bonus tip – Freeze them!
Potatoes get a bad wrap when it come to freezing because raw potatoes freeze terribly. However, cooked potatoes actually freeze quite well… especially if you are cooking them in soups and casseroles. Chop them up, place in freezer bag, and then freeze them for the next time you need potatoes for your favorite soup.
Which of these tasty ways to reuse leftover baked potatoes do you want to try?

Ways to cook baked potatoes:
More Leftover ideas