This Crock pot Hamburger Potato Casserole Recipe is simply amazing! Everyone loves it. This potato and ground beef casserole is so simple you probably already have all the ingredients in your pantry.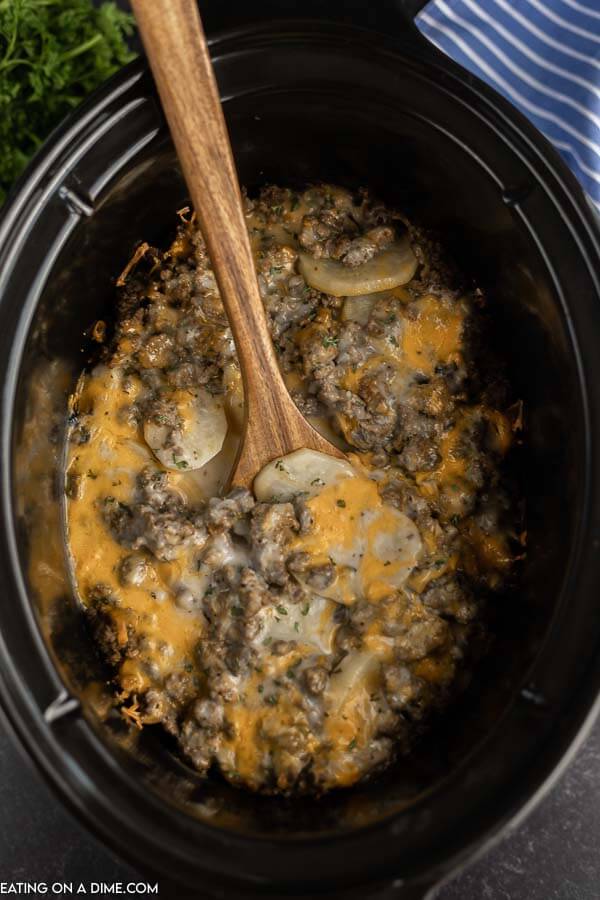 Crock pot Hamburger Potato Casserole Recipe:
My family loves this easy Crock Pot Hamburger Potato Casserole. I love that it has simple ingredients that we always have on hand. The combination of ground beef, potatoes and cheese make the perfect comfort food any day of the week.
This hearty meal comes together quickly and my kids devour it when I make it. I love making casseroles. With my big family it has made dinner time so much easier. They are great because you can toss everything in the crock pot or a casserole dish and dinner is done.
We love slow cooker recipes and this one is no exception. Since it is so easy to make, I think we have it at least twice a month. If you want to try a skillet recipe that is similar, try Hamburger Hash Recipe.
Can you put raw ground beef in a slow cooker?
This is probably the question I get asked all the time. The short is answer is yes and sometimes! I use ground beef in the crock pot all the time. It's in some of my favorite crock pot recipes.
For this recipe, I do pre-brown the ground beef as breaking it up would destroy the potatoes in this casserole recipe. However, there are many recipes that I don't pre-brown.
My most popular one is this crock pot taco meat. All the ingredients are throw in raw and pre-browning of the meat is not needed. However, it is best to remember that when you are not pre-browning ground beef, you'll want to use a lean cut of beef so that there is not a lot of grease in the crock pot.
Ingredients:
Ok you're not going to believe how simple this recipe is to make. This is all you need to create this easy casserole recipe!
Potatoes
Ground Beef
Cream of Mushroom Soup
Milk
Salt and Pepper
Shredded Cheese – we used cheddar cheese but any kind would be great too
How to make a Slow Cooker Hamburger Potato Casserole:
First brown the ground beef and set it aside.
Then peel and slice potatoes and also set the, aside. We use this easy mandoline slicer to cut our potatoes quickly.
Then in a mixing bowl, combine the cream of mushroom soup, milk, salt and pepper to taste. Mix well.
Next spray crock pot with non stick spray.
Layer potatoes, beef, soup, and cheese in the crock pot casserole pan. Then repeat until all the ingredients are layered in. Top with remaining cheese.
Cover and cook on high for 3-4 hours or until the potatoes are soft.
Then turn off the crock pot and allow it to cool slightly (about 10 minutes). This will allow the casserole to thicken.
Cut and serve with your favorite vegetable!
My kids love to eat topped with sour cream.
Can I use a different type of potatoes?
Yes, you can use different types of potatoes. We typically will use what we have.
Russet Potatoes – what we usually use.
Yellow Gold Potatoes
Frozen Hashbrowns – You can use shredded or diced
Variation ideas:
This recipe is classic and then you can easy switch it up to make it your own. It tastes similar to potatoes au gratin with beef mixed in! Here are a few ideas to change up this recipe to make it work for your family.
Try using ground chicken or ground turkey. Some times these are more affordable than ground beef and still taste great in this recipe.
This casserole would great with ground sausage. You can mix spicy and mild sausage.
Substitute the potatoes for frozen hash browns. I use the shredded hash browns and still layer this with the other ingredients. If using shredded hash browns, I would reduce the cooking time by one hours.
Add in your favorite vegetables to make it a one pot meal! Green beans or peas would be delicious mixed in with this casserole recipe.
We love adding in some crispy bacon. My family loves bacon, so mixing it into this casserole takes it to the next level.
What to serve with crockpot hamburger casserole
This hamburger potato casserole is easy to make and tastes great. It is perfect for summer because you don't have to turn the oven on, but I know we will love it in the winter too.
We always like serving this casserole with a side. Here are some of my favorites:
Print recipe for crock pot hamburger casserole recipe:
More Crock Pot Hamburger Recipes: