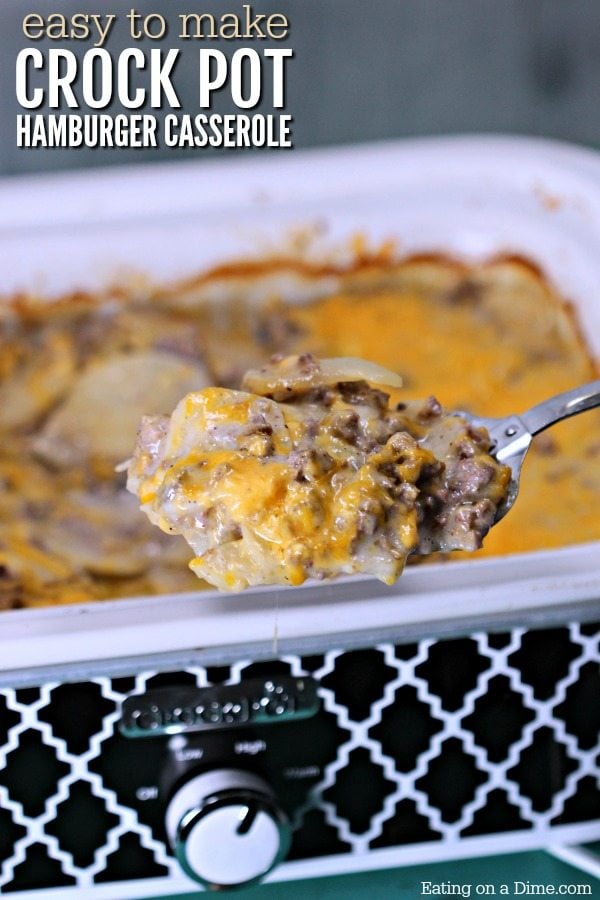 Today I'm showing you how to make some delicious comfort food in your crock pot. This Crock pot Hamburger Potato Casserole Recipe is simply amazing! Kids and adults love it. Plus this potatoe and ground beef casserole is so simple you probably already have all the ingredients in your pantry.
The best Easy Ground Beef Casserole recipe!
I have the new crock pot casserole dish and I'm loving it! I bought mine on Amazon, and it is perfect for the Holidays but I'm really loving it in the Summer. My family can still enjoy all our favorite casserole recipes without ever turning the oven on. That is awesome because who doesn't crave comfort food even when it is hotter out side? I also made a delicious crock pot chicken enchilada casserole that I think you are going to love too! If you like this casserole,  make sure you check out this Easy lasagna recipe. It's quick and easy!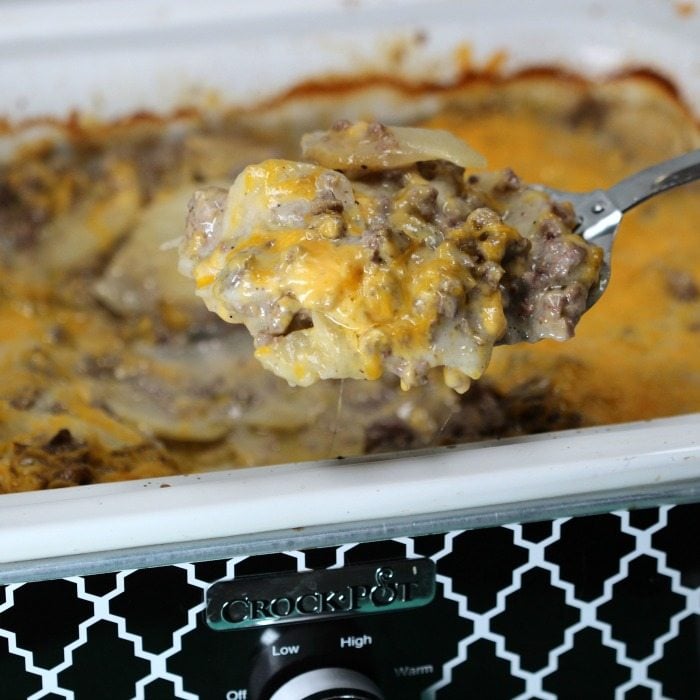 Ingredients you need for crock pot hamburger potato casserole:
5 small potatoes
1-2 lbs of ground beef, browned
2 cans of cream of mushroom soup
1 cup of milk
salt and pepper to taste
1 1/2 cups of shredded cheese (we used cheddar but any kind would be great too)
How to make Crock pot Hamburger Potato Casserole Recipe:
Brown your ground beef and set aside
Peel and slice potatoes and set aside. We use this easy mandoline slicer to cut our potatoes quickly.
In a mixing bowl, combine cream of mushroom soup, milk, salt and pepper to taste. Mix well. Set aside.
Spraycrock pot casserole dish with non stick spray.
Layer in the pan, potatoes, beef, soup, and cheese. Then repeat. Top with remaining cheese.
Place lid on top.
Cook on high for 3-4 hours or until the potatoes are soft.
Turn off the crock pot and allow it to cool slightly (about 10 minutes). This will allow the casserole to thicken.
Cut and serve with your favorite vegetable
No need to heat up the kitchen with this easy crock pot hamburger casserole!
This hamburger potato casserole is easy to make and tastes great. It is perfect for summer because you don't have to turn the oven on, but I know we will love it in the winter too.
Serve it with a side salad or you some steamed broccoli (see how to steam broccoli in the microwave easily) and dinner is that easy!
Try this crock pot hamburger casserole recipe today!
Print your recipe below:
Crock pot Hamburger Potato Casserole Recipe
Ingredients
5 small potatoes
1-2 lbs of ground beef, browned
2 cans of cream of mushroom soup
1 cup of milk
salt and pepper to taste
1½ cups of shredded cheese (we used cheddar but any kind would be great too)
Instructions
Brown your ground beef and set aside
Peel and slice potatoes and set aside. We use this easy mandoline slicer to cut our potatoes quickly.
In a mixing bowl, combine cream of mushroom soup, milk, salt and pepper to taste. Mix well. Set aside.
Spraycrock pot casserole dish with non stick spray.
Layer in the pan, potatoes, beef, soup, and cheese. Then repeat. Top with remaining cheese.
Place lid on top.
Cook on high for 3-4 hours or until the potatoes are soft.
Turn off the crock pot and allow it to cool slightly (about 10 minutes). This will allow the casserole to thicken.
Cut and serve with your favorite vegetable
Try these other easy crock pot recipes: