Crock Pot Hamburger Hashbrown Casserole Recipe is so simple to make and creamy and delicious in each bite. Make this easy meal for a dinner your family will go crazy over.
Crock Pot Hamburger Hashbrown Casserole Recipe
The slow cooker does all of the work in this amazing hamburger hashbrown casserole. You can toss this together quickly in the morning and come home to dinner all ready to enjoy.
The hamburger mixture is so creamy and delicious and one of our favorite comfort food dishes. All of the cheese is melted to perfection to make this simply wonderful.
The frozen hashbrowns make it so easy to toss and go for a quick meal everyone will enjoy. Your family will love this meal and it is very easy to make.
You need a crock pot to make this slow cooker hamburger hash brown casserole.
If you are in the market for a new crockpot, I love this casserole crock pot. It is perfect for casserole style slow cooker recipes like this one.
I bought mine on Amazon,and I love it. It is perfect for the Holidays and really year round.
Plus, it is just so pretty. We can still enjoy all our favorite casserole recipes without ever turning the oven on.
If you prefer a traditional style crock pot, I recommend one of the Ninja Cookers. I love these because you can brown the meat in the same pot.
It really cuts down on clean up and that is a plus for us busy moms. It is so nice just having the one pot to clean and not worrying about an extra pan to wash.
Another favorite is this programmable crock pot for when I am am not at home all day. I love coming home to a nice meal ready and waiting!
I also like to use crock pot liners to make clean up a breeze. These are worth every penny and save a ton of time.
This is especially helpful during busy weeks of school and activities. I'm all about crock pot liners.
If you do not use crock pot liners, I recommend using cooking spray to help with clean up in the slow cooker.
Ingredients for slow cooker hamburger casserole:
ground beef
onion
package of Shredded Hash Brown Potatoes
cream of mushroom soup
milk
Shredded Colby and Monterey Jack Cheese
pepper
How to make Hash Brown Casserole with Ground Beef:
Brown your ground beef before you put it in the crock pot. Or if you have a Ninja cooking system like I do, just brown it right in the same pot.
Mix the beef, onion, hash browns, milk, cream of mushroom soup, pepper and cheese together in a bowl.
Next, add these ingredients to the crock pot. That is it!
Cover and cook.
Top with the left over cheese mixtures for the last 5 minutes of the cooking time.
Serve and Enjoy! Keep reading for the full recipe.
What to serve with crock pot hamburger hashbrown casserole?
Just keep it simple and add a side salad with this casserole dish. It is so easy on busy days to put together a salad to serve.
You might also like to try these easy Roasted Green Beans or learn how to steam broccoli in the microwave for a super easy veggie side dish. Both of these only take a few minutes to make.
We are all about keeping it simple around here.
Tips for hamburger hash slow cooker recipe:
This recipe calls for diced onion. One of my favorite time saving tip is to use a small food chopper or food processor to quickly and easily chop onions and peppers.
If you do not have one of these, I highly recommend them. They are such a time saver and you can get the veggies really fine.
I usually just chop the entire vegetable and freeze what I don't need. It's so nice to be able to just take the diced onion out of the freezer for recipes.
This makes slow cooker hamburger hash incredible recipes even easier!
Meal prep tips like this really help to make the week easier and getting dinner on the table a breeze. It's so quick and easy and helps get dinner on the table fast.
Learn and how to freeze onions and also how to freeze peppers to save so much time in the kitchen! You will love these tips to make this easy crock pot recipe even simpler.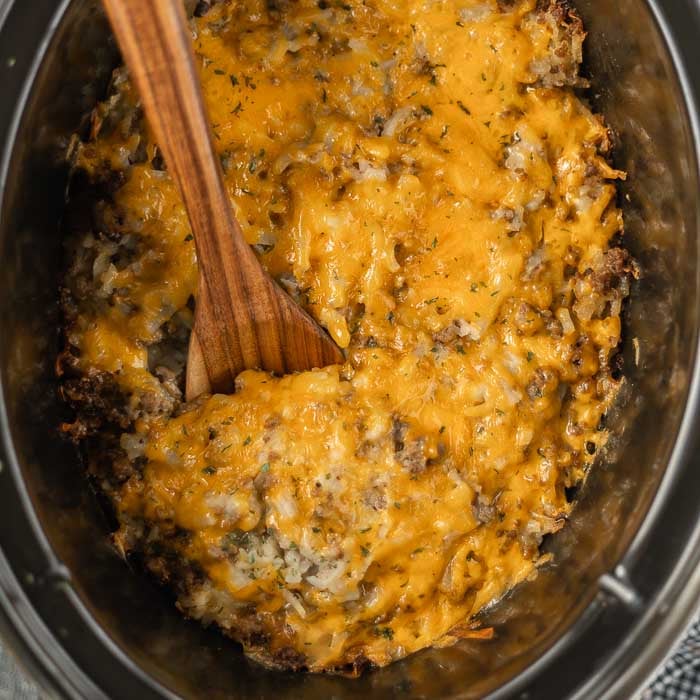 Slow cooker ground beef casserole recipes are frugal!
This is a great way to stretch your grocery budget. The ground beef is wonderful mixed with the hashbrowns and other delicious ingredients.
You can also try using ground turkey instead of ground beef. I have even used a mix of both and it was delicious.
I often use what I have on hand or is on sale at the grocery store. Just use what you have!
By shopping when things are on sale I save money on groceries and it really helps our budget. Saving money and feeding a big family can be accomplished.
I cut our grocery bill by 50% off by following these 8 Tips for for Saving Money on Groceries by Menu Planning! Save that money for something else!
Everyone will love this meal and it is super easy to make. You can easily feed a crowd with this recipe.
Try ore ida hash brown casserole with hamburger this week!
This is such a great meal. Try using other types of potatoes in this meal such as diced potatoes or even tater tots. You can't go wrong with this meal!
We also like hamburger hash brown casserole with sour cream added to the cream of mushroom soup mixture. Yum!
Print this hamburger hashbrown casserole recipe below:
Try these other crock pot casserole recipes: